We are reader supported. When you purchase through links on our site, we may earn an affiliate commission. Also, as an Amazon affiliate, we earn from qualifying purchases.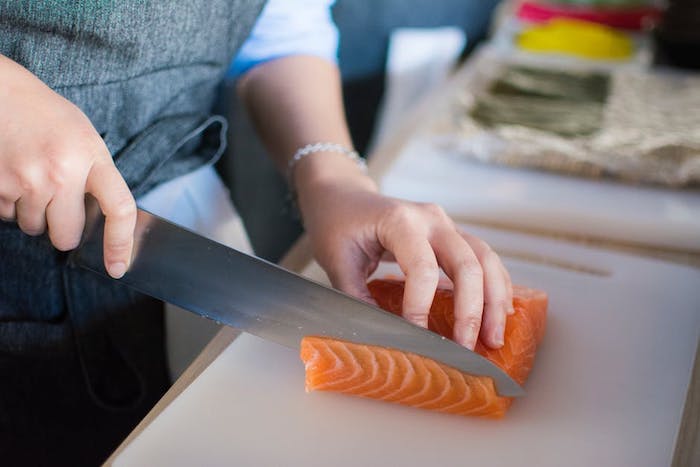 Do you know that the average life expectancy in Japan is over 80 years? And, do you know the reasons behind it? No wonder it is one of the cleanest countries in the world and health care is much more affordable, but the biggest reason is Japanese food rich in omegas and low in calories and cholesterol.
Sushi has gained popularity across the world for not just for the appealing taste but also as a healthy food. If you are looking to include this Japanese cuisine in your diet, you will need some important tools in your arsenal and a sushi knife is the foremost in the list.
With the right beginner sushi knife in your hand, slicing and dicing the fish and vegetables will be much easier than you imagine. Everything else may take some time to practice but at least you will be able to make the perfect slices right away!
Why Do You Need A Sushi Knife
As a beginner foraying into the world of sushi, you may often wonder- do I need a sushi knife at all? Is not the kitchen knife enough to make sushi at home? The need for buying a sushi knife for beginners boils down to three main things – precision slicing, slender blade, and delicate cutting.
There are many steps involved in making a sushi roll and they are slicing the fish, dicing vegetables, and cutting the roll into bite-size pieces. A specially designed sushi knife is extremely sharp and exquisitely hand-crafted for the specific tasks.
The sushi knife comes with a super slender blade and the one-sided flat feature prevents the food from sticking on to the blade while cutting the roll. When you are a beginner and feeling wary of every step you take for making sushi, a sushi knife will give you the confidence you need to fillet like a pro.
What To Consider When Buying A Beginner's Sushi Knife
Don't go by the price tag when buying a sushi knife because expensive does not mean that it is the best. When you are at the beginner level at sushi making, I would recommend that you put comfort over style and everything else.
The second thing you need to consider is the durability of the knife because it's an investment you would want to last for long. So, make sure you choose the materials carefully. Below I have discussed the materials that sushi knife is made from. 
The third most important thing is the maintenance and you would want to buy a knife that requires low maintenance. If you want the sharpest knife, high-carbon steel is the one for you, however, it is prone to rust.
For beginners, I would recommend a stainless steel knife that is not as sharp as the carbon-one but requires low maintenance. At least, you don't have to worry about your knife getting rust.
Sushi has different aspects so before buying a sushi knife, you need to ask yourself – what results do you aim to achieve with the knife?
Are you looking for a knife designed to cut rolls precisely?
Do you want a knife built to cut boney fish?
Do you aim to cut squid and other delicate/ slimy fish?
Are you seeking a knife that can make paper-thin slices or thick fillets of fish?
Do you wish to make perfect fillets of eel fish?
If you are a beginner trying sushi making at home or taking sushi classes, I would recommend that you look for a knife that can help you perform many tasks at once.
What Materials Are Sushi Knives Made From?
The two main types of materials used in sushi knives are high carbon steel and stainless steel. Most of the traditional and high-quality sushi knives are made of carbon steel. Although it rusts easily, you can get a sharper edge with this one.
The stainless knives do not rust, hence they are comparatively easier to maintain. However, the hardness prevents the blade from chipping. To make it easier for you to choose the perfect sushi knife, here is my list of 10 best beginner sushi knife.
When you are a beginner, you would want a knife that performs well but requires less maintenance, and the Yoshihiro Chef Knife (see details) hits the bull's eye in both categories. Made from VG Stainless steel, the blade combines optimal edge retention with extreme sharpness to deliver extraordinary results. You can use a whetstone to sharpen the blade and it will slice any type of fish.
The knife comes with a 9.5-inch single edged blade that has a flat surface on the front, flat rim at the back and a concave ground. It comes with a handcrafted Octagonal Rosewood Shitan that adds elegance to the product and the Double Ebony Bolster provides a well-balanced construction.
The magnolia wooden sheath is coated with lacquer and features stain resistance that makes it easy to clean. The knife should be hand-washed only and can be sharpened using a whetstone. Each knife that comes from the Yoshihiro family is handcrafted by master artisans to deliver a high-quality product.
Performance-wise, this knife works great for beginners as its effortlessly and cleanly slices through fish and meat such as beef, chicken or pork. However, you must be careful with the blade edge and not try to cut through hard objects like bones, etc. You may use water stones to sharpen the knife.
Pros
Slices through vegetables and meat effortlessly
Lightweight and good balance makes it feel perfect in hands
Excellent design and professional look makes it highly appealing
Taking care of the knife is easy for beginners
Cons
Slightly expensive for beginners
Cannot be cleaned in a dishwasher
---
There's something about the Japanese knives made in Seki that puts them above everything else.  The founder of the company trained with real sword makers in the past. Even though he is no more, the company still follows the traditions and foundations laid by him.
The SETO YOSHI knife (see details) is a member of THE KNIVES MAKER'S GUILD and the quality of products speak for themselves. The blades are high quality, made from forged steel, an ancient method that is still used today. It's more a work of art merged with the strength to give you durable products.
The SETO knives is a beautiful marriage between kitchen knives and advanced technology. Besides the level of sharpness, the finishing of the product is excellent. The handle is traditional D-shaped and made from red sandalwood.
In terms of performance, the SETO knife really stands out among the Japanese and German knives. The blade cuts meat and vegetables like a dream. The handle is comfortable and gives you a better grip when it's wet. Less food sticks on the blade, which makes it a great sushi knife for beginners.
Pros
Extremely sharp and cuts vegetables and fruits precisely
The handle is comfortable and requires less maintenance
Made from stainless steel so no chance of rusting
Affordable and useful for beginners
Cons
The tang is not very comfortable if you wish to pinch grip
Not recommended for dishwasher cleaning
---
As a beginner, you need a knife that is less intimidating and helps you grow and expand your culinary skills. The Sushi Knife by Chef's Companion does the job perfectly as it is made from carbon steel material for durability. It comes with a beveled blade that is light, well-balanced, and easy to maintain. The ergonomic design not only looks elegant but also gives you peace of mind.
When it comes to performance, the Sushi Knife scores spot on. The carbon steel blade can last a lifetime and maintain razor sharpness. The blade is so sharp that you can slice through vegetable and meat with perfect ease.
The knife comes set in beautiful packaging and has a nice wiping cloth to keep the blade clean. This is a nice piece of cutlery that is a must-have if you are beginning to make sushi at home. It should be cleaned with hands and maintaining it is super easy. Sharpening the blade is also easy. At this price, you get more than you could possibly ask for.
Pros
Works perfect for beginners
Good value for money
Perfect in terms of style and functionality
Cons
The black band at the back comes out after a few uses
Good for only sushi, not sashimi
---
This is a 9 1/2 Inch Yanagiba knife with a single-edged blade (shop now), used for making super thin slices of fish and meat for sushi and sashimi. Made from VG-10 super steel, it features a sharper edge than other comparable knives and the blade can be easily sharpened using a whetstone.
This artistically graffiti-etched blade makes a classic statement every beginner needs to gain confidence at work. The handle is made of high-quality pakkawood impregnated with resin to make it moisture resistant, durable, and strong.
Handcrafted in Japan by expert artisans, this knife aims at providing precision. The wide blade bevel makes it effortless to sharpen with a whetstone. The D-shape to fit comfortably in your palm to give you a secure grip.
Pros
Cuts through sushi rolls and fish as advertised
This new version provides better grip and performance
Hollow ground blade minimizes the drag while cutting
This is dishwasher safe and drying is also recommended
Comes with a limited lifetime warranty
Cons
It does not come with an edge guard
Slightly expensive than competitor products
---
These handmade sushi knives are carefully crafted by the master artisans to deliver exceptional performance and value. Made with white steel, the knife is forged with iron to create eye-catching patterns known as Kasumi. If you are taking the first step at making sushi and sashimi, the Yoshihiro Shiroko fits the bill perfectly.
This is a long slicing knife (see details) that looks aesthetically appealing and is designed to make thin slices of fish and vegetables. The biggest advantage of this knife is its ability to make long and thin slices without any interrupted strokes to maintain integrity and freshness.
Beautifully handmade in Japan, the Yoshihiro Shiroko is a flat grind on the front side, a concave grind and a flat rim at the back. The coming together of Urasuki and Shinog enables the blade to cut with minimum damage to the cells. It comes with a lightweight and ergonomic Wa-style D-Shaped Handle and a protective wooden sheath.
Pros
This is a beautiful, artistic, and functional knife that comes neatly packaged
Has an extremely sharp edge that cuts through anything like butter
Engraving on the handle gives an artistic signature
Worth the money you spend on it
Perfect for beginners who want a low cost yet the high-quality knife
Cons
Needs maintenance because the steel is prone to oxidation
Slightly expensive for first level chefs
Not dishwasher safe, only hand wash with mild soap
---
If you are looking for a Japanese sushi knife, does not mean that you have to be a professional chef. Some people are enthusiastic about Japanese cuisine and wish to get close to perfection when making sushi or sashimi at home. If you fit that category, the Wusthof Classic is a good knife for you.
This is an artistic looking, 9-inch, single-beveled knife made from high-quality X50CrMoV15 steel and comes with a bamboo sheath included.  Beginners prefer this knife for its easygoing and less intimidating design.
This is an artistic looking, 6-inch, single-beveled knife made from high-quality stainless steel with bolsters.  Beginners prefer this knife for its easygoing and less intimidating design. PEtec edge increases the sharpness by 20% and the knife lasts twice as long. The handle is made of durable Polyoxymethylene materials that resists fading or discolartion.
Pros
Well-balanced handle puts less pressure on wrists
Comfortable length for beginners
Makes neat cuts of the sushi roll
Cons
Maintenance is time-consuming
---
This is a chef-quality Japanese sushi knife from the house of Sagana Kitchenware. It works best both for advanced chefs at restaurants and beginner cooks trying to learn the art of making sushi at home (see easy sushi recipes). The razor-sharp blade is made from stainless steel material and it can be used straight out-of-the-box.
The knife comes equipped with an authentic rosewood handle that adds elegance to the product. It also creates a perfect balance needed to make precise cuts of fish and vegetables without hurting your wrist. The luxuriously crafted handle also adds comfort and provides an easy grip.
In terms of quality and performance, they exceed the mass produced sushi and sashimi knives. They are exclusively crafted to help you deliver great results. The Sagana knives don't rust like other sushi knives in the market, so it requires low maintenance.
Pros
The product comes packaged neatly
Resistance to rust and corrosion for better long-term retention
The handle is stylish and comfortable
A versatile knife works for making different types of sushi
Well-balanced and sharp to perform a lot of tasks
Cons
Slightly on the expensive side
Need to sharpen after you receive it
---
If you are a beginner, I always recommend to start with a low-cost knife and try a few so that you can judge which one works best for you. This set of 4 knives by Hiroshi is hand-forged and hand assembled in the traditional method involving 40 steps. The bundle includes a gyutou chef's knife, nakiri (vegetable slicer), Santoku Deba (multipurpose knife) and Petty (Delicate work knife).
Made from high carbon stainless steel material, this chef's knife is not only durable but also stain resistant. They come fitted with an ultra-light wooden handle that makes them suitable for a variety of tasks involving cutting, slicing and dicing with precision. The knives are well-balanced which means you can work for long hours without hurting your wrist.
As a beginner, you will gain a lot of confidence with four sharp knives preferred by professionals in your arsenal. The knives slide through everything like butter and give you that extra edge in the kitchen. The handle gives you a good grip and food does not stick to the blades.
Pros
Budget-friendly knives, great as a gift for a sushi enthusiast
Four sharp knives let you cut vegetables, meat, and fruits with ease
Comes in a beautifully packaged box
100% money back guarantee if you are not happy with your purchase
Worth every penny you spend
Cons
Cannot be washed in a dishwasher
The box looks a little cheap
---
When you are a beginner and testing the waters before you learn to swim, it's always better to play safe and the ikasu Chef Damascus Kitchen Knife is just what you need. Constructed using AUS10 premium stainless steel, this Japanese sushi knife has a razor-sharp edge and a full-tang blade.
The overall design of the knife looks cool with engravings that give you a sense of pride and belongingness to the chef's world. The engravings and the signature brandmark at the bottom add to the value of the knife.
While this chef knife may not be close to the professional ones, but they work perfectly for those who are in the first level of sushi training. It slices vegetables, fish, and fruits like butter and can be easily sharpened with the whetstone electric sharpener. The knife is stain and rust resistant, which makes it a great addition to your kitchen.
Pros
The triple-riveted handle is built to last
It can be used for versatile jobs
Ergonomic handle ensures there's less fatigue on your hands
Lightweight and convenient to handle
Cons
Does not last very long, but good enough for beginners
Cannot be washed in a dishwasher
---
The joy of working with a sushi knife made by the world famous artisans of the Seki city is incomparable. These bladesmiths have been in the art of making swords for the past 700 years. When swords were banned, they utilized their skills in making high-grade sushi knives.
If you are a beginner looking for a complete set of Japanese sushi knives that can help you try different types of sushi, this package is a real steal. In this set, you get three high-quality knives – Sashimi knife for cutting meat and fish, Santoku for slicing vegetables, fish, and meat, and Nakiri knife which works best for cutting vegetables.
All three knives have razor sharp blades and they are beautifully engraved with Japanese Kanji letters to enhance its overall appeal. The blades are made of carbon stainless steel material, which means that it is prone to rust. The handle boasts a traditional design and is made from hard/ dense hardwood.
Pros
Extremely sharp and thin blade makes cutting and chopping easier
The knives can be sharpened with ease
The wooden handle is light and provides a good balance
Good value for money
Cons
Some people feel that the handle is short and tough to hold
The bevel of the blade has raised lines that make it slightly hard to sharpen
---
Taking Care Of Your Sushi Knife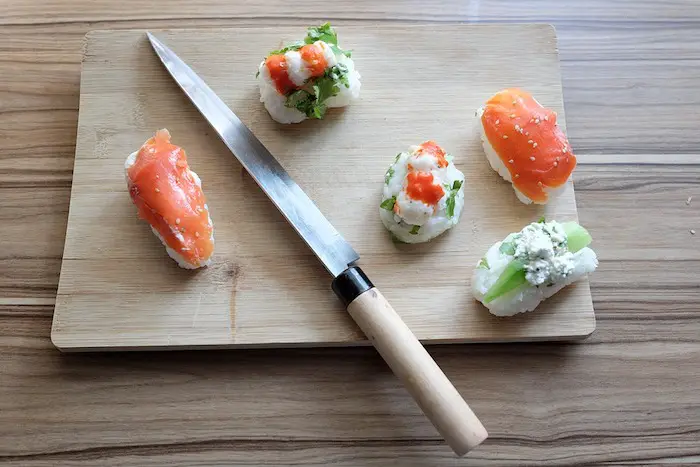 No matter how cheap sushi knife you choose during your beginner days, you will anyway spend a good amount of money for it. You need to take good care of your investment if you want it to last for a decent time. Here are a few things that you need to remember and do every time you use the knife.
Hand wash the knife with mild soap and water. Rinse well and dry by running through a thick towel. This is essential for carbon steel knives as they can quickly rust if left wet or damp.
Most of the budget beginner knives are not dishwasher-safe so never put them inside the dishwasher or else you may cause irreversible damage.
The knife usually comes wrapped in a case or sheath, so store it well covered and protected inside a rack or drawer. They should not be exposed to moisture.
Never use a sharpening steel or any other tool, other than a what stone or water stone to sharpen a Japanese sushi knife. Always follow the sharpening directions mentioned by the manufacturer for using a whetstone.
Avoid cutting frozen food, bone or other hard objects with the knife as the edges may chip. Wipe the knife blade frequently when cutting acidic sources such as apples, lemons, and sushi.
Related Questions
What is a Honyaki knife?
These types of sushi knives are constructed from one single material, mostly high-carbon steel. The finest honyaki are then hardened differentially using the same process used for traditional katana. Off all Japanese knives available, their sharpness is the most longest lasting.
What is a Yanagi Knife?
Known as Yanagi-ba-bocho in Japanese, it is translated as the willow blade knife in English. It is one of the thinnest and longest knives used in the Japanese kitchen for making traditional cuisine. They are typically used for making sashimi slices and nigiri sushi.
What is a single bevel knife?
Single Bevel, also known as chisel grind, refers to a knife that is ground like a chisel. This implies that the blade is ground only from one side and the other side is flat. The process is capable of producing a blade that has an exceptionally sharp edge and strength.
Why are Japanese knives sharpened on one side?
Contrary to the western knives that are double-edged, the Japanese knives are usually single ground. This means that the blade is sharpened only on one side that is used for cutting. While there are a few Japanese knives that may be angled from both the sides, most of them have one sharp side and the other flat.
What is a Japanese chef knife called in the US?
In the US, a Japanese chef knife is often referred to as Shobu or Yanagi. Although it is strictly designed for cutting fish, it is used in western houses and sushi restaurants for cutting a variety of other foods and vegetables.