We are reader supported. When you purchase through links on our site, we may earn an affiliate commission. Also, as an Amazon affiliate, we earn from qualifying purchases.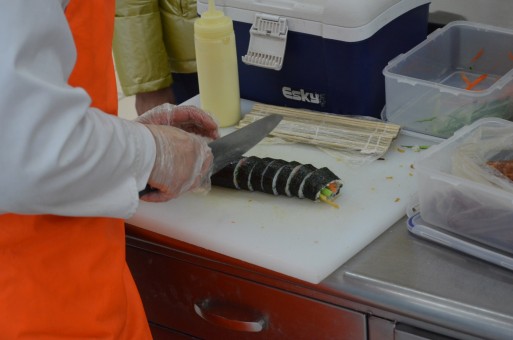 How many times have you shelled out an excessive amount of money for sushi dinner at a high-end restaurant? And, how many times have you curbed your temptations to dine out at a sushi restaurant to avoid burning a hole in your pocket? Many times I suppose.
What if I told you that you can make restaurant-like sushi at home with little effort and satisfy your cravings without spending a lot? Does that sound too good to be true?
It's a fact that the master chefs train and practice for years to achieve that level of precision in sushi making. You may not be able to achieve that kind of accuracy, but you can still do good enough as a beginner.
Fortunately for those who are not sushi chefs, there are some intelligently designed sushi making kits in the market. They are created to give you a shortcut at sushi making, and deliver incredible results that can make your guests go 'wow.'
Today, I will talk about the 10 best sushi making kit that makes it easier for you to make sushi even if you lack skills. I have tried some of these DIY sushi making kits that are readily available at Amazon.com and had a great time preparing a fun treat for my family.
You will still need some skills anyway but these kits make it easier to practice and learn in a short time. If you are planning to host a sushi party at home, these devices can save a lot of time and make your 'attempts' at sushi making successful.
Typical Features Of The Best Sushi Making Kit
If you are looking for the best sushi making kit to help you prepare maki rolls and form nigiri sushi like a pro chef, here are some features worth checking:
Type of materials used
The traditional kit will contain a sushi mat made of bamboo or plastic. The non-traditional kit will usually contain molds made from BPA-free plastic. If you choose a bamboo mat, opt for the one that is mold resistant. Rinse it well after use, dry the mat, and remember to never put it inside a dishwasher.
Dishwasher safe
If you are looking for traditional sushi making kits, they will include bamboo mats that are not dishwasher safe. The non-traditional options usually contain molds that are made of plastic material, and are easy to clean. Make sure you check the care guidelines and instructions mentioned in the kit.
Creative shapes
There are certain kits that allow users to shape their sushi into different types of molds, such as heart or square shape. If you are planning a sushi party for kids, they will have a blast trying out the different types of molds.
Additional accessories
If you want an authentic sushi making experience, select a kit that comes with extra accessories such as a sushi knife. For example, if you choose an expensive nigiri making kit, it may include an array of accessories such as recipe books, chopsticks, soy sauce bowls, serving trays, plates and so on.
Here are the 10 best sushi making kit Reviews.
If you are a beginner wondering how to get started, this sushi making kit( see details) paves the way for you. It contains everything you could possibly need to make delicious rolls within minutes. The kit includes Sushi Bazooka, bamboo mat, knife, spreader, chopsticks, holder, and an avocado slicer.
The sushi tool is made from high-quality bamboo and food-grade plastic material. The plastic is non-toxic and BPA-free, hence safe for your family. If you are tired of spending money at sushi restaurants, this kit will make it easier to cook the delicacy at home.
You will just need to buy the ingredients (sushi rice, sushi-grade fish or veggies) in order to start making sushi rolls using the Bazooka kit. I have created an in-depth article on how to cook sushi rice from scratch, both in a cooker and pot, check it out here. All family members can take part in the fun and use the kit to make their own rolls.
Pros
Cons
– Easy to use, makes sushi in minutes
– No fuss cleaning, dishwasher-safe
– Designed to save space in the kitchen
– Some beginners may find it hard to roll with the kit
Summary
This is a reasonably priced cute little sushi making kit that you can use to make lots of sushi rolls for your family or small party. At this price, you get a great kit that has all the items you need to make sushi using the basic ingredients.
---
Aya Sushi Maker (see Amazon) is the only brand that comes with a complimentary video to help beginners make delicious sushi rolls. In the video, AYA shares traditional recipes, favorite tips, and takes the users step-by-step to the sushi making process using the kit. Thus, you get more than just a product –it's a complete experience.
This sushi making kit contains 11 pieces to make sushi of different shapes and sizes. It includes a sushi knife, non-stick rice spreader, several molds, and an avocado slicer. There are square, triangle, and heart-shaped molds that you can fill up with delicious ingredients.
Aya's sushi kit comes backed by a lifetime warranty and 24/7 customer service team that is always available to answer your queries. Made of durable and food-grade plastic materials, this kit is durable enough to give you several good sessions of sushi making.
If you are looking for more interesting recipes to try at home, here's my article where I have shared 15 Easy Sushi Recipes For Beginners.
Pros
Cons
– Simple to understand online video tutorials
– Dishwasher safe and BPA-free plastic
– 24/7 premium customer service
– No printed information, only online videos
– Items are not labeled
Summary
This bright red sushi maker looks great and works as expected, but you will need to see the online video tutorial. If you dream of making your own sushi at home, this is a good product to help you get started. However, this is not suitable for professionals as only the knife is good quality, the rest is moderate.
---
Passionate about sushi rolls but can't afford to go to the restaurant every week? Get this sushi making kit by Yomo Sushi(see details) that is designed to help you make perfect rolls every time. Made in the USA, using food-grade Teflon material.  Just follow the four steps mentioned, and everyone in the family can make their own rolls.
The product includes the rolling device, sushi cutter, and step-by-step instructions. You may use the kit to prepare 4 different kinds of rolls – Maki, Uramaki, Futomaki, and Hosomaki. You will only need to adjust the ruler in order to make different kinds of big, small, or inside-out sushi. The sushi cutter can slice it into 8-10 perfect shapes.
There are full instructions on how to use the product, how to prepare sushi rice, vinegar for seasons and example recipes to make the 4 kinds of sushi using the kits. Have the ingredients ready, and you could be rolling your perfect sushi rolls in minutes.
Pros
Cons
– Easy to use
– Well-designed and durable
– Slightly on the expensive side
Summary
The Sushi Making Kit by Yomo Sushi is thoughtfully designed to help beginners make four different styles of sushi with the ingredients available. Slightly expensive, but the instructions make it easy to use and make delucious rolls.
---
This sushi making kit by Bay cliff Company stands as a testimony to its quality. It comes with all the essential tools and utensils needed for making sushi. There's also a detailed recipe book that provides step by step instructions to the beginners.
This premium sushi kit includes short-grain sushi rice, nori sheets, rice vinegar, wasabi, soy sauce, and pickled ginger. It also includes tools like a rice paddle and a bamboo sushi mat for rolling. What I love about the product is that the seller has not skimped on the ingredients. There are enough ingredients to prepare dinner for 12 people or nearly 125 exotic sushi pieces.
Now that you are set you take your first step into sushi making, you only need to worry about buying fish and vegetables of your choice. Although it comes with a sushi recipe book, I would recommend that you read this article to get a clearer idea of how much sushi rice to cook and how much vinegar to use for seasoning.
Pros
Cons
– Kit contains all essential ingredients
– Easy to use with instructions provided
– Can make restaurant-like sushi
– Slightly more expensive than others
Summary
If you are looking for a sushi making kit that can help you make restaurant-like sushi at home at a fraction of the price, this one offers a good deal. Overall, it gives you good value for money!
---
Do you want to keep things simple and quick? This is one of my favorite tools and can be called the best sushi making kit for busy professionals. Made in France, this single roller device promises to give you a neat and clean roll ready to cut and eat.
This EasySushi device (shop now) is durable and simple to use with different kinds of nori sheets, rice paper, crepes, leaf wraps, and tortillas. You just need to cook some sushi rice in cooker (read my comprehensive article on how to make rice in cooker) and cut some veggies to start rolling.
Whether you are a novice trying to learn how to make sushi or an expert trying to save time, this easy sushi kit comes handy. It is also dishwasher friendly so you just need to keep in the machine once you are done to clean it well.
Pros
Cons
– An economical way to make sushi at home
– Hygienic and less messy than using a bamboo mat
– It can make sushi rolls in minutes
– Makes only one size of sushi roll
– Not adjustable
Summary
I strictly recommend this sushi kit only for the busy professionals who are too hard pressed for time to get into the messy procedures. Although it has a few shortcomings, you can still make a decent one size roll in minutes!
---
The beauty of this sushi making kit by SushiQuik is that it has focused on an important aspect that other kit makers have ignored. That is the amount of rice spread on the Nori sheet because too much or too light can spoil your sushi.
The training frame is designed in a way to hold only as much rice needed to make a perfect roll. It also comes with a non-stick paddle to help beginners spread rice over the frame without having them stick on the fingers.
Another amazing tool you get with the product is the Sushi roll cutter that helps you cut the roll into equal pieces. The end caps can be turned into soy sauce holders. When you are done cooking and enjoying a delicious sushi dinner, just snap apart the rolling device and wash it in the dishwasher.
Pros
Cons
– The kit is dishwasher safe, so cleans easily
– Contains instructions on how to use the product
– Easy to use for kids too
– No recipes are included in the kit
– Slightly overpriced
Summary
If the bamboo rolling mats make you feel intimidated or you don't like rice sticking on your fingers then this SushiQuik Super Easy Making Kit is a great choice. This is a no mess kit that can turn even your 7-year old kid into a sushi roller!
---
I know many people who shy away from making sushi at home because they think that rolling is not their cup of tea. This brilliantly designed sushi kit takes the guesswork out of sushi making and makes it possible for anyone to roll and serve delicious sushi. It comes with easy instructions to negate the trials and errors from sushi making.
Whether you love the traditional maki rolls or prefer the California inside-out rolls, this awesome kit can help you get started. It comes with a training frame, rolling mat, stand for the mat, sushi roll cutter and a non-stick paddle for spreading the rice over Nori sheet.
What I love best about this kit is that you can make sushi rolls of different sizes, which is a welcome change from competitors. There are Japanese style silicone chopsticks included to give you a complete traditional restaurant-like feel at the dinner table. Just that this delicious and wholesome meal will cost you several dollars less than going to a restaurant.
Pros
Cons
– The kit is dishwasher safe, so no fuss cleaning
– Makes neat sushi rolls like experts
– Durable and safe to use
– Sushi mat lacks structure, making rolling slightly difficult for beginners
Summary
If for some reason you do not like sushi mat made of bamboo, you may opt for this one made of silicone sheet. It is a decent sushi kit for the price but I feel there are other products that are better than this one unless you really don't want a bamboo mat or plastic roller.
---
If you want a complete sushi making kit then trust the experts. Catalina Offshore Products has years of experience in the sushi industry and they know exactly what a beginner needs. This reputed online store has been selling sushi-grade fish and seafood for years, and their sushi kit reflects their understanding of the cuisine.
Each item included in the kit is carefully selected based on the superior flavor and quality. It includes the finest tasting Bluegrass Soy Sauce, Koshihikari short grain sushi rice, wasabi, pickled ginger, nori sheets, and a bamboo rolling mat. The kit comes well-packaged in a sturdy presentation box to make a perfect gift for a sushi fan.
The kit contains sushi press molds, rolling mats and a pair of chopsticks to give you neatly shaped sushi rolls that can be cut into even sizes. I rate this as one of the best sushi making kit 2020 because with this kit in your kitchen, all that is left to buy is the sushi-grade fish that you can order from Catalina.
Pros
Cons
– Contains all sushi essentials except fish
– Sushi making instructions are included
– Works as a perfect gift for sushi lovers
– Slightly expensive
Summary
This sushi making kit by Catalina Offshore Products is on the pricey side but it's justifiable given the number of ingredients it includes in the kit. Overall, I feel this is a complete beginner's kit to learn the basics of making sushi at home.
You can now make sushi rolls without having to roll, thanks to the Sushi Making Kit by iSottcom. It is made from high-quality materials to give you a well-designed product you can use to make sushi at home. Just follow the instructions and you can make a neatly-shaped restaurant like sushi.
What I like about this sushi making kit is that unlike other products made from recyclable plastic materials, it is made from hardwood. The wood is impregnated by natural antiseptic oil to make safe for your family.
The kit is so compact that you can easily store it in the drawer and even carry with you when going out for picnics. Maki maker comes in different sizes (mini and grand) to help you make different styles of sushi rolls such as futomaki, ehomaki, and uramaki.
Pros
Cons
– Comes with instructions and recipes
– Easy to store with spoons and forks
– Rice and nori sticks to the wooden wall
– Too expensive
Summary
While this is a well-designed product and works exactly as described, I feel it is slightly overpriced for its value. If you are an ardent sushi fan and don't mind the price tag, go for it. If not, you may check out some of the best sushi making kits mentioned above.
---
When talking about the best sushi making kits 2019, this humble little nigiri sushi maker certainly deserves a mention. If you are not much into sushi rolls and nigiri is your style then here's a reasonably priced device that will help you make the perfect rice beds.
If your kids love sushi, they will not only enjoy eating nigirizushi with the toppings of their choice but also partake in the fun. You may organize a sushi party and have the kids help you make their own sushi using these little molds.
Those who are looking for a simpler and cheaper sushi making device will appreciate this sushi rice press mold that does what it promises. I have created an all-inclusive guide on all you need to know about nigirizushi, interesting recipes, and toppings of your choice – read it here.
Pros
Cons
– Very cheap
– Helps you shape sushi rice for nigiri
– You can only make small nigiri sushi rice beds
Summary
If you are a fan of nigiri sushi but find it difficult to shape the rice into neat beds to place the toppings over it, I would recommend buying this device. At a reasonable price, you get an easy to use plastic mold that can help you make several nigiri sushi beds at once.
---
7 Things To Consider Before Buying Sushi Making Kit
Traditional vs Non-traditional sushi making kits
Do you prefer the traditional, old school method of making sushi at home? To prepare maki rolls in the traditional method, you will need short-grain sushi rice, rice vinegar, seaweed, raw fish or veggies, and a bamboo mat to help you roll. If you don't have an Asian grocery store near you, I recommend buying your traditional sushi making items.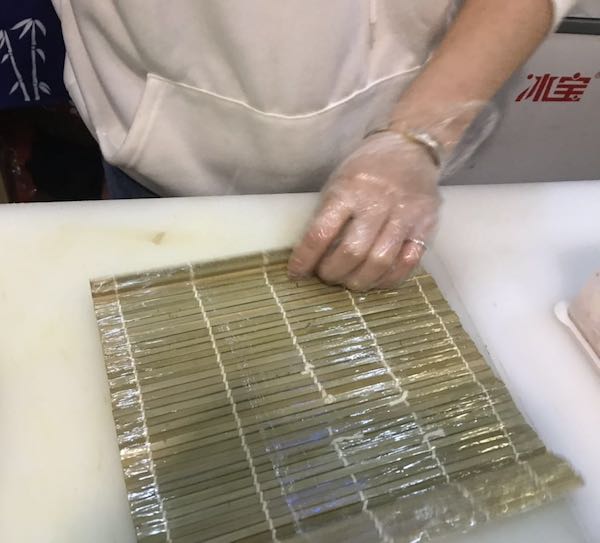 If you are not ready yet to go for the traditional method of preparing sushi at home, opt for the non-traditional kits instead. These kits usually contain a mold that helps you get a perfect cylindrical shape without any mess or fuss.
The Kit Size And Items
While the size of the mold for making sushi rolls does not vary much, the contents inside the kit may differ. For example, if you are planning a sushi marathon, you will need a kit that contains multiple mats or molds. If you have difficulty finding the sushi preparing ingredients at the local store, you may choose a kit that contains items like sushi rice, vinegar, Nori sheets, and so on.
Difficulty level
Are you a complete beginner or do you have some preliminary practice? This is another crucial factor you need to consider before choosing a sushi making kit. You may consider buying a kit that contains a comprehensive guide, book, or videos to help you get started or brush up the skills.
Diverse mold shapes
Some of the sushi making kits come with different types of molds for making sushi of various sizes and patterns such as triangle, square, round, heart, and rectangle. You simply need to use the ingredients to pack into the mold and get the desired shape. It's super quick and easy!
Do you need a sushi set?
If you are a hosting a dinner party and wish to impress upon your guests, consider buying a complete kit that contains sushi dinner sets. The kit would typically include sushi plates, bowls, dipping dish for sauces, sushi knife, and spoons.
Ease of use
If you are a beginner with less to no prior sushi making knowledge, you would want a kit that contains detailed instructions. The mold should be easy to use and contain fewer steps to deliver the end result. It should come with a detailed manual with clear instructions to use the product.
Cost of sushi kits
How much can you afford for a sushi making kit? If you are looking for inexpensive budget kits, they will cost less than $20 and contain only a few accessories. These kits are usually low quality and non-durable; however, they work great for beginners to help them get the hang of the process.
The mid-range sushi kits cost between $20 and $40. These kits usually include accessories such as molds and sushi knives to help them make different shapes. The high-end kits cost about $40 and up, and they may include serving accessories and essential sushi making ingredients.
Different Types Of Sushi You Can Make At Home
Maki Sushi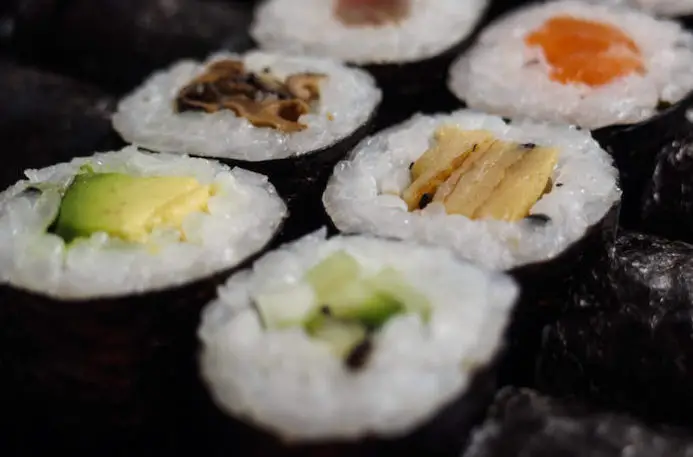 Making sushi is an art, but with a little practice and best sushi making kits in your arsenal, you can dish out beautifully made rolls. Maki rolls is perhaps one of the most common types of sushi people prefer to make at home.
It requires few ingredients you can find in your kitchen and those who don't like the taste of raw fish can use cooked meat, veggies, and fruits as fillings. I enjoy experimenting with different and delicious fillings in my sushi roll, and so I have put together all the information for you to enjoy – 30 good ideas for sushi roll fillings.
Uramaki Sushi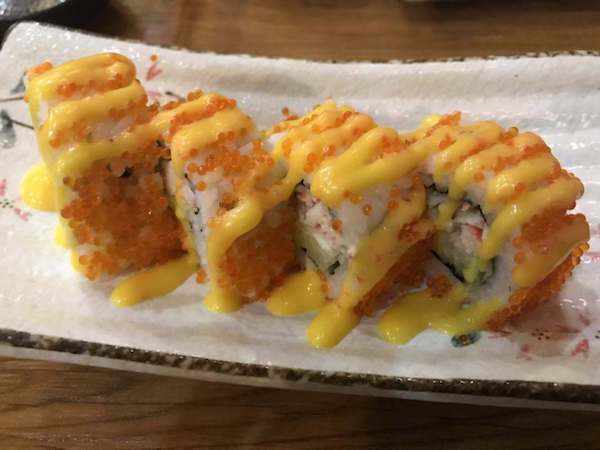 The second typical style of sushi is the inside-out type,  also known as California sushi or Uramaki in Japanese. It has seaweed inside and seasoned sushi rice on the outside, and sometimes there may be delicious toppings for unique creations.
I enjoy making this style of sushi when I am in the mood to be creative and experiment with the different toppings.  The sushi making kits make it easier to give perfect shape to the rolls and prepare several rolls in a short time.
Nigiri Sushi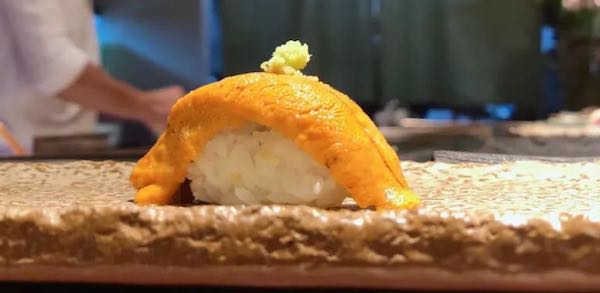 Besides maki rolls and inside-out rolls, another common style of sushi you can make at home is nigiri sushi. This is perhaps the simplest type of sushi as you need seasoned sushi rice and neta (sushi-grade fish).
 You may also use vegetables or fruits as toppings instead of raw fish. The main skill is the way the sushi chef blends the rice and topping together to form one beautiful creation. I have created an in-depth article on all you need to know about nigiri sushi and how to make them – Nigiri sushi all you need to know.
Temaki Sushi
Let's not forget temaki sushi, another favorite of mine! It requires fewer skills, and you don't need to roll or work with a bamboo mat or mold. Just apply some sushi rice to top right corner of the Nori sheet in square shape and add some fillings to it.
Now, roll like an ice-cream cone and seal the edges by wetting the sides of the Nori sheet. Here's an article that talks in detail about this style of sushi – Sushi Hand roll (Temaki Sushi) Recipe Guide.
Different Filling Ideas To Use In Sushi
The beauty of making sushi at home is that you can experiment with different types of raw, cooked, and vegan fillings. Besides using raw salmon, tuna, and other varieties of fish, there are some exciting species like an eel (freshwater or saltwater) and octopus worth trying.
If raw fish or seafood is not your thing, you may enjoy the different species of fish and seafood in cooked, smoked, or grilled form. You may also include cooked/ grilled chicken or tamago (Japanese omelet) in your recipes.
Vegetarians also have many exciting options to choose from, and these include avocado, cucumber, tofu, carrots, bell peppers, shitake mushrooms and so on.
Thinking about the different fillings you can use for sushi? To help you enjoy exciting creations every time, I have put together this article on 30 good ideas for sushi roll fillings.
Essential Tools Needed For Making Sushi At Home
As a beginner, you will need a plethora of essential tools in order to get started. While the best sushi kits will come with several important things you need to put everything together and start rolling, you will also need some utensils for the preliminary tasks.
These include a rice cooking pot or cooker, hangiri, mesh strainer, Japanese gyuto knife(see reviews), and so on. For beginners, I have created a complete checklist of what you need for sushi making – Essential Tools For Making Sushi At Home.
A Japanese sushi knife is perhaps one of the most essential tools you need in your arsenal to make perfect fish cuts and julienne vegetables like a pro. I have reviewed some of the best sushi knives in detail in this article to help you make an informed choice.
Cooking rice in a pot requires a lot of practice and patience. It can also be a time-consuming process for the busy bees. For this, I recommend making rice in a cooker that has pre-adjusted settings to enable you to cook perfect sushi rice by just adding water and rice.
If that makes you want to buy a rice cooker, read my unbiased reviews on some of the best rice cooker models under $200.
Common Mistakes When Making Sushi At Home
When you are a beginner at anything, it's natural to make mistakes. However, there are some common mistakes you can avoid while making sushi to ensure that it comes out close-to-perfect. Let's take a look at some of them:
# Cooking any type of rice
Some people think rice is rice after all, but that's not true. You need short grain Japanese rice to make sushi rice with perfect stickiness at home. If you try cooking other rice varieties that lacks stickiness or is too sticky, this will result in a fiasco.
# Ignoring the rice part
While sushi may sound like all raw fish and toppings, but rice is an important part that should not be ignored. Overcooking or undercooking the rice will not give you the texture needed to make perfect sushi rolls.
# Choosing the wrong fish
No matter how excited you may be to try a recipe, don't go ahead unless you get sushi-grade fish. If you live near the sea, you are lucky as there may be many stores selling them. Those who don't have a trusted fishmonger selling sushi-grade fish nearby may check out the online store – Catalina for high-quality fish and seafood. I have created a useful guide to help you with Where to buy sushi grade fish.
# Adding excess ingredients
It is essential to strike a good balance between sushi rice and fillings for a proportionate sushi roll. Using too much rice or too many fillings can spoil the texture and also make it difficult to roll.
# Dabbing too much soya sauce or wasabi
These sauces are used to enhance the flavor, so use them only as much needed. Pouring too much soy sauce on your roll can make it fall apart. Too much wasabi can also add excess heat, making it difficult to enjoy the delicate taste of raw fish.
I prefer making wasabi sauce at home, and you can find the simple recipe and tips here – How to Make Real Wasabi at Home?
# Making too much sushi
Sushi rice and ingredients tend to lose their flavor and texture when left out for a long time. Make sure you do not prepare too  much sushi rice or ingredients in advance. After you make sushi rolls, eat them immediately. If you need to save some sushi, make sure you store them in an air tight container.
Related Questions
Is it cheaper to make sushi at home?
Yes, of course, because when you make sushi at home, you don't pay for the restaurant ambiance, décor, or chef's skills. It's just the ingredients, cost and your time. It's also a lot of fun to make sushi at home. I have written an article that explains the nitty-gritty of this topic and tells you how to save money by making sushi at home.
Where can I buy sushi grade fish
Buying sushi-grade fish is one of the pre-requisites when making sushi at home. I suggest that you always buy from a trusted fishmonger who understands the meaning of sushi-grade or you may purchase online from authentic stores like Catalina Offshore Products. I have created an in-depth article on the several options from where you can find sushi-grade fish and things you need to consider.
Can I make vegetarian sushi rolls?
Although most people associate sushi with raw fish and seafood, vegetarians can also enjoy this Japanese delicacy by using a plethora of green veggies and fruits. Some of the options for vegan fillings include avocado, cucumber, spring onions, tofu, scallions, sweet potato, carrot, shitake mushrooms and so on.
Is it possible to make inside-out rolls using sushi making kits
Yes, you may use most of the sushi making kits mentioned above to make inside-out California style sushi.  I have put together an interesting article on California rolls to help beginners get the hang of how to prepare the dish. Read the article – How To Make California Rolls At Home (Easy Guide).
What is the best brand of sushi rice
If you are a beginner, always buy sushi rice from a good Asian store and ask for Japanese short-grain rice, especially the shinmai variety (new crop). You may also buy online but be careful to choose the right brand. I have done the homework for you and researched the different types of brands to bring you a list of 10 best sushi rice brands.
Can I eat leftover sushi the next day
One of the downsides of making sushi at home is that we tend to prepare more ingredients than we can possibly eat for dinner. If that leaves you with a lot of leftovers and you are worried about whether or not you can eat it the next day, read this article for more information. I have compiled useful information on how to store sushi correct so that you can eat it the next day and when to toss it out.