We are reader supported. When you purchase through links on our site, we may earn an affiliate commission. Also, as an Amazon affiliate, we earn from qualifying purchases.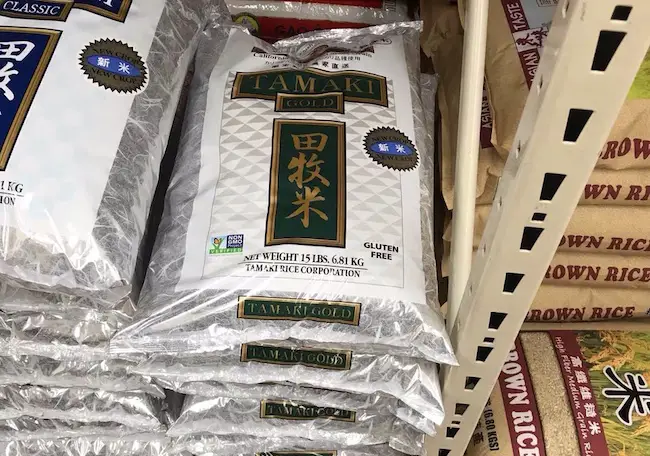 Do you know why sushi in restaurants tastes so good? It's because they use the finest quality rice sourced from the most authentic places. When the master chef adds his unique touch, it becomes exotic food. If you want your homemade sushi to taste restaurant-like, then read on to find out the secrets.
Perfect sushi is possible only when you have the best quality rice brand. As I have already mentioned several times in my blog, the Japanese are very meticulous about everything. They use the highest grade short-grain that has a round shape for making sushi and it is called 'shari'.
Although rice is perhaps the last thing people think of when they hear sushi, it is one of the most important ingredients that constitute the delicacy. It helps in balancing the taste of raw fish and other ingredients. The use of rice has its roots embedded in the history and evolution of sushi.
Evolution Of Sushi Rice
It is believed that sushi originated in China in the second century A.D when the fishermen started using rice to preserve the fish for later use. When the fish was ready for consumption, the rice was discarded and only fish was eaten. This technique spread throughout China and then reached Japan in the 17th century.
The Japanese decided to eat fish with the rice instead of throwing it away. As a result, the Japanese culture of eating rice with fish was born. Due to this, many people consider Japan as a country of origin for sushi.
In the 17th century, a Tokyo chef decided to use vinegar and other seasonings to enhance the taste of rice and cut down the fermentation time. He used fresh fish out of the sea with vinegared rice and it became a success.
 He used tuna fish from the nearby ocean, and this combination not only gave birth to the popular nigirizushi but also uplifted the social status of tuna fish. Today rice and tuna fish make a deadly combination that is sold like hot cakes across supermarkets and grocery stores in the US.
Rice Varieties Found In Japan
While you can find sushi rice brands containing rice cultivated in different parts of the world, food connoisseurs will always prefer the ones found in Japan. As sushi is a staple food in Japan, there are different varieties of short grain rice cultivated.
Also known as Japonica rice, there are mainly two different categories of short grain rice  – glutinous rice (mochigome) and ordinary rice (uruchimai). Mochigome is highly glutinous rice used in making chewy rice cakes that are consumed in various ways.
Uruchimai is the most popular type used for making sushi rice. It is sticky in texture and has a nice sweet taste. It can be easily rolled and picked using chopsticks. Besides being used for making sushi, this rice variety is also used for making the preferred Japanese drink called sake.
Among the different brands of Japanese short grain rice available, Koshihikari(see details) is probably the most popular and most preferred type grown in Japan.
Things To Consider When Choosing A Sushi Rice Brand
If you are game for making sushi at home, you are sure to have fun along with enjoying a delightful gastronomy experience.  The first thing you will need to get started is the best quality sushi rice. When you go to a grocery store, keep these things in mind to buy only the highest-grade rice.
Look for Japanese short grain white rice
Be very clear about this first and most important factor. To make sushi, you must always choose the super-premium Japanese short-grain (recommended) or medium-grain rice. The grains are short and round shaped, plus they cook faster than long-grain variety.
The Japanese prefer their rice to be slightly more glutinous and this characteristic helps the grains to stick together. Thus, it becomes easier to form an oval shape for nigirizushi, to paste a layer on the nori sheet, or pick the sushi pieces with the help of chopsticks.
The short-grain variety is most glutinous and as you move to medium to long grain variety, the rice becomes less sticky. Thus, you must always try to get the short-grain rice if you want to cook the perfect sushi rice. However, if you don't find the short-grain variety, you may use medium-grain.
Keep an eye for 'new variety' or 'first crop'
When choosing sushi rice brand, keep an eye for 'first crop' or 'new variety' printed on the package.  Regardless of the brand you choose, always look for these terms printed on the outside. These are grains picked in the fall and they are perfect for making sushi rice.
If possible, look for the date of packaging on the outside. It should not be more than one year to be the best quality possible. As the rice gets old, the grains become harder and they take more water to soften. Thus, it becomes more difficult to make perfect sushi rice.
Avoid buying the pre-washed sushi rice
There's a new type of rice available in the stores these days and it is called 'pre-washed'. Sushi rice cooks best when it has some of the starch attached to the grains so the pre-washed type is not very recommended.  Starch works as a binding agent to make the grains stick together.
The pre-washed variety does not need to be rinsed anymore to remove the starch. I would recommend that you choose the regular rice brand that needs to be rinsed so that you can rinse in moderation, allowing some starch to still remain on the grains.
Also please bear in mind that the water quantity required and the cooking settings will also vary widely in the case of pre-washed rice.
Ask for the 'Shinmai' variety
If you are lucky to have an Asian grocery store close to your home, ask the owner for suggestions before picking any sushi rice brand. You may ask him if there is a 'shinmai' variety available if you can't find 'new variety' or 'first crop' printed on the packet.
There are some superior brands that have only 'premium short grain rice' printed on the bag. So, remember to ask the grocer to be sure about what you are buying. Shinmai refers to the crops harvested in the current year and you might also impress him with your knowledge.
11 Best Sushi Rice Brand For Perfect Sushi
Now that you know what to look for when buying a sushi rice brand of premium quality, let's take a look at the 11 best sushi rice brands available online.
1. Koshihikari Rice
This is the premium short grain rice created in 1956 at the Fukui Prefectural Agricultural Research Facility by blending together two varieties – Nourin No. 1 and Nourin No. 22. It is harvested in Uonuma area and is named after the historic Koshi Province situated in Japan.
The Koshihikari producers invest a lot of time and apply the right techniques to create the perfect quality rice. Chefs from some of the finest sushi restaurants prefer this rice brand as it differentiates their cuisine from others that use mediocre brands.
Koshihikari means the 'Light of Koshi' and the cooked rice looks light, fluffy and savory. The grains are pearly white in color and when cooked, the rice has a soft and sticky texture. They are available online in 15lb bags.
2. Tamanishiki rice
When it comes to the highest grade short grain sushi rice, the name of Tamanishiki stands tall. The rice is harvested from the plantations located in Montana Farms, California. This variety results from the combination of two different rice strains – Koshihikari and Yumegokichi.
The rice works best for making different types of sushi such as nigirizushi, maki rolls, charishi, and so on. Several high-end restaurants across the world use this rice for making mouthwatering Japanese delicacies that get rave reviews.
The Tamanishiki rice is gluten-free and low in cholesterol and fat. The product comes in a 15 pounds packet and can be ordered online with ease.
3. Tamaki Gold Rice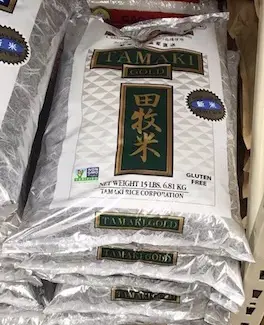 Tamaki Gold Rice is a premium quality sushi rice brand that comes from the house of Tamaki Corporation. They also make a variety of other sushi rice but Tamaki Gold is their best quality product. This short grain rice variety is created when modern milling technologies and traditional farming values come together.
As one of the most premium quality rice, it promises consistent quality with a rich flavor. Tamaki Corporation has been consistently maintaining the high-quality standardization and richness of the rice for the last 20 years.
Selected from the finest koshihikari paddies, the makers follow a high standard for making this rice. No wonder, it is a popular brand across the world and highly preferred for making sushi and other Japanese delicacies. Shop Now
4. Lundberg Organic Farms
The Lundberg Family Farms have been in this business since 1937 and they are committed to producing the finest quality rice. They have consistently maintained a high standard for generations, which is highly commendable. The amazing texture and rich taste reflect in every grain of this sushi rice variety.
Lundberg takes quality seriously and so their rice is inspected each year by the quality assurance team. As these crops are cultivated under the non-GMO standards, they are healthy throughout the growing season. No wonder, they make a trusted choice for making sushi and other Japanese cuisines.
This sushi rice is gluten-free and it contains more nutrients than other varieties of paddy rice. It tastes great when cooked and has been approved by the USDA (United States Department of Agriculture).
5. Rice Select
This premium quality sushi rice brand comes from RiceTec, a research company in California. The first thing that catches the eye when you look at the rice is the aesthetic appearance. It has a nice aroma when cooked and the sweet flavor makes it a perfect ingredient for sushi.
The sticky texture of Rice Select (Learn More) is just what you need to make the different forms of sushi and other popular east-Asian delicacies. It works perfectly for rice salads, teriyaki, and rice bowls. The signature quality is maintained from the farm to the table.
No harmful chemicals are used in the production process, hence this rice brand is all-natural and free of additives. It complies with the non-GMO standards set by the Californian government. If you are looking for a high-quality rice brand at a reasonable price, the RiceSelect fits the bill.  
6. Kokuho
This is another high-grade sushi rice brand (see details) that is carefully bred and grown under optimum conditions to provide premium quality crops. It was introduced by the Koda farms in 1963 and comes under the big Koda umbrella. They have gained in popularity in the last three generations of the Koda family.
Even though the Koda family have the exclusive rights of cultivating this crop, there are some independent farmers who raise this crop. You can also find imitation of Kokuho rice but they are nowhere close in terms of quality.
 This is a fully American brand that offers gluten-free rice that is easy to prepare and hardly takes 15 minutes to get ready to use in diverse dishes. They are available in the 'new crop' variety and are available in 5 LB packages.
7. OUMIMAI Premium
This is a premium short-grain rice that grows in the paddy fields in Japan. It is named so because the rice is grown and harvested in the Oumi region. Known as the traditional sushi rice, it is used in a variety of other Japanese delicacies.
The sushi rice is a gluten-free and Non-GMO product. They are cultivated in optimum conditions to deliver the highest quality crops that yield the finest grains. These short-grain rice are milled using advanced technology.
8. Soeos
If you are a beginner in sushi making then you must try this polished sushi rice variety. It is identified by its premium white color and grows on the southern California region. This is a medium-grain variety that has a sticky texture which makes it a perfect ingredient for making sushi.
Soeos rice (Learn More) boasts a pleasant flavor and tastes delicious when cooked. It is a good choice for those who don't wish to boil their rice with water and prefer to steam instead. Contrary to other rice brands, you will not find any powdery coating outside the grains.
Even though there is no starch, you need to wash the rice to get rid of stains and dust. Besides working great for sushi, it can also be used for making porridge or rice balls.
9. Nishiki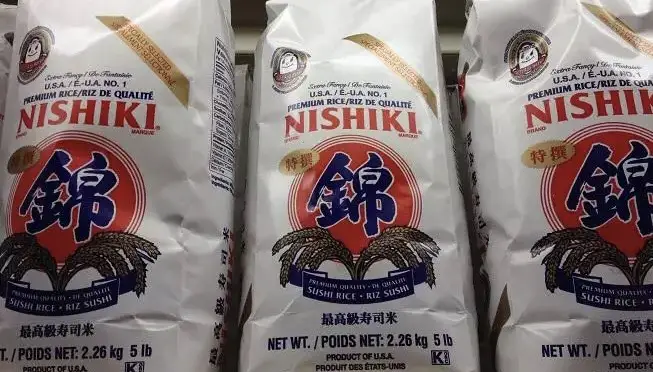 Even though Nishiki is medium grain rice (Learn More), it is popularly used for making sushi across the world. It is grown in the paddy fields in California and is sold by the JFC International. The texture and flavor of Nishiki brand are extremely popular among those who love sushi.
The producers use an advanced technology called musenmai to mill the rice to achieve perfection. In this method, tapioca is removed from the rice and it is coated with liquid brine. When brine is removed, you get clean sushi rice that does not require any more rinsing.
Thus, the rice does not require a lot of water for rinsing. It works best for those who like to have sushi for a meal. The product is available in 15 pounds bags.
10. Botan Calrose
The Rice Experiment Station in Biggs, California released the Calrose Rice to the Californian farmers in 1948. Since then, Calrose Rice has grown in popularity among farmers, consumers, and marketers around the world.
The producers follow a specific set of processing and cooking procedures for the Calrose rice. If you choose to use Californian medium grain for making sushi rice, Calrose should be your number one choice.
This variety of rice is not only popular in the western mainlands of the US, but even in the Pacific Islands such as Guam and Hawaii. This rice comes with kosher certification and it can be bought in different quantities such as 15 LB, 20 LB bags, etc.
The rice needs to be rinsed at least 3-4 times before putting in the cooker or pot. It delivers soft and delicious sushi rice in minutes. One packet contains 35 mg carbohydrate, 3 g protein, and 0.4 mg iron.
11. Essential Waitrose
This is Italian short-grain rice is easy to cook and has a great aroma and flavor. It makes such soft rice that it can be used for making delicious Japanese sushi and a variety of other delicacies. The 500 grams pack (shop now) contains 25.0 g carbohydrate, 2.1 g protein, 477 energy, and 0.3g fat.
If you enjoy making rice puddings and risotto, you can also use Essential Waitrose short grain rice for making these delicacies. The rice can be cooked in a pot, cooker, or oven. This rice variety is famous in the UK and many popular restaurants use this rice for making the finest delicacies.
Related Questions
What is the right age for the rice to be used in sushi?
To be used in sushi, the rice should be between 6 months and 1 year of age. When the rice becomes older, beyond one year, the rice becomes harder and does not work well for making sushi.
Can I use any old rice to make sushi?
No, because rice is an important ingredient and if it is not cooked properly, the sushi will not taste good enough. Sushi rice must have a sticky yet fully texture with a sweet taste that you cannot find in old varieties of rice.
What is the correct measurement of water and rice for shinmai variety?
When you buy shinmai variety or current crop, the typical measurement is one to one. So, for every one cup of rice, you will need to add one cup of water to get the perfect texture.
See Also:
30 Good Ideas for Sushi Roll Fillings
11 Easy Cooked Sushi Recipes
How Often Can You Eat Sushi?