We are reader supported. When you purchase through links on our site, we may earn an affiliate commission. Also, as an Amazon affiliate, we earn from qualifying purchases.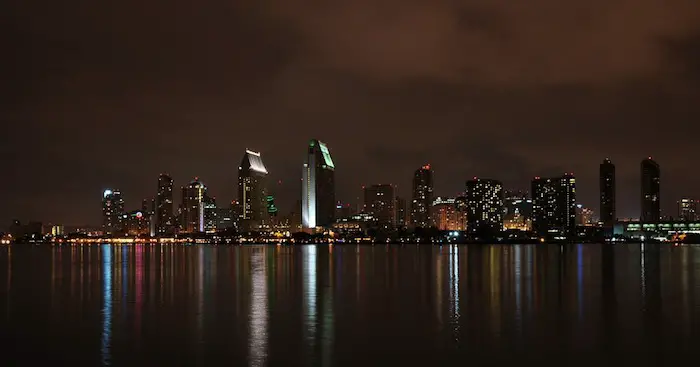 Eating sushi in a restaurant in San Diego can be an expensive dinner or lunch for you. However, if it's all-you-can-eat, you can enjoy your heart out at the restaurant without pinching your pocket too much. If you are new to sushi eating or new to San Diego, you have found this blog post right in time.
In this post, I will share with you 15 best all you can eat sushi in San Diego. I have also included contact information and website to cut the process short and help you make reservations if needed. So, let's get started.
1. PB Sushi
PB Sushi welcomes its guests to a fascinating environment where the staff focuses on providing the best quality in food and service. They also offer all you can eat sushi and the food served as fresh as an individual order. The fish is always top-grade and there are different options available on the menu.
There are basically three types of all you can eat available in the restaurant – one is the most expensive variety that puts you in the C section and costs $40 per person. The B section gets you a lot of sashimi and special fish cuts but not the best ones. The A section costs $25 and you still get to order many sushi rolls from the menu.
Website: http://www.pbsushi.net/
Address: 1203 Garnet Ave, San Diego, CA 92109
2. RB Sushi
If you want to eat authentic sushi in a laid back ambiance, the RBsushi in San Diego is the place to be. Their all you can eat sushi is available every day for $28.99 and the menu includes almost anything and everything you can possibly think of. From maki rolls to nigiri and appetizers, they have it all!
You can order all the interesting options from the menu – Heart Attack, Fire Fire, Rainbow Roll, Dragon Roll and so on. The nigiri varieties come with Yellowtail and Seared Tuna. The AYCE menu also includes vegetable tempura, miso soup, and garlic edamame. Finding a place to park your car can be difficult during peak times but this place is worth your business.
Website: https://www.rbsushi.com/
Address: Rancho Bernardo, 16405 Bernardo Center Dr. San Diego, CA 92128
Address:  College Area, 5943 El Cajon Blvd. San Diego, CA 92115
Address: Hillcrest, 3955 5th Ave. #100, San Diego, CA 92103
3. Sushi Ya
There are three locations and each one is well located to make them easily accessible for the customers. The restaurants are small with probably 10 tables only and some chairs at the bar but the food is awesome. They offer all you can eat menu but you may not find a lot of variety. Nevertheless, their albacore nigiri is to die for and the Jasmine roll is flavorful.
Some of the other varieties are salmon nigiri, tamago nigiri, shrimp tempura roll and so on. As the place is usually not very crowded, you will like this place if you prefer a quiet place while dining. Miso soup and other side dishes are also delicious and fairly priced. Drinks are a little pricey though. The staff is polite and friendly.
Website: http://www.sushiyaonline.com
Address: Del Mar, 12995 El Camino Real #22, San Diego, CA 92130
Address: San Marcos, (760) 480-0700, 751 Center Dr. #110, San Marcos, CA 92069
Address: Chula Vista, 2015 Birch Rd #1603, Chula Vista, CA 91915
4. Sunrise buffet
This is not a Japanese restaurant but they have sushi on the menu and the selection is quite good. You get some really good rolls, nigiri, and side dishes. Fish is usually fresh, but some of the other dishes may taste frozen. Despite this, overall the food is well made and nicely presented to you. The restaurant also gets full marks for maintaining cleanliness.
The servers are usually friendly but you may have a hard time getting their attention if you visit them during peak hours. They have a board outside saying that you can get a 10% Off if you leave a 5-star review on Yelp. It may not be a fair practice but you can still use that offer to get a decent discount. The waiter may ask you for a tip when they bring the bill. That's upon you!
Website:https://sunrisebuffetsandiego.com
Address:  3860 Convoy St, San Diego, CA 92111, b/t Linda Vista Rd & Ostrow St, Kearny Mesa
5. Little Sakana Japanese Sushi Bar & Grill
If you are super hungry and would like to do an AYCE dinner in the Mira Mesa location then this is your best bet. The food is fresh and the fish is always colorful and full of flavors. The vegetarian AYCE option includes avocado rolls, egg nigiri, sweet potato,  furikake fries, miso soup and so on. Other delightful options are dragon roll, baked scallops, and yellowtail roll.
The portions are really good so you don't feel that they skimp on quantity or quality in the AYCE menu. The interior of the restaurant is good and the servers are polite and friendly. Even if they are busy, there is always someone who ensures that food keeps coming to the table and the glasses are filled. Their AYCE is available at around $29 but the experience is totally worth the price.
Website: https://www.littlesakana.com
Address: 8270-E Mira Mesa Blvd, San Diego, CA 92126, USA
6. Onami
If you are looking for an AYCE option with lots of seafood varieties then this is a great place to check out. Sushi is always abundant and they keep coming from the kitchen so you don't have to wait too long. However, let me warn you that peak hours may present you with a different scenario with busy servers and longer wait times.
The ambiance of the restaurant is upscale with blue lights that create a cool effect. The sashimi cuts are pretty decent and they are well presented. Fish is usually good but they are served cold. From salmon and tuna to shrimp and oysters, they have it all. If you are in for the all you can eat buffet, you are surely going to get good value for money.
Website: http://www.onamibuffet.com
Address: 1640 Camino Del Rio N, Ste 206, San Diego, CA 92108
7. Yummy Buffet
If you are looking for a good place in San Diego that offers good Asian and American fare, check out this place. They have abundant seafood options so if you are a seafood lover then you are going to have a great time here. Food is okay, not great and I would definitely not call this the best sushi place in San Diego, but the portions are good enough to make you full.
The ambiance of the restaurant is good but the bathroom needs improvement as it smells filthy according to some guests. Sushi is delicious so this is a pity. Servers are less which makes it difficult for them to attend all customers or keep the glasses filled.
Website: https://www.yummybuffetsandiego.com/
Address: 2855 Midway Dr,  San Diego, CA 92110, 9. Wasabi Sushi
8. Wasabi Sushi
This place does not look very attractive from the outside, but as they say – all that glitters is not gold. So, I would recommend that you don't go by the exterior façade of the restaurant. It has a cozy interior with lots of space for seating. The servers are friendly and they make you feel welcomed.  What most people like about the place is that the quality of fish is better and they use less amount of rice in sushi.
Guests may choose to sit at the table or enjoy a more personalized experience at the sushi bar. The options are plentiful and some of the highlights are Tempura Philly roll, Philly roll, Protein roll, salmon nigiri and so on. The fish pieces are big and chunky and beautifully compliments the rice. The price is reasonable and they also offer a 50% discount on the regular menu.
Address: 2662 Garnet Ave, San Diego, CA 92109
9. RK Sushi
If you are looking for a sushi restaurant that lets you park easily and offers good food that you can enjoy for an hour at least, RK Sushi is the right place. They have some really good options for baked and fresh sushi rolls that you can order for both lunch and all you can eat specials. The food portions are good and the quality of fish is great even in the AYCE menu.
There are so many sushi options to try that you will be spoilt for choice. However, let me warn you that getting a seat on the weekends may be tough. So, be prepared to wait for a little when you get there but one thing is for sure that the food is worth the wait. Servers are friendly and they make you feel at ease even while you are waiting. Full marks for customer service.
Website: https://rksushisd.com/
Address: 334 W Washington St, San Diego, CA 92103
10. Happy's Sushi
The restaurant is neat with lots of seating and open spaces to move around for the servers. They also have good parking space available. If you visit this place, you will realize that it's called Happy for a reason. The cheerful interiors and delicious food are enough to put a smile on your face. Although they have changed owners, the quality of food remains consistent.
You can find a plethora of nigiri varieties on the menu and if you wish to do an AYCE, give them a call and find out when it is available. The price is not very affordable but they provide discounts every now and then that makes the deal pretty reasonable. The staff is super friendly and nice so overall, you can enjoy a good experience.
Website: https://happy-sushi-sushi-restaurant.business.site/
Address: 8973 Mira Mesa Blvd, San Diego, CA 92126, at Greenford Dr Mira Mesa
11. Izumi Japanese Restaurant
This is a Japanese restaurant run by Korean owners but that does not make the food any less delicious. They have a good selection of maki rolls, hand rolls, and nigiri. Fish is fresh and delicious and the portions are good enough to make you full. Their AYCE menu is good but has limited options which may be a letdown for some.
The parking lot is average size, on a shared basis but it may not be a problem finding parking on weekdays. The seating arrangement is good and spacious with some TVs to allow you to watch the sporting events. However, this is not the kinda place for your next football game. There's usually low music that creates a nice atmosphere and does not interrupt you if you are trying to hold a conversation.
Customer service is average and the waiting time can get really long during peak hours.  However, if you love good sushi at a reasonable price, this is one of the recommended all you can eat sushi restaurant in San Diego. If you are in the mood for all you can eat, make sure you have enough time at hand. If you would like to try their regular dinner, they offer different meal options for adults and kids.
Address: 12245 Poway Rd, Poway, CA 92064, b/t Oak Knoll Rd & Pomerado Rd
12. Ogawashi
What do you want from an amazing sushi place? Good food, awesome service, and great ambiance? The Ogawashi has it all and delivers post on in its happy hour with a wide selection of specialty rolls and cocktails. If you are a sushi fan then you must try their all you can eat option that has three levels – $20, $25, and $30. Their website does not mention AYCE option but make sure you ask for it.
In the first level A, you get appetizers and rolls for $20; then you have appetizers, sushi rolls and nigiri for $25; and appetizers, sushi rolls and nigiri and sashimi for $30. The appetizers comprising of miso soup, gyozas, mixed tempura, garlic edamame, and mussels are good and the sushi rolls taste great. Food is fresh and delicious at a reasonable price. If you live nearby, this place is a must try!
Website: https://www.ogawashisandiego.com/
Address:  1100 5th Ave, San Diego, CA 92101, b/t C St & B St Downtown
13. Tokyo Sushi Loha
This place does not offer all you can eat but I still feel that it deserves a mention for great food and customer service. The chef is friendly and attentive to the customer's needs. He likes to be creative with the fillings, so you get to enjoy different types of sushi rolls. For example, the Las Vegas roll comes with a super fresh salsa made from scratch. Other mouthwatering options are dynamite rolls and California roll.
The restaurant also deserves extra points for food presentation. The ambiance is fun and the seating arrangement is properly spaced. However, the waiting time can get absurd during peak times. The sushi rolls are typically small in size for the price you pay. If you wish to get good value for money, I would recommend that you try out their Happy Hour.
Address: 6502 Ei Cajon Blvd, San Diego, CA 92115, Rolando
14. Sushi Ota
This is another amazing sushi restaurant in San Diego where most of the staff speak in Japanese. If you are craving for authentic sushi then this is the place where you can enjoy real good sushi. This is probably the only place in San Diego that serves anago specials (Unagi Donburi). The parking lot in the restaurant has less space so make sure you make reservations before going to the place.
The servers are friendly and nice but at times the place can get too busy for the servers to check back if you are satisfied with your meal. You must try their Omakase dinner which is a one-of-a-kind experience and you will leave the restaurant feeling happy. The portions are generous and you get lots of fish and rice to make you a happy guest. Don't miss their green tea ice cream, which is the cherry on the cake.
Website: http://www.sushiota.com/
Address: 4529 Mission Bay Dr, San Diego, CA 92109 at Bunker Hill St, Pacific Beach
Related Article: Top 8 Keto Sushi Options At Restaurants