We are reader supported. When you purchase through links on our site, we may earn an affiliate commission. Also, as an Amazon affiliate, we earn from qualifying purchases.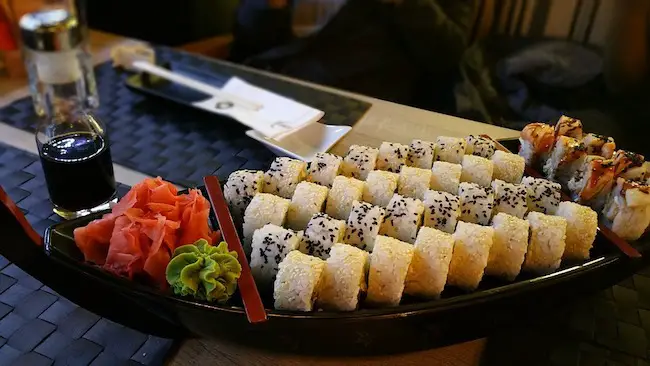 All types of sushi involve cooking because sushi is not complete unless you include cooked vinegared rice in the recipe. Although most people associate sushi with raw fish and they are used interchangeably, they are not the same things. You can actually have sushi without any raw fish in it.
In today's post, I will discuss cooked ingredients instead of raw fish, meat, or seafood. So, the main focus will be on the types of sushi that contain smoked meat, grilled fish, cooked seafood, and vegetables as fillings or on the top.
Who Can Order Cooked Sushi
While we usually think about raw ingredients when it comes to sushi, there are some people who prefer cooked versions over raw. The Reasons can be many. Some people simply do not like the overwhelming taste of raw fish, others may be concerned about food borne illness caused by eating raw food.
Although sushi is carefully prepared by the chefs and only the sushi-grade fish is used, there are people who may not find this appealing. If you are one among them and still wish to try sushi then there are many cooked variations for you.
If you are a beginner in the world of sushi, I would recommend that you start with cooked ingredients to get a hang of the taste and flavor. Once you get accustomed to sushi, you may go ahead and experiment with raw fish or meat.
Pregnant women and people with certain medical conditions may also not be advised to consume raw fish. Hence, they must eat cooked sushi to avoid any unnecessary complications. In this article, I have listed the 15 most popular type of cooked sushi to order or make at home.
Let's check them out:
1. California Sushi Roll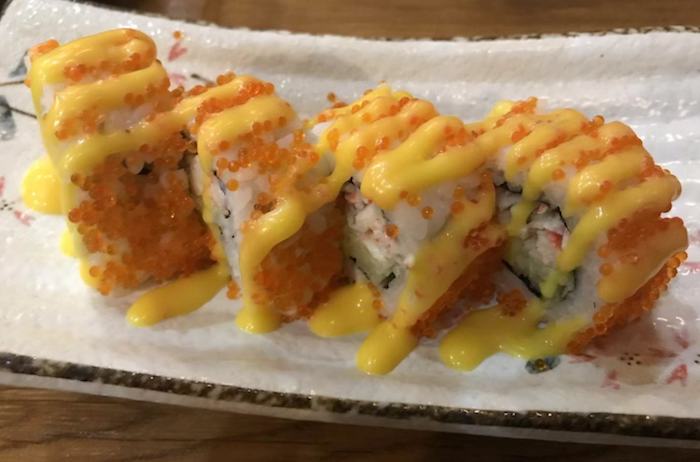 Although the inside-out California rolls (see my favorite recipe) are not traditional maki rolls, they are one of the most popular of sushi dishes. This is one of the most sought -after cooked variation of sushi, and highly demanded in both western sushi joints and Japanese restaurants.
The inside-out California roll includes crab sticks or crab salads along with other vegetables like avocado or cucumber for fillings. In restaurants they mostly use imitation crab or surimi that is made by cooking ground meat of different species of white fish, eggs, and additives.
2. New York Sushi Roll
Shrimp lovers must try the New York Roll that you can find on the menu of any popular restaurant in the western countries. This is an inside-out roll which means it has rice on the outside and cooked (boiled) white shrimps inside used as fillings.
The New York Roll is not only readily available in the restaurants but they are also easy to make at home using local ingredients like farm-raised white shrimp, cucumber, and avocado. Put the shrimps on skewers and boil them with lemon, salt, and added spices. Dip in cold water to ensure the shrimps don't become rubbery and you have a delicious ingredient for your sushi roll.
3. Florida Sushi Roll
If you love eating fish, but prefer it cooked over raw then check out the Florida Roll, contemporary American sushi. It is perfect for those who are just beginning to enjoy sushi. The main ingredient used in the roll is crawfish or crayfish supported by other simple ingredients to bring out a fantastic flavor.
Crawfish are native to the United States, and they do not have a negative impact on the environment. As this species of fish are not predatory, they do not contain any mercury. Hence, when cooked properly, they are safe for women who are pregnant or breast feeding.
4. Spicy Chicken Sushi Roll
If you prefer chicken over fish anytime, you must order the spicy chicken roll the next time you are at a sushi restaurant. This type of sushi contains shredded pieces of cooked chicken breasts instead of raw fish. The shredded pieces may be mixed with Japanese mayo or sriracha sauce to enhance the flavor.
Other ingredients used in the sushi are avocado and cucumber. While avocado adds softness to the sushi pieces, cucumber adds freshness and a crispy texture to the rolls.
5. Caterpillar Roll Sushi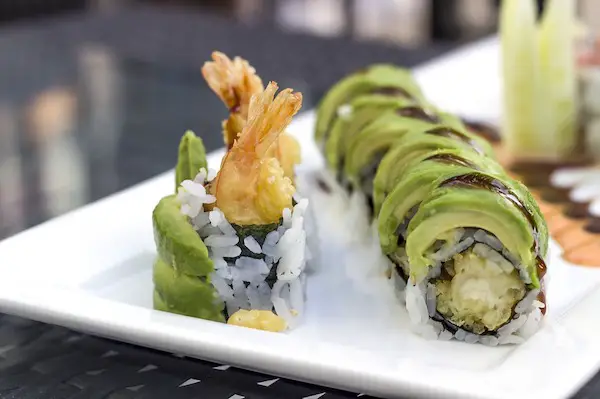 If you go through the menu at a western sushi joint, you will find many weird names and one of the most interesting of all is the caterpillar roll. This is an iconic sushi roll, called so because of its close resemblance to a caterpillar.
The main ingredient used in a caterpillar roll is cooked eel (unagi) or freshwater shrimp. This sushi roll has a mild taste as it has cucumber and avocado complementing the flavor of eel. While the ingredients may be slightly tweaked by chefs in various restaurants, the iconic look remains the same.
6. Smoked Salmon Sushi
If you fancy eating salmon sushi but do not like the taste of raw fish, order smoked salmon sushi instead. You will be surprised to know that the smoked versions are cheaper than the ones that contain raw fish. They are also easily available in the grocery store, so you can even try the recipe at home.
Smoked salmon sushi not only tastes great but also minimizes the risk of any bacterial contamination, hence they are safer for pregnant women. The secondary ingredients in your sushi may be cucumber, and avocado. It may be prepared as an inside-out sushi or traditional style.
7. Heaven Roll Sushi
If you are a fan of tempura then this inside-out sushi roll is sure to give you a taste of heaven. It contains fried tempura made of imitation crab sticks and coconut shrimps. The imitation crab sticks are shredded into thin pieces and they are coated in the tempura batter and deep fried in vegetable oil.
The shrimps must first be boiled and then covered in coconut flakes. They are then dipped in the tempura batter and deep fried to give you crispy and cooked shrimps. The shrimp tempura is added as fillings along with avocado and asparagus, while the imitation crab tempura is added over the top to give a crunchy flavor to the Heaven roll.
8. Futomaki Roll Sushi
Futomaki is a vegan sushi roll that contains sweet Japanese omelet made from eggs. In this recipe, the omelet is perfectly cooked and rolled. It is then cut into thin strips or as desired, and used as filling inside the sushi roll. It may also include blanched carrots and pickled burdock root.
The futomaki roll may also include imitation crab meat or surimi, which is cooked ground meat of white fish. Other ingredients include cucumber, avocado, kanyapo, etc.
9. Spicy Crab Sushi
If you are a beginner who is starting to appreciate a sushi roll, this can be a good way to please your tastebuds. As yet another fantastic inside-out sushi roll, this delicacy uses spicy crab salad as the main ingredient. The chef may use cooked crab meat for making a salad or shred the imitation crab sticks and mix with sriracha hot sauce, masago, and mayonnaise.
The spicy crab recipe is easy to try at home too. Sprinkle some toasted sesame seeds on the sushi rice to get a crunchy feel. Serve the sushi pieces with the sauce of your choice.
10. Spicy Shrimp Roll Sushi
Crazy about shrimps? If you are not a fan of raw fish but shrimps make you feel elated then order the spicy shrimp roll the next time you are at a restaurant. This sushi dish contains large shrimps that are cooked, peeled, and deveined.
The shrimps are usually cut into small pieces and mixed with mayonnaise, sriracha, and salt. They are mostly complemented with cucumber strips to add freshness to the roll. This is an inside-out sushi that tastes great and goes well with traditional Japanese beer.
11. Chicken Katsu Roll Sushi
This form of inside-out roll is perfect for those who are uncertain about trying raw fish or meat. It incorporates the best of two popular Japanese delicacies – katsudon and sushi, hence it's called the Chicken Katsu roll.
In this style of sushi roll, the chicken pieces are covered in whisked egg, bread crumbs and deep fried to get a crispy texture. It is then wrapped in a Romaine lettuce and added as filling inside the sushi roll. The sushi roll is drizzled with mayo and eel sauce on the top.
12. Octopus Sushi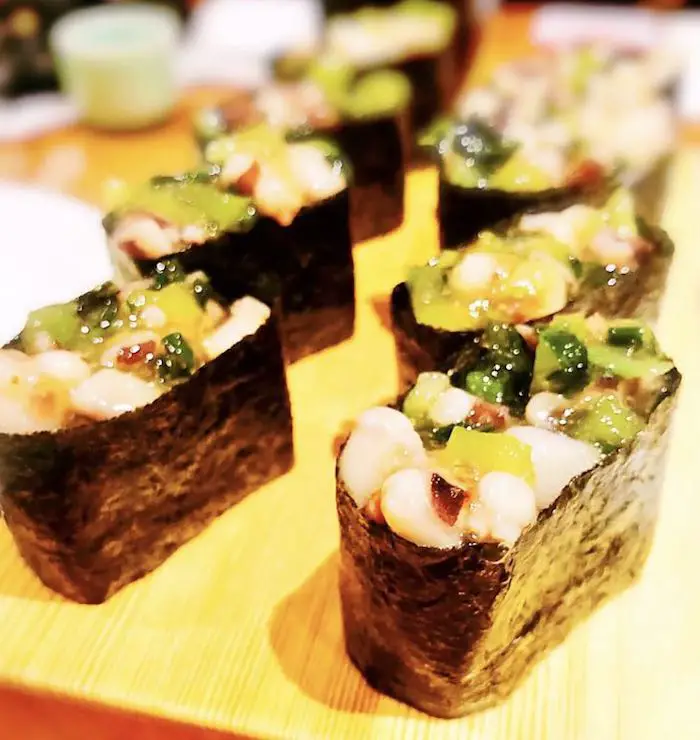 If you are a seafood lover, spicy octopus sushi can put a smile on your face.  Octopus sushi may be available as a gunkanzushi, maki or nigiri. Also known as Tako, boiled and seasoned octopus pieces are easily identified by their rich purple color and suction cups.
Some chefs may use baby octopuses that are coarsely chopped and cooked in soy sauce to enhance the flavor. Other ingredients used in the sushi include blanched carrots, tofu, red cabbage, shitake mushrooms and so on.
13. Dragon Sushi Roll
If you are feeling more adventurous and then here's a must order cooked sushi roll that contains fried tempura prawns inside and grilled eel on the outside. You can also use other ingredients like avocado and cucumber for fillings. Enhance the overall taste of sushi roll with unagi sauce, mayonnaise, and sriracha sauce.
Some chefs are super creative and they may create fangs of the dragon by cutting very thin slices of cucumber, and even add whiskers to it. You can also try this amazing creation at home, find the full recipe here.
Related Article: How To Make Dragon Roll Sushi (With Vegan Recipe)
14. Deep Fried Sushi Roll
While the deep-fried versions of sushi roll are not very common, and almost a no-no in a traditional Japanese restaurant, you may find some in the westernized sushi joints. The sushi, typically an inside-out sushi may contain asparagus, masago, and salmon fillet inside. The roll is then dipped into tempura batter, rolled in bread crumbs and deep fried to give you a delicious treat.
Sometimes the restaurants may not have deep-fried sushi mentioned on the menu, but they may make it on special order. So, feel free to ask the chef or the server if you can order a deep fried sushi roll.
15. Teriyaki Chicken Sushi
If you are a chicken lover like me, this delicious sushi roll must be in your to-order list. The chef usually fries chicken pieces seasoned with salt in sesame oil and pours some teriyaki sauce on it to enhance flavor. Thin slices of avocado and cucumber may also be added as fillings.
As this is an inside-out sushi roll, the chef may add a topping of avocado slices to add more fun to the dish. It not only enhances the appearance of sushi but also makes it finger-licking good. You may also make this style of sushi at home but make sure to cook chicken thoroughly.
Related Questions
Why is cooked sushi safe in pregnancy?
Pregnant women are advised to eat cooked sushi as there are less chances to get any food-borne illness. Cooking fish or meat destroys the bacteria (if any), hence the food becomes absolutely safe for consumption.
Related Article: Mercury Levels In Sushi
Can I order vegetarian sushi?
If you are a vegetarian that doesn't mean you cannot have sushi at all. Apart from the raw fish and cooked meat variations, you can also find fully vegan sushi in restaurants. Try cucumber maki roll or other sushi that contains vegetables and fruits like avocado, green pepper, carrots, mango, spring onions, and so on.
Which type of fish are good for beginners
As a beginner, I would suggest that you order cooked sushi containing red snapper, scallop, halibut, or squid as they have a mild taste. Once you are accustomed with these variations, you may try grilled/ smoked tuna , salmon and so on.
How to ask for help in a sushi restaurant?
If you are ordering sushi for the first time, feel free to talk to the itamae or sushi chef. Ask him to recommend some cooked sushi rolls for you. In a traditional sushi setting, you may be allowed to chat with the chef for a more customized experience. In a non-traditional restaurant, you may not find the sushi chef so ask the servers for suggestions.
Related Article: How To Eat Sushi In Japan (Sushi Eating Etiquette)