We are reader supported. When you purchase through links on our site, we may earn an affiliate commission. Also, as an Amazon affiliate, we earn from qualifying purchases.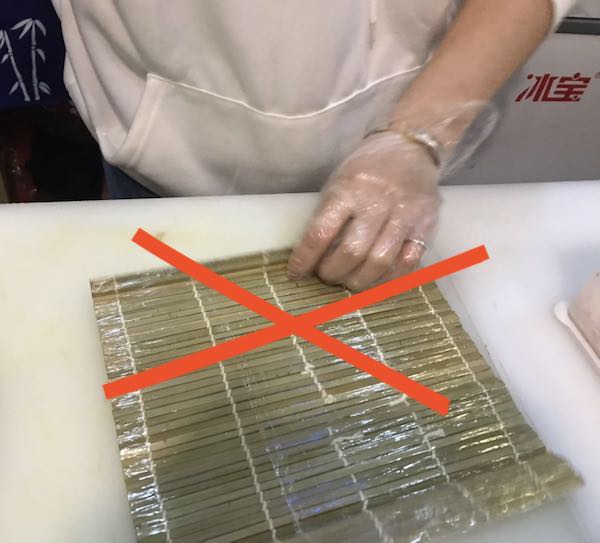 I remember that when I started making sushi at home, rolling was what I dreaded the most because other things are put into test when you roll. For example, if the rice is too mushy or dry, you will not get a good roll, If the ingredients are too many, you will have a tough time rolling.
Despite knowing these facts, I did not have a bamboo mat when I first attempted to make sushi. I know there are hundreds of people in a similar situation as me. If you are craving for sushi and that made you buy everything you needed except a bamboo mat, there is no need to panic.
The fact that you are looking for ways to make sushi without a mat suggests the obvious. You will be surprised to know that you can achieve a neat roll using simple things in your kitchen. So, let's get started.
1. Kitchen Towel
We all have this thing in the kitchen but not many people realize the different uses of a kitchen towel. A clean thick towel can work just like a bamboo mat and give you a perfect sushi roll. Besides using it as a bamboo mat, you can also use the towel to clean up the mess, so it offers dual benefits.
As the thick cloth towel is flexible, you may use it to give a desired shape to the roll using your hands. Once you are done rolling, just cut the corners and you are good to go. If you don't have a thick kitchen towel, you may use any clean towel at home.
That's not all! The real surprise is still waiting. You can not only make traditional maki rolls using kitchen towel but also successfully make inside out rolls. How? It's simple. Just place a plastic wrap or cling film over the towel and flip the Nori after you have spread the rice on it.
Now, you can roll with ease without the rice sticking to the towel as you have the cling film in between. Thus, you can use the kitchen towel to make different styles of sushi rolls include California roll, dragon roll, and Philadelphia rolls at home.
2. Thick Piece Of Cloth
If you don't have a clean kitchen towel, you may use any piece of thick cloth to serve as a base for rolling. It may be slightly tricky if you don't have the experience but you will still be able to pull out a decent sushi roll for dinner.
Just cover that thick cloth with a plastic sheet and you may also be able to make inside-out sushi rolls at home to satisfy your cravings. I recommend using cotton or any lint-free cloth with rugged texture so that it doesn't slip while rolling.
3. Thick Paper
I am sure you will have some sort of thick paper in the house, something of a chart paper consistency to make sushi rolls. Start by placing the thick paper on the table and put the Nori on it. Spread the seasoned sushi rice on Nori sheet and arrange the ingredients on it.
Now lift the thick paper from one side and start rolling to make a cylindrical shape. Apply gentle pressure to make a neat roll but don't press too much or you may spoil it. Just like in the case of a towel, you may also use a plastic sheet between the paper and Nori sheet in order to make an inside-out roll.
4. Newspaper
I know this may sound a bit wired but if you don't have a clean kitchen towel or chart paper, you may fold the Newspaper into a square shape to get a good thickness. This will enable you to roll the Nori sheet better.
Place the folded newspaper on the working area, cover it with a plastic wrap and put the Nori sheet over it.  Take a spoon of seasoned sushi rice and spread it over the Nori sheet. Arrange the cut veggies and fruits over the layer of rice and start rolling.
Apply mild pressure to ensure that you get a compact roll and seal the edges with a few drops of water. Now, take a sharp Japanese knife and cut the roll into 6-8 pieces.
5. Tissue Papers
Yes, I am talking about the tissue papers you use in the kitchen to soak excess oil or clean your hands. Take a few pieces of tissue papers to create a thick base on which you can put all the essential ingredients for sushi.
Bundle 4-5 tissue papers together to get the desired thickness and place it over a table. Keep a Nori sheet on it and spread seasoned sushi rice on it. Put the ingredients and lift the tissue papers from the end close to you and start rolling away from you to make a cylindrical shape. Trim the edges and cut the sushi roll into 6-8 equal pieces.
6. Cling Film
Under dire circumstances when you don't have anything of the above at home, but find a packet of plastic sheet or wrap, it can be used too. However, let me tell you that this might not be easy for a beginner but you can nevertheless give it a try if you are craving for sushi rolls.
Clean a plain surface on the kitchen counter and make sure it is dry. Place the cling film like this on the surface and put a Nori sheet on it. You can spread a spoon of seasoned sushi rice on the Nori and arrange the fillings on the top.
Now, carefully lift the plastic sheet from one end and roll away from you to make a roll. Apply some pressure while rolling so that you get a neat cylindrical log shape.
7. Rubberized Mat
Have you heard of the rubberized moisture-absorbent mats used in the kitchen or used for cleaning purpose? If you have a clean rubberized mat lying in the inventory, you may also use it as a nice substitute for bamboo mats.
These mats tend to absorb moisture really well and they do not have any chemical smell too. To use it as a bamboo mat, keep it on a clean kitchen counter and cover it with a plastic cling film. Put the Nori sheet on the plastic to cover it and spread a spoon of seasoned sushi rice over it.
Arrange your choices of finely chopped or cut fillings and start rolling by lifting the mat from one side. By applying some gentle pressure, make it into a compact and neat sushi roll without a bamboo mat.
8. Baking Paper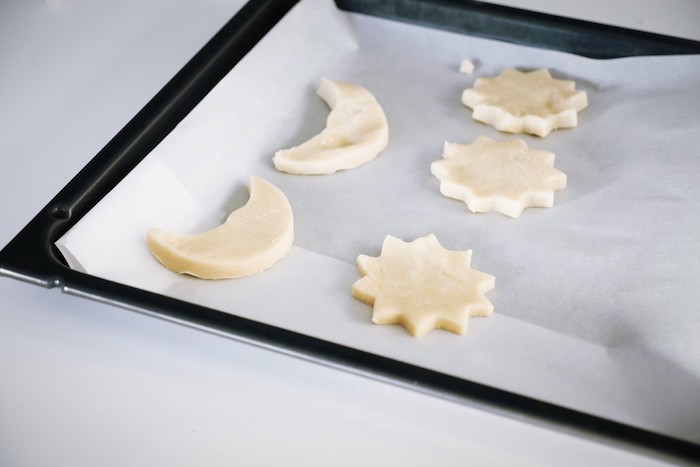 If you are craving for sushi but do not have a bamboo mat to give shape to your sushi, consider trying cooking or baking paper instead. If you are making multiple rolls, make sure you use a new sheet every time for wrapping.
Place the baking or cooking paper on the working surface and arrange all the sushi ingredients over it. Lift the paper from one end and start rolling away from you to make a cylindrical shape. Besides using the paper to make sushi rolls, it can also be used to wrap maki rolls to prevent the rice from drying.
9. Only Nori sheet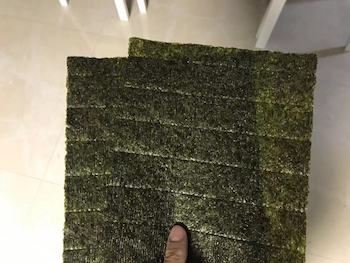 If you are a professional with experience in making sushi rolls and you find yourself in a situation when you don't have a bamboo mat, the Nori sheet is enough. Just place the Nori on a plain working area on the kitchen counter. Spread a thin layer of rice on it. Arrange the fillings towards the middle, slightly closer to you.
Now lift the seaweed from the side that is closer to you and start rolling to make a compact cylindrical roll. Apply gentle pressure with your fingers but be careful to not tear the Nori sheet. Dampen the edges of the seaweed as you reach the end and seal it neatly.
However, remember that rolling your sushi without a base is not for the beginners. You must have a good amount of experience to be able to do it. You can also use soy paper, rice paper, or thin cucumber sheets instead of Nori.
10. Sushi Roller Maker Silicone Cake Rolling Mat
If you don't like the bamboo mat for any reason, you can do away with it and get a Silicone Cake Rolling Mat instead. This incredible sushi maker is made of high-quality silicone material. It is non-stick, non-toxic, and safe to use.
The soft mat is highly flexible which makes it possible to give different shapes to the sushi roll. It is also known for being anti-corrosion and anti-bacterial, which makes it a healthy choice for sushi making. What I love about this mat is that it is perfectly sized and shaped to give you neat Japanese style sushi rolls.
Besides using this mat as a substitute for a bamboo mat, it can also be used as an oven mat, omelet maker, rice roller, cake roller and so on. The mat is easy to use and dishwasher safe capability makes it easy to keep clean.
11. Sushi Bazooka Making Kit – Basic Set
Sushi Bazooka on Amazon is one of the fastest and easiest ways to make sushi rolls at home, and it works great for beginners. The mold is made of plastic material and does a good job at making neat uramaki and maki rolls.
The kit comes with an English manual and an ebook with recipes to help you get started. This is a great gift you can give to sushi lovers to help them save time and money. Most importantly, it eases out the task of rolling and you do not need any bamboo mat to get the perfect shape.
With this amazing sushi mold, you just need to prepare sushi rice and cut fish/ veggies needed for filling up your sushi roll. You no more have to spend hundreds of dollars at the sushi restaurant as you can make as many rolls as you want right at home.
The product comes with a 100% lifetime money back guarantee. So, if you are not satisfied with it, you can give them a call and claim your money back. Now, that's what I call a risk-free purchase.
12. SushiQuik Super Easy Making Kit
If you are willing to spend a little more for a sushi frame and other essential ingredients, the SushiQuik Super Easy Making Kit is a good buy. It contains a roll cutter, pre-measured rice frame, and rice paddle to help you spread the rice evenly.
These additional accessories are extremely helpful for beginners and they can help you get a neat sushi roll without a bamboo mat. I also love the roll cutter that comes handy in cutting the roll into equal pieces. 
The kit is so easy to use that the entire family can gather around to take turns at making their own sushi roll. Most importantly, you don't need a bamboo mat to get started. Cook sushi rolls 30 minutes in advance and cut the veggies or fish strips just before you start rolling.
13. Sushi Making Kit for Sushi Rolls
This is a well-designed sushi roll making set made of superior quality plastic material (see the price on Amazon). With this mold, you can make perfect sushi rolls in a matter of minutes. If you are a beginner at sushi making, you can surprise and impress your friends by pulling out cylindrical rolls. All this, without using a bamboo mat.
The plastic molds using for sushi making is durable and easy to use. It is dishwasher-safe so you can clean the kit by simply putting it inside the dishwasher.
So, if the rolling part has been preventing you from making sushi rolls at home, you can now go ahead with ease. Besides the sushi kit, you also get two additional bonuses – instructions and recipes.
14. Japanese Sushi Roll Making Kit
This smart Japanese sushi maker is a small sized kit that does what it's expected to do – make a neat sushi roll without creating a mess. No more dealing with bamboo mats or having food stuck in between the folds to give a thriving ground for molds and bacteria.
What I like best about this kit is the ease of use. Almost anyone can use the kit and shake out several rolls within a short time. Just put Nori sheet on one side, add sushi rice and some fillings in the middle to get a clean sushi roll.
There's no mess, wastage or cleanup required when you make sushi using this simple kit. This handy tool also saves you a lot of money, time, and effort needed to make your meals. With this versatile roll, you can also make several other delicacies such as meat patty or vegetable roll.
15. HAWORTHS Sushi Maker Roller Equipment
If you want freedom from bamboo mat but still roll like a professional then check out this brilliantly designed sushi roll maker. Made of plastic material, you can use this tool to make decent sushi rolls for you and your family.
If you are a beginner and lack basic sushi skills, this kit may be slightly challenging but you will soon get used to it with practice. The kit comes with instructions on how to use it. However, if the instructions are not enough, you may watch YouTube videos to get a clearer idea.
16. Maxware Sushi Roller Kit DIY sushi Maker Machine
This is yet another sushi making set you can use to make neat and accurate sushi rolls without the use of bamboo mat. The roller is made of food-grade plastic material to ensure both fun and good health in your sushi making experience.
With this kit in your kitchen, beginners can roll sushi like pro and save about 90% the cost of eating sushi at a restaurant. It is not only well designed but also very easy to use. Just add a layer of seasoned sushi rice and veggies on both sides, close the roller, shake it a bit and push the roll out.
The rolls are really big and delicious. Despite being a plastic roller, you do not get any plastic smell from your sushi rolls. It can be easily washed by putting it inside the dishwasher. If you are planning a sushi party, this can be a fun gadget everyone can take turns to roll and make their own sushi.
17. Sushi Magic Sushi Making Kit
Whether you are a novice or an expert, this well-designed sushi kit on Amazon helps you roll like a pro. The kit includes a rolling device to make sushi rolls and molds to make nigirizushi. It also includes a recipe book to help you make different styles of sushi at home.
Besides making the traditional maki rolls, you can also use this incredible rolling kit for making California rolls with rice on the outside. It works great for making appetizers, preparing healthy meals, and professional quality sushi rolls at home.
This sushi kit is hassle-free and easy to use. You just need to pull out the mat, put a Nori sheet on it and arrange the fillings on the top. Now, use the roller to keep rolling until you reach the end of the Nori. Seal the edges and you have your sushi roll ready to savor. You can also make inside-out sushi rolls using this kit.
18. Tigersushi Next Gen 11 Piece Sushi Set Sushi Rolling Kit
Tigersushi presents an FDA approved sushi making kit made of BPA free plastic material. With this smartly designed 11-piece custom set, you can make professional quality rolls easily and quickly. It also includes a sushi chef knife, a rice paddle, and different types of molds to help you make sushi of various shapes and sizes.
The kit comes with detailed step-by-step instructions to help you make sushi rolls with ease. It's an enjoyable way to make homemade sushi and everyone in the family can come together for fun. After you are done with making the sushi roll, just drop the 11 pieces into the dishwasher and you are done.
If the boring round sushi is not your style, this amazing kit allows you to experiment with heart, square, and triangular shaped sushi. Impress your friends with your expertise and call everyone to join you in making sushi rolls.
9 Common Mistakes To Avoid When Rolling Sushi At Home
You will burn your fingers if you try working with steaming hot rice. Always make sushi rice 30 minutes in advance of rolling and let it cool completely before you start making sushi.
Using a dull knife to cut your sushi rolls will result in rough edges. I suggest using a sharp Japanese knife to make equal pieces. I have created an in-depth article containing reviews of the best sushi knives to help you choose the right product.
Dry blades of the knife will make rice stick to it as you make slices. Remember to always dampen the blades to get a smooth cut.
Working with dry hands will make the rice stick to your fingers and give you a frustrating experience. So, prepare a vinegar-water solution called tezu before you start rolling and dampen your hands with it.
Too many ingredients can spoil your sushi and make it harder to roll too. I suggest using only 2-3 types of fillings at the maximum. If you are using one type of fish/ seafood, pair it up with cucumber or avocado to balance the flavor.
Too mushy or too dry rice will also make it difficult to get a neat sushi roll. I have created an article that contains important tips and advice to help you make sushi rice in a cooker or pot.
Adding a thick layer of rice will make it hard to roll and ruin the flavour too. I suggest using a thin layer of rice which is enough to do the trick and balances well with the fillings.
Using a lot of sauces will overpower the flavor and make the roll too wet. Thus, I suggest going light on the sauces for a subtle taste.
Related Questions
Can I make sushi rolls without Nori
Yes, you can substitute the green seaweed with cucumber sheets, soy paper, or rice paper. Alternatively,  you may consider making inari sushi that does not include Nori.
Which style of sushi does not require a bamboo mat?
If you would like to try different styles of sushi other than sushi rolls, you can make them without a bamboo mat. Nigirizushi, inari sushi, and temaki sushi are delicious and fun to make delicacies that do not need a sushi mat.