We are reader supported. When you purchase through links on our site, we may earn an affiliate commission. Also, as an Amazon affiliate, we earn from qualifying purchases.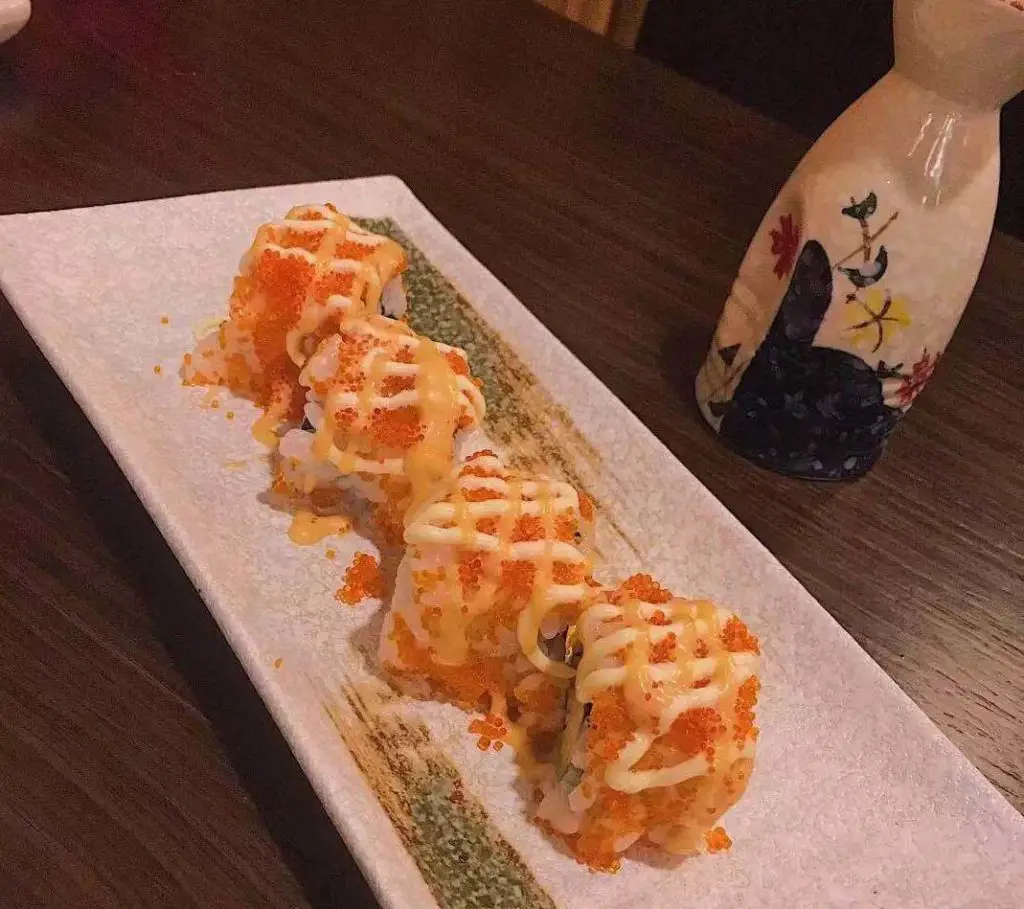 California sushi roll is are one of my favorite food that I am game for it any time of the day or night! However, I must admit that I feel guilty when I eat a scrumptious piece of roll in front of my vegan eating friends, so I decided to look for variations to prepare vegan sushi rolls for parties.
Are California rolls vegan? Not, they contain imitation crabmeat that is made of flesh from assorted species of white fish, eggs, and additives. But, you can always give a vegan twist to the roll by substituting imitation crabmeat with different plant-based options.
To be true, I was slightly apprehensive in the beginning as I wondered whether the vegan option would taste as good as surimi or crabmeat. However, the recipes I tried exceeded my expectations and the flavors and textures were spot-on.
If you are vegan or you have family members or friends who prefer a plant-based diet over raw fish or cooked meat, surprise them with vegan California rolls that taste equally good! Read on to discover the recipes and additional information on vegan California sushi rolls.
Vegan California Rolls Sushi Recipe (Using Vegetable Tofu)
What you will need:
Cooked short-grain sushi rice
Nori sheets
Cucumber julienned
Avocado (cut into thin slices)
Smoked vegetable tofu
You can buy some ingredient in this page.
Perfect sushi starts with perfectly cooked and seasoned rice. To find detailed instructions on how to cook rice in cooker or pot, and how to season with vinegar, sugar, and salt, check out this article.
Let the seasoned rice cool while you prepare the fillings to add inside the vegan California roll. If you don't plan to use all the avocados immediately, sprinkle some lemon juice on it.
Now, place the bamboo mat on the kitchen counter and cover it with a plastic cling film to prevent rice from sticking to the mat.
Cut the full Nori sheet into half and place the one-half on the bamboo mat. Now, take a spoonful of sushi rice and spread it over the Nori. Moisten your finger and apply gentle pressure to cover Nori with rice evenly.
Sprinkle some sesame seeds over the layer of sushi rice. Flip the Nori sheet so that the rice layer goes directly over the bamboo mat and you have seaweed on the top.
Now, start adding the fillings in a line from the side closest to you. Put cucumber slices, tofu slices, and then avocado.
Lift the side of the bamboo mat that is close to you and start rolling to form a compact roll. Squeeze the roll slightly as you roll so that the fillings, rice, and nori hold each other together.
Moisten the blade of a sharp Japanese knife and make 6-8 pieces of the roll with the plastic wrap in place. Now remove the wrap and serve with soy sauce and wasabi.
Pro tip: You can find vegetable tofu in any Asian grocery store. You can either fry them at home in vegetable oil to enhance the flavor or buy smoked tofu instead. 
Vegan California Rolls Sushi Recipe (Using Chickpeas)
If you are looking for more ideas on California rolls for vegans, you are lucky to be here. I have not just one but two amazing vegan recipes that perfectly replicate the taste of California roll sushi without the need for imitation crabs. 
What do you we use as a substitute for crabs in this vegetarian sushi? This plant-based sushi includes a filling made of a blend of chickpeas, nori, cashews, and shredded cabbage. Chickpeas lend meatiness to the concoction, while nori adds the flavor of the sea, cashew provides creaminess, and cabbage adds texture.
For this recipe, you will need:
1 can of chickpeas
1 tbsp lemon juice
1/2 cup shredded cabbage
1/2 cup shredded carrots
1/2 cup raw cashew pieces
Shredded 2/3 Nori sheets
Salt and pepper
4 cups cooked sushi rice
4-5 sheets of nori
2 tablespoons rice vinegar
1 large Japanese cucumber
1 avocado
Sesame seeds
Instructions:
Soak the cashew nuts in water for at least 30 minutes to soften them before blending. When soaked, blend them in a blender with a half cup of water to get a smooth and creamy paste.
Use a food processor to make a puree of chickpeas, carrots, cabbage, and two-thirds of a Nori sheet. Add some salt and pepper to taste, and pulse for a few more times.
Pour in the cashew cream paste into the food processor and pulse some more. Adjust the seasoning and lemon juice to suit your personal preference. You may make this paste a day before you plan to make sushi but it tastes best when made fresh.
I assume that you already have seasoned sushi rice ready to use for this recipe. If not, find the detailed instruction on how to make sushi rice in cooker or pot here.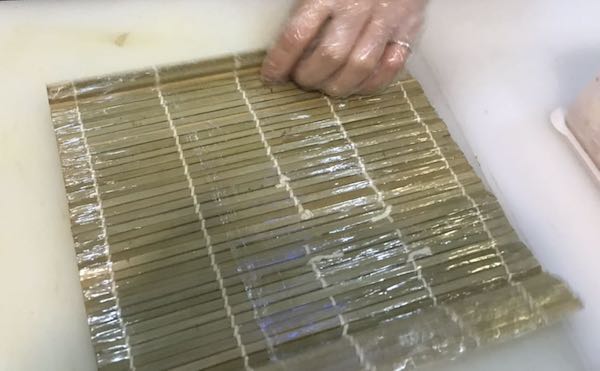 Put the bamboo mat like this on a plain surface and cover it with a plastic sheet. Place half of a Nori sheet over the sushi mat and add a layer of rice. Moisten your fingers and press gently to make an even layer.
Sprinkle some sesame seeds on the sushi rice and flip over the Nori sheet so that the rice touches the bamboo mat and you have Nori on the top.
Arrange a few cucumber and avocado slices on the Nori sheet towards you. Add a spoonful of the chickpea paste along the sides to cover the entire length of the Nori sheet.
Now lift the bamboo mat from your side and start rolling. Apply gentle pressure as you roll to form a compact cylindrical shape.
Moisten your knife and cut the sushi roll into 6-8 equal pieces. Serve sushi with soy sauce and wasabi to enhance the flavor and add some heat.
Who Invented California roll?
As per the most accepted theory, California roll or makizushi was invented in Vancouver by a Japanese chef Hidekazu Tojo. In 1971, Tojo had his sushi shop in Vancouver and he invented the inside-out style to attract the westerners who did not like the taste or appearance of seaweed.
The patrons from Los Angeles fell in love with his creation and the sushi roll including cooked crab, avocado, and cucumber was named the California roll. The original California roll included cooked crab meat, but later it was substituted with the less expensive imitation crab that tastes a lot like the real thing and reduces crab fishing.
What Are The Other Popular Vegan Sushi Rolls?
If you are a vegetarian, you can still enjoy the different variations of delicious sushi rolls that include plant-based ingredients. Here are some of the top vegan sushi rolls you may try at home:
Vegan Dynamite Rolls (contains oyster mushrooms, scallions, and avocado for fillings)
Avocado and Mango Brown Rice Sushi (the name says it all – contains avocado and mango slices)
Spicy Shiitake Mushroom Roll (contains shitake mushrooms, red pepper, and sriracha)
Vegan Spicy Tuna Roll (contains cashew nuts, jalapeno, carrot, cucumber, and avocado)
Teriyaki Veggie Crunch Rolls (contains roasted Japanese yam, avocado, carrot, and cucumber)
Spicy Enoki Mushroom Roll (contains enoki mushroom, sisho leaves, and sriracha sauce)
Vegan Scallop Sushi Roll (contains soaked oyster mushroom stems, breadcrumbs, and vegan caviar)
Related Questions
Can Vegans Eat Sushi?
People deeply connect sushi with raw fish and other forms of meat, hence many vegans believe that sushi is not meant for them. However, this is not true because there are many vegan substitutes for raw fish. The two other main ingredients such as sushi rice and nori are vegan in nature.
Is Wasabi Vegan?
Some types of wasabi are vegan while others are not. If you buy wasabi from a store, it may contain egg whites in it. Even in restaurants where they use authentic wasabi, it is rubbed against shark skin. If you are a strict vegan eater, give wasabi a pass if you are not sure about the ingredients. Your vegan sushi will taste good even without it. You can find out how to make wasabi on my previous article here.
Is Nori Vegan?
Yes, nori or seaweed are vegan and vegetarians should include this in their diet to derive essential nutrients that non-vegans get from fish and seafood. Furthermore, Nori adds a sea-flavor to sushi, which is much appreciated.
Related Article: Is Eel Sauce Vegan?
What exactly is imitation crab, and is it safe to eat?
Imitation crab is a blend of mystery meats that taste eerily similar to crab meat. It is used in place of crab meat as the latter may be hard to come by at certain times. These mystery meats consist of a variety of seafood and are safe to eat.
Why I am not recommend using American cucumber to make my California roll?
Japanese cucumber is recommended because it contains fewer seeds compared to the American cucumber. However, since it may be hard to come by, chefs also recommend English and Persian cucumbers as they too contain fewer seeds.
What are the significant differences between vegan and non-vegan California rolls?
Aside from the fact that vegan California rolls do not contain any meat at all, there isn't much difference. The tastes and textures are eerily similar, and vegan rolls pack less calories and cholesterol compared to the non-vegan ones.