We are reader supported. When you purchase through links on our site, we may earn an affiliate commission. Also, as an Amazon affiliate, we earn from qualifying purchases.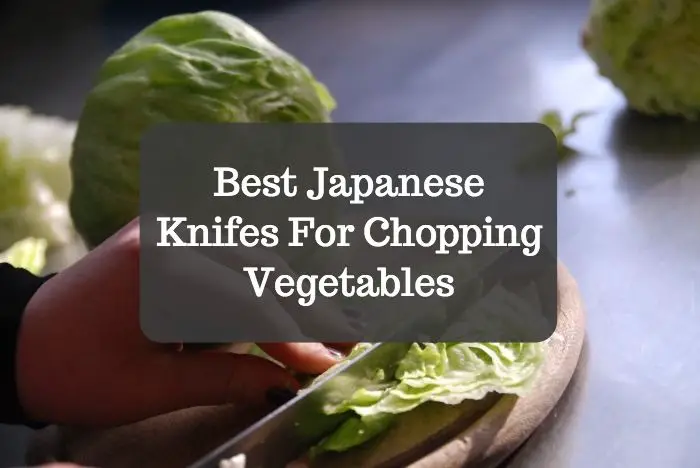 Japanese cuisine is much more than the aromatic flavors and authentic taste. It's a visual treat due to the precision with which the chef slices and chops the ingredients, be it fish, meat, vegetables, or fruits. Do you know where he gets this level of precision? There's, of course, his experience but he also has his secret weapon – a Japanese knife!
If you are seeking that restaurant-like feel at home and delight your family members and guests with food that's not only delicious but a joy to behold then consider buying a good knife. Well, we believe that every enthusiastic and passionate home cook must have a well-built Japanese knife in his arsenal because there's so much you can do with this one tool.
From making perfect slices of vegetables for salad to chopping vegetables for curry, a quality knife can cut faster and transform ordinary food into a work of art. If you are looking for the best Japanese knife for chopping vegetables, there are many brands and models to choose from. We understand that it can be perplexing for you to select one out of so many options.
To cut down your stress and help you pick the right Japanese knife, we have spent hours researching, reviewing, and comparing the different products available online. Read on to find our honest reviews of each product along with its advantages, user reviews, and other specifications. If you don't have the time to read this till the end, we would recommend that you go with our top pick.
After hours of extensive research and review, we feel that the Shun Cutlery Classic Nakiri Knife (learn more) is the best Japanese knife built using traditional methods seamlessly blended with contemporary technology. The blade is made of 68 layers of Damascus stainless steel. It is lightweight and is attached to an ergonomic Japanese style handle for optimum performance. 
| | | | | | |
| --- | --- | --- | --- | --- | --- |
| Features | KUMA Knife | Yoshihiro | Shun Classic | Shun Classic | Shun Cutlery |
| Weight | 7.65 ounces |  6.6 ounces | 7.2 ounces | 2.24 ounces | 7.5 ounces |
| Blade size | 8 Inch | 6.5 Inch | 8 Inch | 4 Inch | 6.5 Inch |
| Material type | Damascus Stainless Steel | Damascus Stainless Steel | Damascus Stainless Steel | Damascus Stainless Steel | Damascus stainless steel |
| Thickness |  67 layers  of steel | 16 layers of steel | 69 total layers | 68 total layers | 68 layers |
| Handle | Western Style Handle | Western Style Handle | Ebony PakkaWood | Ebony PakkaWood |  Ebony PakkaWood |
| Box | Yes | No | No | No | No |
| Dishwasher safe | No | No | No | No | No |
| | See Price | See Price | See Price | See Price | See Price |
---
This professional-grade Damascus Steel Knife from the family of KUMA spells strength, durability, and precision in bold letters. The 8-inch chef knife is made from 67 layers of superior-grade Damascus carbon steel for extraordinary sharpness and longevity. Unlike the thin blades that break and chip-off easily, this sturdy knife is sturdy and chip-resistant for long-lasting performance. Unlike the cheap knives, they are not prone to rusting. These knives are popular because they are exclusively built from premium-grade Japanese imported steel and created by expert blade smiths.
We are impressed to discover that each KUMA knife goes through a series of 8 engineering processes, and they are handcrafted with a V-Shape sharpening technology to provide enhanced and long-lasting sharpness. It enables you to cut through vegetables, fruits and even bone with great precision and ease. The manufacturer has also taken care of user comfort with an ultra-comfortable, ergonomic, and a lightweight handle featuring a full tang, hand-polished spine, and comfortable grip. Maintaining the KUMA Japanese knife is super easy as you just need to wash it with soapy water and dry immediately.
Product features and specifications
Measures 13.4 x 0.8 x 1.2 inches
Weighs 7.7 ounces
Made from Premium Damascus Steel
Stainless steel blade
Comes in a custom box
Versatile and stain-resistant
Ergonomic and lightweight handle
User/ Customer reviews
Everyone from amateurs to professional cooks has used the knife and praised its ergonomic design and lightweight handle which make it so easy to hold and work for hours. Most users have said that the knife has surpassed their expectations in terms of performance. Users are able to slice squashy tomatoes and watermelons with precision, apart from fish, vegetables, and other fruits. Many people have also highly praised customer service for being extremely responsive and helpful.
Conclusion
If you are a fan of Japanese cuisine and love experimenting with various dishes at home, your kitchen deserves this superior-grade KUMA steel knife (shop now). Please be careful as the knife blade is really sharp out of the box and maintaining the sharpness is super easy. Overall, a great investment for passionate home cooks.
---
Japanese Nakiri knives are not just a class but a much-revered tradition and this Nakiri knife by Yoshihiro earn our respect for upholding that tradition. It is beautifully forged and hammered with 16 layers of high-quality steel in the Damascus tradition. The VG-10 series continues to be a best seller for its extraordinary performance and appearance. Whether you are a professional chef or a passionate home cook, a Japanese nakiri knife is a must-have to ensure flawless chopping, slicing, and dicing of vegetables. From chopping root vegetables to slicing the delicate tomatoes or cutting vegetables for the main course, all these tasks are beautifully taken care of.
The Yoshihiro VG-10 takes pride in being made in Japan with a premium-grade Western Style Handle which is ergonomically built and extends to the full tang. The three-layer construction with a VG-10 Japanese stainless steel core offers exceptional durability, sharpness, and edge retention. The blade has a hammered texture that removes friction and prevents the food from sticking on to the blade. Each knife is carefully created by the master artisans with great care and attention to detail to create a work of art. To ensure that the knife lasts longer, take good care after using and only sharpen the blade using water whetstones.
Product features and specifications
Measures 11.8 x 0.1 x 1.8 inches
Weighs 6.6 ounces
Stain Resistant
Western Style Mahogany Handle
Three Layer construction
Stainless steel center core
Double-edged knife
Flat cutting edge
User/ Customer reviews
Most people find the knife extremely well-built, sharp and beautiful to look at and use in the kitchen. As per users, the handle is so comfortable and the blade glides elegantly on the vegetables and other stuff that you will not want to use any other knife again. However, customers have also cautioned that the blade is delicate and can break easily if mishandled. A few users have also praised the customer support team as they are very responsive.
Conclusion
If you wish to feel like a chef even while making regular dishes in the kitchen then get this Naikiri knife that boasts exclusive craftsmanship and superior finish. However, please remember that this is a right-handed single edge grind so not suitable for a left-handed person. Overall, a great pleasure to use.
---
Preparation tasks take more time than actual cooking and with the Shun classic chef's knife, you can do a variety of cutting tasks faster than before. The slightly curved blade is sharpened to a steeper 16 degrees angle. It is made of 69 total layers comprising of 68 alternating steel layers and one VG-MAX core. The VG-MAX steel formula is exclusive to Shun and it comprises of carbon, tungsten, chromium, and cobalt, designed to enhance the strength, sharpness, and durability. Carefully handcrafted by the skilled artisans in Japan, these knives present a perfect combination of age-old tradition and modern technology to give you flawless cutting ability.
The traditional Japanese-style knife handle is made from PakkaWood, a strong hardwood infused with resin for enhanced durability and water-resistance. It is built in a way to resemble a capital 'D' shape and offer a good grip to the user. It also does not harbor bacteria. The ergonomic design of the knife makes it perfect for slicing and cutting vegetables in back and forth motion. Even if the knife is used daily, it is tough enough to take a lot of beating and still retain its sharpness. It is also easy to clean and with good maintenance, it can last really long. The manufacturer stands behind the product and offers free sharpening and covers any defects.
Product features and specifications
Measures 15 x 5 x 3 inches
Weighs 7.2 ounces
VG-MAX cutting core
Stainless Damascus cladding
68 layers of steel and a VG-MAX core
Cutting-edge innovation
Ancient blade-making traditions
Handcrafted in Japan
Stainless steel Material
Free Sharpening
User/ Customers reviews
People love this knife so much that they like calling it a tiny kitchen sword that can be used straight out of the box and stay good for longer with regular honing. Users are impressed by the good balance presented by the knife and the lightweight which further makes it easier to use for a long time without straining the arm. A few users have warned that they grind off a lot of metal when you send it for free sharpening, reducing durability.
Conclusion
These knives are well-built and gorgeous with a beautifully designed blade, however, some durability issues have surfaced in a few cases. Keeping in mind that this is an expensive knife, so we would not recommend it for regular rough use. Buy it if you want a great looking knife to use on special occasions or for preparing special dishes.
---
It's surprising to see the amount of cutting, chopping, peeling, and slicing tasks we do in the kitchen every day. With this Shun Classic knife traditionally-built in Seki City, you can increase the efficiency and reduce the time taken for pairing jobs such as mincing the herbs and small foods. As this knife has extra length, it helps in peeling and trimming the large vegetables and fruits. It is made of high-quality proprietary VG-MAX steel clad with 34 layers of stainless Damascus on each side. You will be impressed with how quickly this knife helps you accomplish all your kitchen tasks.
The knife is fitted with a D-Shape handle made of ebony Packwood that lends a more sleek and sophisticated look to the product. We love how the handle rests on the fingers to give users a more secure and comfortable grip while staying water-resistant. The handcrafted blades and specially engineered handles ensure long-lasting use. The ergonomic design and superior appearance make it look more like an artistic instrument handcrafted for premium kitchen applications. These limited edition heirloom knives are a prized possession you will like to pass down to generations.
Product features and specifications
Measures 8.5 x 0.5 x 1.1 inches
Weighs 2.24 ounces
68 layers of Damascus stainless
Crafted in Seki City Japan
Stainless Steel material
D-shaped ebony PakkaWood handle
Flowing Damascus Pattern
Incredible edge retention
Sharp 16 Degree cutting angle
User/ customer reviews
Most customers who have used this knife for cutting tasks find it extremely gorgeous to hold and highly efficient at performing the job at hand. The D shaped handle is also highly appreciated because it enables you to work for longer without feeling strained. People also love the full tang and highly polished blades that enable you to cut delicate vegetables and fruits with ease.
Conclusion
 The Shun Classic Limited Edition is an amazing chef's knife and a great addition to any passionate cook's special knife collection. The blade is so elegant and restrained, plus the handle perfectly pairs up to give you easy control and precise cutting. Overall, a priceless investment for the wannabe home chefs.
---
If you want a knife that is harder and sharper, yet lighter then Shun is the name. This classic Nakiri knife has the power to revolutionize the way you cook. It presents a line of contemporary and tastefully designed cutlery that scores high in terms of form, beauty, and function. As a handcrafted, useful, and high-performing tool, this Japanese knife with a 6.5" blade does a great job at cutting vegetables. The blade is made from Shun's classic VG-MAX steel which comprises 68 layers of Damascus stainless steel. From slicing juicy tomatoes and julienning carrots to trimming herbs and peeling avocados, the knife outperforms every time.
The reason why Shun is so sought after is that their products are handcrafted by the artists in Seki City, Japan. It involves a traditional method and a unique heat treatment that takes about 100 steps to built the knife in a way to bring out its best properties. The knife uses the latest innovative technology in construction, while at the same time saves the ancient age-old tradition using in sword making. The lightweight Japanese-style Pakkawood handle provides a good grip to the users without straining their hands and the super sharp blade cutting everything like cutter.
Product features and specifications
Measures 12 x 2 x 1 inches
Weighs 7.5 ounces
Handcrafted in Japan
16° Double-Bevel Steel Blade
VG-Max Cutting Core
Hand-Sharpened
D-Shaped Ebony PakkaWood Handle
68-layers of Damascus stainless steel
Limited lifetime warranty
User/ Customer reviews
Most users have warned buyers to be careful that this is not like any western knife but extremely sharp and perfect for cutting vegetables, meat, or anything with great precision. Users have suggested to use it in chopping motion only as a rolling cut technique can damage the tip. People also find the handle easy to control as it feels light on the hand yet powerful like a samurai sword. A few customers have cautioned that the blade is brittle and it can chip easily if not cared properly.
Conclusion
The Shun Cutlery Nakiri Knife (shop now) is the Ferrari of all knives out there and easily secures a place in our list of best Japanese knife for chopping vegetables. If you are looking for a tool to achieve precision in kitchen tasks and complete your work faster than expected then this is a great deal.
---
VG-10 vs VG-Max Japanese vs Chinese Knife Politics
Tips To Take Care Of Your Japanese Knives 
After you have bought a Japanese knife to feel and cook like a pro chef, it's important to take care of that investment to ensure that it lasts longer. Here are a few tips to help you take care of Japanese made knives.
Cleaning
Regardless of whether the blade is made of stainless steel or carbon steel, make sure you wash off with a damp sponge or soapy cloth and dry immediately after each use. Never use any harsh detergent to clean the knife.
Dishwasher
Remember to keep these precious tools away from the dishwasher because the excessive heat can expand and contract the metal. Also, the dishwasher detergent may be abrasive in nature so it's better to avoid them.
Cutting
When deciding on what you can use the knife, please follow this one rule – don't use it on anything that you would not bite with your teeth. It's true that the blades are super sharp but please don't risk them by trying to cut through bones.
Cutting boards
The surface you use for chopping or dicing also plays an important role in deciding the durability of your knife. We recommend that you always use plastic or wooden cutting boards and stay away from materials like marble, glass, steel, or bamboo or anything harder than steel.
Storage
Avoid storing your Japanese knife in a drawer with various other cutlery as it can bang with other tools and get damaged. Instead store them away in their separate box in which they come or in a separate magnetic stand or knife rack for your guests to see.
Related Questions
How often should you sharpen a Japanese knife?
While you can use the ceramic touching rods for regular honing of the knives, we recommend you to sharpen your knives at least once a week. The Japanese knives are typically sharpened at 15 to 16 degrees.
Related Article: 5 Best Sushi Knife For Cutting Rolls 2022
What type of knife do the Japanese chefs use?
The Japanese chef typically uses a Gyutou knife, which is equivalent of an European chef knife. Some of the other types of knives used are Sujihiki (slicer), Santoku (multi-purpose), Petty (pairing), Honesuki (Boning), Nakiri (vegetable knife)and Yo-deba (butcher knife).