We are reader supported. When you purchase through links on our site, we may earn an affiliate commission. Also, as an Amazon affiliate, we earn from qualifying purchases.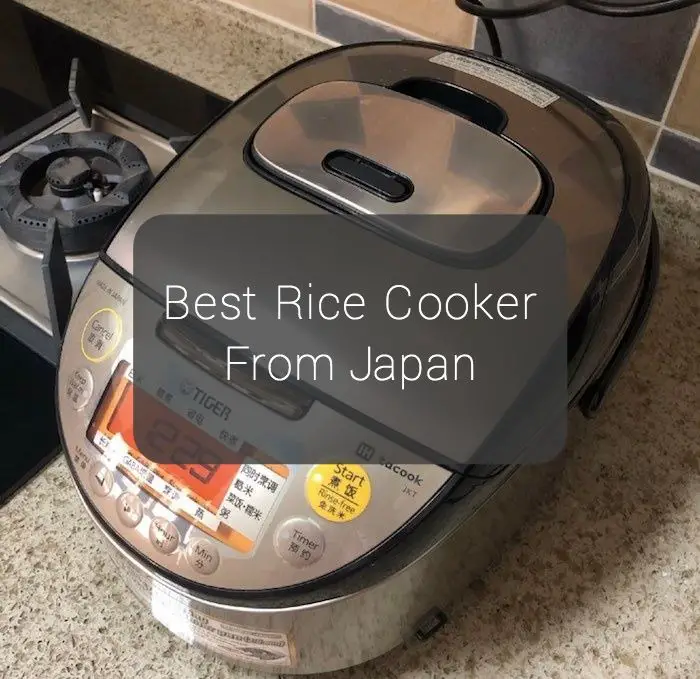 Rice is a daily staple for nearly fifty percent of the world's population. It also forms the base for a plethora of savory delicacies, including our favorite sushi. However, cooking perfect rice is not as easy as it seems because there are so many things that can alter the flavor and texture to suit various needs.
For example, you would like to enjoy fluffy long-grained rice with hot curry, but sticky short-grained rice for sushi and other dishes. It all depends upon the quality of grain used, the measurement of water (rice and water ratio), heat settings, and finishing touches (seasonings).
Perfect timing is also an important factor when cooking rice. Miss a few seconds and you may end up with gooey rice that spoils your efforts of cooking up a delicacy. For many like us who find it hard to keep the patience needed to cook rice in a pot, there's an easier alterative – the rice cooker.
With an easy to use and smart rice cooker, you don't have to stand near the appliance and it will do the work for you. It not only helps in cooking rice more evenly, but several models come with multifunction features to prepare different types of food.
Since the Japanese invented the first ever rice cooker, and rice being their staple food, their products surpass others in quality and performance. So, if you are looking to take the stress out of cooking perfect rice, we recommend that you invest in the best rice cooker from Japan.
To make it easier to choose the perfect one, we have reviewed some of the best Japanese rice cookers available in the market. If you don't have the time to read this till the end, we suggest that you opt for the Toshiba TRCS01 (learn more) if you are looking for a rice cooker with all bells and whistles. Those who want a basic unit with no extra functions or features may choose the Zojirushi NHS-06.
| | | | | | | | | |
| --- | --- | --- | --- | --- | --- | --- | --- | --- |
| Product | Zojirushi NS-TSC18 | Zojirushi NS-LGC05XB | Toshiba TRCS01 | Panasonic | TIGER JBV-A10U | Tiger JNP-1800-FL | Zojirushi NHS-06 | Panasonic |
| Measurement | 11.1 x 9.9 x 15 inches | 11.9 x 9.1 x 7.5 inches | 16 x 12 x 10.1 inches | 10.20 x 13.90 x 9.60 inches | 13.90 x 10.60 x 8.40 inches | 10.70 x 11.80 x 11.70 inches | 7.50 x 9.10 x 7.50 inches | 9.45 x 7.80 x 8.27 inches |
| Weight | 11.8 pounds | 6 pounds |  9.18 pounds |  8 pounds |  5.7 pounds | 4 pounds | 3.1 pounds |  2.6 pounds |
| Material | Steel | Stainless Steel |  NA | Plastic |  Plastic | Plastic | Stainless Steel | Aluminum |
| Size | 10-Cups | 3-Cups | 6 Cups | 10 Cups | 5.5-Cup | 10Cups | 3-Cups | 3-Cups |
| Technology | Fuzzy logic technology |  NA | 3D cooking technology | Fuzzy logic technology | Automatic Cooking Logic system | vacuum insulation technology |  NA | One-Step Automatic Cooking |
| Display | LCD Display Panel |  LCD Display Panel | LCD display | Touch display | 4 Cooking Menu Settings | One button | One button | One button |
| Delay timer | Yes | Yes | Yes | Yes | No | N/A | No | No |
| Keep warm | Yes | Yes | Yes | Yes | Yes | Yes | Yes | No |
| Power cord | Retractable |  Retractable | No |  Retractable |  No | Yes | Detachable Power Cord | No |
---
It's easy to fall in love with this stylish Micom Rice Cooker with a brown coated stainless steel exterior that helps you do a lot more than cook great rice. With the capacity to cook 10-cups of raw rice, it can accommodate about 20 cups of cooked rice. The appliance also serves as a warmer to keep rice warm.
The 820-watt cooker includes a non-stick coated cooking pan, a removable inner lid, and a steaming basket that can be used to cook rice, porridge, cakes, and a variety of other dishes. Some additional accessories include a rice-measuring cup a spatula, and a spatula holder.
The rice cooker is powered by a microcomputer technology that does the thinking for you and adjusts temperature and cooking times. It includes an easy to read LCD control panel with settings and functions for sushi rice, white rice, brown rice, sweets, quick-cooking, and so on.
Product features and specifications
Measures 11.10 x 9.90 x 15 inches
Micro computerized fuzzy logic technology
10-Cups size
Interchangeable melody and beep signal
Built-in retractable power cord
Automatic keep warm
Delay timer
Easy-to-read LCD Display
User/ Customer reviews
Real users have reported that the rice came out perfectly every time without much interference from their side except adding water and choosing the preferred functions. People love the fact that all the parts are easy to remove and clean, plus the inner pot comes with water marks for different types of rice.
Most customers find it easy to use the rice cooker and prepare rice for a small to medium family. A few users have said that the warranty is not good enough and there's not much help if the cooker breaks down.
Conclusion
Zojirushi NS-TSC18 has proved it time and again that there's no comparison to the quality of a Japanese rice cooker. Whether you wish to make brown rice, cakes, sushi rice, or porridge, this appliance is spot-on every time. Overall, a great deal!
---
If a 10-cup rice cooker is too big for you, check out the Zojirushi NS-LGC05XB, perfect for small families, couples, bachelors, and students living in dorms. This 3-cup Micom Rice Cooker comes with both rice cooking and warming feature, with an expandable menu with extra settings and healthier options.
We love the stylish exterior and compact size which does not take a lot of countertop space in a small kitchen. If you are cooking just for one person, the cooker can also work with just half a cup of rice or oats. It has a removable inner lid, fold-down handle, and retractable power cord for easy cleaning.
The rice cooker comes with a triple heater (lid, bottom, and side) that helps heating evenly from all sides and a steam vent cap to prevent messy overflows. It comes with a rice measuring cup perfect for short-grain white rice used for making sushi. The microcomputer settings make auto adjustments for easy cooking.
Product features and specifications
Measures 11.9 x 9.1 x 7.5 inches
Weighs 6 pounds
Made from Stainless Steel
Detachable and washable inner lid
Removable steam vent cap
Fold-down handle
Built-in retractable power cord
GABA Brown Setting for brown rice
User/ Customer reviews
Users have tried this cooker for preparing different types of rice like basmati, jasmine, and sticky rice with restaurant-like quality. People also find this model extremely useful for cooking steel cut oats and other types of rice-based food without overcooking or sticking to the pot.
Customers love the capacity of the rice cooker and the simple settings which make it easy to use for anyone. A few users have said that the measuring lines are not accurate and it can only cook 2 cups of white rice, not the advertised 3 cups.
Conclusion
If you want a small and portable rice cooker that can help you prepare a quick dinner for self or two with fewer hassles then the Zojirushi NS-LGC05XB is a great choice. The smart features, advanced technology, and easy functions make this a great choice.
---
When you get a Toshiba cooker home, you bring home more than 140 years of innovation and industry-leading technology. The Toshiba TRCS01 sports a smart six-step cooking process and 7 different pre-programmed settings to help you cook different types of white rice, brown rice, oatmeal, and so on.
Equipped with 3D cooking technology, this advanced rice cooker can make 12 cups of cooked rice for a small to medium family. It also comes with a Quick Rice feature with sensors that speed up the cooking process to save you time. The non-stick pot can also preserve the steam and keep rice hot and fluffy for 24 hours.
We love the two delay time features that can be adjusted to have rice ready when you come back home from the office. There is an easily detachable steam vent helps you get rid of the messy overflow that requires constant supervision. Additional accessories include soup and rice ladles.
Product features and specifications
Measures 16 x 12 x 10.1 inches
6 Cups Uncooked
12 Cups Cooked capacity
Automatic keep warm
Non-Stick inner pot
Digital Control Buttons
Easy-to-read LCD displays
User/ Customer reviews
People have remarked that with this rice cooker they can enjoy the same great taste of perfectly cooked rice they have own for years. The instruction manual is easy to understand and highly appreciated by the users.
Customers have mentioned that the cooker can cook enough rice for a family of four and cleaning the removable parts is easy. A few users have said that they wished cooking time was more adjustable and the cord a bit longer.
Conclusion
If you are looking for a small and compact cooker that can cook enough rice for a small family then check out the Toshiba TRCS01. It comes with a measuring bowl and additional accessories that make this product worth every penny.
---
This high-efficiency, six-layer multi-cooker from the house of Panasonic can cook up to 10 cups of delicious rice and grains. It also works for a wide range of slow-cooked meals, steamed vegetables, soups, and more. The appliance comes with a 12-hour keep warm feature and a 12-hour delay timer.
The Japanese-style rice cooker comes equipped with an advanced fuzzy logic technology that helps users to make small adjustments in cooking temperatures and times for consistent results. With easy pre-programmed settings and one-touch control, you can prepare restaurant-quality rice in minutes.
Besides making white rice, the cooker can also make brown rice, glutinous rice, sushi rice, and so on. The automatic shut-off function prevents the rice from overcooking and the keep-warm setting automatically activates when the cooking is complete to hold food at a serving temperature for nearly 12 hours.
Product features and specifications
Measures 10.20 x 13.90 x 9.60 inches
Sturdy carrying handle
Non-stick inner pan
Steaming basket and scoops
Auto shut-off function
One-touch cooking
10 cups/ 1.8 liters capacity
12-hour delay timer
User/ Customer reviews
People are impressed with the ease of cooking this little device brings to their meal preparation, by cutting the time into half. Customers love the fact that the parts are all detachable and easy to clean separately after cooking in over.
Working professionals can't stop raving about the 12-hour delay timer that helps them come home to steaming dinner. A few users have said that if they tried making a very less quantity of rice, the bottom part got burnt.
Conclusion
It's hard not to fall in love with this cute looking rice cooker that has simple functions on the front display panel for anyone to use it with ease. Overall, we feel that this 10-cup cooker(learn more) is a great investment for small to medium families that love eating rice and also make a perfect gift.
---
Cooking rice for a sushi dinner or Thai curry delicacy should not be hard. The TIGER JBV-A10U promises to make it as simple as it can get with its one-push operation rice cooker. It comes with multiple functions that enable you to cook two different dishes at once using the 'tacook' synchronized cooking function.
You just need to add washed rice and the right water measurement in order to have a perfectly cooked restaurant-like meal. Users can choose from the 4 different cooking menu settings. The auto cooking logic system by Tiger monitors the cooking temperature actively to make adjustments as needed.
Unlike other standard rice cookers, the Tiger's cooking plate is BPA-free and specially designed to ensure that the authentic taste and flavor of rice is not altered. The auto keep-warm function helps in keeping the food warm even after several hours. It comes with a spatula, cookbook, and cooking plate.
Product features and specifications
Measures 13.90 x 10.60 x 8.40 inches
Weighs 5.7 pounds
4 Cooking Menu Settings
BPA Free Cooking Plate
Automatic Keep Warm
Synchro-Cooking Function
Non-Stick Inner Pot
Detachable Inner Steam Cap
One push operation
User/ Customer reviews
Most users are satisfied with the rice cooker and it serves them over 5 cups of well-cooked and delicious rice every time. People are also happy that its compact shape and size does not take up a lot of space on the kitchen counter. 
While most customers are happy with the performance of the cooker, some users have said that the cooker spills out rice water from the top and at the bottom of the plate, plus the pot may easily get scratched if you are not careful.
Conclusion
With a simple display panel, advanced functions, and a beautiful exterior shape, this Japanese-style rice cooker By Tiger is clearly one of the best money can buy. Overall, we think it offers a good price to performance ratio.
---
If you wish to add a pop of floral colors to your kitchen then check out the Tiger JNP-1800-FL rice cooker and warmer. With the capacity to cook 10 cups of white rice, this appliance is what you need to make just rice or rice-based dishes like sushi, porridge, and so on.
The non-stick inner pan ensures that rice does not stick to the bottom or get burned. It is also detachable and easy to clean after cooking is complete. The steam vent is also retractable and washable to ensure that you keep the appliance working in the best possible condition.
After the rice is cooked, the unit automatically switches to keep-warm function that helps in keeping the rice warm for up to 12 hours. The lid handle makes it easy to move the cooker from one place to another. Some of the extra accessories that come with the cooker are non-stick spatula and a measuring cup.
Product features and specifications
Measures 10.7 x 11.8 x 11.7 inches
Weighs 4 pounds
10-cups capacity
Keep-warm function
Non-stick inner pan
Retractable power cord
Removable steam vent
Spatula and rice measuring cup
User/ Customer reviews
Most users have said that this is a fill-and forget type of rice cooker where you simply need to add the ingredients to get restaurant-like rice ready in minutes. Some customers who have used Tiger products since generations have said that this unit stands up to the commitment and quality.
Most people have said that the rice cooker is easy to use with simple instructions/ settings and cleaning after use is also easy. A few users have said that the customer support is not responsive if there are any issues with the product.
Conclusion
 When you want a high-quality Japanese rice cooker that has been tried and tested for generations then the Tiger JNP-1800-FL fits the bill perfectly. This 10-cup capacity rice cooker is best suited for a small to medium family. All in all, it provides a good price to performance ratio.
---
If you believe that cooking rice should be not a hassle then check out the Zojirushi NHS-06 that comes with easy-to-use switch control. The transparent glass lid makes it easier to see while the cooking is in progress. The stay-cool knob and handles let you use and transport the cooker without getting scalded. 
This 3-cup rice cooker comes with a durable non-stick inner cooking pan, a measuring cup, and non-stick rice spatula. With a capacity of 6 ounces, this appliance can make hot steaming rice for a family of four. When the cooking completes, the unit automatically switches to the keep-warm setting to ensure that rice stays hot for several hours.
We find this an extremely efficient and time-saving appliance that cooks perfect rice every time to enjoy as it is or use it various dishes. The durable pan and tray lasts longer and they are also easily removable and washable using water and mild dishwasher soap.
Product features and specifications
Measures 7.50 x 9.10 x 7.50 inches
Weighs 3.1 pounds
3-cups capacity
Single switch control
Nonstick inner cooking pan
Stainless steel steaming tray
Automatic warm function
User/ Customer reviews
Rice connoisseurs have verified that the Zojirushi NHS-06 3-Cup makes perfect rice for sushi or to go with curries every time. Some users have even said that the Japanese take their art of cooking to a new height and the inner non-stick cooking pan is an improvement over the earlier aluminum pans.
A few users have complained that the cooker sputters and splatters when trying to cook brown rice, while others have suggested that you always use water measurements as mentioned in the rice bag and not in the rice cooker.
Conclusion
If you are looking for a rice cooker that delivers what it promises every time you use it then the Zojirushi NHS-06 is bang on. The durability of the product, ease of use, and affordability make it one of the best rice cookers money can buy.
---
The Panasonic Rice Cooker SR-G06FGL gives you the power to easily prepare up to 6 cups of cooked white rice with just one switch. We love the sturdy exterior design and non-stick inner pan that evenly distributes heat to give you perfectly fluffy rice without any hard work.
The rice cooker has great features like automatic shutoff function when cooking completes, indicator light to show when cooking is in progress, and a fully tempered-glass lid for easy viewing. The product comes with extra accessories such as a measuring cup and rice scoops for convenience.
With the help of this Panasonic rice cooker, you can easily make different types of rice such as white rice, yellow rice, brown rice, short or long-grain rice, oatmeal, vegetables, soup, and so on. The multilingual operating instructions are easy to understand and follow.
Product features and specifications
Measures 9.45 x 7.80 x 8.27 inches
3-cups uncooked/6 cups cooked
One-step automatic cooking
Non-stick coated aluminum pan:
Glass lid with plastic white knob
Additional accessories included
User/ Customer reviews
Most people find this little cooker extremely adorable and useful with its easy settings, safety features, and simple instructions. Users find the cooker perfectly suited to make restaurant-like rice for singles, bachelors, students, and couples.
Customers have also mentioned how easy it is to clean the rice cooker and use it for preparing a variety of dishes. A few users have complained that the rice cooker started leaking water after a few uses, but the customer support was helpful.
Conclusion
If you are looking for a small-sized rice cooker capable of making perfect rice for two then the Panasonic SR-G06FGL (shop now) is a great choice. As you can also prepare a variety of vegetables and other dishes using this tiny appliance, this is a great addition to any small kitchen.
---
Types Of Rice Cookers Available
The Japanese are very particular about the food they eat and rice being their staple, their rice cookers are a form of art. Everything from the size and shape, the technology used and features are carefully put together to help users get the most of their rice making. However, not all rice cookers are alike, and here are the top 3 types of models you can find:
Microprocessor rice cooker
These are the most basic models that come with an easy and straightforward mechanism. It typically has a heater at the bottom of the cooker which heats the pot from inside. While this helps in cooking rice pretty fast, the heat is not evenly distributed. Hence, the bottom parts cook faster while the top takes time.
These models usually do not have a keep-warm setting. So, if you are someone who eats rice immediately after its cooked then this type of cooker may be suitable, otherwise not.
IH rice cooker
IH stands for Induction Heating and the pot inside the IH rice cooker is heated up using an electro-magnetic force that ensures that heat is circulated evenly throughout the pot. When the pot becomes hot, the rice inside gets cooked perfectly with a soft texture and sweet taste. 
These cookers are slightly more expensive than the microprocessor units, but the results are also as good as restaurant rice. Some of the models come with keep-warm function and other advanced features for convenience.
Pressure IH rice cooker
This type of rice cooker brings you a perfect blend for the electromagnetic wave and pressure to intensify the temperature inside the cooking pot. With the heightened level of steam, the cooked rice comes out feeling soft and tasting sweet.
Those who are very particular about the quality of rice and don't want to compromise should opt for the pressure IH rice cooker. Although slightly more expensive, these rice cookers come with all the advanced functions to give you the best results every time.
Things To Consider When Buying A Japanese Rice Cooker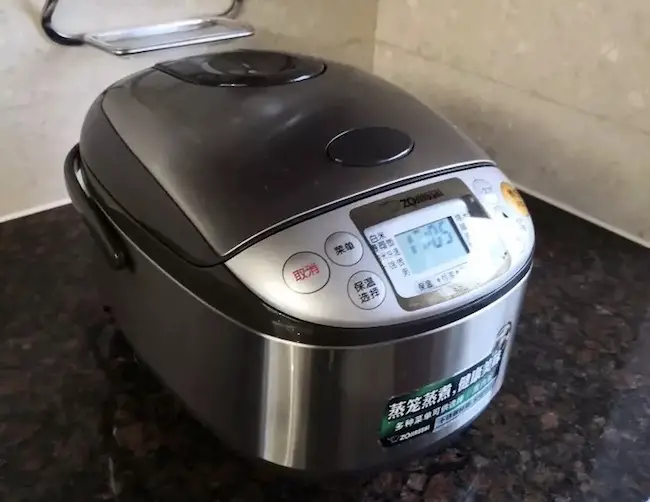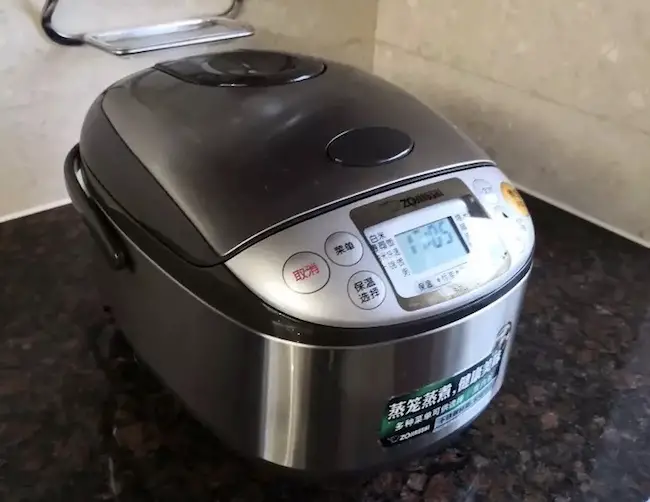 All the products we have mentioned above have been chosen carefully after extensive reviews, analysis, and comparisons. While each of them is good in their own regard, individual needs and choices may differ. So, here are the key things to consider for narrowing down your choices.
Size and capacity
The serving size is perhaps one of the most important things to consider before getting a rice cooker. In Japanese 'go' is used to measure rice and 1 go is equivalent to 150 grams. Here are the measurements to consider:
3 go (approx. 450g) refers to one cup and it's perfect for those who singles or couples. This is a small-sized cooker that does not take a lot of space.
5 go (approx. 750g) means the cooker can cook 3 cups of rice. It is suitable for a small family of three to four members.
8 go size refers to 8 cups of rice and it is suitable for a large family.
1 Sho size or 10 Go size (approx. 1,800g) is equivalent to 10 cups of rice. It is perfect for larger families.
Different cooking functions
If you are a beginner then be aware that there are different types of rice (white rice, brown rice, sushi rice). Each of them is prepared differently as they require different water measurements and temperatures. Some rice cookers are also capable of steaming vegetables and cooking oatmeal.
Those who like to cook different types of rice may enjoy this feature, however, someone who just wants white rice for sushi or curry may not require the extra features. More functions and abilities mean a higher price, so make sure you check to see that you invest in only what you need.
Steam or no steam
The basic models of Japanese rice cookers usually produce a lot of steam when the rice is almost done. Although these units are less expensive, they pose a threat if you have small kids or pets at home. If you get a rice cooker that creates a lot of steam, make sure it is away from the reach of kids.
Fortunately, most of the modern rice cookers are steam less (no steam feature) so you may want to order one of those. Besides preventing the steam, these models also do not allow the smell to come out of the cooker.
Smartphone compatibility
Some of the rice cookers these days have become smarter to meet the changing needs of the customers. If you download the compatible app on your smartphone, you will be able to add your favorite recipes to your cooker to save your cooking time.
You will also be allowed to switch the cooker one or off from your smartphone, thus you get all controls at your fingertips no matter where you are. However, these smart cookers are undeniably expensive.
Baking use
Some of the rice cookers are multi-functional and also allow you to bake bread and make cakes. From the fermenting process to actual baking can be accomplished easily by some of the models. However, these extra functions will increase the price of a unit.
So, consider these features and go for them only if you think that you will be using the cooker for baking a cake or bread. If you are a bachelor or student living in a dorm, you may want to skip these features to get a more budget rice cooker.
Tips To Take Care Of Your Rice Cooker
The better you tend and take care of your rice cooker, the longer they will last and give you great tasting rice every time. As these are electrical appliances, there are some safety and cleaning tips you need to keep in mind when using them. Here are some of them:
If you are a beginner and this is your first rice cooker, we would strongly suggest you avoid experimenting. Read the manual carefully and follow the instructions closely.
You will see water marks or scales provided on the inside wall of the cooking pan. Always fill water up to the level using the measuring cup that comes with the cooker.
Avoid keeping the rice cooker close to any water-based surface to prevent the risk of electric shocks. Always keep them in a dry and clean area.
After you are done cooking, take out the removable parts such as lid and pan and clean them thoroughly. Dry properly with a soft cloth before putting them back to prevent odor and rusting.
When the cooker is switched on, avoid touching the outer surface. Also, stay away from the cooker as some models may emit hot steam that may scald your hands and face.
Remember to never operate the cooker without the inner pot as this may critically damage the unit. Keep it away from the reach of kids and pets.
After the food is cooked, you may let it stay within the cooker in keep-warm function, but only for the allowed period of time. Transfer the cooked food to a utensil after rice cools or else it may get bacterial growth.
If there are stubborn food marks or residue deposits, make sure you only use a trusted cleaning agent recommended by the company. Avoid scraping with any sharp object as this may damage the nonstick coating.
Related Article: How To Make Sushi Rice In A Rice Cooker ? (also in a pot)
Related Questions
Why are Japanese rice cookers so expensive?
These products are specially designed to perfectly cook different types of rice – short-grain, medium-grains, long-grained, and so on. They can also make steamed vegetables, soups, oatmeals, and so on.
Which country invented rice cookers?
The rice cookers were invented in Japan in 1997 and the first model ever was made from wood, in the shape of a rectangular box with a few electrodes fitted across the ends. To cook rice, the box had to be filled with water to which a cup or two of clean rice was added.
Who invented the rice cooker?
The first-ever electric rice cooker was created by Yoshitada Minami, who was associated with the Toshiba Electric Corporation. He created a triple-chamber rice cooker that made it easier to cook rice practically with the heat insulation.