We are reader supported. When you purchase through links on our site, we may earn an affiliate commission. Also, as an Amazon affiliate, we earn from qualifying purchases.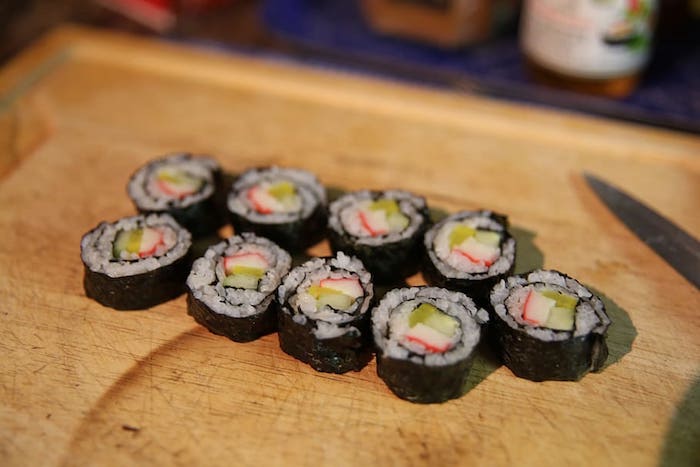 Sushi is not just about the best cuts of raw fish and tasty rice, but the presentation also plays a major role in making the dish visually appetizing. If you try cutting a perfect homemade sushi roll with a kitchen knife, this will result in a disaster with rough edges and damaged form.
Thus, you need the best sushi knife for cutting rolls in order to give it a restaurant-like presentation. These knives are specially designed to cut through nori sheet, vegetables, rice, and raw fish with equal precision. There's nothing like beautifully sliced rolls served on a sushi plate.
However, buying a good quality sushi knife is not as easy as you think. With so many brands and different models available online, it's natural for anyone to get confused. You will need to consider a few important factors such as material quality, comfort, maintenance, and durability.
After reviewing dozens of sushi knives and testing them against multiple parameters, we feel that KEEMAKE Yanagiba Knife is the best buy. It has a razor-sharp single bevel, 10.5-inch blade with Brazilian Pear Wood Handle, plus a limited lifetime warranty that makes it a great purchase.
| | | | | | |
| --- | --- | --- | --- | --- | --- |
| Features | Mercer Culinary Yanagi Knife | Sashimi Sushi Knife | KEEMAKE Yanagiba Knife | Nego Chef's Knife | Yanagiba Sushi Knife |
| Blade length | 12-Inch | 10 Inch | 10.5 Inch | 8.5 Inch | 9-1/2 inch |
| Material | Stain-resistant German steel | Stainless Steel Blade | High-carbon steel | German High Carbon Stainless Steel | High Carbon Stainless Steel |
| Blade type | Single-edge blade | Single-edge blade | Single-bevel | Razor-sharp forged edge | Single-bevel |
| Handle | Traditional wood handle | Traditional wood handle | Brazilian Pear Wood Handle | Synthetic | Wooden handle |
| Warranty | Limited Lifetime warranty | NA | Limited Lifetime Warranty | Lifetime warranty | NA |
| Gift box | No | Yes | Yes | Yes | Yes |
---
If you want those perfect slices of salmon or tuna, check out this traditional razor sharp Japanese knife from Mercer Culinary, a leader in the food industry for over 30 years. The authentic wood handles and sharp blade makes this knife a perfect choice for Japanese and other Asian food. Made from stain-resistant German steel, the knife resists the three key enemies – rust, discoloration, and corrosion.
The blade of this Yanagi Sashimi Knife is taper-ground to a fine-stone finish, hence they are capable of cutting through meat, vegetables, and seafood effortlessly. There's no dragging or snagging involved and you get those perfect restaurant-like cuts. The product is also NSF-certified for safety, quality, and performance. The manufacturer stands behind the product and offers a limited lifetime warranty. Always hand wash the knife for surface and blade edge maintenance.
Product features and specifications
Measures 3 x 2 x 20 inches
Weighs 10.2 ounces
NSF certified
Single edge
Wood handle
German steel
Limited Lifetime warranty
User/ customer reviews
People who have bought the knife are extremely happy with the razor-sharp blade that glides like butter through meat and vegetables. The durable wooden handle is also highly appreciated as it does not feel cheap to hold. Users are also impressed with a lightweight handle that does not put any pressure on the wrist.
Some people are not happy with the round tip, which is not a 90-degree angle but this is not really a con as prevents digging into the chopping board. It can be used for chopping most things in the kitchen.
Conclusion
If you are a fan of Asian cuisine and like making sushi at home, invest in Mercer Culinary Asian Collection Yanagi Sashimi Knife (shop now) to add that artistic touch to the end result. You will be happy you bought this knife every time it gives you a chef-like feeling when cutting vegetables and meat.
---
When slicing raw fish, tender seafood, and rolls, you need a sharp knife that can professionally handle delicate food and this Sashimi Sushi Knife by Lucky Cook is a good option. Manufactured in Japan using the traditional methods, this 10-inch sashimi knife boasts a long, narrow, and asymmetric blade. We are impressed with the performance as it can fillet a whole fish in just a couple of movements. Made from stainless steel, the blade is sturdy, well-balanced and rust-resistant.
As a true sashimi knife, the blade helps you cut perfect slices that don't stick to each other. The edges do not get jagged nor does the structure get torn. The sushi knife sports a light brown wooden handle that adds elegance to the product. It provides a good grip and enables you to cut, slice, and chop for hours without getting tired. This is the best gift you can give to both professionals and beginners to help them improve their skills.
Product features and specifications
Measures 16.5 x 3.5 x 1.5 inches
Weighs 14.4 ounces
10-inch blade
high-quality stainless steel
Traditional Wooden Handle
Good balance
Long, narrow and thick back
Gift Box
Made in China
User/ Customer features
Those who have used the sushi knife say this is the best bet for beginners who are not skilled enough to handle a fully professional grade knife but need something better than an average one. People find it a perfect gift item as it comes in a beautiful box with a magnetic latch, which is also perfect for storing the knife. A few users have mentioned that this is not an everyday knife and suitable mostly for beginners.
Conclusion
If you are learning the art of making sushi, you need a good kitchen tool to help you in this endeavor. Get this sturdy, stylish, and great performing knife that can be used out of the box to improve your culinary skills and help you garner compliments from guests.
---
This 10.5 Inch right-handed Japanese Yanagiba knife is thick and single-beveled, built for the professionals. It is the perfect tool you can use for filleting and slicing boneless fish. It also does a good job at skinning fish, hence it can be used for both sushi and sashimi dishes. The single-edge blade is made from high-carbon steel and it exhibits a brilliant stain and wears resistance. The blade comes with a 12-15 degree cutting angle that inherits the traditional sharpness of Japanese knives. The matte sandblasting strip in the middle layer helps in quick food release.
This Yanagiba Knife is fitted with high quality and ergonomic Brazilian Pear wood handle for enhanced durability and balance. The sleek handle gives a good grip and feels convenient to hold and cut. As the wooden handle is lightweight, there's no pressure on the wrist even if you use it for hours. The product comes backed by a limited manufacturer's warranty, which makes this a no-risk purchase. Just make sure you take good care of the knife by hand washing and drying it properly after use.
Product features and specifications
Weighs 1.19 pounds
Blade length 10.5 inches
Made from 2 layers VG10 steel
Concave grind left side
Brazilian Pear Wood Handle
Limited Lifetime Warranty
User/ Customer reviews
Customers are happy to find a well-designed sushi knife that can cut vegetables, raw fish, and rolls with equal ease. Both professionals and beginners find this to be a good investment and they are of the opinion that the blades remain super sharp even after several years of use. A few users have cautioned that the knife has sharp edges on the handle and the area where the blade and wooden handle meets is not designed smoothly.
Conclusion
If you are looking for a professional-grade sushi knife that can glide through rolls, vegetables, and raw fish like a hot knife over butter then get the KEEMAKE Yanagiba Knife Japanese. The traditional design, weight, and length of this knife make it one of the best money can buy.
---
If you want to master the art of making sushi rolls, a good quality sushi knife is one of the essential tools you must have in your arsenal. This sashimi knife by Nego is made from premium materials to deliver the highest degree of performance. Made from high-grade carbon German stainless steel, the knife blade is not only durable but also rust and wear-resistant. We are impressed by the versatility of the knife as it can handle a plethora of kitchen tasks including chopping, slicing, dicing, and mincing.
The 9-inch knife has an ultra-sharp edge, about 15 degrees. Razor-sharp edge is not only great for cutting but it can hold its sharpness for long. It comes attached with an ergonomic handle with a protective bolster and triple rivets to ensure that the handle stays secure with the blade. The product comes backed by a lifetime warranty against any workmanship issues or defects.
Product features and specifications
Weighs 15.2 ounces
8.5 Inch knife blade
Protective finger guard
Ultra Sharp Edge
100% satisfaction guarantee or money back
High carbon German stainless steel
Ergonomic Handle
Lifetime warranty
User/ customer reviews
For most users, it was a love at first sight with the beautiful outer box and the design of this sushi knife. People are pleased with their buying decision because the razor sharp blade performs beyond their imagination, and works great for both vegetables and meat. Due to the affordable pricing, many people prefer buying two, one to use as a kitchen knife and the other one reserved for special sushi dinner times.
Conclusion
If you are looking for the best sushi knife for cutting rolls without breaking the bank then this Sashimi Knife Kitchen Knife by Nego (learn more) fits the bill just right. It reflects great workmanship and outstanding performance at an affordable price. Overall, we feel this knife gives an amazing price to performance ratio.
---
The Japanese used their sword-making secrets in manufacturing sushi knives and when you look at this Yanagiba Sashimi Sushi Chef Knife, it reasserts this belief. With a rust-resistant steel blade and razor-sharp edge to match, this sushi knife slices seafood, raw fish, meat, and vegetables like dream. The sleek and slender design of the knife makes it an eye-catcher, plus we also love the outer cover box that can be used for storage. It also makes a wonderful gift box for sushi enthusiasts.
The knife is fitted to a high quality and durable wooden handle that offers maximum comfort and provides a good grip. The knife blade can be easily sharpened on a damp whetstone. Make sure you wash the knife with a mild dishwashing liquid soap before and after use. Dry the blade thoroughly. Remember to always hand wash and avoid any abrasive cleaners or scrub brushes when cleaning.
Product features and specifications
Measures 11.8 x 7.9 x 7.9 inches
Weighs 4 ounces
High Carbon Stainless Steel
240mm
9-1/8 in overall length
Rust resistant
Made in Japan
User/ customer reviews
Most users are happy with the strength, durability, and lightweight of the product, which makes it perfect for delicate jobs such as cutting fine slices of raw fish, julienning vegetables, and so on. Customers are surprised to find a sharp knife so useful and versatile at this price range. A few users have mentioned that the quality of the sushi knife did not meet their expectations in terms of quality.
Conclusion
If you are a beginner at sushi making or someone who loves preparing sushi and sashimi occasionally at home, this knife is a great buy. Although it cannot be compared to a professional sushi knife, it delivers good value and performance for the price.
---
Related Questions
How to get a smooth and nice cut of sushi rolls?
Make sure you use one of the sharpest sushi knives for cutting rolls mentioned above. Dampen the edges of the blade, get rid of extra water and now cut the roll first into half, and then repeat the same process for the two pieces to get four perfect slices.
What is the right method to cut a sushi roll?
Many people commit the mistake of doing the seesaw method and end up with unsatisfactory results. You can have a look at my previous article for more: How To Cut Sushi Rolls?
Why are Japanese knives considered as the best?
The Japanese have a deep-rooted history of knife making. We have all seen samurai warriors swaying their swords in the movies and the same technology is used in making sushi and sashimi knives. The forging process kasumi in Japanese dates back to the era of samurai.