We are reader supported. When you purchase through links on our site, we may earn an affiliate commission. Also, as an Amazon affiliate, we earn from qualifying purchases.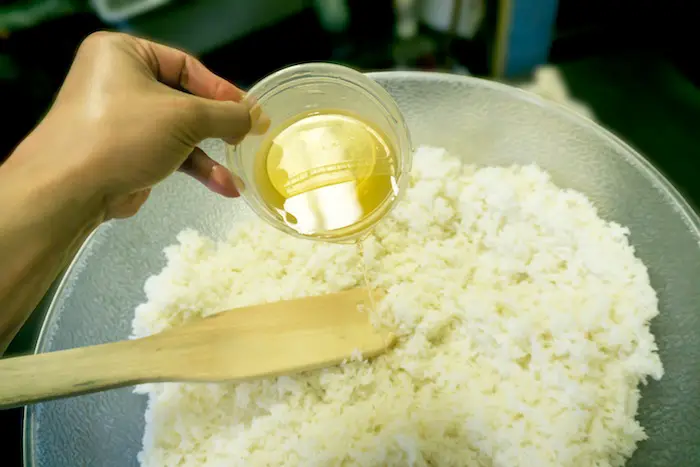 Sushi not just a delicacy but a complete art in itself and every little ingredient has an important part to play. Today, we will talk about one of the unsung heroes of sushi – the rice vinegar. While we mostly talk about fish, seafood, rice, and nori, the rice vinegar is what imparts that authentic flavor.
After the sushi rice is cooked, it is seasoned with vinegar, salt, and sugar to achieve that supreme umami flavor. So, you may also call it a flavor enhancer that not only improves the taste but also increases the binding ability of sushi rice.
If you are a sushi beginner, shopping for the right ingredients can seem like a daunting task. There are higher chances that you will be confused with so many options and brands available for you. Not all vinegar brands are suitable for sushi making, so which one to order?
Worry not, because our sushi experts have taken the stress out of finding the best sushi rice vinegar brand. We have reviewed over a dozen brands of different types of sushi vinegar to find the products that offer the most authentic texture and taste to your favorite dish.
Read on to find our reviews for each product. If you are in a hurry and do not have the time to read until the end, we suggest that you get the Mizkan Vinegar Sushi vinegar for its perfect umami flavor and authentic taste.
This is Marukan's best-selling rice vinegar brand (see Amazon) and they have carefully blended it with the company's own authentic brewing technique. Due to its sweet and tangy flavors, it tastes best when used for preparing shari or sushi rice. To enjoy the optimum flavor, you must mix it with hot steaming short-grained rice that is cooked to perfection.
The product contains rice, vinegar, salt, and sugar. As this is gluten-free and no-fat vinegar, you can also use it to prepare healthy marinades by mixing it with the oil of your choice. It can also be using it for making sweet and sour marinades, you may also use it for stir-fries and salads.
The rice vinegar is a Non-GMO Project initiative, which means it is made by a non-profit organization that is committed to building and preserving sources of non-GMO products and educating the consumers. It is also known for offering several verified non-GMO choices.
Product features and specifications
Zero Fat
25 Calories
22% sodium
Non-GMO
Gluten-Free
Sweet and Tangy Flavor
Conclusion
If you are looking for that authentic taste of sushi as you get when you walk into a Japanese restaurant, we suggest that you get the Marukan rice vinegar. Besides using it to season rice, you can also use the product in making a variety of sauces, marinades, and dips.
---
The brand needs no introduction as they are one of the world's leading manufacturers of soy sauce. Kikkoman is derived from Japanese words that signify success, happiness and longevity. It includes a mixture of rice vinegar with sweetener and salt.
The sweeteners used in their sushi rice vinegar may vary, such as sake, rice beer, or just sugar. Sometimes, it may also include some other ingredients such as kelp or kombu. While they are less acidic in nature than other vinegar brands, they are not a perfect substitute for them due to the presence of other ingredients.
Whether you are a beginner or pro at sushi making, this is one of the most reliable rice vinegar brands you can get to enjoy the restaurant-like taste at home. This 20fl oz bottle will last you for several uses.
Conclusion
Kikkoman sushi rice vinegar (learn more) is one of the oldest and trusted brands preferred by chefs around the world. If you are looking to enhance the flavor of sushi rice, this is one of the best options you have to impress your guests.
---
If you love sushi and wish to replicate the authentic traditional taste right at home then check out the Mizkan Vinegar Sushi Seasoning. This is a quick, tasty, and easy solution to enjoy making various styles of sushi such as maki rolls, nigirizushi, chirashizushi, and so on.
You just need to use 3 tablespoons of the seasoned vinegar to properly season two cups of cooked sushi rice. Remember to blend the vinegar to rice after it cools down slightly. You will not need to add any extra sugar or salt because this rice vinegar has everything you need.
Most users call it their go-to-brand for sushi vinegar as it helps them bring out the perfect umami flavor in the dishes. Besides using it in sushi rice, you can also use Mizkan vinegar to season seafood, salads, and a variety of other dishes.
Conclusion
If you are new to sushi making, we suggest that you get the Mizkan Vinegar Sushi Seasoning (shop now) as it never disappoints the users. The ease of use and perfect taste makes it one of the best rice vinegar you can use to prepare the best tasting sushi.
---
If you love Japanese food then why not make it more authentic with the highest quality ingredients' such as the Nakano Original Seasoned Rice Vinegar. The perfect aroma and tangy taste of this seasoned rice vinegar add a zest to your favorite meals.
As per the makers, rice vinegar is derived from real rice. It contains corn syrup, water, salt, brown sugar, diluted with water to achieve about 4% acidity. The seasoned rice vinegar is fat-free and it can help you enhance the flavor or otherwise bland sushi rice.
You may also use the Nakano rice vinegar in salads or marinades. Customers who have used this vinegar as a flavor enhancer or dressing for salads have said that it works as a great ingredient to boost the overall taste and flavor.
Conclusion
If you are a believer in old traditions, then you will surely be impressed by the taste of Nakano Original Seasoned Rice Vinegar (see more) that comes from a brand that was established in 1804. Overall, we feel that the light aroma and tangy taste of the rice vinegar make it a great buy.
---
Hotaru Foods has a long tradition and earned the reputation of producing the authentic ingredients needed in Japanese cuisine. This rice vinegar from the Hotaru family (learn more) is one of the best due to its subtle natural sweetness and mild acidity (4.3%) that sets it apart from the rest.
Due to its subtle sweetness and mild flavor, Genuine Brewed Rice Vinegar can be used in a variety of applications. It is made of all natural ingredients, without any added sugar or salt. You may use the rice vinegar for seasoning sushi rice or as a dressing for salad and marinades. It can also be used in stir-fries.
This rice vinegar by Hotaru Foods is sodium-free and gluten-free, so it can also be safely used by those who are intolerant to gluten products. The one-gallon bottle comes at a reasonable price and it will last for several days before you need to buy a new one.
Conclusion
Whether you are a beginner or a professional cook who is enthusiastic about sushi, the Genuine Brewed Rice Vinegar by Hotaru Foods can help your food taste more authentic. At a reasonable price, you get enough that will help you with various types of Japanese delicacies.
---
Uses Of Sushi Rice Vinegar
The most obvious use of sushi vinegar comes in the form of making seasoned sushi rice for different sushi recipes such as nigirizushi, maki rolls, gunkan maki, and so on. Here are some more interesting uses of rice vinegar.
Vinegar is an important ingredient used for making pickles. You may use it to make homemade cucumber and daikon radish pickles. In Japanese cuisine, pickles play an important role and they can also be used as ingredients in sushi rolls.
When marinating meat or fish, you may use rice wine vinegar as a substitute for any other vinegar to get that perfect umami flavor. It perfectly complements a variety of Asian cuisine for making dishes like grilled pork tenderloin and so on.
Add more life to your cocktails and brighten them up by adding rice wine vinegar. It also pairs up really well with cucumbers to create a mild and refreshing flavor.
When you want to rustle up something really quick and healthy, stir-fry the veggies some rice wine vinegar, a little soy sauce, some sugar, and basic chicken broth. This helps in bringing out mildly salty, sweet, and tangy flavors.
You can use rice vinegar, soy sauce, and some sesame oil to make a tasty dipping sauce for various delicious foods such as chicken, sushi, pot-stickers, egg-rolls, and so on.
Related Questions
How much rice vinegar should I use in sushi
When seasoning sushi rice we suggest that you use 2.5 tablespoons of rice vinegar in every one cup of cooked short-grain rice. To this you may add sugar and salt as per your liking. Please bear in mind that most brands will have some added sugar so read the label before use and adjust the seasoning accordingly.