We are reader supported. When you purchase through links on our site, we may earn an affiliate commission. Also, as an Amazon affiliate, we earn from qualifying purchases.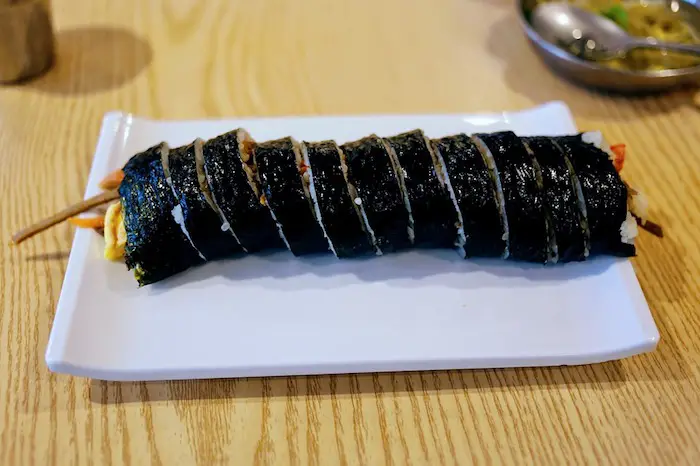 As the morning alarm ticks, you may feel like a snail trying to force yourself out of the bed. With a morning cup of coffee in your hand and the day staring at your face, the first thing you will (should) probably think of is the breakfast. Whether you are dieting or have an important meeting to attend, skipping your morning meal is not a good idea.
But, can you eat sushi for breakfast? Yes, you can. There are different variations of ingredients that can be used for people who like a light or heavy breakfast. You can prepare sushi rice the night before as it lets you cut down preparation time and quickly roll up to make a filling and healthy breakfast.
While most of the sushi restaurants open late for lunch, there might be a few eateries that serve sushi in the morning. Even if you don't find any Japanese restaurant near you, you can always make it at home to eat sushi for breakfast
The Breakfast Tradition In Japan
Just like our cultures and traditions vary across the world, you will be surprised to know that food and way of eating also vary widely. In France, you will be greeted with coffee and croissants in the morning. In Italy, you will enjoy a hearty crusty roll, but as you head to Japan, the idea of breakfast will undergo a sea of change.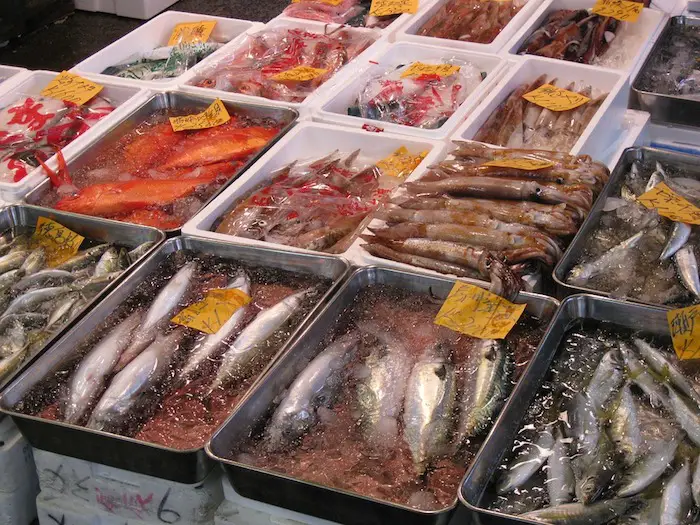 If you visit the Tsukiji fish market in Tokyo, you can see stalls selling the freshest and most expensive sushi-grade fish at 7 am in the morning. There are small eateries around the market where you can see sushi chefs prepare some of the most mouth-watering and filling creations. 
While a California roll may not be your idea of breakfast in the morning, there are many quick and light sushi you can enjoy with your morning coffee.
Cutting Down Time To Make Sushi  In The Morning
I know we are all in a hurry and making sushi usually seems like a lot of work. After all, who has the time to make rice, cut veggies and everything else included. Well, I have a solution for that.
If you are tired of eating cereals every morning or leaving for work with just a glass of orange juice, here's a quick way to make a filling meal without wasting a lot of time.
Prepare sushi rice the night before to avoid spending any time in the morning for this. You may cook rice in a pot or cooker by following the instructions provided in this article.
When the rice is done, let it cool and then season it with vinegar, sugar, and salt. Now, store the seasoned rice in a sealed pack inside the refrigerator.
In the morning, take out rice from the refrigerator and microwave it for just 30 seconds. This will bring out the flavors and your sushi rice will be at room temperature.
If you have an appetite for fish in the morning then go ahead and cut out a few strips of raw salmon. Alternatively, you may make smoked salmon strips that don't take much time.
To keep your breakfast light, use ingredients like Japanese cucumber and avocado cut into thin strips/ slices. It not only makes your breakfast refreshing but healthy too.
You have two options to make your sushi breakfast. You may either arrange all ingredients in a compact roll or make a chirashi bowl that eliminates the rolling process. You can just put all the ingredients together in a bowl, mix, and eat.
Thus, it will take you hardly 10-15 minutes to prepare a filling sushi breakfast in the morning. Your stomach will surely thank you for this.
A Quick Recipe For Healthy Sushi Breakfast
• Cooked and seasoned sushi rice
• Nori sheets
• Bell pepper  – julienned
• Green onions – finely minced
• Cucumber – cut into thin strips
• Smoked salmon – cut into thin strips
Place the sushi making bamboo mat on the kitchen table and put the Nori sheet over it.
Moisten your fingers and take a medium ball of sushi rice. Layer it over the Nori sheet evenly, pressing gently as you spread it.
Arrange the bell peppers, green onions, cucumber strips and smoked salmon over the sushi rice, closer to you.
Lift the bamboo mat from the side closest to you and start rolling, press as you roll to ensure that you make a compact cylinder.
Take a sharp Japanese knife and moisten the blade. Cut the sushi roll into 6-8 equal pieces. Serve with soy sauce, wasabi, and pickled ginger.
Rice Alternative If You Are Counting Calories
If you are calorie conscious, eating white rice in the morning for breakfast may be a cause for concern. Although the USDA dietary guidelines permit half of your daily grain intake to come from the refined carbohydrate sources, you may still want to choose a healthier alternative.
I would suggest that you use brown rice in the place of white rice for your sushi. Brown rice has high fiber content and low in calories. Although the sushi traditionalists may not approve of anything other than Japanese short-grain rice, brown rice is a good alternative for fitness freaks.
5 Best Low-Calorie Sushi Rolls For Breakfast
Fresh vegetables are always the best bet but if you wish to bring out the umami flavors, try the pickled variations instead. They contain an extra dose of fiber and mouthwatering taste. A veggie sushi roll contains about 170 calories.
If you want to give tuna a miss, try this white fish called Mackerel instead. It not only makes a delicious and healthy breakfast, but the calories per roll are also around 230.
An inside-out roll containing salmon and cucumber is one of the low-calorie sushi rolls you can eat for breakfast. It can be easily made at home and the calorie count is 231 only.
Give the oily tempuras a miss and try the healthier options instead. Sushi roll containing raw shrimp, pickled radish and cucumber are about 199 calories.
If you are a fan of kanikama (imitation crab meat), this is an amazing low-calorie option. One California roll made of imitation crab sticks is about 160 calories. Find the recipe here.
Good And Bad Sushi To Eat For Breakfast
No wonder breakfast is one of the most important meals of the day and you need to make healthy choices to ensure that you feel energized throughout the day. Below, I have created a list of best sushi for breakfast and the ones you should avoid having the morning.
Best Sushi Rolls To Eat In The Morning
Sushi made from fresh or frozen salmon, tuna or trout are healthy, light and delicious options in the morning. If you are using frozen salmon, take it out of the freezer and keep wrapped inside the refrigerator overnight to thaw by the time you use it. Read this article for more information – can you make sushi from frozen salmon.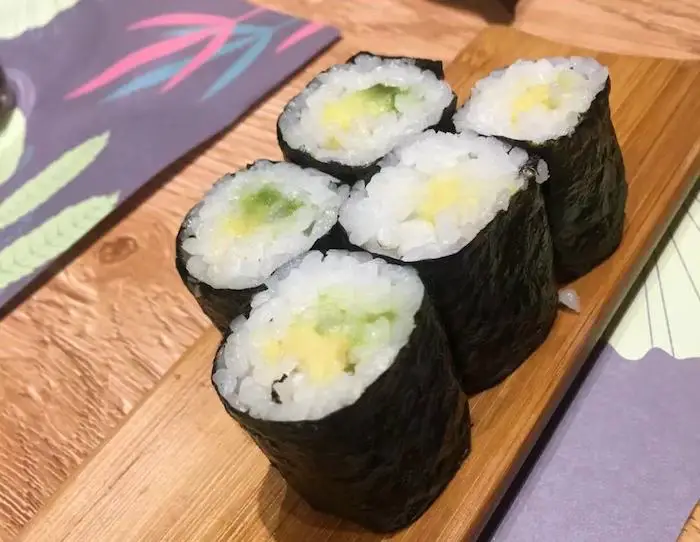 Light, green, and refreshing vegetables like cucumber, avocado, and asparagus are some of the best veggies you can use for making sushi for breakfast. They are easily available and do not need a lot of preparation. Here you will find recipes for cucumber maki and avocado rolls – Best Avocado roll Recipe and How To Make Cucumber Sushi Rolls At Home.
If you are in a hurry and looking for something that you can take out of the refrigerator and use then get a pack of good quality imitation crab sticks. Also known as surimi, these are made from the paste of white fish mixed with additives and seasonings. They are delicious and quick to cut and use.
If you are looking for a lavish breakfast or brunch on a lazy Sunday morning then try out the aesthetic looking and delicious Rainbow roll. You can also try your hand at making California rolls with different varieties of seafood and veggies. For more interesting ideas, check out this article – 30 Good Ideas For Sushi Roll Fillings.
Sushi Roll To Avoid For Breakfast
The crunchy tempura rolls may feel too good to eat but they need a lot of time for preparation. Also, it has thick batter and needs to be deeply fried which can make you feel sluggish throughout the day.
Unagi/Eel sauce sushi rolls have unagi sauce as one of their primary ingredients and it is rich in sugar and sodium. Thus, it is not a very healthy option for breakfast.
You can have tuna rolls, but avoid eating otoro or chutoro as they are high in fat content. It can make you feel sluggish and overly full.
Cream cheese rolls such as Philadelphia rolls, Spider rolls, and Dynamite rolls may sound and taste too good. However, be careful because there's a lot of extra fat in there. If you want to feel energetic, opt for the lighter sushi options.
Related Questions
What are the 3 best sushi restaurants that serve sushi for breakfast?
The 3 best sushi restaurants that serve this Japanese delicacy are located in the Tsukiji Jogai Market. They are Sushi Zanmai, Honten Tsukiji that is open for 24 hours; Harenohi Shokudo that is open from 7 a.m. to 15 p.m.; and Sushi Dai that is open from 10:30 a.m. to 4 a.m. next day.