We are reader supported. When you purchase through links on our site, we may earn an affiliate commission. Also, as an Amazon affiliate, we earn from qualifying purchases.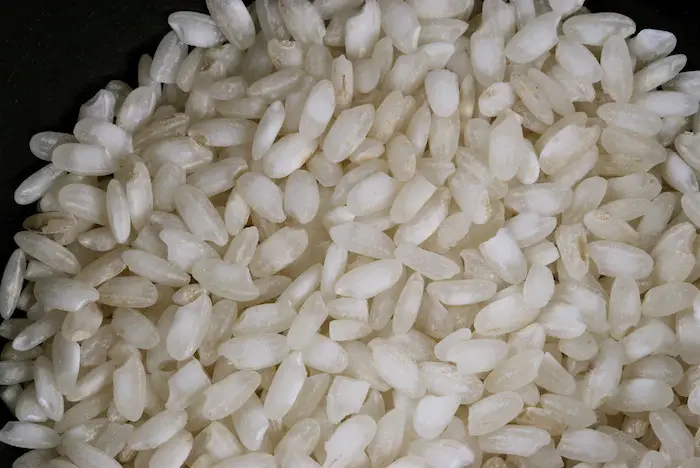 I know most people think of raw fish and vegetables when they talk about sushi. Even though sushi rice is usually underestimated, it forms the base for this Japanese delicacy. However, let's not forget that sushi won't taste right even with the best quality fish if the rice is not seasoned properly.
To get that perfect restaurant-like taste, you must use Japanese-quality short grain rice like this. The rice is sticky in nature and has the perfect texture to form the base for nigiri sushi and roll up with seaweed in the sushi rolls.
Can you make sushi with Arborio rice? While the short-grain Japanese rice delivers the best result when it comes to making sushi, you can also try other varieties such as Arborio rice. This is Italian-grown and processed short-grain rice, named after the growing region Arborio.
Although Italy is the main point of origination for this variety of rice, it can also be grown in California, Arkansas, and Missouri in the US. If you don't find short-grain Japanese rice in the grocery store near you, Arborio rice may be used as a substitute. However, please bear in mind that the texture may not be restaurant-like.
Appearance, Taste, and Texture Of Arborio Rice
In the raw state, Arborio rice (see Amazon) has a pearly white exterior. It is fat, short, and oval-shaped. There are different options available when it comes to size, and superfine is the largest of all grains. It is mostly used in the United States.
When cooked, the round shaped grains become creamy, firm, and chewy compared to the other grains. This is primarily because Arborio rice has a higher percentage of amylopectin starch content. The rice has a starchy taste and blends beautifully with other flavors without overwhelming any ingredient.
Arborio rice is primarily used for making risotto, rice pudding, and a variety of other delicacies. Although it is not considered as the ideal rice for making sushi, you can still use this as a substitute when Japanese short-grain is not available.
Starchiness of Arborio Rice
As the Arborio Rice undergoes less processing when compared with the long-grained rice, it retains a higher content of natural starch. Upon cooking, the rice slowly releases the starch, and this lends a creamy consistency to the risotto.
Interestingly, a pound of arborio rice can take up about six cups of rice without becoming too tender. The slow release of starch takes place only when water is added slowly, a little at a time. If you use the traditional method to cook arborio rice by mixing water and rice in a pot and simmering it over the heat, you won't get the same creaminess.
Difference Between Japanese And Italian Short-Grain
Just like you, I too believed that rice is rice after all and any variety can be used for making different types of delicacies. After gaining in-depth knowledge about sushi and other delicacies that are made of rice, I now know that there can be a world of difference between the different varieties.
Cooking sushi rice may not be the most enjoyable part of making sushi, but the seasoned rice is what lends the base flavor. For making the perfect sushi rice, the rice should be cooked until tender and soft, yet each grain should retain its original shape. They should stick together without being too mushy or gummy.
Not all types of rice are treated equally and they vary widely in terms of consistency, flavor, and taste. For example, the long-grain rice such as Jasmine and Basmati are not suitable for sushi making because they have a dry and fluffy texture.
As a result, the grains don't stick together, which means it would not be possible to create a perfect shape for nigirizushi or roll them up in a traditional maki or California roll (inside-out style).
Short grain rice has more starch content than any other variety of rice available. As a result, they stick together so well and chefs can give them attractive shapes using their hands. They also stick well to the Nori sheet, making it possible to create sushi rolls of different types and with diverse fillings and toppings.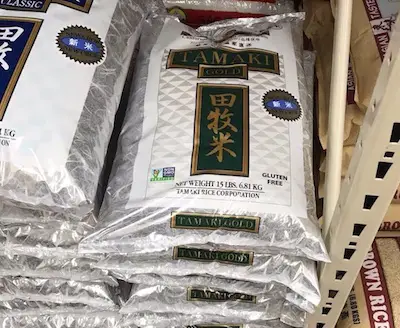 Although short grain rice works well for making sushi, please bear in mind that not all varieties are alike. For example, sushi tastes best with Japanese short-grain rice, also known as uruchimai in Japanese. It is characterized by a unique texture and stickiness. The kernels are round, fat, and slightly short in length. 
Japanese short-grain (see my reviews) also contain more moisture content, hence they are sticker than other varieties of rice. Grown for thousands of years in Japan, it is the staple diet of the nation. Outside Japan, you will usually find them labeled as sushi rice in the Asian grocery stores.
So, does that mean Arborio Rice (Italian short grain rice) is also perfect for sushi? Although Arborio Rice is also short-grain, it is slightly different in texture than Japanese rice. Due to its tendency to release starch slowly, it is best used in making risotto.
Having said that, you may still use Arborio Rice for making sushi if you have to. They are not as fluffy and dry as long-grain rice. The comparatively higher starch content makes them usable for sushi making, however, if you overcook Arborio rice or leave it to cool completely before using, it may turn too sticky and glutinous.
Understanding The Importance Of Rice In Making Sushi
Every day, hundreds of fresh sushi-grade fish varieties are flown from around the world to the local fish markets that cater to sushi restaurants who don't compromise with quality. The restaurants differentiate among themselves based on their quality of fish and cutting techniques used.
Similarly, the method a chef uses to cook and season sushi rice reflects the quality of that restaurant. If you visit the most popular sushi restaurants in the world, you will realize that it's not just the fish that matters but the quality of rice must also be first-class.
The taste and flavor of seasoned sushi rice often differentiate the good sushi restaurants from mediocre ones. In some restaurants, the method of cooking and seasoning sushi rice is a closely guarded trade secret of the chef.
So, while Arborio Rice can be used for making sushi, I would suggest using only Japanese-style short-grain rice if you want to enjoy the restaurant-like quality. There are dozens of varieties available even in Japanese-style rice, based on the color, texture, shine, and freshness. It may also vary based on where it was grown, what the weather was like, how the rice was milled, etc.
In Japan, a pound of freshly harvested short-grain rice may cost over $20. While you may not find a different variety of short-grain rice in the US, it is always better to start with the product that says 'new crop'. Please remember that the way you wash, cook, and season sushi rice also play important roles in determining the taste and flavor of the end product.
Making Sticky Sushi Rice Using Arborio Rice (Recipe)
Typically, sushi rice takes about 30 minutes to cook from the start to finish to achieve the perfect consistency. If you don't have Japanese short-grain rice, you may use Arborio Rice in its place as a substitute, however, please bear in mind that the texture may not be the same.
Instructions
Let me start by telling you a secret. You can make good sushi rice by avoiding to rinse the grains. While most people wash rice to get rid of the starch dust on the top, it is this starch that makes the rice stick and clump together.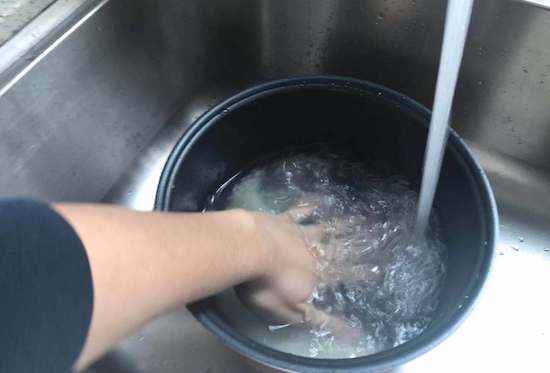 If you need to rinse rice, make sure you only rinse 1-2 times so that some starch still remains. In Japanese short-grain rice, washing does not matter much because it has a natural sticky texture. However, skipping to wash the Arborio Rice can help you get closer to the sushi rice consistency.
The actual measurement for making sushi rice is 2: 1 which means two cups of water for every one cup of rice. So, in this case, you will need to add 3 cups of water to the pan. (Tip – add some extra water more than the measurement to make the rice sticker.
You may add a dash of salt to the water to give some flavor to the rice instead of tasting bland. Do not cover the pan and bring the water to boil. When the water becomes hot, add the measured rice and simmer the heat. Allow the rice to cook over low heat for 10 minutes with the lid covered.
Make sure you use a transparent lid for covering the rice so that you can see when all water is absorbed.  Roughly after 10 minutes, you can see that all water is absorbed and there are steam holes in the rice.
Turn off the gas at this stage and let the rice cook with lid closed for another 10 minutes. The longer you let the rice sit inside the cooker or pot, the sticker it will be.
While the rice gets sticker and cooler, take a bowl and mix 4 tablespoons of rice vinegar, 1 teaspoon salt, and 2 tablespoons sugar. This is the seasoning you will use to enhance the flavor of sushi rice and make it stickier. Wait until all the solids dissolve in vinegar or you may microwave to get a clear solution.
Now, take a wooden bowl or hangiri and blend the cooked rice with seasoning to ensure that every grain gets coated with the vinegar mix. You may adjust the seasoning to make it sweeter or saltier based on your taste.
Seasoned sushi rice is now ready to use for making nigiri sushi, maki rolls or inside-out rolls with a variety of ingredients and toppings.
Related Questions
What are other substitutes for sushi rice?
Other than Japanese short-grain rice and Arborio rice, you may use Korean short grain rice, which has a sticky consistency which is needed for sushi. Some other options include Quinoa, brown rice, glutinous rice, and California rice.
Why can't you use long-grain rice for making sushi? This variety of rice is dry and fluffy, hence they do not stick together. As a result, it is difficult to give shape to long grain rice or use them for inside-out rolls.