We are reader supported. When you purchase through links on our site, we may earn an affiliate commission. Also, as an Amazon affiliate, we earn from qualifying purchases.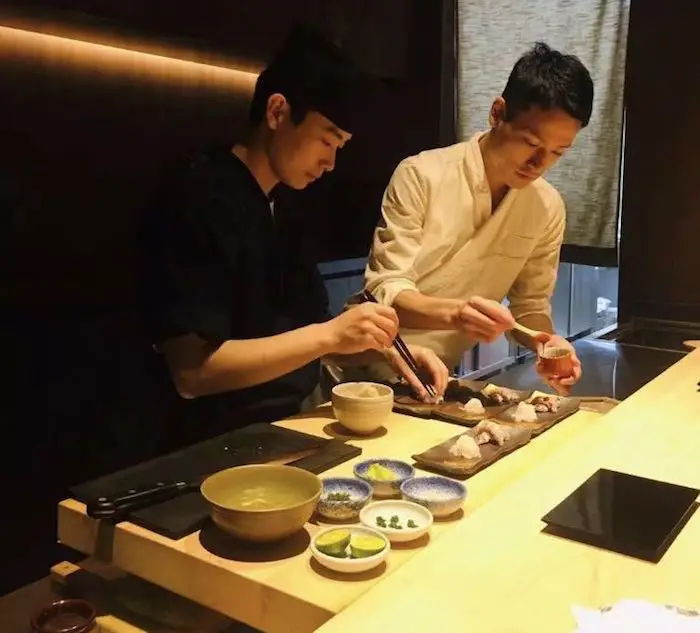 Slicing fish, cooking rice, and rolling them together don't call for any skills or hard work. Is that what you think while munching on a perfectly made sushi roll? How hard can making a nigirizushi be? If you thought that the work of a sushi chef or itamae is a walk in the park then you are wrong.
It takes a lot of dedication, passion, and a wait of ten years or maybe even longer to become a master sushi chef in Japan. All these for slicing tuna and making rice? Nah! It's the precision and perfection with which each piece of nigiri, maki, or temaki is prepared with the personal touch of the chef.
So, how much do sushi chefs make in Japan? A guide reveals that the average annual salary for sushi chefs in Japan is somewhere between 3 and 5 million Japanese Yen (approximately 27,000 to 45,000 US dollars).
The salary may vary depending on the level of experience and the type of establishment in which they are employed. Most of the experienced itamae or master sushi chefs have their own restaurant in Japan, so the profit they earn after deducting variable and fixed costs is their ultimate salary.
Some of the experienced sushi chefs at the high-end restaurants may be paid up to 8 million Japanese Yen (equivalent to 73,000 US dollars). This is almost twice the average annual salary of businessmen in Japan.  It goes to show how respected and demanded experienced master sushi chefs are.
How Much Do Sushi Chefs Make Outside Japan?
In the US, the entry-level chefs are responsible for preparing ingredients and cleaning the work area. They may get paid about $1,700 dollars per month, along with tips of up to $600. This could vary depending upon the location and restaurant.
The advanced-level sushi chef displays their skills by identifying the finest quality of raw fish, creating an eye-catching sushi presentation, and offering a gourmet experience for guests. The job of advanced chefs is to create a menu, recruit staff, and prepare exotic meals at the sushi bar. Those with over eight years of experience may earn up to $100,000.
As per a popular job site, Indeed.com, the national average for advanced sushi chefs is approx. $41,000. The Bureau of Labor Statistics reveals that sushi chefs in the US make an average salary of $46,600 a year. There are certain states/ establishments that pay a higher salary to the sushi chefs, thus increasing the overall median wage.
What Is An Itamae (Sushi Chef)?
Itamae is a Japanese term which means 'in front of the board' in English and in this case, it is used to refer to the chopping board which is used for making sushi. In Japanese restaurants, you will typically find an itamae, who is not just a sushi chef but an experienced craftsman or artist. He is highly respected in the kitchen and is responsible for creating a gourmet experience for the guests.
As you walk into a  sushi restaurant or suhsiya, you can see the itamae wearing a white hat, white apron, and a white coat. He will typically have an extremely sharp sushi knife tucked properly into a case on his waist. As per Japanese tradition, he holds a high status in the kitchen and commands respect.
How To Become A Master Sushi Chef
In Japan, becoming a master sushi chef is not easy. Every itamae need to start their journey from scratch as an apprentice in sushi restaurants. The main task during this time is observing the master and learning the skills from the ground level.
 at the beginning level, the wannabe itamae will need to clean dishes, wash, scrub, and so on. His most important task, however, will be to observe the master chef in action. This is often referred to as 'minarau', which means learning the skills as you watch or  'nusumu no gei', which means stealing the art of an accomplished sushi master.
First job- cleaning duty
The first duty or job given to a beginner will be the cleaning duty which is a part of the process. It helps in getting the individual acclimatized to the backend of a sushi restaurant. Don't expect to get a promotion soon because you may have to spend some time performing these duties.
Learning to make perfect sushi rice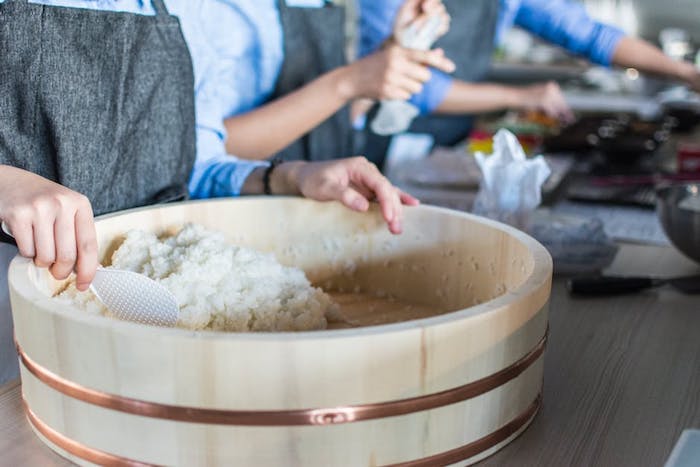 Perhaps the first set of skills that you will earn as an apprentice will be learning how to cook the sushi rice. It often considered as the itamae's closely guarded secret which he passes on to the next heir to his position. Sushi rice must be perfect to deliver the perfect flavor, color, and consistency.
The chefs may sometimes have their own secret recipe that marks the difference between a mediocre sushi roll and an excellent one. While most people believe that neta or fish is the most important part of sushi, I believe sushi rice can break or make the overall effect.
Cooked sushi rice must be seasoned with just the right amount of vinegar, sugar, and salt to create perfectly seasoned sushi rice. As the next level of apprenticeship, the wannabe sushi chefs are asked to prepare sushi rice every day under the supervision of masters to attain perfection.
Promotion to the level of a wakiita
When you successfully complete this level, you are then promoted to the next one, which is the position of Wakiita. In English, it can be translated to 'near the cutting board'. It means you have successfully passed the initial stage and you are now one step closer to becoming an itamae. However, sometimes people train for years as a wakiita before becoming an itamae.
The wakiita may have a plethora of responsibilities in the sushi kitchen, and each one needs to be fulfilled with precision. The specific tasks given to a wakiita will differ depending upon how much the itamae trusts him.
For example, a wakiita may start with preparatory tasks such as preparing wasabi, grating ginger, and so on. Later on, you may find yourself doing other tasks such as slicing scallions, preparing fish, and also preparing the takeaway orders to customers. In the wakiita stage, a promising itamae will be allowed to wield their sushi knives, also known as hocho in Japanese.
Mastering the skills of using a hocho
Before becoming an itamae, the apprentice will need to learn the art of using a hocho, the Japanese knife that comes in diverse shapes and sizes. These Japanese knives are available in different designs to perfectly and precisely cut the ingredients to be used in making sushi.
These knives are traditionally made of high-grade carbon steel, the same material that was once used to create a samuari's sword. When swords were banned, the manufacturers changed their business and started making knives instead. As a result, hochos command a lot of respect.
If the itamae allows you to use hocho inside the sushi kitchen then it is evident that you have earned the trust of your teacher and you are in his good books. You will need to familiarize yourself with some different types of hocho varieties such as the following.
Tako hiki or the octopus puller in which the knife has a rectangular shape
Fugu hiki or the pufferfish puller which has a thin and flexible blade
Yanagiba or the willow blade where the knife has a pointed end
Oroshi hocho  is a large knife that can measure up to 2 meters and is used to cut large tuna fillets
Turning Into A Full-Fledged Itamae
After a grueling training session that lasts for several years as an apprentice and then as a wakiita, you may finally get the opportunity to be appointed as the itamae. The training period may last as long as 20 years however this is not a standard for everyone.
A more realistic timeframe to become an itamae is 10 years of dedication, devotion, concentration, and commitment. To reach that stage, you will need to mainly focus on the four major aspects of sushi making and they are:
The way you handle the ingredients
The way you interact with clients
The method in which you handle the hocho
The way you move, work, and behave
If you are able to exhibit a high level of precision, elegance, and charm in the above areas, you should soon be able to become a true itamae. As a master chef, you should have in-depth knowledge of the key aspects of good sushi – local ingredients, perfect temperature of sushi rice, and presentation.
What Educational Qualification Is Needed To Become A Sushi Chef
In Japan, they don't look much into the educational qualification as much as they pay importance to the skills acquired during training. Typically, the aspiring chefs undertake an apprenticeship at a tender age to learn the sushi making craft. It may take several years of training until the chefs attain the status of an itamae.
In the US, the aspiring sushi chefs are typically men who work with a mentor to learn the skills or they may take training in a formal institute. For example, the Sushi Chef Institute and California Sushi Academy offer short-term courses that provide basic as well as advanced training on making Japanese sushi.
To get the job of a sushi chef in the US, you may need to show your associate's degree. There are other restaurants that may ask for proof of experience before appointing a sushi chef. With America's rising interest in sushi, US cities like Atlanta, Los Angeles, and New York promise a lucrative career for the sushi chefs.
Top 5 Sushi Chefs In The World
#1. Jiro Ono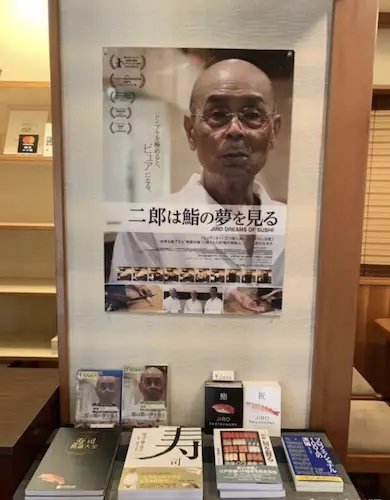 If you have seen or heard about the documentary move 'Jiro dreams of sushi', you already know Jiro Ono. He is often regarded by fellow sushi chefs as the most popular sushi chef who lived in this world.
As the owner of a 3-Michelin star restaurant, Sukiyabashi Jiro in Tokyo, the highly acclaimed chef has served world-famous icons including ex-US President Barack Obama and former Prime Minister of Japan Shinzo Abe.
See more: Best Sushi Restaurant That Served Barack Obama
#2. Yoshiharu Kakinuma
Yoshiharu Kakinuma carries with him a family legacy as his father and grandfather were both sushi chefs. Kakinuma is now the executive chef-in-charge at a 3-Michelin star restaurant called Sushi Shikon in Hong Kong. He excels at serving the most excellent sushi dishes made from the finest ingredients flown in from Tokyo every day.
#3. Eiji Ichimura
With 40-years of rich experience behind him, Chef Ichimura takes pride in being one of the highly trained sushi chefs in Tokyo. He operates a famous sushi joint located at the Brushstroke, NYC where he is the master chef. Eiji also has expertise in shime, which is an art of pickling and aging fish and seafood.
#4.Masaaki Koyama
If you are in Australia and crave for sushi, consider going to the Masaaki's sushi bar in Tasmania. As one of the best sushi restaurants in Australia, Masaaki's is highly sought after by the patrons. It opens only twice each week but the sushi is so delicious that they sell like hotcakes.
Koyama was the first chef to introduce this Japanese cuisine to the Tasmanians by opening his own sushi restaurant. His different types of westernized sushi, vegetables, and tempuras are highly in demand and sushi fans from different states often come to Tasmania to enjoy Koyama's sushi.
#5. Mitsuhiro Araki
This Japanese chef is the master cook at The Araki restaurant in London, and he is perhaps the best sushi chef in the whole of Europe. Araki was a sushi chef at a 3-Michelin star restaurant in Tokyo. He is known for his excellent knowledge of tuna fish.
Araki also uses his innovative skills at substituting Japanese ingredients that are not easily available in Europe. For example, he uses black caviar and Alba truffle in the place of crustaceans and clams.
What's The Future Of Sushi Chefs
With sushi gaining popularity around the world and getting adapted to the different food cultures, I see a bright future and numerous job prospects for the entry level and advanced sushi chefs. In the days to come, there will be more opportunities for trained sushi chefs to take up jobs in restaurants and bars.
The experienced chefs can turn entrepreneurs and start their own sushi joint in different metro cities around the world. Even if there are restrictions in terms of using certain varieties of fish in the future due to the fear of overfishing, sushi will continue to woo customers with veggie options like avocados, cucumbers, tofu, mushrooms, and so on.