We are reader supported. When you purchase through links on our site, we may earn an affiliate commission. Also, as an Amazon affiliate, we earn from qualifying purchases.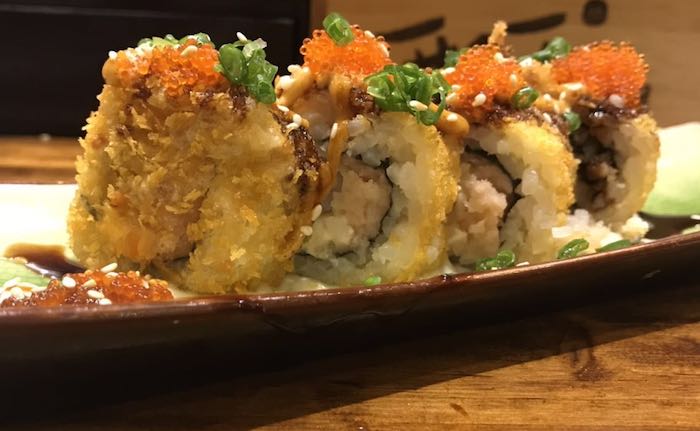 Creepy appearance, rough scales, and jagged outer skin…no, I am not referring to the monster but a sushi roll that is named after it! I was still relishing the joy of my newfound love for sushi rolls when the chef at my favorite sushi joint recommended me to try the Godzilla Rolls!
I must admit that the name completely won over me and I was curious to discover why it is called so. How on earth did a roll get a monster's name? My curiosity was put to rest as the chef pulled out the perfectly created Godzilla Roll for me. This roll was deep-fried and looked different from all other types of rolls that I have eaten.
Until now, my idea of sushi roll revolved around two types – traditional and inside-out style. This one was different! As no one knows who originated this style of a roll, I assume that an entrepreneur chef gave this name to pique the interest of customers and make them want to try a fried roll.
When you take a closer look at the Godzilla Roll, you can also see a faint resemblance to the monster from the 1954 epic movie. As the sushi roll is smothered in tempura batter and deep-fried, it gets a rough, crispy, and spiky texture on the outside, resembling the hybrid monster from where it gets its name.
How to make Godzilla Roll (recipe)
If the name of this sushi roll amuses you as much as it does me, try this type of sushi at home and surprise your friends. What I like best about this sushi is that it is fried. Hence you don't have to worry about finding sushi-grade raw fish or worry about health risks. 
Ingredients:
• One batch of seasoned sushi rice
• Nori sheet (dried and roasted)
• 2-3 pieces of shrimp tempura
• 4 slices of avocado(optional)
• 3-4 tsp cream cheese (block cream cheese and cut into thin slices)
• Half cup flour
• Tempura Batter
• Sesame oil for frying
•Fish Roe (Optional)

You can have a look at my recommended Ingredient here
Spicy Mayo recipe
• A half cup of mayonnaise
• 2-3 tablespoon Sriracha sauce
• Sesame oil
• lemon (optional)
Now, let's get rolling!
Step 1:
Before you start making the rolls, you need to prepare sushi rice at least 30 minutes in advance to allow it to cool down. Always use short-grain Japanese rice to get the perfect texture and flavor. To find out how to make sushi rice in a cooker or pot, read this article.
Step 2:
Lay the bamboo-rolling mat on an even surface on the kitchen counter and cover it with a plastic wrap to prevent the rice from sticking on your hands. Take a small bowl of water added with a few drops of vinegar and use this mixture for moistening your hands.
Step 3:
Take a ripe avocado and cut into half. Remove the seed and make thin slices. Remember to add a few drops of lemon to avocado slices if you don't plan to eat the roll immediately.
Step 4:
Nori sheets do not come pre-toasted. So toast it slightly by putting it on a baking sheet beneath the grill for 30 seconds. Alternatively, you may hold the Nori with a pair of tongs and toast it over the low flame by passing it back and forth. Don't make it too crispy, just a little to enhance its flavor.
Step 5:
Place the toasted Nori sheet on the bamboo mat, rough side facing you. Now, take half a cup of sushi rice and spread it over the Nori sheet to make an even layer. Moisten your hands with water and press gently to ensure that the rice sticks to the Nori.
Step 6:
Flip over the Nori sheet to make it upside down. You can now add the diagonally cut shrimp tempura. I prefer buying frozen shrimp tempura and baking them at home. You may also make them from the scratch, see instructions on how to make crispy shrimp tempura here.
Step 7:
Add two slices of avocado and a layer of cream cheese lengthwise over the Nori sheet. Now, roll the bamboo mat away from you, pressing the ingredients gently as you go to give it a cylindrical shape. The key to preparing perfect sushi rolls is to roll them up tightly.
Step 8:
Press the bamboo mat slightly to ensure that everything sticks together. (This style of roll goes through another step when it is deep-fried, so you need to ensure that the fillings or rice do not fall off). After one last hug, remove the bamboo mat and keep aside.
Step 9:
Put the roll in a tray containing flour and let it coat completely. Then, dip the roll into tempura batter and deep-fry it in oil heated to about 350-degrees. Let it fry for 3 minutes or until the outer cover turns golden in color.
Step 10:
If you are using a deep fryer, take only 1/2 c. to 1 c. of oil in a frying pan and keep turning the roll until it turns brown at all sides. Remove from heat and let it cool for a few minutes.
Take a sharp Japanese knife (read this article on my recommended sushi knives) and cut the roll into 4-5 pieces. Add a layer of spicy mayo sauce and some fish roe on the top and serve with soya sauce.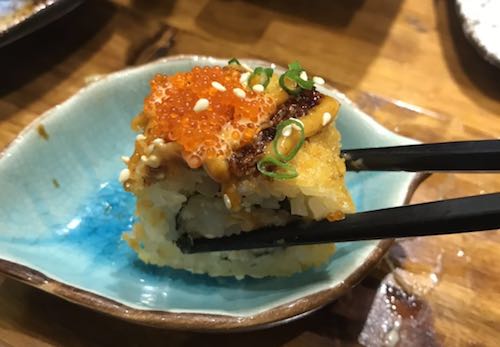 How to make the spicy mayo?
Take all the ingredients (mayonnaise, sriracha, and sesame oil) in the correct measurements as mentioned above. Stir all ingredients to make a uniform mix and pour over your Godzilla sushi roll to enhance its flavor.
What is a tempura batter?
Tempura is popular in Japanese cuisine, and it is used to give a crispy coating to vegetables, seafood, and mushroom. Tempura batter plays an important role in making Godzilla rolls because you need the perfect consistency to get a crispy outer covering.
How to make a tempura batter
To make the tempura batter, you will need 100g plain flour, one egg, 200cc cold water, one teaspoon baking soda, and two tablespoon potato starch. Mix the flour, starch, and soda and sift the mixture.
Take a separate bowl and beat the egg roughly. Add cold water and mix again. Put one-third of the flour batter into the bowl and mix it thoroughly using chopsticks. You may also use a fork for mixing.
Now, slowly add the remaining flour mixture and create a thick tempura batter. If there are lumps, do not worry and make sure to not over mix or else you will have a heavy and un-crispy batter.
or you can have a look this video:
Why is it called Godzilla roll?
If you have eaten a Godzilla roll before, I am sure you have a hint at why is it called Godzilla roll after all. While the name may sound strange a little laughable when you first see it on the menu, you will be able to establish a connection when the chef dishes out a fresh hot Godzilla roll for you.
Unlike other types of sushi rolls, this one is dipped in tempura batter and deep-fried to make them crispy before being served to you. As a result, the sushi pieces have a rough exterior resembling the jagged and uneven scales at the back of the King of Monsters – Godzilla!
Related Questions
How many calories in a Godzilla sushi roll?
One complete Godzilla sushi roll comprises of sushi rice, shrimp tempura, Nori, avocado and cream cheese. It contains about 580 calories, with 71% carbs, 28% fat, and 22% protein.
What makes Godzilla roll different from other inside-out rolls?
While Godzilla roll is also one of the popular types of westernized sushi rolls, it is still different from others in the sense that it is fried. It not only has fried shrimp tempura as fillings but the outer cover is also deep-fried. This adds a crispy and crunchy flavor to the sushi rolls.
How much time does it take to make Godzilla rolls?
Considering you already have seasoned sushi rice and frozen shrimp tempura, it takes between 15-20 minutes to put everything together and deep fry a crispy Godzilla roll.
Can I use vegan fillings with Godzilla rolls?
To be precise, I have never come across a vegan Godzilla roll, and most restaurants use shrimp tempura as fillings. However, I believe you can use different vegetables like eggplants and sweet potato with tempura batter to make vegetable tempura.
Related Article: Are California Rolls Vegan?
The Final Words
I will admit that when I first heard 'Godzilla roll,' I was apprehensive about how it would turn out to be. Nevertheless, I was amused and relished every bite of the monstrous roll with yum sauce! I would say, this is not a regular sushi roll you frequently make for dinner, but special occasions like an anniversary or date!
See Also:
Is Sushi Raw Fish? Read This First!
Difference Between Nigiri, Sashimi, Sushi Roll, Hand Roll, Gunkan Sushi
How To Make Sushi Rice In A Rice Cooker? (also in a pot)
Japanese Ketchup vs. American Ketchup: Read This First!
Summary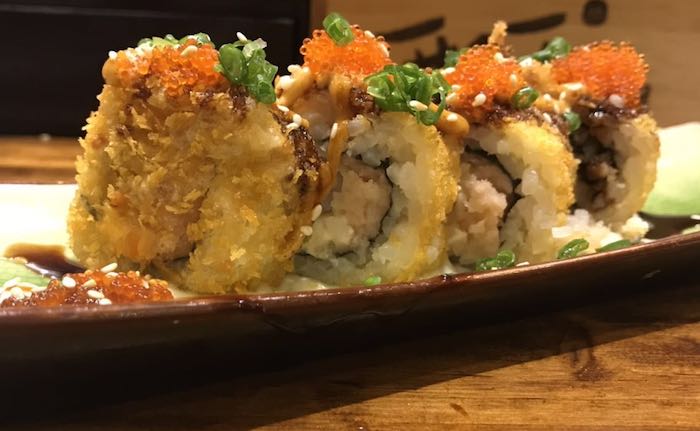 Article Name
How To Make Godzilla Roll (Recipe)?
Description
Savor the rich and crispy taste of yummy Godzilla rolls. Read this article to find the recipe for making deep-fried sushi rolls at home.
Author
Publisher Name
Publisher Logo