We are reader supported. When you purchase through links on our site, we may earn an affiliate commission. Also, as an Amazon affiliate, we earn from qualifying purchases.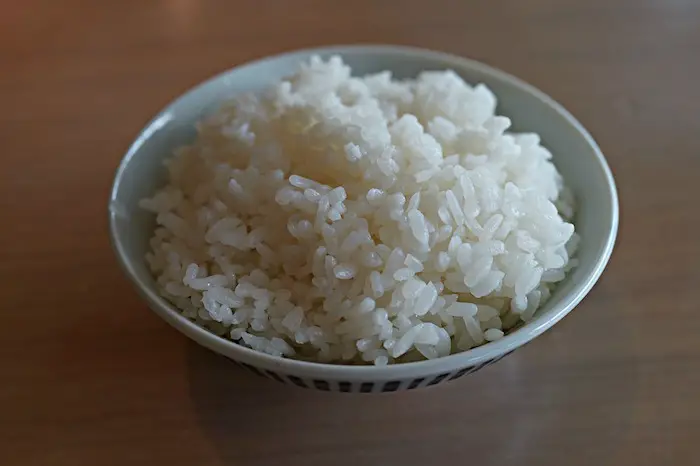 If you have leftover sushi rice from last night's dinner and are wondering what to do with it, you are not alone! It is natural to make more sushi rice than what is needed because we don't want to run out of sushi rice at dinner time. Cooking rice all over again will take time, so it's okay to take a little extra in your measurement.
But, the question is how to use leftover sushi rice besides making sushi? There are several other interesting ways in which you can use the remaining sushi rice and any vegetables at hand. Try some of the recipes I have mentioned below and feel free to tweak them to your preference.
#1. Use Leftover Sushi Rice To Make Mochi
For this recipe, you will need sticky sushi rice and potato starch. Transfer the leftover rice into a mortar and pestle to pound them. Depending upon the amount of rice, you may want to do this in batches or all at once. Pound the rice in up and down motion for at least 15 minutes.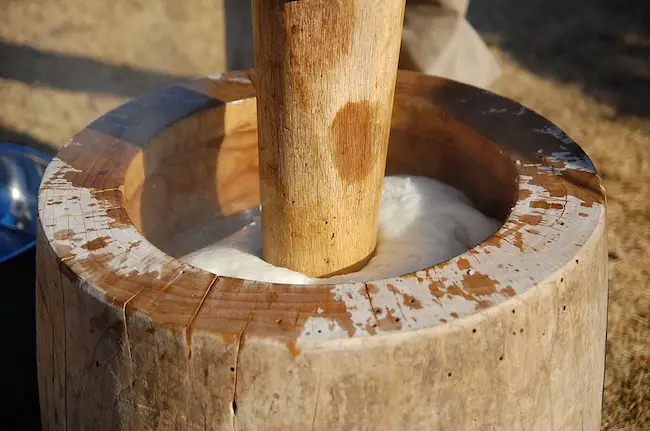 Keep a bowl of warm water ready to add to the rice as you pound, if needed. Make sure the rice is moist but not too wet as you work on it. By the end of the pounding process, the rice should turn into a consistent and sticky mass.
Add some rice starch or potato starch over your working surface on the kitchen counter. Moisten your hands slightly so that the rice does not stick to your hands. Now, transfer the pounded rice to the surface and lightly knead the mocha like dough.
Keep kneading and adding potato starch as required until the rice does not feel too sticky to touch. Now, divide the mochi into 2-inch balls and roll them out on a thin layer of potato starch. To make them more delicious, you may consider filling up the balls with red bean paste,peanut butter or any other filling you like.
To add the filling, flatten the balls of mochi and put a little filling at the center. Gather the ends together and make a circle. Roll again to give it a round shape with the filling enclosed inside. At this stage, you may eat the mochi as they are or toast them further to make crispy balls.
Put a frying pan or heavy iron skillet on the gas and heat. Put each ball of mochi on the pan carefully. You may retain the circular shape or flatten them with the help of a spatula. Let the bottom part toast a turn brown before removing them. If you turn quickly, they will not have the time to harden and become crispy. Make sure the mochi is well toasted on both the sides.
You may eat the plain toasted round balls or rice or mochi dipped in soya sauce. Alternatively, you may put the rice balls in miso soup so that they absorb the flavors. Consume immediately to enjoy the mochi when the sides are still crisp.
#2. Using Leftover Sushi Rice To Make Risotto
Ingredients:
To make Dashi, you will need one piece of kombu, 4 cups of filtered spring water and a half cup of bonito flakes. Clean the kombu with a moist kitchen towel to get rid of dirt. Don't rub off all the white powder as it is needed for the flavor. Put kombu in a saucepan, add spring water and let it sit at room temperature overnight.
Next morning, remove the kombu and let the water simmer on medium heat. When it reaches boiling point, remove the pan from the gas stove and add bonito flakes. Let it stand for 15 minutes or until the flakes reach the bottom of the pan.
Strain the dashi through a sieve with moistened cheesecloth on it. Make sure you use the dashi within a few hours of making it. Do not store in the refrigerator.
Now take the leftover sushi rice and reheat it in a steamer or microwave. Put the steaming rice in a bowl (see my review of sushi sets) and mix it with sushi vinegar. Use a wooden spoon to mix the rice with vinegar. Let it cool down.
Transfer the seasoned sushi rice to a medium-size saucepan, pour the freshly prepared Dashi over it, and stir to get an even mix. Bring the mixture to boil and then reduce heat to medium-low, simmer for at least 3-4 minutes.
Add soya sauce, pour the beaten eggs over the sushi rice, and let it cook for 10-15 seconds without stirring to let the eggs settle down. Remove from heat. Divide the rice and put it in a smaller individual bowl, and top off the rice with Nori (see my favorite Nori) and wasabi. Serve immediately or else Nori will turn soggy.
#3. Using Leftover Sushi Rice To Make Creamy Pudding
Ingredients:
1 cup cooked leftover sushi rice
2 cups of milk
1 teaspoon vanilla extract
Raisins
1 beaten egg
1⁄2 cup of granulated sugar
1⁄4 teaspoon salt
1 tablespoon butter
Reheat the leftover sushi rice in a microwave and keep aside. Heat milk in a pan, bring to boil and then simmer. Add sugar and vanilla as per taste.
Take one cup of heated and sweetened milk, add one cup of sushi rice and simmer for 6 minutes. Stir in between to ensure that the rice does not stick to the bottom of the pan or get scorched. Add the raisins and simmer for another 3.5 minutes. Drizzle some more milk if needed and keep stirring.
Take a small bowl and add the beaten egg, half cup of milk and salt. Add this mixture to rice and let it simmer for two minutes. Add butter when it's almost done and stir for a while. Serve the pudding warm or chilled. Sprinkle some brown sugar and cinnamon on the top before serving.
#4. Sushi Rice Pudding With Coconut Milk
Well, if you love puddings, here you go! This is another amazing recipe to use leftover sushi rice and transform it into a lip-smacking delicacy. This rice pudding recipe has coconut milk that lends an awesome flavor and taste to the dish. Let me add that coconut milk not only tastes great but is good for your health too. For this recipe, you will need the following:
Ingredients:
Put the sticky sushi rice in a bowl and reheat in a microwave with some water to make it mushy. Now take a separate pan and add coconut milk, condensed milk, clove, and cinnamon sticks to it. If you don't have whole cinnamon sticks or they are old, you may use a teaspoon of powdered cinnamon. Bring to boil on medium/ low heat while you keep stirring. Let the milk thicken slightly.
When milk thickens a bit, add the sushi rice and dry fruits. Let it simmer for 5-6 minutes on low heat. Keep stirring to ensure the rice does not stick to the pan or get scorched. You may serve it hot when it's sloppy or wait for it to cool in room temperature and get a little thicker. If you keep it in the fridge, the pudding will thicken further. No matter how you choose to eat it, the pudding will taste great!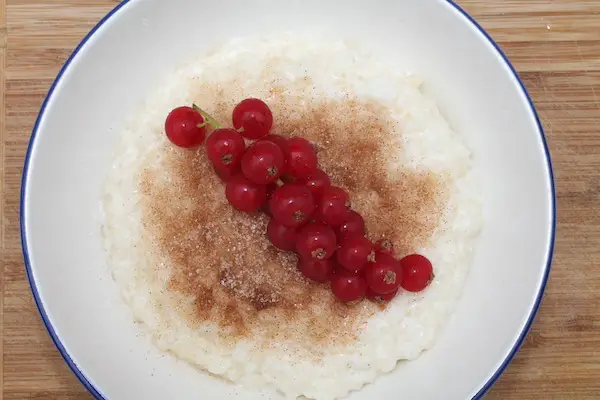 #5. Using Leftover Sushi Rice To Make Tasty Fried Rice
Ingredients:
1 cup of leftover sushi rice
2 tbsps vegetable oil or canola oil
1 tsp sesame oil
2 cloves of minced garlic
1 egg, beaten
Frozen peas
Half of a carrot, chopped
Green onions, finely chopped
1 tablespoon soy sauce low sodium
1/2 tsp dark soy sauce
1 tbsp rice vinegar
Heat the vegetable oil in a wok on high heat until it starts smoking. Add the minced garlic and sauté for 15 seconds. Add peas, carrots, and green onions and fry until tender.
Now add cooked sushi rice, soya sauce, dark soya sauce, and rice vinegar. Mix them all up by tossing everything together. Keep frying and mixing for 3 minutes, until the rice gets a pale brown color and have a chewy texture.
Push rice over one side of the wok, add some oil and add the beaten egg. Scramble the egg using a spatula and break it into smaller pieces. Mix everything well, fry for another minute and serve immediately.
6 Ways To Use Leftover Rice(not sushi rice)
The Final Words
I hope you enjoy preparing these delicious dishes with leftover sushi rice and reduce wastage. If you love making sushi, I have one advice for you – make sure you do not add seasoned vinegar to the entire amount of cooked sushi rice. You can always season them in batches just before making sushi.
This way you can ensure that the leftover sushi rice is not seasoned in advance, making it easier to use the rice delicious dishes types of dishes. If you have any other interesting recipe or suggestions, I would love to know!
See Also:
How To Make Different Sushi Rolls?
8 Exciting Recipes For Vegetarian Sushi
30 Good Ideas for Sushi Roll Fillings