We are reader supported. When you purchase through links on our site, we may earn an affiliate commission. Also, as an Amazon affiliate, we earn from qualifying purchases.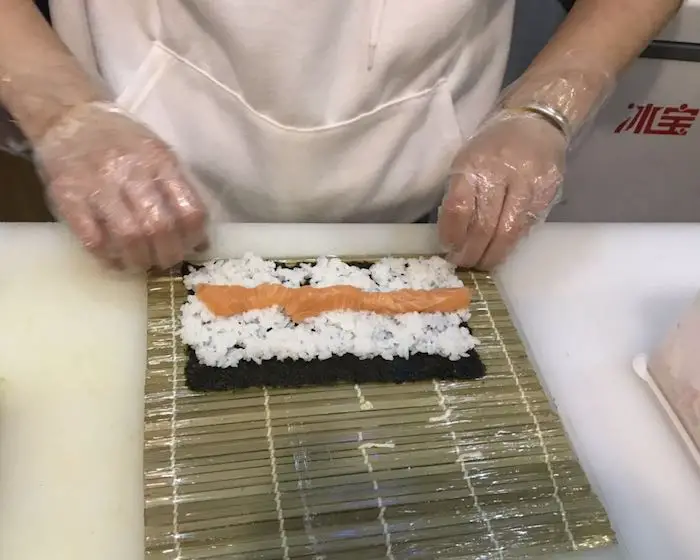 My friend Brad once told me that he loves sushi so much that he could eat them every day, but something stops him – the cost. He lives in Los Angeles and a spicy tuna avocado roll costs him about $8. To enjoy a satisfying sushi meal for two, he needs to shell about $50 and even more if beer is included.
Brad knows that I run a sushi blog so he asked me 'is to cheaper to make sushi at home'. To that, I answered absolutely! If you have the time and patience to learn a few skills, you can make as many as 5 delicious homemade sushi rolls for less than $10.
For $50, you can actually make approximately 25 sushi rolls. If we consider each person eats about 3-4 rolls, so this can easily serve a small group of 6-7 friends. If there are extra ingredients, you can always store them in the refrigerator and eat later to make the most of every dollar spent.
Here is a rough estimate of what you may have to pay for the ingredients needed for homemade sushi. While the prices may vary slightly, you can get an idea of the difference between restaurant sushi and homemade sushi. All these items are available on Amazon.
• 16-ounce sushi rice for approx. $3
• Roasted Nori/seaweed – 10 sheets of $4
• Rice vinegar approx. $3.09
• Imitation crab (about $4 per pack can make 5 rolls)
• Organic avocado (about $1.50 each)
• Frozen tuna (approx. $18 for 5 oz steaks)
• Sugar
• Plastic wrap
• Soy sauce (about $2)
•Wasabi (approx. $3)
With homemade sushi, you pay way less for the same thing you get at the restaurant (although it may not look as professional in the presentation). Furthermore, you also get to experiment with the ingredients and toppings of your choice. Read on to find out what makes sushi so expensive and easy recipes to enjoy sushi at home.
What Makes Sushi So Expensive?
Sushi primarily comprises of sushi rice seasoned with vinegar and sugar, nori sheets that you may wrap outside or hide inside as in California rolls, and fillings. The ingredients may vary widely depending upon the availability of raw fish, fresh vegetables, and fruits. Here are a few reasons that make sushi so expensive.
#1. Sushi bar or restaurant's location:
Unfortunately, the cost of sushi in your favorite restaurant may be high due to the location. It's essential to note that there's no standard rice set for sushi. As a result, the price varies widely in different parts of the country based on the availability of raw fish and other ingredients.
As per the Sushinomics Index, New York has the most pricey basic sushi roll at an average of $8.72, followed by Los Angeles ($8.16) and Florida ($8.15). If you are looking for cheaper sushi, New Orleans stands at the bottom of the list with just $5.40 per roll.
#2.  Ambiance
When you go to a sushi restaurant, you are not just paying for the food on the table but the overall ambiance. Some exclusive sushi bars are designed in a traditional fashion to transport you to a different world. So, you often end up paying more for the experience enjoyed while eating.
The Masa restaurant located in New York is currently the most expensive and highly sought after sushi restaurant in the world. There are only 26 seats and people need to make reservations much in advance to enjoy the privilege of dining. It can cost a setback of $595 for dinner.
#3. Skills and experience
If you have ever seen a chef prepare sushi or sashimi at a restaurant, you will be amazed at the kind of skill they carry. As a beginner, it is difficult to make homemade sushi with a similar level of precision. I'll admit that I often ended up making a mess in my early days.
Making sushi needs experience and skill that is earned through years of practice. In Japan, the sushi chef usually takes years to learn and master the skills No wonder he makes it look like a work of art, and guests at restaurants pay more for a high level of service.
#4. Cost of Seafood
In Japan, which is sushi's place of origin, they get fresh raw fish locally so the delicacy is moderately priced. In several cities around the world, restaurants get frozen tuna or salmon shipped from different coastal locations. The flesh is flash frozen using modern techniques to kill parasites and keep its freshness intact.
As the modern techniques used to freeze fish involve expensive equipment and higher costs are involved in handling, the sushi prices rise steeply.  Frozen fish once thawed has a limited freshness window so restaurants keep a higher price to cover the costs.
#5. There's no speed breaker for the price
It is obvious that the price of sushi continues to grow simply because there are no regulations and the market allows it. Despite the price rising steeply since the delicacy debuted in the US back in the '70s, sushi is still one of the most popular foods.
There is no speed breaker for the steeply rising price and the market allows the price hike. If you are a sushi lover like me and crave for the delicacy at least once or maybe twice every week, here are some tools you will need and a few recipes that can help you make homemade sushi rolls for less than half the price you pay at restaurants.
What Do I Need To Make Sushi At Home?
With the right tools and ingredients, you can make sushi a weekend indulgence for your family without going over the budget. If you wish to cut down sushi costs drastically, I would suggest that you use vegetables only as sushi-grade fish can be expensive. You may also use imitation crabs as an alternative for seafood.
One of the advantages of making sushi at home is that you can experiment with a wide variety of vegetables and fruits. Veggie sushi doesn't just mean avocados and cucumbers. You can also use various other exciting fillings such as lettuce, carrots, pickled beetroot, mushrooms, asparagus, and baby marrows.
Besides some skill and patience, you will also need a few essential tools to get you started. Making sushi usually involves a few steps like slicing/ dicing vegetables, cooking and seasoning rice, rolling carefully and cutting with precision. Here are a few tools you may need:
• Bamboo mat: An inexpensive tool that will help you get a neat and compact sushi roll
• Plastic wrap: This protects the bamboo mat and prevents rice from sticking on to it.
• Japanese sushi knife: These are sharp knives used by chefs to get a clean and precise cut
• Julienne slicer: This is an optional tool that can make it easier for you to make perfect julienne strips
If you find it difficult to get a perfect roll using a bamboo mat, you may invest in a good sushi-making device. These products are easy to use and they take the stress out of sushi making. You can find my unbiased reviews for some of the best sushi making kits here
Easy Sushi Recipe For Beginners
You will need:
• Japanese short grain rice (2 cups)
• Rice vinegar, salt, and sugar for seasoning
• Avocados – Peeled, pit removed, and cut into slices
• Carrots – Peeled, cut into thin strips and steamed
• Imitation crab sticks, cut into halves
• Wasabi paste
• Pickled ginger
• Soy sauce
Instructions
• With two cups of raw rice, you can make enough sushi rice for 3-4 rolls that can serve 2 people. Cooking and seasoning sushi rice is easier than it seems and you can find detailed instructions in this article.
• Prepare the vegetables and crab while the sushi rice cools. This is the most time taking step, so I suggest getting someone in the family to help and a cup of coffee to make it less tedious.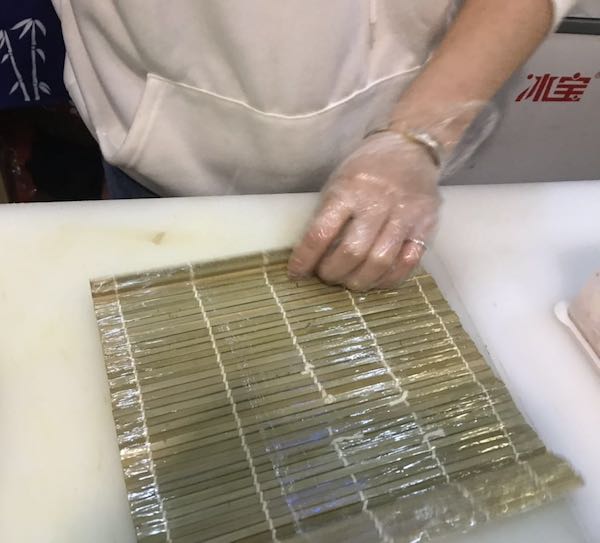 • Put the bamboo mat on the work area and cover it with the plastic wrap. Keep one sheet of Nori, rough side facing upwards.
• Take half a cup of rice and generously spread it on the Nori. Arrange the avocado slices in a row, towards you. Place two imitation crab sticks side by side in a row. Add a few strips of carrot beside it.
• Lift the bamboo mat by holding the side closer to you and start rolling, gently pressing in between to ensure that you get a compact and tight roll. Seal the edges.
• Moisten a sharp sushi knife like this and cut the roll into 6-8 equal pieces. Serve with wasabi, soy sauce, and pickled ginger.
This is one of the easiest sushi rolls you can make at home. Once you get a hang of how to roll correctly. You may also try rolling inside out and experiment with diverse other fillings.
To make a California roll, you just need to flip the Nori after adding a layer of sushi rice on it. Arrange the fillings on the other side to have rice outside and Nori hidden inside the roll. The rolling technique remains the same and you can add roasted sesame seeds or fish roe as toppings. You can have a look this article for more detailed California roll recipe
All the exciting things you see on a restaurant's menu – California rolls, Philadelphia roll, Rainbow roll, Dragon roll, and Boston Roll to name a few, can be made at home for less than half the price. Exciting, isn't it?
Read this article to find suggestions for 15 easy sushi recipes for beginners. You can find the ingredients or tools at any Asian grocery store in your area. If you don't have one near you, consider buying them online.
Related Questions
How much does a California roll cost?
California roll is not traditional sushi and not so popular in Japan, but it is highly sought after in other parts of the world. At a decent sushi restaurant, you can get a California roll for about $8-$9 per roll (6-8 pieces).
How much is the cheapest sushi?
The spicy tuna roll in a supermarket can cost you about $5.99. Although it may not be restaurant-quality, you still get good value for money. To save further, consider making sushi rolls at home for less than $2 per roll. What can be cheaper than that?