We are reader supported. When you purchase through links on our site, we may earn an affiliate commission. Also, as an Amazon affiliate, we earn from qualifying purchases.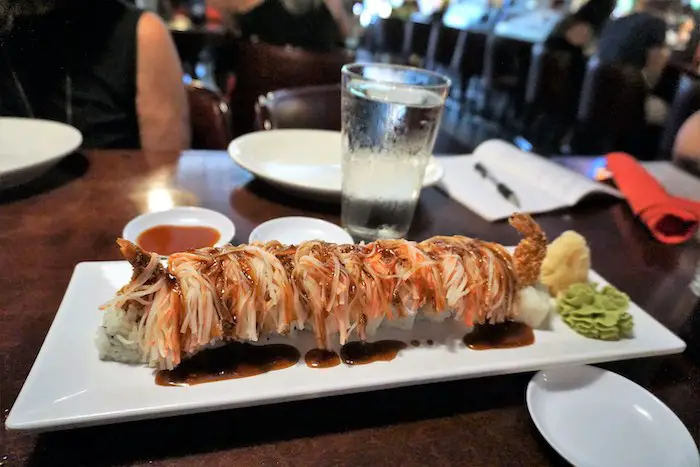 I know we have come across some bizarre names of sushi, but I am sure you haven't heard anything like this before – the shaggy dog sushi. If the name makes you wonder if it has any connection with our canine friends, then let me tell you that it doesn't.
Many people ask me 'is shaggy dog sushi cooked?' The answer is yes, and this makes it great for people who find raw fish/ seafood intimidating. The sushi roll contains cooked shrimp, crab, avocado and delicious sauces. As a cooked sushi roll, it's a safe option for sushi beginners and pregnant women.
This is not a traditional sushi roll you will find in Japan but a more westernized version you will typically find in sushi restaurants across the U.S. The crispy texture, creamy flavor, and savory taste make it a sushi roll to crave for!
The good news is that you don't need to go to the restaurant every time to enjoy a Shaggy Dog Sushi. It can be easily made at home with simple ingredients that are available at any Asian grocery store. I have created an article that provides complete details on how to make shaggy dog sushi.
A Risk-Free Option For Sushi Beginners
If you are a non-Japanese who has just started eating sushi, chances are you will not be comfortable with the strong flavor and taste of raw fish or seafood. I always recommend the first-timers to start with safer options, such as a cooked sushi roll.
The shaggy dog sushi may sound strange but it contains an amazing blend of flavors to woo the beginners. The savory taste of cooked meat is perfectly balanced by green scallions and avocados to ensure that no ingredient overshadows the other.
Sushi rice is cooked to perfection and seasoned with vinegar, sugar, and salt to make it more flavorful. Other ingredients like Nori are also processed so there's no raw fish or meat. This nullifies the risk of any foodborne diseases.
If you choose to make your own shaggy dog sushi roll at home, you may tone down the sauces if you don't like your roll too hot or spicy. To prepare a shaggy roll, you will need frozen tempura shrimp, imitation crab meat, scallions, Nori, avocado, mayo sauce, sriracha sauce, and so on.
If you have leftovers, you don't need to worry much because cooked sushi that can last longer without the threat of bacterial contamination. Just keep it in an airtight container and store inside the refrigerator to eat your shaggy roll the next day.
My Experience Of Eating Shaggy Dog Roll
On the day before Christmas, there was a small get together with old friends and we decided to try a new sushi restaurant. We went there on a whim but it turned out to be one of the best culinary experiences we ever had. I ordered a Shaggy Dog Roll (not knowing what it was, I was just curious to find out).
As my friends ordered ramen and California rolls, I was feeling skeptical about my order and even started regretting my decision at heart. However, it was too late to change the order so I waited for the unknown to arrive at the table.
When the shaggy dog roll arrived, it looked rather tempting with the shrimp tempura sticking out and the roll was covered with an attractive dressing of sauces, spring onions, and imitation crab meat. A bite into the roll and I was mesmerized with the addictive flavors due to the combination of the carefully chosen ingredients. 
The crunchiness of tempura tasted great with delicious crabmeat perked up with the spicy Japanese mayonnaise. Spring onions added earthiness and the much-needed greens to balance the taste of crabmeat and shrimp.
Other Cooked Sushi Rolls You May Like To Try
#1. Hot Geisha Maki Roll
Again, this is not a traditional sushi roll, yet greatly appeals to the westerners for its creamy and fried ingredients. This is a smoked salmon roll, which is deep-fried and then topped with mussels. It is then baked with a delicious caviar cream sauce. Certainly not the secret for Japanese's healthy living but an incredible indulgence for sure!
#2. Sun Set Sushi Roll
If you are a cooked fish lover, this is a creative sushi roll for you. It contains spicy tuna and avocado wrapped in Nori or soy paper. The toppings include spicy salmon, finely chopped scallions, and crunchy tempura flakes.
#3. Flaming Lips Sushi Rol
This inside-out roll tastes as good as it sounds and one of my favorites too. It contains tempura crab meat and delicious cream cheese inside. The toppings include seared salmon, red tobiko, jalapeno, eel sauce, and spicy sauce.
#4. Sapporo Sushi Roll
If you are someone who loves cooked sushi and can't get enough of tempura rolls, this is worth trying. It contains crab stick tempura with avocado and cream cheese rolled in sushi rice and Nori. The toppings include chopped spicy scallop, mayo sauce, eel sauce, spicy sauce.
#5. New York Sushi Roll
Named after the culinary capital of United States, this scrumptious cooked sushi roll has everything to make you drool over it. The sushi contains shrimp tempura, avocado, and cucumber inside and the toppings include imitation crab sticks, spicy sauce, regular mayo, and spicy chili powder.
Related Questions
Are there any variations to the shaggy dog roll
As this is a non-traditional roll, you may expect to find variations of the roll served at different restaurants. However, the common threads are a shrimp tempura roll with imitation crab meat toppings and a generous dressing of sauces.
Can you get shaggy roll sushi in Japan
Probably not, because this is not a traditional sushi roll. It is more of a westernized creation you will typically find in sushi restaurants in the U.S.
Why is it called a shaggy roll?
The roll has surimi pieces, scallions, Japanese mayonnaise sauce and Sriracha sauce on the top of the rice to give the sushi roll a shaggy appearance.
How many calories in a shaggy dog roll?
A complete roll contains about 190 calories, 3g fat, 220 mg sodium, and 18 g carbohydrate. Although the roll is considered healthy due to its low calorie and low sodium profile, I would not recommend eating it very often if you are watching weight.
Is it safe for pregnant women?
Yes, of course. There's no raw food in this sushi rolls so it serves as a perfect treat to satisfy those sushi cravings you have when you are pregnant.
Does the shaggy dog sushi contain gluten?
Yes, the tempura is fried using cornstarch which contains gluten and the sauces are also loaded with a lot of gluten. This is certainly not a dish for those on a celiac diet.
Can I eat shaggy dog sushi the next day?
Yes, if you store it in an air tight zip lock bag or sealed container inside the refrigerator, the sushi will retain some its flavor although it will not be at its best. Microwave the sushi for 30 seconds and it will taste as good as fresh. 
See Also:
How To Make A Shaggy Dog Sushi Roll?
5 Best Sushi Rice Vinegar Brand
30 Good Ideas for Sushi Roll Fillings
Is Sushi Raw Fish? Read This First!