We are reader supported. When you purchase through links on our site, we may earn an affiliate commission. Also, as an Amazon affiliate, we earn from qualifying purchases.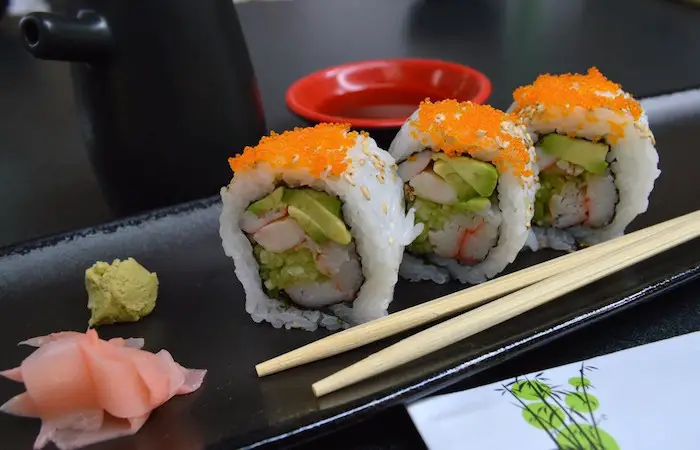 I strongly believe that the way you present your food can make or break the game! If you love making sushi at home and wish to add a traditional feel to it, why not get one of the best sushi sets available online. When you serve sushi in a traditional Japanese plate, even the most discerning guests will forgive any minor flaws.
If you look online, you can find a plethora of sushi sets in different design and materials. Not all of them are worth your money as they can get damaged easily. However, there are some good quality sushi sets that I can recommend and my favorite is Miya Kosui Sushi Set (see details). They are good enough for regular use as well as special occasions. The set looks great and includes two plates, two sauce bowls, and two pairs of chopsticks.
I appreciate the relaxed green color of the set and the name itself that holds reminisces to a serene country lake. The beautiful unglazed border gives a rustic and traditional look to the plate. It looks handmade to further add that classic appeal to your sushi experience.
If you are looking for something more stunning and your budget allows you to spend a few extra dollars, I would recommend the Japanese Tombo Dragonfly Blue Motif Ceramic Sushi Set. It consists of 10 pieces of beautifully designed dinnerware with plates, spoons, soup bowls, sauce bowls, and chopsticks.
Why I Picked Miya Kosui Sushi Set
The plate and bowl set is made from high-quality stoneware, which adds a lot of durability to it. Besides being sturdy, they also come in an attractive color combination that looks pleasing to the eyes. The chopsticks are made from high-quality hardwood so make sure you don't soak them in water or they will swell like any wood.
The bowl is designed to be used as a soy sauce dish, and the depth is good enough to hold enough sauce. Most sushi lovers enjoy pairing up their sushi with delicious mayo or sriracha sauce for a tantalizing experience. Serving in this adorable set enhances the pleasure of relishing this traditional Japanese cuisine.
While the manufacturer says that the set can also be used for keeping soaps and candles, I don't see the reason why someone would waste a perfect sushi set by keeping it in the washroom instead. Also, I must emphasize that the product should only be hand washed. Don't risk it by putting in a dishwasher or microwave oven. Let's look at some of the features, pros, and cons of the product.
Features
• Measures 8.8 x 5 x 1.8 inches
• Weighs 1 pound
• Manufactured by Miya Company Inc
• Made in Japan
• Set includes two plates, two bowls and two pairs of chopsticks
• Hand wash recommended
Pros
• It has everything needed to serve sushi to two people
• Comes in a nice box that can be used for gifting purpose or storage
• Customer service is reachable and responsive
• It offers good value at an affordable price
Cons
• You need to hand wash them separately. It's not a con though, just a safety tip
Verdict
With the Miya Kosui Sushi Set, you can take sushi dinner nights at home to a different level altogether. Get the feeling of eating out at a traditional sushi bar right at home with this beautiful set by Miya. It resonates high quality and the warm colors send out a positive vibe for a romantic date night or fun family dinner. As one of the best sushi sets, it can also be a great gift idea for someone who loves sushi.
Why I Recommend The Japanese Tombo Dragonfly Blue Motif Ceramic Sushi Dinnerware
If you want to add a dash of lavishness to your sushi dinner, this beautiful sushi set is just what you need.  The color, the sheen, and the breathtaking motif of a dragonfly together make this product look aesthetic and gorgeous at the same time. Your guests are sure to get wowed when you serve them sushi in thistraditional Japanese plate with matching bowls, spoons, and chopsticks.
The dinnerware is made of high-quality ceramic material and the seller ships it well-packaged in a nice box. You can store the dinnerware back in the box and keep it away when not in use. I love the fact that this product comes with soup bowls and spoons because I like having to go with my sushi.
If you were disappointed to know that the MiyaKosui Sushi Set cannot be cleaned in the dishwasher, you are going sigh with relief in this one. The Tombo Dragonfly dinnerware is dishwasher safe so cleaning up after a filling dinner just got easier. Let's check out the features, pros, and cons.
Features
• Measures 14 x 10.6 x 2.9 inches
• Weighs 4.61 pounds
• 10 Pieces dinnerware
• Made in Japan
• Comes in an elegant gift box
Pros
• It can comfortably serve two people for a delicious sushi dinner
• The set comes in a sturdy box with different compartments to keep the items
• The dinnerware is dishwasher safe so cleaning up is easy
• This can be a great gift for someone who loves making sushi at home
Cons
• The product is slightly more expensive but the high product quality makes it a fair deal
Verdict
I fell in love with this product the moment Isaw it and I strongly feel that this is one of the best sushi sets money canbuy (if budget is not a constraint). Relishing the fruits of your own labor after spending hours in the kitchen feels wonderful when it's served in breathtaking dinnerware.
Whether you wish to impress your date, make a sushi-loving friend happy, or awe your guests, this beautiful ceramic dinnerware has you covered. Although slightly expensive, the quality speaks for itself and justifies the price.
Related Questions
What is the significance of tableware in Japanese culture?
The UNESCO has designated Japanese cuisine with the Intangible Cultural Heritage in 2013. Tableware comprises one of the essential components of this culture. It used to set the right tone and expressthe various seasons. If you go to a Japanese restaurant, you will hardly ever find plain white tableware. Most of them are made of ceramics and different shades of colors are used to exude warmth.
What are the best quality chopsticks
The best quality chopsticks are made from natural materials such as bamboo, wood or metals like stainless steel or titanium. These materials have a neutral effect on your bodies. Some chopsticks are intricately designed and decorated using paintwork. However, if you are not sure of the quality of paint used, I would recommend sticking with plain chopsticks.
How to wash your sushi set?
You would want your sushi set to last longer, so make sure you read the manufacturer instructions well before cleaning. Some of the best sushi sets are dishwasher safe but others may chip off or break if you put them inside a dishwasher. So, read the instructions and make sure your product is dishwasher friendly.
Is it safe to wash the chopsticks too?
If you use disposable chopsticks, you need not worry about this. However, the best sushi sets usually come with reusable chopsticks that must be hand washed. Some chopsticks are dishwasher safe, but I would recommend that you hand wash them because they are sharp items that can damage your appliance or other utensils.
The Final Words
I have tried different sushi recipes and scoured the Internet for all types of authentic ingredients and tools to achieve perfection. However, it was not until I bought the first sushi set that I felt that I had seriously honored my efforts.
So, if you want to enjoy and appreciate the real essence of this amazing Japanese cuisine, serve and eat like a Japanese in one of the best sushi sets available online. You will not only feel more proud of your homemade sushi but also impress upon your guests at a sushi party.
See Also:
Toro vs Maguro vs Akami
What Is Toro And How To Make Toro Sushi?
Proper Way to Eat a Hand Roll(Temaki)
How to Cook Octopus in Japanese style?