We are reader supported. When you purchase through links on our site, we may earn an affiliate commission. Also, as an Amazon affiliate, we earn from qualifying purchases.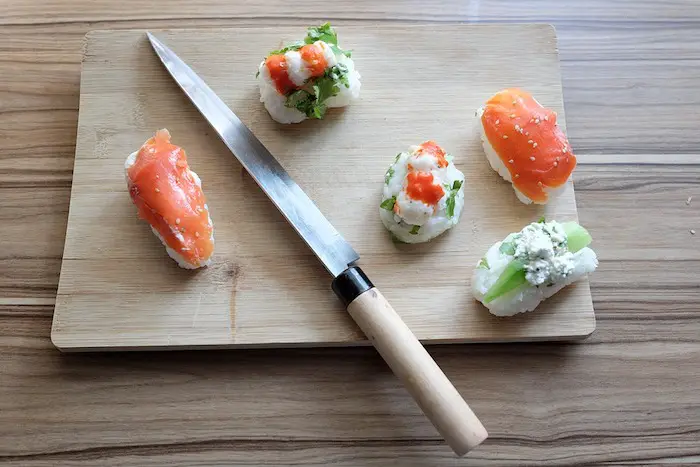 You have probably heard of the old saying 'you eat first with your eyes'. Sushi is no different and some sushi chefs spend their entire career improving presentation skills and making sushi look more appealing to the customers. When it comes to presentation, an important tool in the arsenal is the sushi knife.
If you have often wondered how the sushi chefs manage to cut so precisely, the secret lies in their knife that's different in many ways from your traditional kitchen knife. While there are several sushi knives on the market, my top pick is Gyuto Sushi Knife by SimpleSong (see details). Made from high-grade carbon stainless steel, this knife features a single bevel-edge blade and rosewood handle.
Gyuto knives are exquisitely crafted and designed for the sushi chefs. Their length and versatility help you get perfect slices of vegetables and raw fish. When you wish to make sushi like the Japanese, I suggest using this traditional knife. Although a bit expensive than your kitchen knife, it's worth in its weight in gold for a sushi lover.
Why I Picked Traditional Gyuto Kitchen Chef's Knife By Simple Song
Tired of messing up with my sushi slices and fish fillet, when I finally decided to look for a sushi knife, the number of choices available overwhelmed me. After extensively reading reviews for dozens of knives, I picked the Gyuto Kitchen Chefs Knife by Simple Song. Let me tell you why I think this is the best sushi knife you must have in the kitchen if you love indulging in sushi making,
Superior quality blades for cutting
Gyuto means 'beef sword' so in the professional world it is known as the chef's knife. Unlike an ordinary kitchen knife, the blade is made from high-quality 420HC stainless steel imported from Thyssen Krupp. The material is carefully selected for its ability to retain sharpness achieved from proper heat treatment. The blade is also highly resistant to stains, rust, wear and tear.
The blades run in full length up to the handle to give a full-tang design to the knife. Measuring 210mm in length, the blade is made to perfection to give youthe benefit of ultra-sharpness when dicing vegetables or slicing tough meat.
Single bevel knife-edge for precise cuts
I appreciate the fact that this traditional knife comes with a single bevel knife-edge to give the most precise and sharp cuts. The blade is sharpened to a 15 degrees edge on the right side and the other side stays flat to help you separate the sushi slices. Kitchen knives usually have a 30 degrees edge, which is not sharp enough for sushi.
With this knife at your disposal, you can bring out the sushi chef in you and give your homemade sushi a professional touch. From making simple regular meals at home to the high-stress environment of a restaurant, this sushi knife delivers an unbeatable performance. It scores high in terms of balanced precision, edge retention, and unmatched sharpness.
Sustainable rosewood handle
This Gyuto Kitchen Knife not only scores high marks with the performance but also fares well when it comes to durability and sustainability. Balanced handling of the knife is as important as having a sharp blade. This traditional sushi knife comes with a traditional handle made from Rosewood imported from Madagascar.
The full tang handle can take a lot of beating at a restaurant kitchen or your home kitchen and still retain its polish. The perfectly rounded handle gives you an amazing grip for expert maneuver ability. I love the way the blade runs through the handle to give a better balance to the user when working with the knife.
Designed to achieve that restaurant style
If you have tried making sushi at home but failed to pull off a restaurant-like presentation, it's because of the knife! I love the way this traditional Japanese knife cuts vegetables and meat like butter. You get perfect long strokes of cucumbers and thin slices of salmon that melt into the mouth. Not to mention, it helps you cut your sushi in perfect slices just like a professional.
Full satisfaction guaranteed
I appreciate the fact that the manufacturer stands behind their product and offers a full satisfaction guarantee. If for any reason you are not satisfied with your purchase, you may contact their customer support team within 30 days and request for a full refund. That takes the risk out of your purchase so you can go ahead and get one without any stress.
Features
• Weighs 12.8 ounces
• Measures 8" in length
• Made from High Carbon Stainless Steel
• Handle made from rosewood
• Manufactured by Simple Song
• Single bevel 15° edge blade
Pros
• It has a perfect handle to blade ratio for maximum performance
• The wooden handle feels lights and gives it an authentic look
• Gives you perfectly thin slices of raw fish for sushi
• Perfect weight and balance lets you cut for hours without any feeling of fatigue
• It cuts like a dream and is easy to handle
• Comes in a visually pleasing black box
• Offers good value at the price
• Super sharp for making julienned ingredients
Cons
• It is prone to rusting so make sure you wipe the blade with a dry cloth before keeping it back
3 Different Ways to cut sushi rolls
Things To Look For In The Best Sushi Knife
#1. Perfect Grip
To slice, dice and cut with precision, the chef needs to have a good grip on the handle. This is also essential to prevent mishandling and ensure safety. You should feel comfortable when holding the knife in your hands and get a good grip while cutting vegetables or meat.
#2. The Brand
The market is flooded with numerous Japanese sushi knives claiming to be good, so make sure you buy from a reputed brand. Read about the company and check reviews to ensure that the company is serious about maintaining its quality and brand image.
#3. Know your budget
You can find sushi knives that cost $500 or more. However, please remember that expensive is not always the best. So look for a product that offers good value at a reasonable price. Set a budget and be realistic about what you can afford. There are manufacturers like Simple Song that offer quality sushi knives less than $50.
#4. Size and shape
The sushi knives come in different shapes and sizes to help you perform various tasks.  For example, the Deba knives have curved blades to process whole fish; Usuba knives are perfect for slicing vegetables, and Gyuto knives are good for cutting vegetables and sushi slices. I have discussed them in detail below.
#5. Material
They are always made of steel but your options for the best sushi knife may vary depending on the type of steel. Japanese knives may be made of three types of steel – composite, stainless, and carbon.
Composite steel blades have sharper edges but are prone to rust. Stainless steel blades do not rust but they are not as sharp as a composite. Carbon steel blades are the sharpest but they need a lot of maintenance to avoid rusting.
What Are The Different Types of Sushi Knives
When looking for the best sushi knife inthe market, it is important to know the different types available. It not only helps with your buying decision but you can also brag about your sushi knowledge in front of your friends!
#1. Deba
This is a short-sized curved Japanese knife like this that is specially designed to cut out fish heads and slice thin fish fillets. They come in various sizes ranging from 4 inches to 12 inches long. They are usually strong, thick and single side beveled.
While a Deba may not be suitable for sushi chefs at home, the professionals in a restaurant often use them to prepare whole fish for different sushi dishes. For home use, you will normally buy frozen fish that comes filleted so a Deba knife is not needed.
#2. Usuba
This is a typical Japanese-style knife used for peeling, dicing, and fine cutting vegetables. It comes with a straight and sharpened blade edge on the right. This style of one-side sharpened blade is known as Kataba in Japanese.
According to experts, the Usuba knives that have depression on the flat side are of higher quality. This style of Japanese knives can cut vegetables better than knives that come with double-edged blades. 
#3. Yanagiba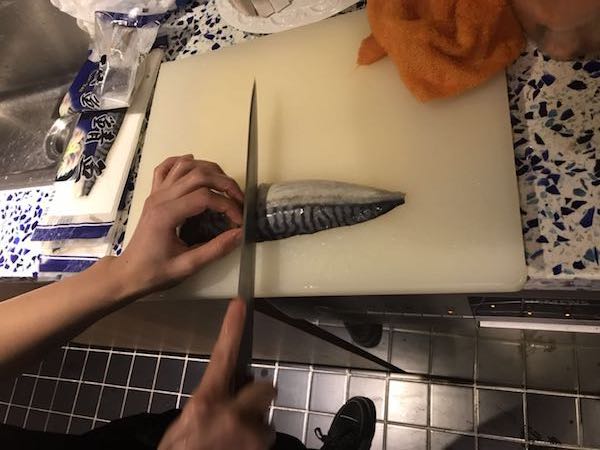 This standard sushi knife(learn more) works best for cutting sushi and sashimi rolls. In Japan, preparing sushi is serious business and chefs train for years to master the art of getting the finest slices. Fish pieces must be translucent, shiny and smooth and this can be achieved only by a Yanagiba.
This is long, single beveled knife with super thin blades. The blades are typically on the right side but left versions may also be available for people who prefer using their left hand. However, the left side versions are more expensive.
#4. Gyuto
The gyuto or chef's knife is the Japanese version of the western chef's knife. A typical Gyuto knife will have a thinner blade and a sharper edge. As a result, they are more versatile and capable of making precise slices for sushi. They can be used for dicing vegetables, chopping fruits and slicing/ mincing meat.
Tips For Taking Care Of Your Sushi Knife
• Wash and dry the knife blade with a soft cloth immediately after use
• Never put your knife in a dishwasher as this can damage the blade
• If you have multiple knives, store them separately so that the blades don't knock into each other
• Always use a plastic or wooden cutting board to slice vegetables and meat
• Do not use your sushi knife to cut bones as this can chip the blades
• Never use your sushi knife to cut frozen food
• Always use a soft cloth to clean the blade. Avoid scrubbers and abrasive powders
• Keep the knife in a case or box when transporting it
Related Questions
Why do you need a Japanese sushi knife?
A Japanese sushi knife is specifically designed to be sharp and light. It works best for the delicate processes such as slicing fish and seafood. Even after the sushi roll is made, you need a special knife to cut it into equal and perfect slices that look great on the plate. Unlike a western knife, the Japanese sushi knife comes with a single bevel that ensures food does not stick to the blade.
What makes sushi knives more balanced?
These knives are lighter and they come with a high-quality handle that gives you a good grip. The single-beveled thin blade not only cuts through meat and vegetables like dream, but they also don't strain your hand.
What is the difference between western style knives and Japanese knives?
Most Japanese knife blades are made of carbon steel hence they are sharper than their western counterparts. Although Japanese knives are more prone to rusting, superior sharpness and edge retention make up for it. They are extremely useful for delivering precise and fine cuts that are essential in Japanese cuisine.
What is the difference between sushi and sashimi knives?
Making Sushi involves several steps such as cutting vegetables, slicing fish, and cutting the roll. A sushi knife is multifaceted and helps in all three steps. The sashimi roll, on the other hand, is designed only to cut fine slices of fish.
What is the best sushi knife?
The best sushi knife is made from high-quality carbon steel and has a single beveled edge. It should also have a full-tang handle. Check out the Gyuto Kitchen Chefs Knife by Simple Song. It delivers great value at a reasonable price.
The Final Words
If you wish to indulge in serious sushi making and get compliments on how restaurant-like the slices look, the best sushi knife is a must-have. I believe this is an important tool in the arsenal of any passionate cook because it not only helps you slice sushi roll but also comes handy in slicing and dicing with precision.
In my opinion, the Gyuto Kitchen Chef'sKnife By Simple Song is the best sushi knife you can buy without exceeding your budget. It is made of high-quality materials such as carbon stainless steel and rosewood to strike the perfect balance.
It's sharp enough to cut through tough meat like breeze and feels so light that you can use it for hours without straining your hand. Overall, I feel it has everything you can probably ask to feel like a master sushi chef at home!
See Also:
How to Eat Onigiri (Rice Ball)?
Sakai Takayuki Knives Reviews – 5 Favorites
4 Best Honesuki Knives To Buy
5 Best Japanese Knives For Chopping Vegetables