We are reader supported. When you purchase through links on our site, we may earn an affiliate commission. Also, as an Amazon affiliate, we earn from qualifying purchases.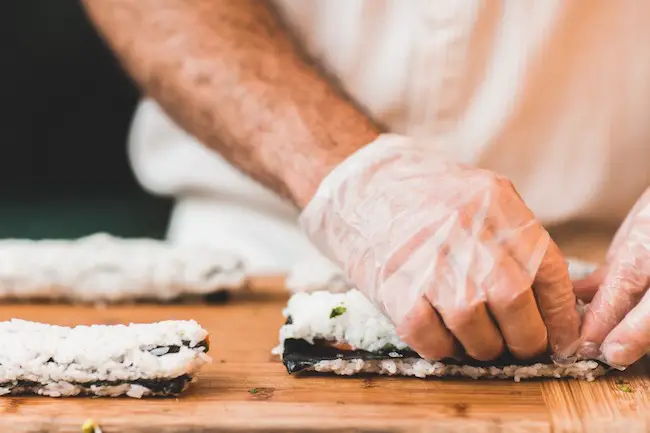 If you love sushi and incessant cravings make you want to try them at home but you lack skills, look for the best sushi making kit in the market. Although I prefer to do them manually, I must agree that some of the professional kits are worth a try as they save you time and the rolls come out neatly like a pro!
The popularity of sushi has led to numerous sushi making kits floating in the market, but I am really choosy when it comes to my sushi. I want the right amount of sushi rice, the perfect shape, and neat slices to eat or serve with the right sauce.
After reviewing several kits available online, my favorite is the Sushi Chef Sushi Making Kit (see details) that has everything from sushi mat and short-grained rice to seaweed Nori and traditional sauces to make Japanese style sushi. Although it costs slightly more than other sushi kits, I feel the quality of this product is worth every penny. That's my top pick.
Another product that deserves a mention is the Sushi Making Kit by iSottcom(see details), and I feel it's a strong contender for the Best Sushi Making Kit title. It works best for beginners and is so easy to use that you can let kids cook sushi rolls and have a party!
While the Sushi Chef Sushi Making Kit stands out for being authentic in every sense of the term, the iSottcom Kit impresses with its handmade set made from high-quality natural materials. Let'stake a look into the nitty-gritty of the details to help you choose the one that suits you best.
Why I Picked Sushi Chef Sushi Making Kit (First one)
If you want to make sushi like the Japanese, Sushi Making Kit by Bay cliff Company makes it easier for you. This all-inclusive kit comes with all items you will probably need to make traditional sushi at home. From the authentic Japanese vinegar and toasted Nori sheets to short-grain rice and bamboo rolling mat, you name it and they have got it in the kit.
The reason why I love this kit so much is that you get most of the things, expect vegetables and raw fish shipped to you. It works great for people who don't have access to an Asian grocery store or don't have the time to visit a store to buy all the items separately.
For beginners, the kit offers a detailed recipe book that contains a brief background of sushi and step-by-step instruction on how to make sushi at home. That's not all, the kit also includes pickled ginger, Japanese soy sauce, and Wasabi to add that perfect finish touch to your homemade sushi.
I love the fact that they have pre-measured ingredients, which takes the guesswork out of sushi making. There are enough ingredients to prepare meals for 12 people using the Sushi Chef Sushi Making Kit. So, if you are interested in throwing a dinner party for friends, you know how to impress your guests.
Features
• Bamboo rolling mat to wrap toasted seaweed sheet around sushi rice and fillings
• Rice Paddle used to toss the warm rice and mix it with sushi vinegar
• Japanese quality Nori sheets to add a delicate and subtle flavor to sushi rolls
• 100% natural traditional rice vinegar to add a delicate and tangy flavor to the dish
• Japanese Sushi Vinegar to add flavor and shine to sushi rice
• Naturally brewed and high-quality dark soy sauce for the perfect aroma and flavor
• Japanese-style short-grain rice to make sticky and moist sushi rice
• Pickled Ginger made from tender ginger roots to be eaten between different varieties of sushi
• Wasabi (powdered) to enhance the taste and flavor of sushi
• Sushi Chef Cookbook with step-by-step instructions and interesting recipes
• Can make 125 pieces of sushi, ideal for serving 12 people
Pros
• You get everything needed to make sushi, so you only need to buy fish and vegetables from the store
• Each ingredient is fresh and painstakingly selected to bring you the most authentic sushi experience
• The cookbook contains simple and easy to understand instructions for anyone to make sushi
Cons
• Nori sheets come folded and they break easily when trying to unfold them
The process to make sushi rice may be complicated for some. I recommend watching some YouTube videos before starting off.
Verdict
If you are blown over by the taste of sushi and craving to make some at home, this is the best sushi making kit money can buy! It saves you the stress from having to remember and buy all ingredients separately from an Asian store. All items are good quality and authentic.
You get all the authentic stuff properly packaged and delivered at your doorstep. As it can make sushi for 12 people, feel free to invite friends and have a sushi dinner party! I recommend this for anyone wanting to make sushi at home.
Why I Picked a Sushi Making Kit by iSottcom
Looking for that perfect maki maker that will make you roll out sushi like a pro? This is another amazing sushi making kit that deserves a mention for its beautiful handmade frame and ease of use.The sushi frame is handmade and built with precision to give you compact and neat sushi rolls.
Nothing tastes better than the fruits of your own labor so homemade sushi will not only make you happy but proud too! What I really like about this product is that it is not made from cheap recycled plastic, but natural hardwood treated with natural antiseptic oil. It repels moisture so that the sticky rice doesn't stick to the mold.
Whether you wish to make Hosomaki, Gunkan, Nigiri, Futomaki or any other style of sushi rolls, this sushi making kit has you covered. Another thing I absolutely love about this kit is that it does not automate the process of sushi making.
You still get to hone your creative skills and get better at the mechanics as you prepare the culinary masterpieces using your hands. The only big difference is that you don't need to 'roll' you sushi using this Maki maker. Just load it with the ingredients of your choice and press – you are done!
Features
• The kit is made from high-quality natural materials
• Contains handmade sushi molds
• Step-by-step instructions on how to make sushi
• Maki maker comes in two sizes – Grand and Mini
• It comes with a 100% money back guarantee
 Pros
• The Makimaker simplifies sushi making while retaining the original tradition
• It has a compact design, which makes it easier to store in kitchen drawers
• Designed thoughtfully for portability and convenient transportation
• This is an amazing gift for someone who loves sushi but can't get a hang of the rolling technique
• The product is safe as it is made from natural elements of wood treated with natural antiseptic oil
• You get a recipe book that contains step-by-step instructions on how to use the Maki maker
• The 60 pages eBook contains colorful pictures and useful content
• It is higher in quality than the plastic counterparts that break easily
• The Maki maker is fun to use and easy to clean without any mess
Cons
• It comes with an MP3 cookbook that some customers find difficult to download 
• The recipes are translated into English, which sometimes looks unclear
Verdict
Sushi is a painstakingly made traditional Japanese dish and no matter how much people wish to make it on their own, they are often intimidated by the skills needed to roll it correctly. You can now put your fears to rest and have fun to make sushi at home.
Whether you are a professional looking to make numerous sushi rolls for a party or a beginner trying your hand at sushi making for the first time ever, this product is a great choice. The manufacturer stands behind the product with a 100% money back guarantee so there's nothing to lose. I totally recommend trying this!
Have a look this video to see how to make sushi easily
Things To Consider Before Buying A Sushi Making Kit
When you are out there looking for the best sushi making kit, the numerous options are enough to intimidate you. Here are a few things to consider and ask yourself to understand what you need and choose the right product.
How much are you willing to spend on the best sushi making kit?
You can find gadgets less than $10 to over $30 and more. I would suggest that you stay away from cheap plastic made sushi kits as they break easily and don't give you a good experience.
What do you want to do with your kit?
Is this a gift for someone who loves sushi? If you want a sushi maker to save time and roll out dozens of sushi for a dinner party, look for durability and ease of use. If you want a gadget to help your child have a fun sushi project, look for good quality and safety.
Do you just want a device or everything needed to make sushi?
Well, some kits only contain a gadget, for example, the Sushi Making Kit by iSottcom; while there are others like SushiChef Sushi Making Kit that come with all essential ingredients. So, the choice is yours!
Do you just need a bamboo mat to do the rolling or a complete sushi rolling device?
If you prefer to roll them using your hands then a bamboo mat is what you need to get it right. If you are a beginner, lacking in skills needed to roll, a specially designed sushi rolling device can help you!
Related Questions
Why Do You Need A Sushi Restaurant?
If you love eating sushi, going to a restaurant every time you have a craving can burn a hole in your pocket. Even after paying a high price, you may still not be satisfied with the small portions. While the quality of sushi you get in a restaurant is incomparable, the best sushi making kit can help you get close to that amazing experience. 
What About The Skill, Prep, And Work?
If you have heard that sushi making requires skill, prep, and a lot of work, you have heard it right. That's how it is done traditionally even today. However, these DIY kits are painstakingly designed by sushi experts to take the guesswork out of sushi making and help beginners get a good start.
What Can I Get In The Best Sushi Making Kit
Most non-traditional kits come with a gadget to roll sushi correctly without the need for a bamboo mat. Sometimes, the kit may contain other important ingredients for sushi making such as short-grained rice, rice paddle, Nori seaweed sheets, sushi vinegar, soya sauce, wasabi, etc.
What Is The Difference Between Traditional And Non-Traditional Kits
The traditional kit will only include a bamboo mat to help you roll sushi as the Japanese do it using their hands. It comes cheap – $5 or even less. The non-traditional kits on the other hands offer fancy gadgets that help you get a neat roll without any practice of using the bamboo mat.
The non-traditional kits often include cookbooks and authentic ingredients you need to make sushi. These kits are obviously pricier, however, it's a fun way to make sushi at home. If you are anon-Japanese or you lack the skills to roll sushi correctly, I would recommend a non-traditional kit like the ones reviewed above.
The Final Words
Your search for the best sushi making kit ends here! I have evaluated dozens of sushi making kits available online and done the research work for you. If you don't want to worry about going to an Asian store to get all that you need to make sushi, you can get the Sushi ChefSushi Making Kit straightaway. All you need are fresh vegetables and raw fish to make 125 pieces of delicious sushi and serve 12 people!
If you prefer the joy of shopping for all the sushi stuff and need help with the preparation, get the Sushi Making Kit byiSottcom. It works great for people who find it difficult to roll correctly. You can make perfect sushi using the Maki maker by simply pressing the ingredients with Nori, no rolling needed. Involve your kids for a fun dinner preparation and enjoy family time together relishing the delicious sushi treats!