We are reader supported. When you purchase through links on our site, we may earn an affiliate commission. Also, as an Amazon affiliate, we earn from qualifying purchases.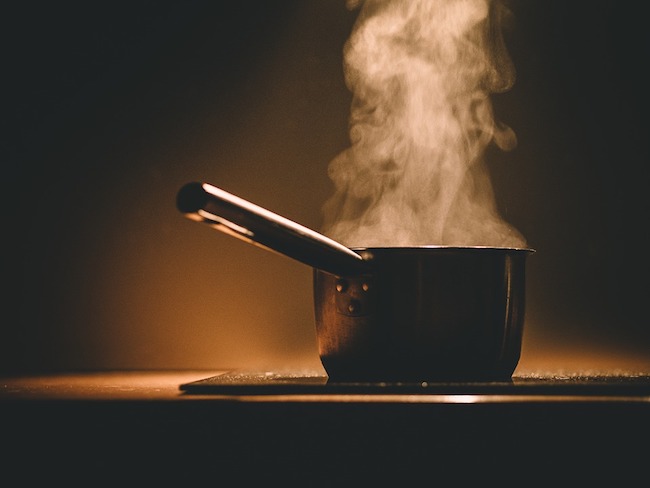 If you are planning to make sushi at home, sushi rice is perhaps one of the first things that you will prepare. Although it looks easy, it requires a little practice, patience, and the right utensil!
Whether you plan to make it quickly in a rice cooker or try out the age-old traditional method of cooking in a pot, you will need the right products to get started.
Buying a rice cooker or pot is not tough decision making, but with so many choices, it can get confusing.  So, here's my recommendation to help you find the right product.
Furthermore, to take the guesswork out of sushi rice making, don't forget to check out the exact rice to water ratio and detailed steps mentioned in this article.
Rice Cooker
Preparing sushi rice in a cooker makes things easier for beginners. You just need to know the right proportion of rice and water to get the right fluffy texture.  I recommend the rice cooker by Tiger Corporation because it can do a lot more than just make rice.
Besides the one-push operation, the 'tacook' function allows you to cook two dishes at the same time. There are 4 cooking menu settings that include brown rice along with plain rice, slow cooking, and synchrony cooking.
To find good customer service at a reasonable rate, buy the Tiger Corporation JBV-A10U-W 5.5-Cup Micom Rice Cooker. Shop Now.
An Upgraded Rice Cooker With Umami Settings
If you have a slightly higher budget and are looking for a rice cooker with additional features then check out the Zojirushi Induction Heating Pressure Rice Cooker & Warmer. This 1-liter capacity stainless brown cooker employs the newest revolution in rice cooking known as the pressure inductive heating.
I specifically love the umami setting that increases the soaking and steaming time to deliver a better performance at making sushi rice. It also comes with an easy to read and colored LCD panel with delay timer and clock. You also get multi-menu cooking functions for sushi rice, porridge, brown rice, and so on.
Although a bit pricey, I feel the extra features and controls you get with the product certainly make cooking a tad easier. Some of the features worth mentioning are automatic keep warm function for 12 hours, reheat function, extended keep warm, keep the warm monitor and so on.
Rice Pot
If you prefer the traditional method to cook sushi rice in a pot, I recommend this non-stick pot like this. What I love about this cookware is that it heats evenly to ensure that the rice cooks uniformly without burning.
The outer coating looks elegant and stylish to complement any kitchen, plus the rubberized handle makes it easy to hold. The pot is also micro oven safe to 350°F and comes backed by a lifetime limited warranty.
Related Article:
How To Make Sushi Rice In A Rice Cooker? (also in a pot)
Why Is Sushi So Popular? Read This First!
Does Sushi have to have Rice?
How long does Masago last?