We are reader supported. When you purchase through links on our site, we may earn an affiliate commission. Also, as an Amazon affiliate, we earn from qualifying purchases.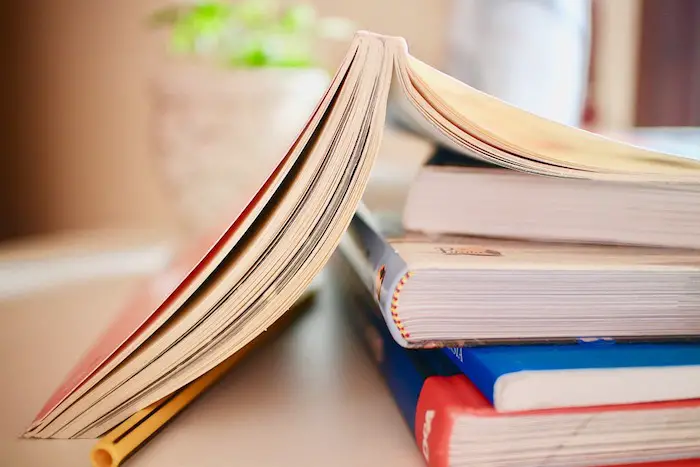 If you are new to sushi making, you will need some fundamental things to get started. These include Nori seaweed wrap, bamboo mat, sushi rice, ingredients, recipe book, etc. For each item, there are so many options available that it's easy for anyone to get confused.
To take the anxiety out of your first step towards sushi making, I have recommended some of the best sushi ingredients and books. This will weed out the confusion, reduce the chances of your sushi going bad due to the wrong choice of ingredients, and let you have fun making delicious sushi at home.
1. Nori Seaweed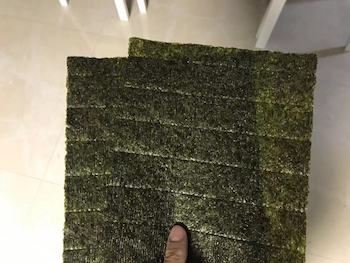 Some people may not appreciate the blackish green wrap covering their sushi. However, this is an important ingredient responsible for bringing out the traditional flavor. If you would like to make sushi like the Japanese, you must use Nori. California rolls, the western version of sushi also has Nori but it is hidden inside a layer of delicious sushi rice to appeal to the westerners.
Why I Picked ONE ORGANIC Sushi Nori Premium Roasted Organic Seaweed?
You can find Nori sheets in any Asian grocery store but you need to choose the right one as there may be several options available. I recommend the ONE ORGANIC nori sheets (see details) as they are made from the finest quality organic seaweed that is grown, cleaned, and processed in seawater without adding any foreign substances. They are rich in essential nutrients such as vitamins, minerals, and amino acid.
Unlike the cheap brands, this is a premium grade Nori that is carefully cut, dried, and roasted to a crispy texture. It adds crispiness not chewiness to the sushi. The ideal thickness makes it easy to handle and ensure that it does not tear off when using in the recipe. You can do a quick 'quality test' for the Nori. Hold it up to a light source and you will see that there are no dents or irregularities.
2. Sushi Rice
When talking about sushi quality, we usually refer to the quality of raw fish used. However, let's not forget that sushi rice also plays a vital role in this traditional cuisine. If your rice is not sticky enough or doesn't taste well, it can spoil the total effect of the dish. Hence, it's important to choose the right sushi rice from the various options available.
Why I Picked Lundberg Family Farms Organic Sushi Rice?
When you want organic quality, natural sweetness, and the right level of stickiness in your rice, I recommend this California style rice from the house of Lundberg. This is classic Japanese short-grain rice suitable for making rice salads as well as a plethora of Asian dishes such as sushi rolls. There are several reasons why I prefer this brand of sushi rice to others.
The rice is grown in California using eco-friendly farming methods that conserve and produce renewable energy. Run by the third and four generations, they still uphold the family heritage while protecting the environment at large. Even if you are a beginner in sushi making, you will not go wrong with the Lundberg Sushi Rice.
3. Fresh wasabi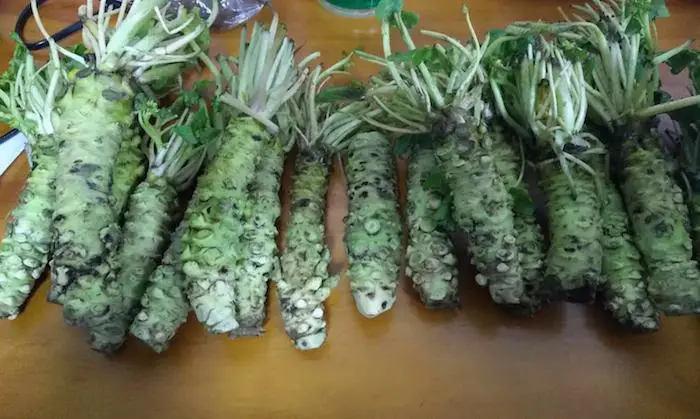 Do you want to take your sushi eating experience to a different level? Sushi will not be the same without wasabi, a traditional Japanese condiment that enhances the taste of fish. Real and fresh wasabi like this is not spicy, but it retains the aroma that reflects spiciness without overpowering the taste of fish.
You will be surprised to know that 95% of the wasabi served at sushi restaurants these days is not fresh wasabi. It is the fake stuff made from horseradish, cornstarch, mustard flour, and green food colorant. Real wasabi comes from the green root, which is technically a rhizome that grows only one inch long.
4. Wasabi paste
Wasabi paste is that delicious green stuff that comes from grating the rhizome. It is often referred to as Japanese horseradish and many restaurants use horseradish paste in its place because wasabi is expensive.
If you love making sushi at home, wasabi paste can be a handy condiment to make your homemade treat taste restaurant-like. The wasabi paste comes in a tube and you can store the unopened tube for months at room temperature. After opening the tube, it must be stored in a refrigerator.
5. Sushi Ginger
When you eat sushi in a restaurant, you will always find pickled ginger or gari at the side of the plate. It works like a palate cleanser between sushi courses to help you appreciate the different flavors of raw fish.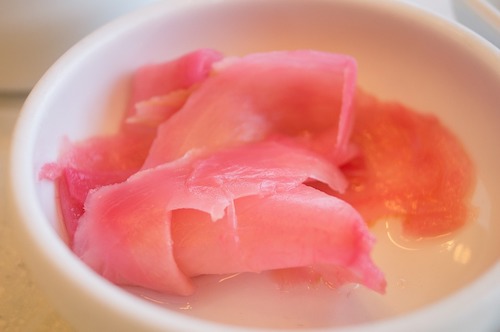 The best quality pickled sushi ginger is made from young and tender ginger roots dipped in a solution of rice vinegar, sugar, and salt. The pickling process enhances the taste gives it a slight pinkish hue.
6. Tobiko Fish Roe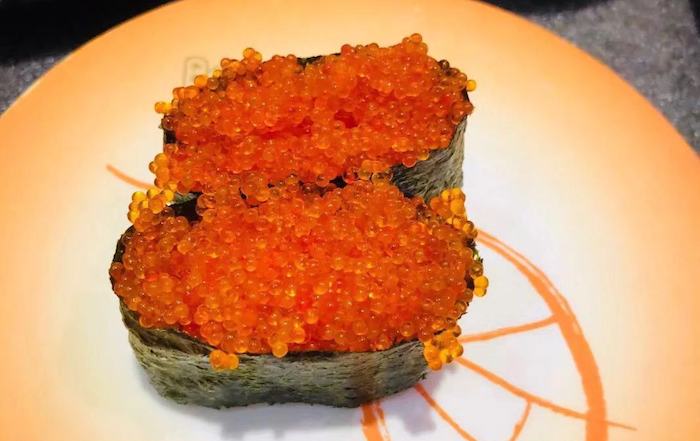 If you attempting a traditional Japanese delicacy like sushi, you need the right ingredients to achieve the perfect flavors. The bright orange decoration that you see in pictures of in a restaurant is called flying fish roe or eggs. Fortunately, you can order Tobiko fish roe from any corner of the world.
This Tobiko fish roe by Marky's Caviar (learn more) is a premium quality product with authentic taste. The eggs are sourced from the highest quality malossol caviar, carefully selected from each harvest.
If you are interested in making Tobiko Sushi, you can find it in this article: What Are Fish Eggs On Sushi Called?
7. Masago Roe
The bright orange and perfectly crunchy berries are just what you need to turn a simple California roll into a breathtaking delight. When ordering roe online, don't just order any roe but get the first quality Masago Sushi Caviar Capelin like this.
This is a perishable roe made from smelt fish and is shipped overnight with great care to prevent them from being spoiled. The product is directly sourced from the finest quality malossol caviar during each harvest.
8. Salmon Roe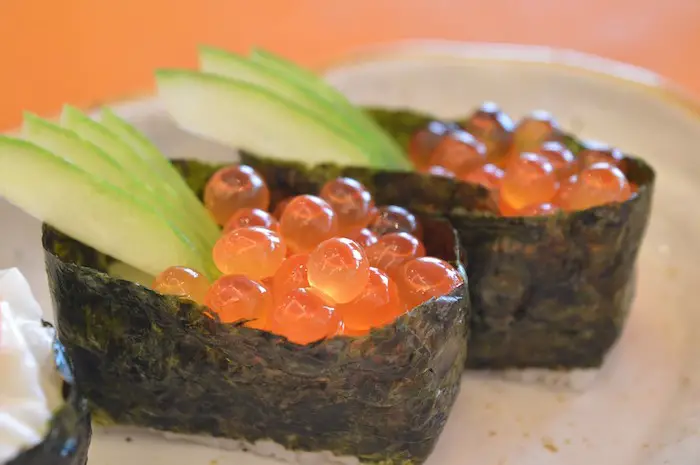 Sushi tastes best when it smells more like the ocean and has a crunchy feel on the outside. Take your homemade sushi to another level and make it Instagram worthy with grade 'A' salmon roe rich in nutrients and high in protein.
9. Sushi Complete Gift Box
There can't be a better way to thrill a sushi lover than giving him/ her an all-inclusive sushi gift box. Believe it or not, most people dream of making sushi but have no idea where to start from or what to buy. A gift box can be their first step to becoming a sushi chef at home, and they will love you for this wonderful experience.
Why I Picked The Soeos Complete Sushi Gift Box
I chose this product over others because I feel the items in the box are carefully selected and each ingredient is of top-notch quality. The recipient will only need to buy fresh vegetables and raw fish for the recipe. They will not have to go looking for unfamiliar ingredients at an Asian grocery.
The sushi gift box(shop now) includes premium sushi rice, soy sauce, S&B wasabi, one bamboo rolling mat, Kikkoman Rice vinegar, Dried Seaweed, and Disposable chopsticks. With all the ingredients at your disposal, you will just need to follow the step-by-step instructions on the recipe book to make amazing sushi rolls.
With these ingredients, you may try out different types of sushi such as maki, temaki, nigiri, and uramaki. Whether you want to gift this to someone or use it to make sushi for friends at home, the choice is yours! The product comes with a lifetime warranty and a 100% money back guarantee.
10. Sushi Books
So, you ate sushi at a Japanese restaurant or a friend's home and just can't get over it. A simple way to get up, close and personal with this incredible Japanese cuisine is by investing in sushi books. There are some amazing sushi books designed for beginners and novices to get a window into the world of this traditional Asian delicacy.
Why I Recommend The Complete Guide to Sushi and Sashimi?
This is an all-inclusive sushi guide containing 306 pages of easy-to-follow recipes (see details) from the two leading chefs from North America. Through this book, they have translated their expertise and experience into words to help you learn everything you wish to know about different types of sushi and knives.
While sushi making may seem intimidating to some, it's actually not as tough as it seems. You need the right tools and expert instructions, and oodles of patience to pull it off correctly. With this sushi and some practice, you will be able to make mouthwatering sushi dishes for family and friends.
From knowing the different ingredients and tools to whole fish processing, making perfect sticky rice and serving techniques, this book covers it all. The in-depth information and recipes are beautifully illustrated using 500 high-quality photos and hundreds of expert tips.
I appreciate the fact that this book is not just created keeping the beginners in mind but also serves as a guide for experienced sushi makers who need to brush up their skills. Apart from the technical knowledge, the author also shares his personal experiences with RedSnapper (Tai), Octopus (Tako), and Fluke (Hirame).
Whether you have traditional sushi, dragon rolls, or California rolls on your mind, this complete guide is all you need to become a sushi samurai. At this price, I feel you get more than you could ask for!
Why I Also Recommend Sushi: The Beginner's Guide
If you are looking for something more budget friendly, I recommend Sushi: The Beginner's Guide by Aya Imatani for its easy illustrations and simple instructions. Anyone can use it learn about sushi from the scratch and get an insight into the little details of slicing, filleting and rolling like a pro.
The techniques of this traditional Japanese cuisine are beautifully presented in the book with tempting photographs to encourage the beginners to pursue their dream. The high-quality photos are taken closely to make it easier for future chefs to learn by seeing instead of just reading the steps. This makes it an enjoyable journey of learning about the delectable dish.
The author gets into the minute details discussing the tools and equipment and takes the readers through the steps of making sushi vinegar and sauces. It also includes demonstrations on how to make restaurant-like sashimi that looks delectable.
The sushi recipe menu is expansive and it encompasses different varieties such as saimaki, hosomaki, and other vegetarian options. That's not all, you also get to learn the Japanese name for different dishes to boast in front of your friends. Another takeaway is the author's specials such as Temarizushi and Sushi Cake, dishes you only get to see in a traditional Japanese family.
Related Questions
What are the characteristics of good Nori?
Top-grade Nori is thicker and they come in resealable packaging that you may use to store the remaining sheets in a refrigerator. They don't tear when used while making sushi and stay crispy for longer due to the thickness  (which is important for maki and gunkanmaki). Their surface will be even without any holes or irregularities in between. Good quality Nori will not burn if youre-toast them before use.
Related Article: What Kind Of Seaweed Is Used For Sushi?
Why do you need short-grained rice for sushi?
Sushi starts with well-seasoned sticky rice. The short-grained rice is stickier and this is essential to hold your roll together. Unlike the long-grained rice that is grainy and filmy, they have a lot of moisture that works perfectly for different sushi recipes. If you don't have access to Japanese short-grained rice, you may use California medium-grained which is also labeled as sushi-grade.
How can you benefit from using Sushi books?
Yes, I know this is a digital world but books still have an old world charm that is not lost. When you need to learn something so delicate like a traditional Japanese cuisine, books are your best bet. The books I have recommended above have all the essential information backed by amazing photographic illustrations in one place. You don't have to keep looking on the Internet for information. Sushi books are not only great for the beginners but also work as anincredible guide for the sushi experts.