We are reader supported. When you purchase through links on our site, we may earn an affiliate commission. Also, as an Amazon affiliate, we earn from qualifying purchases.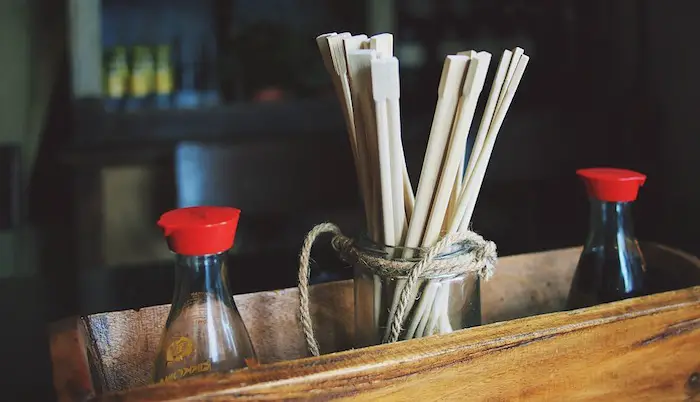 I love hosting sushi parties for friends at my place. To be true, I not only derive immense pleasure from making sushi at home but also serving them like a pro sushi chef!
To add to the excitement, I love shopping for stylish and elegant sushi accessories that can bring more drama and fun to the dining table. It feels great when the guests feel elated and complement both the sushi rolls and the way they are served.
If you wish to gather praises like me and impress your guests with your sushi making and presentation skills, here are a few accessories that I recommend buying.
Lunch box
Do you love making sushi for office lunch or for snacking on the go? Get the non-toxic, 100% BPA-free Tabkoe Bento Lunch Box that has ample space and dividers for sauces and other condiments. It comes with a cutlery set that contains a spoon, a knife, and a fork. It looks stylish with a bamboo finish.
This Japanese style sushi lunch box comes with anti-leak silicone lids to prevent spilling. It is both microwave and freezer safe to warm your lunch or keep it inside the fridge.
Sushi Roll Holder
Love making temaki rolls at home? Tamaki sushi is rolled like an ice cream cone, so serve in style with this Japanese Style Temaki Sushi Roll Holder made of lacquered plastic. It can add a lot of personality to your dining area and make your guests go 'wow'.
The beautifully carved holes are just the right size to make your sushi rolls fit and make an impact on the table. They come in sets of two, and you may also use them to keep ice cream cones.
Sushi Boat Serving Tray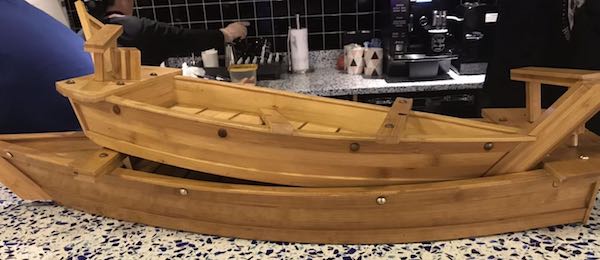 Do you want to serve sushi in a traditional serving tray made of wood? If you are looking for a creative presentation, get this Wooden Sushi Boat Serving Tray. Made of quality wood and designed like a boat, this tray is suitable for both home and restaurant use.
The sushi boat is sturdy and looks elegant on the dining table, perfect for a romantic dinner or sushi parties. It can comfortably hold up to 6 sushi rolls.
Sushi Rice Tub
Preparing sushi rice is an important part of the sushi making process, and it should be properly boiled, cooled, and seasoned. To make sushi at home, you will need just the right accessories such as a sushi rice tub, also known as hangiri in Japanese.
Check out this 13-inch diameter sushi rice tub by JapanBargain. The tub is made of cypress or pine wood, with copper bands around it. Make sure you soak the hangiri in water or wet it before use.
Wasabi grater
If you love making sushi at home, a wasabi grater like this can be a great tool in your kitchen to help you prepare fresh wasabi paste. As the wasabi rhizome is extremely fragile, metal graters can destroy the flesh while ceramic graters are not abrasive enough to make a fine paste.
In Japan, the chefs usually use a specially made wasabi grater made of sharkskin that has just the perfect abrasive surface like fine sandpaper to make the paste. It gives you a kind of flavor that cannot be achieved from standard graters.
Related Article:How to Make Real Wasabi at Home?