We are reader supported. When you purchase through links on our site, we may earn an affiliate commission. Also, as an Amazon affiliate, we earn from qualifying purchases.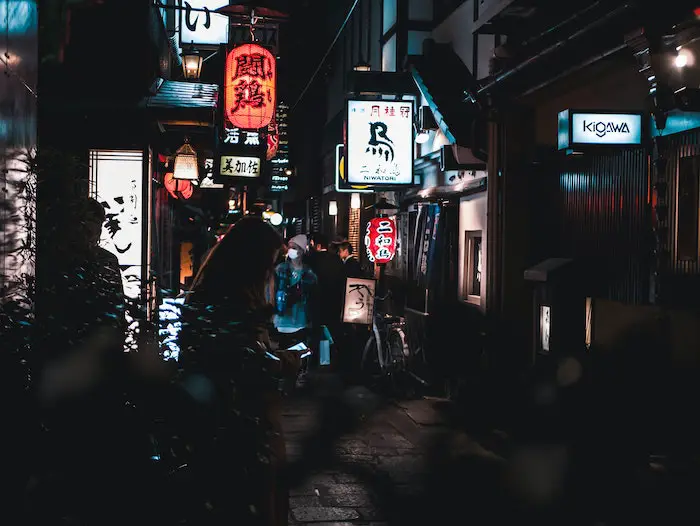 Japan has a food culture to die for! If you ask anybody that has visited Japan, they will tell you that trying street food is a must on your travel itinerary. Needless to say, there's no better way to explore and indulge in the local Japanese culture.
No matter what time of the day you go out, expect to find hundreds of vendors packed on the streets. If you are lucky, you may even get to be a part of the several festivals that take place yearly .
Whether you are on a short business trip or a long relaxing holiday, make sure you try all or at least some of these 13 street foods in Japan. They are my absolute favorite and I am sure you will like them too! So, let's get started.
1. Onigiri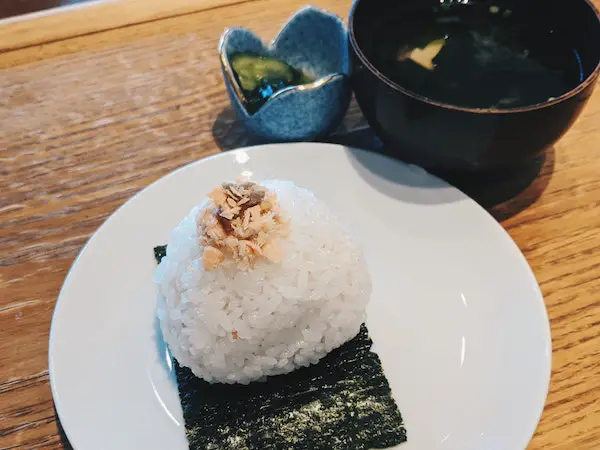 Onigiri  is almost synonymous with the street food culture in Japan and you will find these triangular-shaped rice balls with a variety of fillings flashing in the streets of any city. They can also be bought at convenience stores as they are considered quick and filling meals.
It is believed that the history of Onigiri goes as far back in time to when there was no refrigeration, hence people used this method to preserve rice with sour and salty ingredients. Onigiri has a variety of fillings such as salmon, pickled plums, okaka, and mentaiko.
These rice balls are traditionally wrapped in nori or seaweed, and they are served with toppings such as ikura or fish eggs, umeboshi tuna mayo, and so on. Besides the street-side shops and convenience stores, you may also find Onigiri in cafes and restaurants.
2. Takoyaki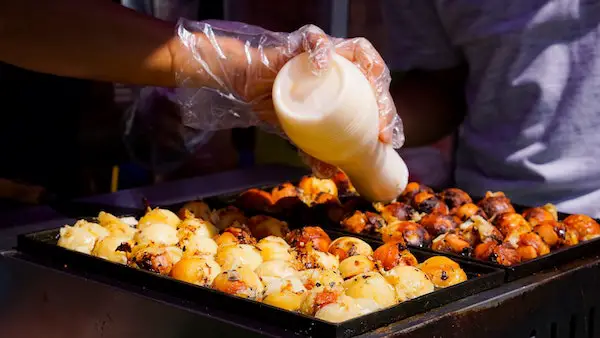 This Japanese term in English means 'Fried octopus'. It comprises fried balls of batter with a delicious filling of tempura pieces, green onions, ginger, and octopus. It is crispy outside and served with toppings of green onions, fish shavings, mayonnaise, and takoyaki sauce.
Takoyaki feels surprisingly mild to taste and quite gooey inside. It originates from Osaka and today is prevalent in Japanese street stalls. You can find Takoyaki vendors selling this delightful dish easily in many cities in Japan, especially in Osaka where the delicacy originated.
3. Gyoza
The next popular street food on our list is Gyoza, which is originally a dish from China where it is called jiaozi. From China, the dish came to Japan and became quite popular with the locals. It consists of deep-fried dumplings that are sumptuously filled with a mix of ground pork, nira chives, green onions, garlic ginger, cabbage, soy sauce, and sesame oil.
These dumplings are served in groups of six and they come with a special dipping sauce that is made from vinegar and soy sauce. If you want to enjoy eating Gyoza, you will find it in izakaya and ramen shops. They are also sold at street markets and festivals.
4. Dango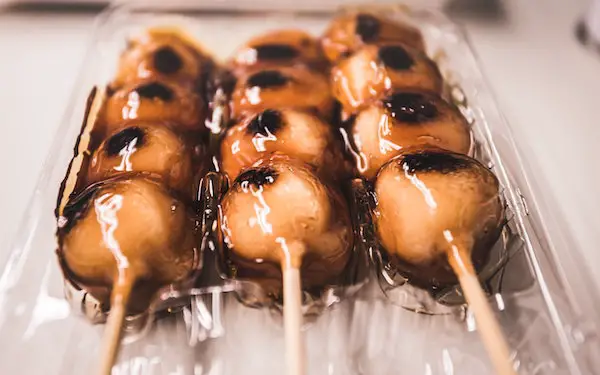 Give your tastebuds a break from the fishy treats and indulge in the sweet and savory taste of a skewer of Dango. These are cute and round dumplings made by mixing glutinous rice flour and water, and boiling them until the mixture comes hard.
One skewer will traditionally comprise three or four Dango that are blanketed with an unforgiving layer of sweet or savory sauces. In some places, you may even get them covered in flavored pastes. While most dangos are sweet, the level of sweetness may vary depending on the type of Dango.
One of the most popular and prevalent versions of the dish is Mitarashi Dango comprising of rice dumplings that are grilled and generously covered in soy sauce. If you want a lighter version, try hanami dangok. When you have a rich Dango craving, try the ikinari Dango. You can find the Dango vendors setting up outside the Shinto shrines.
5. Okonomiyaki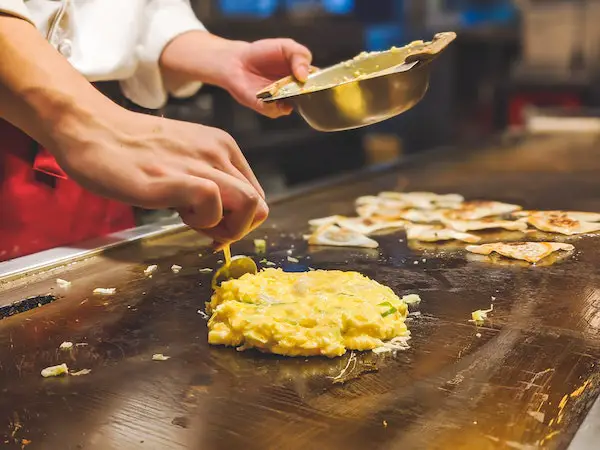 If you are a seafood lover then gather up all that you love, add batter and make a pancake out of it. There you have the popular Japanese pancake named the Okonomiyaki. It is compared to a pancake because this savory street food is made on a griddle.
The dish comprises eggs, flour, cabbage, along with optional veggies and meat too. Often this dish is also prepared in the Kansai Style. The ingredients are mixed together and then poured on the grill. It may also be prepared in the Hiroshima way where the batter and other ingredients are separately cooked and served as toppings on yakisoba noodles.
In both the above-mentioned styles, the finished dish is garnished with toppings of mayonnaise, pickled red ginger, dried seaweed, and okonomiyaki sauce.
6. Senbei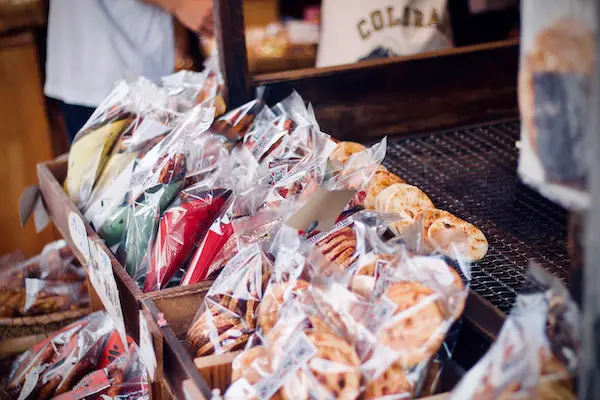 If you want something to go with your cup of green tea then we suggest that you try out these delicious rice crackers that come in a plethora of shapes, sizes, and flavors. These crackers are typically grilled or baked, and enhanced with a topping of mirin or soy sauce to enhance the taste.
You can find a variety of packaged senbei or crackers sold in the stores, and they are best found on the street where they are cooked on a charcoal grill. In Tokyo, you will find senbei that is pretty dense and crunchy due to the type of rice used in the preparation.
In Kyoto, you can find senbei made from a variety of mochigome rice that makes these crackers much lighter in texture. While most of the senbei are savory and seasoned with a dash of salt and soy sauce, there are many sweet varieties also available.
7. Yakisoba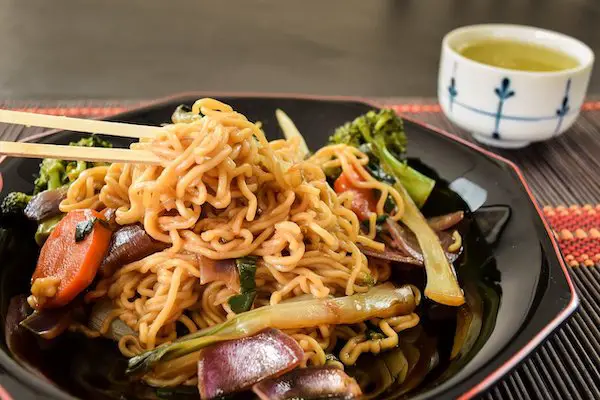 This is yet another dish that shows Chinese influence in Japanese food culture. Originated in China as Chowmein, this comfort food is the Japanese variety of ramen-like noodles that are stir-fried with tiny pieces of pork and various vegetables like carrots, cabbage, and onions.
The noodles are also seasoned with a special sauce that gives them a spicy and tangy flavor. It works perfectly as a snack or light meal with a topping of fish flakes, seaweed flakes, or red pickled ginger. You may also find noodles served in a hot-dog-style bun, garnished with pickled ginger and mayonnaise.
In Japan, this version of chowmein is made using ramen noodles or soba noodles that give the dish its name. You can find this popular street food in almost any city in Japan.
If you have a fetish for fried dishes then you must also try out Korokke which has been inspired by a French dish named croquette. It comprises mashed potatoes, vegetables, seafood, and chopped meat. All the ingredients are mixed together, shaped in a patty, rolled in eggs, flour, breadcrumbs, and then deep-fried.
8. Korokke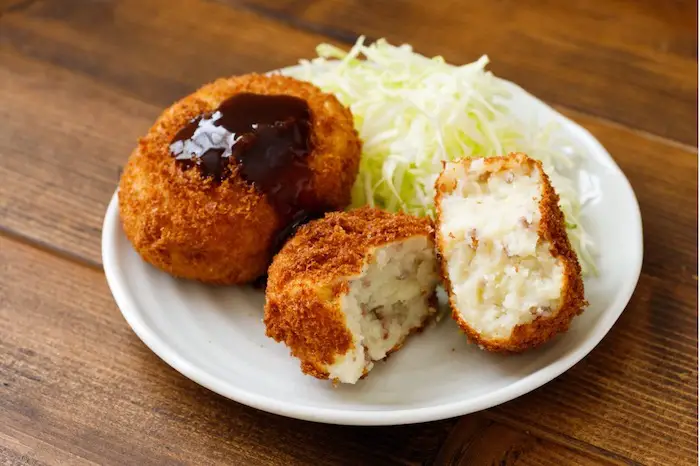 This version of the French croquette came to Japan in 1887 and became extremely popular with the locals. As the dish is extremely flavorful, delicious, and inexpensive, it has become a favorite with the Japanese.
Today, you can find a variety of korokke made using different ingredients such as potato, curry, cream, meat, tuna, and okara korokke.
9. Yaki Tomorokoshi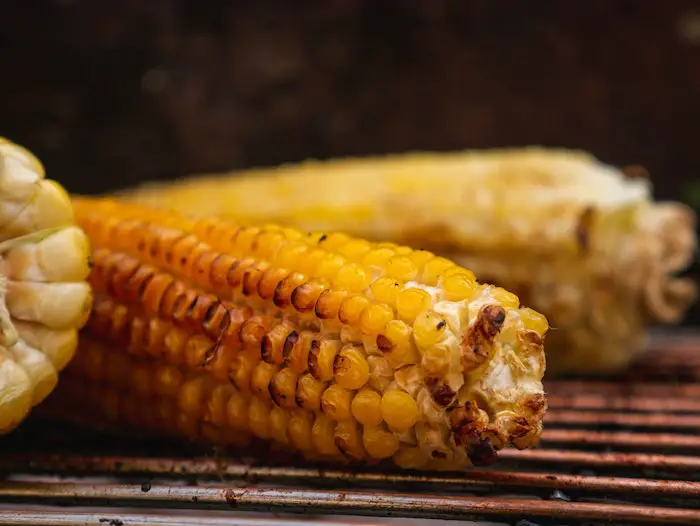 This is probably one of the simplest, healthiest, and cheapest street foods you can find in Japan. Most foreigners get surprised to find corn or tomorokoshi (in Japanese) showing up on various traditional dishes such as bread, pizzas, and pasta.
When it's season time, you can see street vendors selling grilled cobs on a stick. The corn is boiled and then grilled with a dollop of miso for extra smoky flavors. The grilled cob may also be buttered and seasoned with soya sauce.
The dish Yaki Tomorokoshi is in many ways associated with Hokkaido, the region where most of the corn is grown. However, you can find this dish being served throughout the country.
10. Taiyaki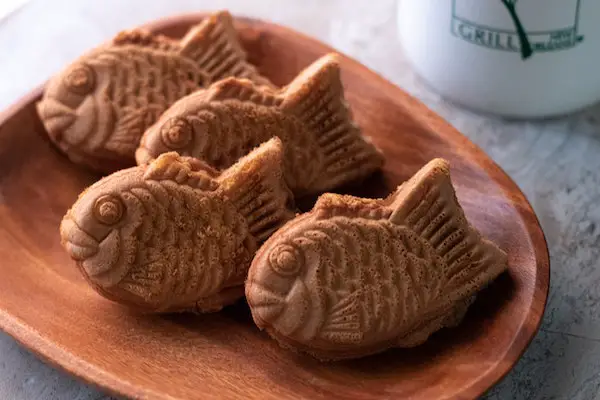 These cute fish imprints are not a seafood delight in any way, so don't get fooled by the external appearance of the fish imprint. Commonly found in Tokyo, this is a popular sweet delicacy loved by the locals and tourists alike.
The vendors usually fill these golden fish pieces with chocolate, custard, red bean paste, or cheese. There is an ongoing debate in Japan regarding the right way of eating this treat – whether tail or head first, we leave it upon your to decide.
11. Agemanju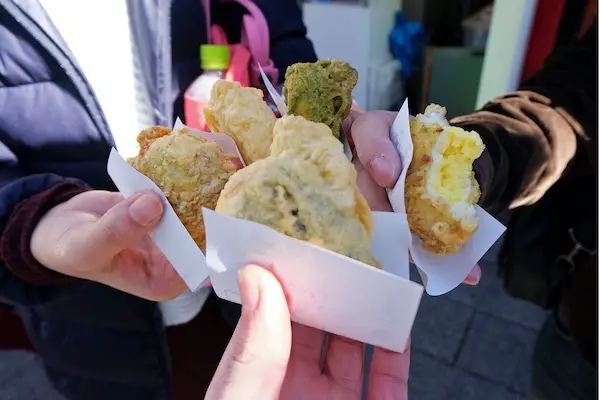 Before we tell you about Agemanju, let's first introduce you to its kin Manju. Manju is a small and round-shaped steamed cake filled with a sweet paste. So, Agemanju is steamed Manju that is further covered in tempura batter and then deep-fried to give it a crunchy taste.
These small cakes are extremely delicious – sweet and hot so be careful that you do not burn your fingers or tongue. You may also find other versions of Agemanju that are filled with sweet potato, matcha, sesame, or ume plum.
12. Kare Pan
If you have a special sweet tooth then Japan has numerous delicious offerings for you and one of them is Kare pan. It's basically a type of okazu pan, which is a term used to describe bread filled with tasty ingredients.
They are made of slightly sweet dough that is breaded and then deep-fried to create a kare pan with Japanese curry served in the middle. The taste and flavor of Japanese curries are slightly stronger than other mild Asian curries.
We love Kare Pan for its crispy exterior and gooey soft inside. Although it makes an unusual taste, we find this Japanese snack very delightful.
13. Yakitori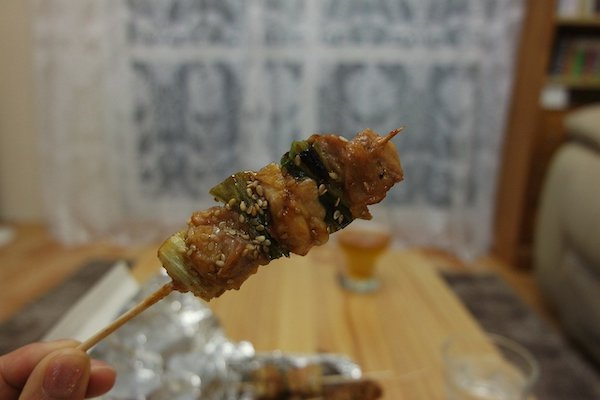 Don't miss this delicious dish that comprises pieces of chicken that are grilled on a bamboo stick and served skewered. Skewers comprise of chicken wings and thigh pieces, chicken livers, small intestine, skin, and cartilage.
 The savory meat delight is seasoned with salt or savory sauce to enhance the taste. In some skewers, the vendors may incorporate other ingredients other than chicken, such as vegetables, egg, and spices, or negima (pieces of leek) in the place of chicken. 
Itadakimasu!
See Also:
15 All You Can Eat Sushi in San Diego
4 Best Japanese Cast Iron Pans to Buy
How Much Is Wagyu Beef?
How to Eat Udon?