We are reader supported. When you purchase through links on our site, we may earn an affiliate commission. Also, as an Amazon affiliate, we earn from qualifying purchases.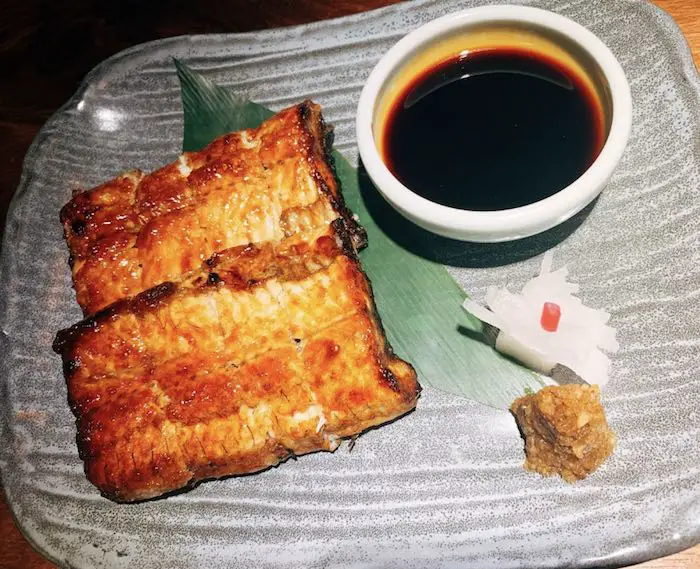 It all started one Saturday evening when I was out to dine with my friends at a sushi restaurant and they gave us perfect pieces of bite-sized rolls drizzled with a thick sauce. It was so delicious that we almost licked all of it and asked the chef what it was, and no prizes for guessing – it was the Sushi Eel Sauce!
After getting home, I couldn't get over the flavor and taste so decided to look up for the recipe to make the sauce at home. Following numerous researches and a call to my chef friend, I finally discovered how to make the sauce (also known as nitsume) and I will share it with you today.
If you are wondering why I am so excited about a sauce, let's not forget that sauces may not be the main ingredient in sushi, but do the job of infusing life into the rolls. Can you even imagine your nigiri without soy sauce or California rolls without the kick of mayo sauce?
They add that 'zing' to your dishes that leaves a flavorful aftertaste in the mouth and makes you crave for more. No wonder the sweet and savory sauces that are the lifeblood of any Japanese delicacy, but today I will discuss only one extremely popular sauce as promised.
Before I give away the recipes, here are a few things you must know.  Sushi eel sauce (unagi sauce) is a caramelized sweet, salt and savory sauce full of flavors, and it goes really well with unagi. It has a golden brown appearance and thick consistency that sets it apart from others.
So, What Is This Sushi Eel Sauce Made Of?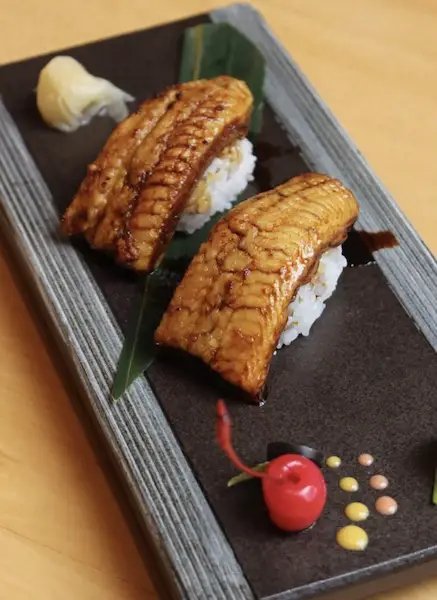 Also known as no Tare or Unagi Sauce, this is a typically sweetened and thickened soy sauce used on grilled eel or unagi sushi rolls. It is also often referred to as the BBQ sauce because it goes really well with barbeque dishes. The sauce comprises of mirin, sake, soy sauce, and white sugar to give you that rich umami flavor.
While there are several commercial brands of eel sauce available online, there is nothing like making your own sauce and then boasting about it before your friends. Another benefit of homemade stuff is that you can adjust the sweetness or saltiness to suit your liking.
Traditionally, this sauce was served with grilled eel or unagi sushi dishes, which explains how it got its name. The chefs may often drizzle this lip-smacking sauce over nigiri, sashimi, or sushi pieces to lend a characteristic taste to the dish.
A light brush of the sauce over grilled rice ball, grilled meat, grilled tofu, grilled fish, and grilled mushrooms can exponentially heighten the flavor. The sauce may also be used as a marinade or dressing for salads.
Sushi Eel Sauce (Unagi) Recipe With Eel Bones
If you would like to make your own sweet and savory sushi eel sauce at home, you don't need to look any further. Here's a quick recipe to get you started:
What you will need:
Eel bones
Half cup Soy sauce
Half cup Mirin (sweet rice wine)
A quarter cup Sugar
Instructions
If you have eel available, this recipe can give you the most authentic tasting sauce ever. To get started, you must first remove flesh from the bones and grill the eel bones
Now measure rice wine and pour it inside the pan. Put the pan on the gas stove on high heat.
When the wine starts boiling, add the grilled eel bones and let simmer in reduced heat.
Now, add soy sauce and white sugar. If white sugar is not your thing, you may replace it with brown sugar or honey.
Allow the mixture to simmer for a few minutes. Keep stirring to ensure that the sugar is dissolved well and the liquid is reduced to 3/4th of the original.
When the solution turns syrupy in consistency, remove the bones from the mixture. Allow the sauce to cool and then store inside the refrigerator.
Sushi Eel Sauce (Unagi) Without Eel
Eel fish or unagi is a delicacy that is rare to find, so I don' t blame you if you don't find eel bones to make the original recipe. However, that does not mean that you cannot make this savory sauce at home. You can still prepare this delicious condiment using the ingredients mentioned below:
What you will need:
1.5 tablespoon sake
2.5 tablespoon white sugar
A quarter cup of soy sauce
Instructions
Place a small saucepan like this on the gas top on medium heat. Add sake, mirin, and white sugar. Stir all the ingredients together until they are homogeneously mixed.
Now, add soy sauce to the mixture and bring it to boil. When the mixture starts boiling, bring the heat to low and simmer for about 15-20 minutes.
Turn off heat and remove the saucepan from the gas stove. Let it cool and you will see that the sauce thickens as it cools down. Now transfer the sauce to an airtight container and refrigerate it up to 2 weeks.
Pro tip: You must keep cooking until the entire mixture is reduced to 3/4 content. You will see a lot of bubbles forming when it's done.
Some people like to add some additional ingredients in the eel sauce for a more enhanced flavor and syrup like texture. Here is a second recipe that you may also try at home:
Thicker Sushi Eel Sauce With Fish Stock (Recipe)
What you will need:
3/4 cup of brown sugar
1/2 cup of Sake
1 cup of Shoyu or soy sauce
3.5-4 tsp of Dashi or fish soup stock
1 tablespoon of Cornstarch
2 tablespoon of Water (30 ml)
Instructions
Measure out the above-mentioned quantity of mirin, white sugar, sake, and dashi in a medium-sized pan and put it on high heat. Keep stirring until all dashi and sugar dissolves.
When the liquid starts bubbling, add soy sauce and bring to boil. Reduce heat and let it simmer for 20 minutes.
Now take a glass or small container and mix water and cornstarch together until it reaches an even and thick consistency. It helps in thickening the sauce without changing the flavor.
Slowly pour this mixture into the pan and keep stirring to avoid forming lumps. The solution will slightly change its color and you will see more bubbles forming.
Turn off the stove and remove the pan from heat. You may continue stirring while the sauce cools and you will see that the mixture turns sluggish as desired.
When it cools down completely, transfer the contents to an airtight jar and enjoy it with your sushi rolls, nigirizushi, and other dishes. 
Mirin-Free Sushi Eel Sauce (Recipe)
If you don't like mirin, try this mirin-free recipe that is easy to make at home. For this you will need the following items:
Half cup of soy sauce
Half cup of rice vinegar
Quarter cup of white or brown sugar
Instructions
Measure the above ingredients and put them into a medium-sized saucepan. If you also don't want to use rice vinegar in the recipe, you may substitute it with dry white wine, dry sherry or sweet marsala wine.
When the sauce comes to boil, simmer the heat and keep stirring until the sugar dissolves completely. Let the sauce cook on low heat until it becomes as thick as you want it to be.
To keep the sauce thin, turn off the heat as soon as the sugar dissolves. For a thicker consistency, let it simmer for 15-20 minutes.
Gluten-free Sushi Eel Sauce Recipe
If you are on a celiac diet, it doesn't mean that you cannot enjoy your favorite sushi and its accompanying sauces. However, you just need to be more careful because gluten can creep into sushi dishes without your knowledge.
What you will need:
2-3 tablespoons of rice wine
2 tablespoons of gluten-free soy sauce (you may use coconut aminos as a substitute)
1.5 tablespoons of sugar or honey
1 teaspoon fish sauce (available at any Asian grocery store)
Half cup of water
1 tablespoon corn starch
Instructions
Take a small saucepan and add rice wine, honey, soy sauce, and fish sauce. Place it on the gas stove and simmer on low heat.
In a separate bowl, mix water with arrowroot to create a slurry mixture and slowly pour it into the saucepan.
Keep stirring as you pour to avoid any lumps from forming. Let it simmer until the sauce achieves the desired thickness. Remove from heat.
Let the sauce cool completely before you transfer it to a container. Drizzle the sauce over sushi to enjoy the mouthwatering taste.
Vegan Recipe For Sushi Eel Sauce (Recipe)
I am sure you are enjoying the different variations of eel sauce as much as I am having a great time putting them together for you. So, my vegan friends, here is a recipe dedicated to all of you:
You will need:
A quarter cup of mirin
Half cup of soy sauce
Half teaspoon minced garlic
1 teaspoon sriracha sauce
1 teaspoon of white/ brown sugar
Instructions
Mix all the above ingredients in a medium sized sauce pan and put it on a gas stove on medium heat.
Keep stirring until the sugar dissolves and the mixture achieves the consistency of your choice.
Let the sauce cool completely and then use it as a delicious drizzle for your favorite dishes.
Using Eel Sauce To Prepare Stir Fried Eel
While you know that the delicious unagi sauce can be drizzled on top of sushi rolls for that umami effect, here's a quick recipe to use it in the stir fry. Here are the ingredients you will need:
Freshwater Eel
Half cup of Eel sauce
2.5 tablespoon Sesame oil
2.5 teaspoon Water
Half teaspoon, crushed ginger root
A quarter cup of Chili flakes
Salt for taste
Instructions
Prepare the eel pieces by cleaning and cutting them to make 1-inch pieces. Take a bowl and add sesame oil, chili flakes, and crushed ginger root.  Mix some water to make a paste.
Heat a pan on medium heat and put the eel pieces and mix in it for stir fry. Now add the eel sauce, reduce heat and keep stirring until the eel is cooked
You may serve stir-fried eel with rice or chirashi bowl. It may also be used as a filling for sushi rolls or nigirizushi prepared at home. Eat as you like!
Difference Between Eel Sauce And Teriyaki Sauce
Due to the similarity in appearance and texture, many people find it difficult to tell the difference between eel sauce and teriyaki sauce. However, the traditionalists who know both these condiments closely can quickly tell which is what.
The primary base ingredient in both the sauces is soy sauce and they contain a sweetening agent such as white sugar. However, the difference lies in some extra ingredients used in teriyaki sauce. A typical ingredient list of teriyaki sauce would include soy sauce, water, brown sugar, ground ginger, garlic powder, honey, and cornstarch.
Difference Between Eel Sauce And Oyster Sauce
Eel sauce is often confused with oyster sauce, which is similar in appearance but the difference is flavor is easily identifiable. While eel sauce is typically Japanese and used to glaze grilled eel and drizzle on sushi rolls, oyster sauce is used as a flavoring condiment over Chinese food.
Both are extremely flavorful and salty, but oyster sauce tends to be thicker in consistency. While eel sauce may be made without any eel in it, oyster sauce is prepared by cooking oysters in water for a long time. It is then added with salt, sugar, soy sauce and cornstarch.
Top 3 Substitutes For Sushi Eel Sauce
You have relished the last drop of eel sauce in the bottle and now you are craving for a nice kick on your sushi. When you can't find it in the grocery store near you and don't have time to prepare from scratch, here are some substitutes you can enjoy with sushi:
Ponzu sauce (see Amazon) is a typically citrus fruit (Yuzu) extract blended with the traditional soy sauce to give you a different kick. Besides using it with sushi, it can also be used for glazing meats, flavoring sashimi, and as a salad dressing vinaigrette. The ingredients include 1 cup soy sauce, 1/2 cup lemon juice, 1/4 cup lime juice, 1/4 cup mirin, 1/4 cup rice wine vinegar, and 1/2 cup fish flakes. Bring to boil and simmer for a thick consistency.
Sweet soy sauce is a slight variation of the traditional soy sauce, which is so strong that it can overpower the subtle flavors of fish. It's one of the secrets behind that perfect bite at sushi restaurants. It is prepared by mixing 1/4 cup of mirin to one cup of shoyu or soy sauce. Bring to boil, simmer until it thickens and let cool.
Yum Yum sauce is another delicious sauce that can be used as a substitute when you have run out of eel sauce. Also known as white or sakura sauce, it contains rice wine vinegar, melted butter, mirin, sugar, cayenne pepper, garlic powder, water, mayo, and paprika. The mixture is cooked in a microwave oven and goes well with sushi and sashimi.
Related Questions
Does eel sauce have eel in it?
You may use stock made from eel bones to make eel sauce, however, it is not mandatory. You can check out some of the recipes above that do not contain any eel stock in it. If you are a vegan, you can try the purely-vegan recipe for making unagi sauce.
What are the different names for eel sauce?
Eel sauce is known by different names such as nitsume sauce, kabayaki sauce, unagi sauce or barbeque (BBQ) sauce.
Where to buy eel sauce?
While making the sauce at home is highly rewarding, you can also purchase the readymade sauce online.
The various brands of sushi eel sauce may contain different ingredients. If you follow a celiac or vegan diet, read the label carefully to see what the sauce actually contains.
How long can unagi sauce last in the fridge
The homemade sushi eel sauce can last in the refrigerator for 1-2 weeks, but the commercial one can be stored for months. The salt content acts as the preservative. Check the expiry date for commercial products on the label.
Can I freeze eel sauce
If you don't use your eel sauce often but want to store it for special occasions, you may freeze it between uses. Before using, thaw it completely and bring to boil by adding some sake and water to adjust the seasoning.