We are reader supported. When you purchase through links on our site, we may earn an affiliate commission. Also, as an Amazon affiliate, we earn from qualifying purchases.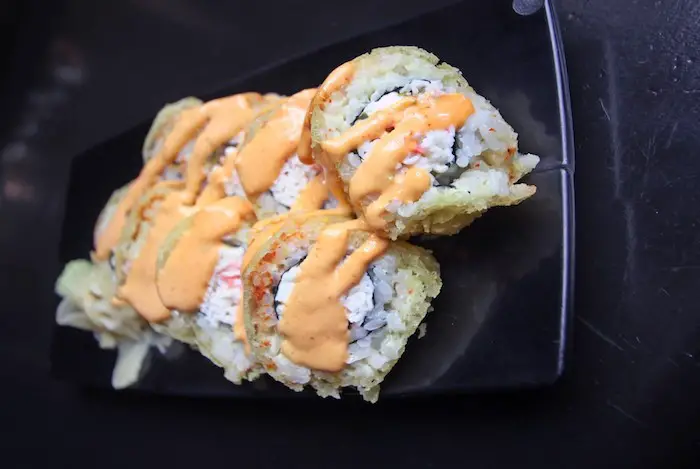 I was relishing my favourite spicy tuna roll at a sushi bar and wondered why it does not taste as good when I make them at home. I then realized it's due to the orange sauce on the top that transforms the sushi roll into something that haunts me even after I leave the restaurant. Wouldn't it be great to know the secret recipe and make orange sauce to get that restaurant-like taste at home?
So, what is the orange sauce of sushi? I searched on the Internet and found that it's just a few items mixed together in the right proportion: sriracha sauce, Japanese mayo, sesame oil, and lemon juice. You just need to whisk together all these items inside a bowl and you are done.
After eating sushi in Japan and other parts of the world, I can say that the spicy orange sauce may vary in taste considerably. The sushi chef usually has his own secret deviation from the formula to add a little more spice or zing to the recipe.
Sometimes the chef may add masago or scallops to the sushi sauce to enhance the flavor and taste. In some sushi restaurants, they prefer to add only sriracha and mayo but the resulting sauce may have a dull appearance. Adding sesame oil gives it a running consistency and also improves its texture.
What Is The Recipe Of Orange Sauce On Sushi?
If you have always wondered what is the orange sauce on sushi, here's your chance to make it at home and delight your family and friends. As my Japanese friend wittingly puts it – just like you cannot separate bread from butter/ jam, sushi will not be the same without the spicy sauce.
I had promised my friends that I would soon host a sushi party at home and I kept my promise. I knew spicy tuna sushi and shrimp tempuras won't taste the same without some orange sauce aka spicy mayo so here's the recipe that I used and would like to share with all:
For this orange sushi sauce recipe, you will need: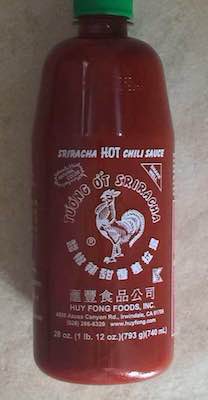 • Chilli Sauce (sriracha sauce) on Amazon
• Heavy Mayonnaise (Japanese mayo)
• Sesame oil
• Nanami Togarashi or Japanese 7 spice (optional)
Instructions
To put everything together, you will need a mixing bowl, a whisker or spatula, and a sauce squeeze bottle or a zip locked bag.
To start with, add the Japanese mayonnaise to the mixing bowl. You may take one cup if you are planning a family sushi dinner or the entire jar if you are throwing a sushi party for friends at home.  
Next, you need to add chili sauce or sriracha sauce to taste. I recommend using a 1:2 ratio for this mixture. So, for every 1 part of chili sauce, you will need to add 2 parts of mayonnaise.
Add some sesame oil to lend that additional taste and flavor to the mixture. Please remember that it will also make the sauce too 'runny' if you add a lot. I recommend using 1 tablespoon for every cup of mayonnaise.
The secret ingredient that I got from a Japanese friend is to add a dash of Nanami Togarashi or Japanese 9 spice to further enhance the flavor. In this recipe, I used 1/2 tsp for one cup of mayo.
Finally, use a whisker to evenly mix all the ingredients inside the bowl and taste a little bit. If you want the sauce to be spicier or creamier, you may adjust the taste by adding some more mayonnaise or sriracha sauce.
I love the orange sauce on sushi so much that I prefer making some extra and storing it to use later with the leftover sushi or other Asian dishes. To keep it fresh, store it in a zip locked bag or sauce bottle of your choice.
If you are hosting a sushi party at home, your guests may want to add some more sauce on the sushi bites so keep a squeeze bottle handy. It does not cost a lot and you can easily get one from Amazon. It not only makes drizzling the sauce over sushi less messy but also makes it look pretty.
How To Make Japanese Mayo At Home?
One of the three main ingredients that form the base of orange sushi sauce is Japanese mayo. While you can buy mayonnaise from any Asian grocery store, if you are running out of time, there is nothing like making your own mayo sauce at home. Here's the recipe:
Ingredients you will need:
• 2 tablespoons rice vinegar
• 1/7 teaspoon garlic powder
• 2 large egg yolks
• 1 cup vegetable oil
• 1 tablespoon malt vinegar
• 1 teaspoon Kosher salt
• 1/3 teaspoon MSG powder (explained below)
• 1/8 teaspoon hon-dashi powder (explained below)
• 1/2 teaspoon Japanese mustard powder
Instructions:
Monosodium glutamate (MSG powder) is crucial to attaining the authentic flavor of Japanese mayonnaise. You can purchase it from any Asian grocery store under the Aji-No-Moto brand. In the US store, it is available under the brand name Ac'cent, or online.
Hon-dashi can also be found in any Asian grocery or ordered online from Amazon.
In a small bowl, mix all the ingredients – rice vinegar, malt vinegar, salt, MSG, mustard powder, hon-dashi powder, and garlic powder. Keep whisking until the hon-dashi is dissolved completely.
Next, put the vinegar mixture and egg yolks in the work bowl of a food processor. Now, pulse to get a homogenous mixture.
As the motor runs slowly, drizzle the vegetable oil into the bowl and keep pulsing. Now transfer the mayo to an airtight container and keep inside the refrigerator. It can be stored for up to two weeks.
How To Make Sriracha Sauce?
After the thick Japanese mayo sauce, Sriracha sauce is the second most important ingredient used in making the orange sushi sauce. If you are from Asia or you love Asian cuisine, you have probably heard of this 'hot sauce' selling like fresh cakes from the grocery store shelves.
While today, the sauce is used with anything from potato chips to beer, its pairing with sushi has broken all records and made it a favorite with sushi lovers around the world. As we are talking about Sriracha sauce, I would like to give you a little history about it.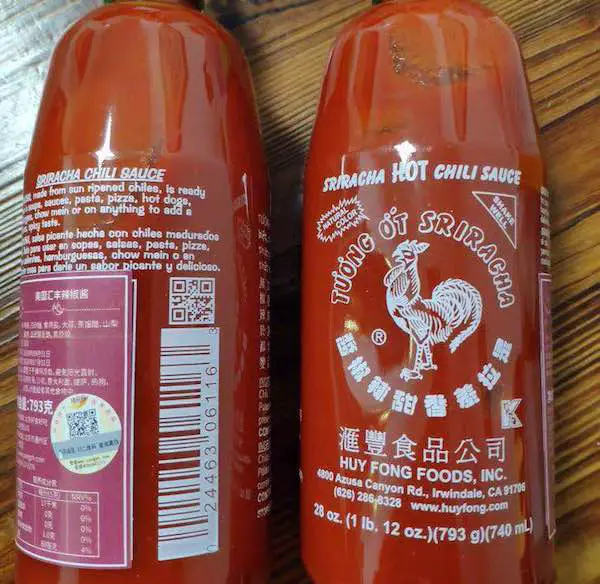 This popular sauce that forms an important ingredient for the orange sushi sauce is named after a town called Sri Racha in Thailand, from where it originated. Although the sauce has retained that name, the one you get in the United States is made with red jalapeno and the recipe is quite different from the original Thai recipe.
The traditional Sriracha sauce found in Thailand has a thinner consistency while the sauce in the United States has thicker ketchup like texture. In this recipe, I will show you how to make traditional Sriracha sauce at home. If you prefer the thicker version, you can reduce vinegar, add more peppers and adjust cooking time.
What Types Of Peppers Are Needed For Sriracha Sauce
In the US, red jalapeno peppers are commonly used, while many chefs use Fresno chili peppers as a substitute. Some people prefer using red Thai chili peppers to make their own homemade sauce. In reality, you can use almost any type of red chili pepper, although the taste may differ slightly.
Recipe for Sriracha Sauce
Ingredients:
• 2 pounds of mixed red chili peppers (red jalapenos, Fresnos or red Thai peppers)
• 3 tablespoons sea salt
• 1 cup rice wine vinegar
• 3-4 cloves garlic chopped
• 1-quart unchlorinated water
• 1 teaspoon granulated sugar
• 3 tablespoons light brown sugar
Instructions
Prepare the chili peppers for fermentation by chopping them, retaining the membranes and seeds. Put in a food processor and if you don't have a processor, you may use a mortar and pestle.
Pack the entire content in a jar, leaving one inch of space on the top. The peppers may rise slightly at the time of fermenting.
To make the peppers ferment, add 1 quart of unchlorinated water and 3 tablespoons of sea salt. Pour brine over the chili peppers mix to cover them slightly. The peppers should be completely covered and submerged in the solution to avoid any spoilage.
Screw the lid of the jar and keep it away from direct sunlight for about one week to ferment slowly. The ideal temperature for fermentation is 55-75 degrees F. The first and second weeks are the most active period of fermentation so monitor carefully during this time. Unscrew the cap often to let out some of the accumulated air.
After 2 weeks, you will notice that the fermenting activity will slow down and the brine solution will become cloudy and acidic.
Put the fermented peppers along with brine in a pot. Add brown sugar, garlic, rice vinegar, and granulated sugar. Bring to boil, reduce heat, and let it simmer for 5-10 minutes.
When it cools down, add to a food processor and pulse it until you get a smooth texture. Drain using a strainer with slightly large holes to keep out the solids.
Your homemade Sriracha sauce is ready to enjoy. Pour it into a sauce bottle and use in different sushi recipes. You can use it to prepare the tangy orange sauce on sushi.
Related Questions
Do you need extra orange sauce on sushi?
The chef usually drizzles the right amount of orange sauce on the sushi so it is meant to be eaten that way. I would recommend that you first taste the sushi and then add more if needed. Some people tend to put more orange sauce without tasting and this results in making the dish too spicy for their taste.
Where can I find the ingredients for orange sauce?
If you wish to make traditional orange sauce at home, visit any Asian grocery store near your home. In case, you don't have access to an Asian store, you can purchase the ingredients online.
Can I store extra orange sushi sauce?
Yes, if you have prepared extra sauce, you can keep it in the refrigerator for up to one month. Just remember to transfer the content in a zip lock bag or airtight container.
Related Article: What Is The Black Sauce On Sushi?
What else can I enjoy the spicy mayo with?
Other than sushi, you can also use the spicy mayo to enhance the flavor or other delicious dishes such as BBQ meat, grilled vegetables, sandwiches and burgers.
What is the calorie count for spicy mayo?
The total calories for spicy mayo is 79 (mayo is responsible for 75 calories while sriracha sauce comprises of 3.5 calories.)
Can I change the ratio of mayo and sriracha sauce?
Yes, you can change the ratio to make your spicy mayo extra spicy or reduce the heat depending upon what is comfortable for your tastebuds.
Related Article: What Is In a Shrimp Tempura Roll?