We are reader supported. When you purchase through links on our site, we may earn an affiliate commission. Also, as an Amazon affiliate, we earn from qualifying purchases.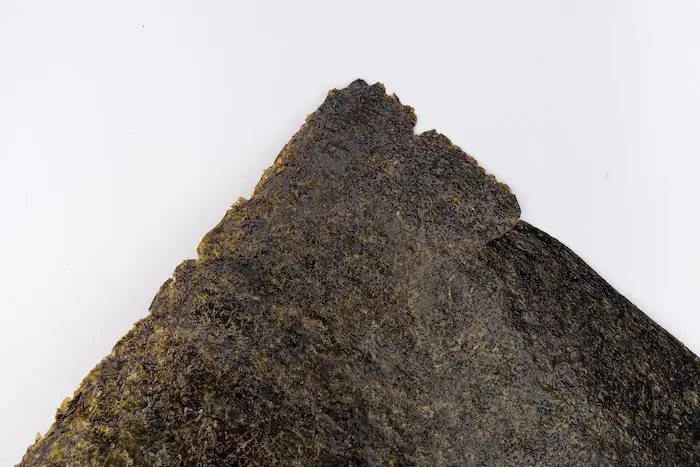 Love it or hate it, but you simply can't ignore that rich crispy sheet of green goodness. If you are a fanatic sushi lover like me then you have to find the best sushi nori brand to make the delicacy at home as it's not every time possible to pay hefty bills for fine dining.
Besides being a rich source of vitamins, minerals, and amino acids, nori contains antioxidants and fewer calories. Adding nori to other dishes other than sushi gives you a burst of healthy goodness.
So, don't go with its face value because seaweed is considered a gourmet food and there's a huge demand for the best brands out there. If you are confused with so many brands available online, here's a quick review of some of the top-rated ones picked by our sushi experts.
Quick Summary
Nagai Deluxe Sushi Nori containing 50 crisp sheets are a favorite of the chefs and they lend a restaurant like taste to sushi.
ONE ORGANIC Sushi Nori contains premium quality seaweed sheets are low calorie and packed in vitamins and minerals to make it no less than a superfood.
Hime Seaweed Sushi Nori is a special collection containing 10 sheets. They are a traditionally unsalted and roasted variety.
Daechun(Choi's1) Roasted Seaweed is gold grade nori, a product of Korea that is rich in umami flavors and comes in a resealable packet to store in the refrigerator.
Raw Organic Nori Sheets is a certified vegan food and per pack contains 50 premium sheets that are untoasted and packed in superfood nutrition.
Best Sushi Nori Brand: Things To Consider
Beginners often think that all nori is the same, but this is not right, While all of them they look the same externally, they vary a lot in terms of odor, taste, and texture. So, don't just order any green stuff online and check these things to consider:
As nori is the first thing that touches the tongue when eating sushi, it's taste and texture is as important as the rice. You must make sure that the taste is not so overpowering nor mellow, but subtle in its own way to ensure an exceptional experience.
The color of nori often tells about the quality of the product. If the sheets are brownish in color or green with brown spots, this indicates a poor source. The best quality seaweed is jet black in color plus it will be uniform in thickness throughout.
If you find irregularities or holes on the nori sheet, this means the seaweed is of a lesser grade. We suggest not buying such quality as the nori will be dry, tasteless, and tougher, resulting in bad tasting sushi.
After the texture and appearance, the taste also plays n important factor in determining the quality of nori. The premium quality seaweed has a natural sweetness and subtle flavor without any noticeable off-flavors.
Ideally, the nori sheets should be crisp and tasty to eat as snacks out of the bag. Yet, they should have the softness to melt once they come in touch with saliva. It should be bursting in umami flavors and feel like the ocean without subduing other ingredients.  
You can find the best sushi seaweed brand at any Asian grocery store near you. If you are too confused with which one to get, check out the top-rated ones mentioned below that can be directly ordered online.
This is often considered the gold standard of organic seaweeds and it contains 50 sheets that ensure a low level of flaking and less tearing when rolling. It is similar to the high-quality nori sheets used by the chefs in the restaurant so you get that authentic taste.
There is no fishy taste in Nagai Deluxe Sushi Nori, and the sheets do not feel chewy once the rice and fillings are gone. It serves as a great ingredient for anyone wanting to make sushi, veggie rolls, seaweed soup, and other delicacies that use nori.
What we like:
Great buy and authentic quality
Perfect for making sushi at home, beginners can use
Rich in nutrients and zero calories, so good for health
Sheets are 8 inches by 7 inches
What we don't like:
A few sheets may have jagged edges and tear up while rolling
---
ONE ORGANIC boasts authentic seaweed cultivation in natural seawater and processing without any added substances. The low-calorie superfood is rich in vitamins, minerals, and amino acids. Although traditionally used for making sushi, it can also be eaten as snacks or used as garnishes.
ONE ORGANIC nori is chemical-free as it strictly adheres to the USDA National Organic Program (NOP) standards for farming quality. They also, take food safety seriously and use the latest technologies and methods to verify lead and heavy metals content.
What we like:
Free of pesticides, antibiotics, or genetic engineering (GMOs)
Sheets don't get damp inside the pack
Breaks apart easily with rice when you eat
Organic and sustainably harvested
What we don't like:
Price slightly on the higher side, but you get more sheets than others
---
When you want genuine nori to check out Hime roasted Seaweed that serves as a perfect wrap for homemade sushi. It gives your maki rolls and other types of sushi a restaurant-like appearance and taste to impress upon your guests at the party.
The nori is unsalted and comes with genuine seaweed flavors. Although they are roasted sheets, we still suggest that you slightly roast them by preheating the oven to 200F to get the best results. Besides using in sushi, you may also use strips of the nori in Japanese styled soup and other Asian dishes.
What we like:
Rolls around the sushi perfectly without flaking or tearing apart
Can be eaten as snacks without adding to any food
Has an authentic taste to it
What we don't like:
Limited quantity for the price
Has a strong odor, tastes fishy
---
The nori sheets by Daechun are fresh and of the highest-grade that contains the natural umami flavor you get only in the traditional restaurants. Each nori has a dimension of 7.5″ by 8.25″ and they come enclosed in a resealable bag that must be stored in the refrigerator,
Produced and harvested naturally on the west coast of Korea, these sheets are Low in calories, high in iodine, rich in fiber, protein, and without any added substances. The roasted seaweed has a crispy texture. They have a solid food safety management system in place that meets the requirements of our customers.
What we like:
A family-owned company, over 20 years old
They have the best seaweed production and sanitary facilities
Does not fall apart and melts into the mouth
Much less oil and salt on nori sheets
What we don't like:
The package has a cancer warning printed on it
---
These are certified organic nori sheets that are dried under 85 degrees Fahrenheit temperature to give you the perfect crisp texture and taste. The product is tested for heavy metals, herbicides, pesticides, radiation, and other contaminants.
The superfood seaweed sheets come in a zip lock bag and contain 50 sheets in one bag. They are packed with multiple vitamins and minerals including fat, high fiber, iron, and vitamins A, B6, B12, and C. Each sheet of nori is naturally harvested and processed authentically to replicate the same traditional flavor.
What we like:
Standard full nori sheets, perfect for making sushi
Certified Organic by USDA
They have a great taste and not a strong odor
Comes in a resealable bag
What we don't like:
Expensive than other brands out there
---
Final Words
Making sushi at home is an enjoyable experience for the entire family and the best nori brand ensures that the results come out scrumptiously good and memorable. From making maki rolls and temaki to using in soups and salads, you can do so much with seaweed, so choose the best variety that your family and guests at the party will love it.
See Also:
5 Best Sushi Rice Vinegar Brand
Things You Should Know About Eating Sushi
30 Good Ideas for Sushi Roll Fillings