We are reader supported. When you purchase through links on our site, we may earn an affiliate commission. Also, as an Amazon affiliate, we earn from qualifying purchases.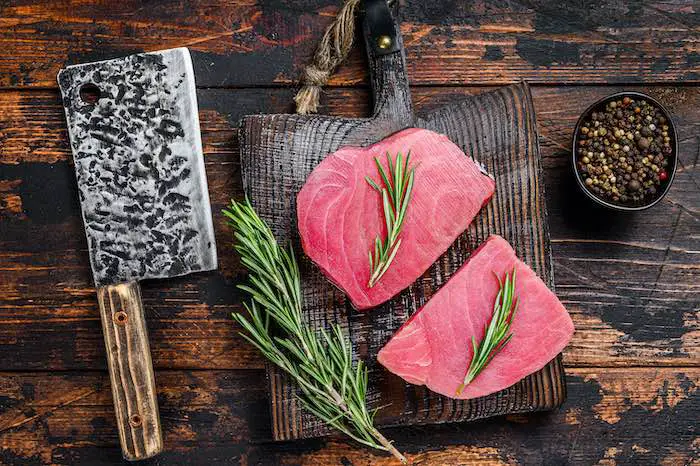 Have you ever walked into a professional kitchen and awed at the chefs skillfully moving their knives to slice and dice like a dream? Well, half of that credit goes to the best Japanese Cleaver they use. This is what you need to perform jobs like preparing the perfect beef steak or chopping a whole chicken.
The Japanese are known around the world for their precision and intelligence, and their knife is no less. Nothing comes close to the precision delivered by a cleaver when you need to chop, dice, or slice veggies and meat.
Their distinctive features, sharp edges, and sheer efficiency put them apart from the rest, and a must-have for any professional chef or home cooks. Besides the ability to cut like a dream, the Japanese Cleaver can also scoop up the ingredients to transfer them to the pan or container.
If you love cooking and wish to learn the skill of preparing garnishes in an eye-catching manner, you need a master knife like this. So, if that brings you to the market to find the best Japanese Cleaver knives then you have come to the right place.
We have spent hours reviewing, analyzing, and comparing more than a dozen products to handpick a few out of many. Read on to find the detailed review of the Japanese Cleavers carefully selected by our team.
If you are in a hurry to order then we recommend that you choose Imarku Cleaver Knife (see Amazon) that is made from German high carbon stainless steel and comes with an ergonomic pakka handle. It is easy to maintain, prevents corrosion, and retains the edges well even after several years of use.
The first on our list is this 7-inch Classic vegetable cleaver with an ebony handle from the house of Shun. It comes with a wide and square blade that works perfect for slicing vegetables to perfection. The razor-sharp edge of the blade is ideal for crushing the garlic cloves.
This Shun Cleaver has a solid feel and performs exceptionally well for dicing tough vegetables like cabbage and also handles the small-sized ingredients with precision. We appreciate the VG-MAX steel cutting core that serves as the proprietary Shun formula.
When you look into the details of the Shun Classic Cleaver, you can clearly see that it's a marked upgrade over the VG10 version, containing an extra dose of chromium, carbon, cobalt, and tungsten used to transform the Shun into super steel. Also, let's not forget that ebony PakkaWood D-shaped handles that adds more durability to the knife.
Product features and specifications
Measures 12.1 x 3.8 x 1 inches
Weighs 13.6 ounces
D-shaped handle
7-inch Vegetable Cleaver
Handcrafted in Japan
VG-MAX steel cutting core
Knife Steel is Essential
User/ Customer reviews
Most users have said that this Japanese Cleaver is their favorite go-to knife for cutting, slicing, shredding, and mincing vegetables and meat. Some people have also said that the Shun Classic is very similar to the Chinese Cleaver knife. A few customers have warned that the knife blade chips off after some time, but you can prevent this by taking good care of the Cleaver.
Conclusion
The Shun Classic 7 Inch Cleaver (shop now) is a superior Japanese-style knife that you can use at home for preparing vegetables and meat in various ways. If you take good care of the knife, it can last for several years. Overall, we think that this Japanese Cleaver is one of the best investments you will make for your kitchen.
---
This Japanese Meat Vegetable Cleaver is made from premium-quality 67-layer Damascus steel that is treated with 60HRC vacuum heat and liquid nitrogen cooling. It features a super sharp blade with a 16-18 degrees edge so you get outstanding performance from it.
The exquisite design of the fishbone pattern on the blade makes it look unique and working with the knife makes your job more interesting. After you are done working, don't forget to wash the knife properly and wipe it dry to ensure that it stays good for a long time.
This large vegetable and meat Cleaver also features an ergonomic ebony wood handle that is designed as per human engineering to reduce your numbness, tiredness, and soreness when working for longer hours. Besides cutting meat, vegetables, and fruits, it can also be used for mincing meat.
Product features and specifications
Measures 14.29 x 4.06 x 1.22 inches
Weighs 10.9 ounces
Ergonomic ebony wood handle
Japanese 67-layer Damascus steel
16-18 degrees cutting edge
Large and broad-faced
Impressive fishbone pattern
User/ Customer reviews
Those who have used this knife have confirmed that it is of top-notch quality and designed beautifully with razor-sharp edges. Most people love the ebony handle that adds more natural charm to the product, unlike the plastic ones. A few customers have warned that this finish on the knife is not as smooth as other branded knives.
Conclusion
This is a large and sharp knife that comes with a beautiful handle to grab and work for hours without feeling tired. The comfort and precision of this Cleaver is unbeatable. While it is slightly on the expensive side, let's not forget the fact that you get what you pay for. Overall, this Cleaver offers a great price to performance ratio.
---
If you are a fan of Asian cuisine, you certainly do need a knife that can help you cut, dice, and mince with precision because there are a lot of ingredients that you will be working with. The Kamikoto Chuka Bocho Cleaver (learn more) is a beautiful knife that strikes a perfect balance of precision and power.
Made from premium quality steel from the Honshu region in Japan, this Cleaver is extremely renowned for its resistance and durability to corrosion. The handmade steel blade undergoes a rigorous quality assurance process and it is tested to conform to the standards of Kamikoto.
With a 7.5-inch cutting edge, this Kamikoto Chuka Bocho is used for a variety of functions such as chopping, slicing, mincing, and crushing. As a versatile blade, it can last for long, and the secure non-slip handle makes it easier to grab without strain even if you are working for longer hours.
Product features and specifications
Measures 50 x 48 x 40 inches
Weighs 2.93 pounds
Versatile blade
7.5-inch cutting edge
Natural-colored ash wood box
Made from high-grade steel
User/ Customer reviews
Many users have said that the Chuka Cleaver is so heavy and powerful that it beautifully slices through everything and anything. Several people have said that the blade is wonderful to hold and use, even for long hours without straining the ankle. A few customers have warned that the knife has very sharp blades so you should be careful while working with it.
Conclusion
The Kamikoto Chuka Bocho Cleaver (see Amazon) is an excellent knife that is cleverly engineered for versatile use in the kitchen. It has got good ergonomics, plus the size and weight are also perfect to ensure that it cuts with precision and limits any repetition fatigue. Overall, we feel that this Cleaver is just what you need to cook like a professional home chef.
---
The third on our list is this twin Signature Chinese chef knife from the house of Henckels. Made in Germany, this knife features a special formula that contains high carbon, and no stainless steel. The unique composition results in a lightweight but high-strength knife.
The knife features an ice-hardened that has really sharp edges that stay sharp for long and also have a more superior resilience. It is resistant to chipping or staining.  It also has an ergonomic polymer handle that stays bonded perfectly to give you a full tang.
There are three traditional rivets with a company logo that looks classic. The blades retain the sharpness and feature an acute cutting angle.The laser-controlled edge is further honed by the most skilled artisans to make the product stand out in terms of quality and performance.
Product features and specifications
Measures 15 x 5 x 1 inches
7-inch cleaver
Weighs 10 ounces
Laser-controlled edges
High-carbon stainless-steel blades
Friodur ice-hardening process
Made in Germany
User/ Customer reviews
Some people call their Zwilling  J.A. Henckels Twin Signature Chinese Chef Knife the workhorse in their kitchen as this one knife is capable of handling a lot of jobs together. Most users have said that the blade is extremely sharp and the edges keep up well for several years without the fear of rusting. A few customers have warned that the handle ergonomics are not up to the mark, hence they need to hold the handle down while cutting large vegetables.
Conclusion
This is a well-built and durable Cleaver with sharp edges that comes in handy to perform a wide range of activities at hand. If you have small hands or you don't prefer a long handle then this might not be the knife for your daily needs. Otherwise, this Twin Signature Chinese Chef Knife is one of the best money can buy.
---
This is a multipurpose and multi-functional Cleaver that is designed to perform a lot of jobs such as chopping, slicing, mincing, and dicing. It comes with an HRC scale of 60-62 and the sharp edges work best for ensuring maximum durability and cutting performance.
The Imarku Cleaver knife blade is made of premium quality Germany-imported stainless steel that is easy to maintain and prevents rust. We are impressed to find how well the blade holds the edge retention to cut easily through large pieces of food and also remains sharp for a long time.
The Imarku Cleaver Knife handle is made from high quality PAKKA wood makes the product tender and more comfortable for human hands. The product comes backed by a 100% customer satisfaction or money back guarantee.
Product features and specifications
Measures 11.42 x 3.35 x 0.87 inches
Weighs 13.1 ounces
7-Inch Professional Stainless-Steel Chopper
Easy to Clean and Maintain
Ergonomic Design Handle
Money-back guarantee
User/ Customer reviews
Most users are impressed with their purchase as the knife is lightweight and easy to use and handle out of the box. Some people have also said how well-balanced the knife is and how you can use it for extended hours without hurting your wrist. A few customers have warned that when you apply pressure, the knife wobbles in the hand, which could be dangerous.
Conclusion
This is a sturdy and well-built Japanese Cleaver that comes in a beautiful box and feels really good when you hold it in your hands. Whether you are a vegetarian or a meat-lover, this knife turns out to be a great tool to have in the kitchen. At this price, the Imarku Cleaver Knife 7 Inch German knife (shop now) delivers more than you could ask for.
---
The DalStrong Cleaver knife from the Shogun Series X brings to your kitchen a culinary revolution by blending the award-winning craftsmanship with innovative technology and modern design. They use the finest quality materials to build a medium-duty cleaver suited for vegetables, fruits, leafy greens, and boneless meat too.
As a multi-purpose culinary titan, this Cleaver is known to feature the most popular blades in Asia with a sharp scalpel-like edge featuring mirror polish. It uses nitrogen-cooled technology for ensuring flexibility, enhanced hardness, and corrosion resistance. It also has a full tang for a higher level of robustness and resilience.
The DALSTRONG Cleaver Knife features a super steel cutting core with more than 62 Rockwell hardness that delivers an exceptional level of performance and edge retention. Furthermore, the 66 layers of high-carbon stainless steel add more durability, strength, and stain resistance.
Product features and specifications
Measures 6.5 x 0.1 x 3.03 inches
Ultra-premium G-10 handle
Hand-polished blade
Vacuum Sealed Japanese steel cutting core
High Carbon Stainless Steel
67-Layers Japanese Vacuum Treated Damascus Blade
Lifetime manufacturer warranty
User/ Customer reviews
Most users have said that this Cleaver has good size for small kitchens and the steel-construction is sturdy enough to precisely cut different types of large vegetables and meat with ease. Some people have also said that the large blade makes it super easy to scoop up the sliced/ diced ingredients. A few customers have warned that the finish on the top and choil edges are very sharp.
Conclusion
This knife looks like a perfect combination of beauty and brains, as it's got an impressive appearance but is also intelligently designed to cut different types of ingredients with precision. The wide blade comes in handy to keep the fingertips and knuckles safe. Overall, we feel that the DALSTRONG Cleaver Knife offers a good value for money.
---
This is a 7-inch Nakiri Knife by FAMCUTE made from Japan's High Quality and 100% original steel. It sports an HRC of 60+/-2 and an angled edge that will help you extend the durability of the knife. There is a clad dimple that allows for quick and easy food release while dicing or slicing ingredients.
The FAMCUTE blade works great for cutting fish, vegetables, fruits, and meats. It features an ergonomic design that exhibits the real beauty of chef's knives with emphasis on efficiency and convenience. The blade length is 18.5cm and the handle length is about 15.3 cm.
We are impressed by the use of a natural handle that is crafted from African rosewood, which beautifully complements the knife. As the handle stays stable, it helps in fully manipulating the blade to make enduring and precise cuts in an efficient manner.
Product features and specifications
Measures 14.57 x 2.8 x 1.46 inches
Weighs 12.2 ounces
3 layer 9CR18MOV clad steel
7-inch Nakiri knife
Japan's High-Quality Steel
Full of Natural Handles
User/ Customer reviews
Several users have confirmed that this Cleaver is so sharp that it slices through the toughest of things like a knife over a slice of butter. Many people have said that the knife is good to use out of the box and delivers exceptional performance. A few customers have warned that this knife is pretty heavy and not a full tang either.
Conclusion
If you are looking for a lightweight knife then the FAMCUTE 7 inch Nakiri Knife is probably not the right product for you. It is well-built and features the sharpness of the German blades to slice and dice through anything with great ease. Although it is advisable that you be careful when using it so that you don't hurt your hand, this is one of the best Japanese Cleavers out there.
---
Buying Guide: Tips To Use A Japanese Cleaver Correctly
Once you have chosen the right Cleaver, it's also important that you take good care of it and this starts by using the knife correctly. Below, we have listed for you some of the best tips to use a Japanese Cleaver correctly.
# Use the right chopping board
To make optimized use of your Cleaver, it is important that you use the chopping board correctly. Choose a board that is sturdy in construction and unwarped so that it sits stable on the kitchen counter without moving when you use it.
# Get the right grip
To make the perfect and precise cuts you must make sure that you hold the Cleaver handle correctly to get good control over the actions. You must ensure that the grip pressure gets evenly distributed between the index finger and thumb.
# Technique to cut meat
While you must let the weight of the knife do the job for you, the chopping motion should be initiated by the pressure from your waist. If you are a beginner then it might take you some time to practice and gauge how much force is needed to supplement the knife's weight.
# Slicing and mincing meat
To slice meat evenly, you need to understand and follow the horizontal cutting technique. Mincing meat correctly using the Cleaver might also need some practice but make sure you collect the meat frequently and put it together to get a good finish.
# Don't forget to tenderize the meat
This is an important step that you must learn if you are a beginner cook. To do this you need to hold the Cleaver upside down and then use the blunt edge of the knife to pound the meat in a crisscross fashion.
Related Questions
What is a Japanese Cleaver called
The Cleaver is mainly a Chinese version of the main kitchen knife used for chopping meat and vegetables. Japanese-style Cleavers are called Chuka Bocho and they are much delicate than their Chinese counterpart. Some of their salient features include thin/sharp blades, high-end steels, and gorgeous Damascus patterns.
Why is there a hole in a cleaver
According to the old tradition, the heavy Japanese Cleavers were hung for ease of access and safety reasons. Thus, the position of the hole is to ensure convenient retrieving when hung from higher heights and you don't need to strain your toes. Some chefs also use the hole to hand the cleavers on their belts while at work.
Should a cleaver be sharp
The meat Cleaver usually has a thick blade and is not too sharp so as to ensure that it does not cut through the bone. An angle of 30-35 is enough to chop most of the vegetables and slice through different types of meat. The flat side of the knife is typically used for crushing garlic pods while the top edge is used to tenderize the meat.
How long do Japanese Cleavers last
The well-built Japanese knives may last for a long time between 10 to 30 years depending on your frequency of use, sharpening technique, and original blade profile. It also depends on how well you take care of your knife. 
See Also:
Why Is Sushi So Expensive (Explained)
Is Japanese Ramen Healthy
How Much Is Wagyu Beef? Read This First!
Is All Sushi Raw Or Cooked?