We are reader supported. When you purchase through links on our site, we may earn an affiliate commission. Also, as an Amazon affiliate, we earn from qualifying purchases.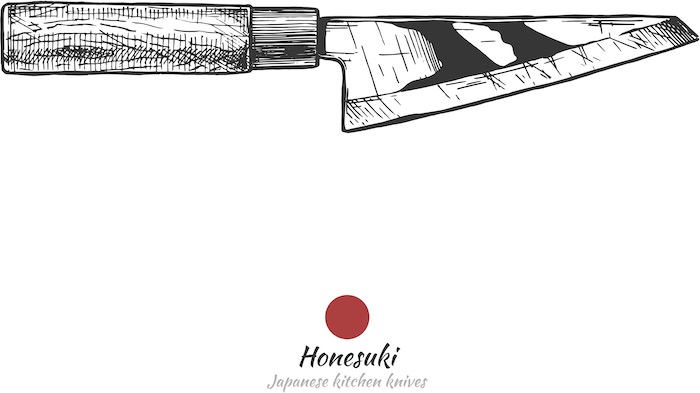 Are you a meat lover? Do you like chicken more than anything else? Then you certainly need a good boning knife – a Japanese poultry knife to be particular. Well, today we are going to help you choose the best honesuki knife that works great on meat, poultry, and fish.
The typical honesuki knife features a small and short blade with a distinctive, triangular shape and single-beveled with a taper on the tip. More of the knife weight is closer to your hand and unique design points towards making this knife an efficient tool for deboning.
The fine, light part of the knife is easy to maneuver while the heavy blade ensures that you don't have to apply too much pressure while cutting. With the wide heel, you get a lot of room on the knife edge to scrape off flesh from the bones.
If that brings you to the market looking for that perfect Honesuki knife then expect to be confused as there are too many brands and models available. To make it easier for you to choose one, we have spent hours reviewing some of the finest Honesuki knives in the market.
Read on to find the complete review of the products we have carefully handpicked for you after analyzing and comparing them closely. If you are in a hurry to order then we suggest that you go with our editor's pick – Zelite Infinity Honesuki Knife (see Amazon), because it boasts a ruthlessly sharp blade and superior edge retention.
The Zelite Infinity Honesuki Knife (learn more) is an ultra-versatile Japanese honesuki knife designed to take deboning of meat to the next level. Whether you want to trim briskes, debone lamb legs, remove tomato cores, or pit of avocados, this robust utility knife has you covered.
Available in premium packaging, it is made from imported AUS10 Super Steel includes a 67-layer high carbon stainless steel. It also has a Tsunami Rose Damascus Pattern and the Liquid Nitro Cooling adds an amazing Rockwell Hardness HRC 61 for more durability and sturdiness.
We are impressed with the beautifully-designed triple-riveted round handle that is forged full-tang to provide more strength to the final product. There is a tapered bolster to add comfort and balance to deliver unrivaled performance. It also comes backed by a lifetime warranty against any manufacturer's defects.
Product features and specifications
Measures 8.86 x 0.71 x 1.34 inches
Weighs 12 ounces
Money-back guarantee
Premium Japanese steel
Rust resistant
Robust and durable
Stunning Triple Riveted
Top Military Grade G10 Black Handle
User/ Customer reviews
Most users have said that these are actually Chinese knives made using Japanese blades of excellent quality that performs remarkably well. Several customers have also mentioned that keeping these honesuki knives is easy if you have some sharpening skills. Some people also feel that the handles are comfortable enough to allow utmost control.
Conclusion
This is an incredibly good knife made from high-quality materials to provide it a perfect mix of durability, sharpness, and precision. The build quality of the blade is excellent, and there are no spaces, gaps, flaws, rough edges, or blemishes in the construction. At this price, the Zelite Infinity Honesuki Knife is one of the premium-grade kitchen knives that money can buy.
---
The ultimate Honesuki Knife from the house of Dalstrong brings forth a culinary revolution that combines outstanding craftsmanship mixed with breakthrough technology. With a sharp single-bevel scalpel-like edge and mirror polish, the blade delivers unbeatable performance.
At an acute 20° degree angle, the knife uses a traditional three-step Honbazuke method to cut meat, fruits, or vegetables to precision. Made from AUS-10V Japanese super steel, it is also nitrogen cooled to augment corrosion resistance, hardness, and flexibility.
The knife is perfectly balanced and comes with a tapered blade that reduces the surface resistance to give you a buttery smooth cut. It also has a carefully engineered handle to give you superior hand control and slightly tapered towards the end to help you use your knife better.
Product features and specifications
Measures 16 x 1 x 1 inches
Weighs 8 ounces
Military-grade G10 handle
Ergonomic handle
Intricate copper mosaic
Non-slip grip
User/ Customer reviews
Many chefs out there have said that they switched to DALSTRONG for better performance and enhanced control and this has proved to be a great decision so far. Some people have also appreciated the versatility of this knife that helps to break down proteins and also provides technical cuts on vegetables. A few users have also pointed out that they absolutely love the customer service and support offered by Dalstrong.
Conclusion
If you are looking for a knife that can help you cook at home with the precision of a chef then this is a good choice. The DALSTRONG – Honesuki Knife (see price) is not only a great-looking knife but highly functional and engineered in a way to deliver a good performance and give you amazing control. Overall, we feel that this product offers a good price to performance ratio.
---
The third product on the list is Sakai Takayuki Honesuki knife that comes with a POM Resin handle and Inox blade that is capable of handling all types of ingredients. The biggest advantage of using POM Resin blades is that they are resistant to water, so there's no fear of rusting.
You can safely use the knife in a wet workspace without worrying about the blade or handle rotting or molding. It comes with a single bevel edge that is extremely sharp and has a pointed tip that lets you work the blade along with the bones to debone the meat.
Product features and specifications
Measures 11.97 x 2.91 x 1.1 inches
Made from Stainless Steel
Weighs 8.8 ounces
15 cm. boning knife
Boning knife
Inox special molybdenum
Stain-resistant steel
POM resin handle
User/ Customer reviews
Many customers have used this honesuki knife to break down the chicken quarters and they said that they could hardly feel like they were cutting anything. Some people have also mentioned how sharp the blade of this knife is and how comfortable it feels while holding in the hand.
Conclusion
This is a great looking Japanese knife that is ready to use out of the box. For any person who is fond of cooking meat, this is a wonderful gift that you can give. Overall, we feel that this knife is definitely a must-have tool in the kitchen and its price point makes the product completely invincible.
---
This is one of the Molybdenum lines of stain-resistant knives from the house of Misono's and they are created out of a high-carbon molybdenum steel blade. As a boning knife, the honesuki is primarily used as a poultry knife to separate the meat from bones.
The Japanese honesuki knife is lighter and thinner than the garasuki, which can be used instead of the Western boning knife. Its popularity arises from its thin profile that enables the knife to be sharpened and used for a long period of time.
We are impressed by the exceptional asymmetrical bevel that lends more sharpness to the blade at a steeper angle on the back. The thin cutting edge is a unique approach to Japanese single-edged design. As these knives are thin and lightweight, you get to maintain their sharpness for long.
Product features and specifications
Measures 10.63 x 1.77 x 0.79 inches
Weighs 6.3 ounces
Stain-Resistant Molybdenum Steel
Double-Edged
Hardness Rockwell C scale
Lightweight and nimble
User/ Customer reviews
People feel this is a great knife with a sharp edge that works great out of the box at boning and cutting a variety of fruits and vegetables. Some users have said that this is slightly hefty for the size and the handle appears to be bigger than the Misono knives but this is a good thing for deboning.
Conclusion
If you are looking for a honesuki knife with a thin profile and easy to use while working at your home kitchen then the Misono Molybdenum Honesuki (see Amazon) is a good choice. Made from stain-resistant steel, this is one of the most durable and sturdy knives you can find online. Overall, we feel this is a good investment for your hard-earned money.
Related Questions
Why a honesuki knife is also called the poultry knife
This type of knife has a blade with a perfect curve shape and length to be used for poultry processing, filleting fish, deboning poultry, meat trimming, and skinning, among others.
What type of knife is best used to cut through bone
To cut through bone, you need a heavy-duty meat cleaver that also works as a perfect tool for getting through bone and tough meat. The stainless steel Japanese chef knives are used as a multipurpose tool for various cooking methods such as slicing, shredding meat, cutting, chopping, herbs and vegetables.
See Also:
5 Best Japanese Knives For Chopping Vegetables
Why Are Sushi Knives One Sided?
7 Best Japanese Cleavers To Buy
How Long Can Sushi Sit Out At A Party?