We are reader supported. When you purchase through links on our site, we may earn an affiliate commission. Also, as an Amazon affiliate, we earn from qualifying purchases.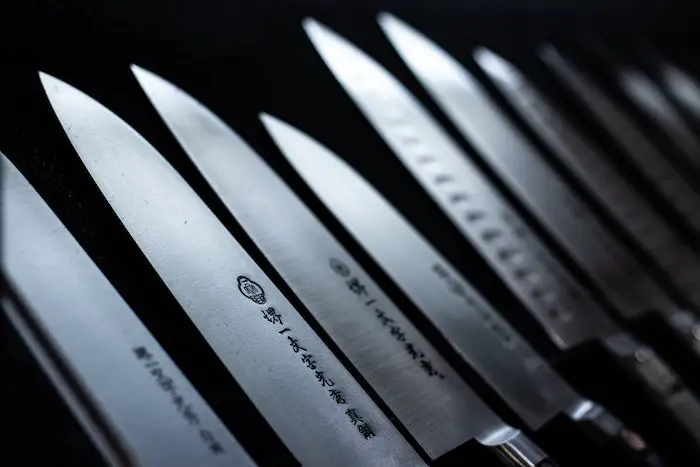 A kitchen is incomplete without a really sharp set of knives that can accomplish all types of cutting, chopping, slicing, and dicing tasks with ease. When talking about knives, the first thing that comes to mind is Japanese Gyutou, but there are several other varieties available.
The best Japanese knife set is made from the finest quality steel that is lighter and thinner than a European knife and holds a much better edge. Interestingly, the different styles of knives in Japan are known by different names such as Yanagiba, Nakiri, Bunka, Deba, Santoku, and Cleaver.
The unique feature of Japanese knives is that they are created with the professional chefs in mind. They sport an attractive design, super functionality, razor-sharp edges, and supreme quality. Although they sometimes carry a higher price tag than Western knives, the quality is worth the price you pay.
 If you are interested in Japanese cuisine and wish to learn the art of cooking such intricate delicacies, a good knife set is a must-have. It can help you get introduced to the various ways of using Japanese knives in the kitchen – from chopping carrots to filleting raw fish.
Whether you are a beginner at cooking, a master chef or an expert home cook, expect to find a knife to meet your needs. If that brings you here to look for the perfect set then expect to be confused with a myriad of choices available online.
To ease out your stress of decision making, we have reviewed some of the best Japanese knives available in the market. We have reviewed each product, weighing their pros and cons, and compared with competitor products to come up with a list of nine knives.
Read on to find the detailed review of each product. If you are in a hurry then we suggest that you go with our editor's choice- Hiroshi Premium Sushi & Sashimi Chef's Knives as they are gorgeous, lightweight, durable, and hand assembled in the traditional method. They also come backed by a hassle-free money back guarantee.
The first product on our list is this 5 piece kitchen knife set that comes packaged in an attractive box. It comprises a 7″ Santoku Knife, 8″ Chef Knife, 5″ Santoku Knife, 3.5″ Paring Knife, and a 7″ Cleaver Knife. The curved edges deliver excellent performance in terms of slicing, mincing, dicing vegetables, fruits, and meat.
As these knives are made of high carbon forged stainless steel, they sport a 54+ Rockwell Hardness that makes them extremely sturdy and long-lasting. The knife blade features excellent toughness and rust-resistance, plus the blades can be sharpened to 13-15 degree angle per side.
When compared with other ordinary sets of knives, it sports a more western and Japanese outlook. There is an original wooden texture and waved laser-etched pattern that makes the knives more stylish and shiny in appearance. The strong bolster adds more strength and sturdiness to the knives.
Product features and specifications
Ingenious appearance and design

Ultra-sharp edge
Comes in a protective sheath
Finely polished and rustproof
Razor-sharp and laser-tested blade
V-sharped Flat Grind
User/ Customer reviews
People who have used the knife set are impressed with the middle price point as they get good quality without breaking the bank. Users are also happy with the fact that all five knives perform well and come in their own sheath. A few customers have warned that the knives don't have a steel blade and the handle feels slightly slippery.
Conclusion
This is a well designed knife set that delivers a decent performance for the price. The set feels heavy and most importantly they have sharp blades that make it easier to cut a variety of fruits, vegetables, and meat. Although they are not meant to be your knife set for everyday use, they certainly deliver a good value for money.
---
This six-piece knife set comes from the Yaxell Mon Series, known for its durability and strength. Each knife from the set is made from three-layer of Japanese Cobalt Molybdenum Vanadium VG10 stainless steel, and further clad by a superior quality stainless steel from both sides.
The knife blade features a sand-blast finish and Katana sword wave line that give it an impressive appearance. There is a handle made from black resin and two stainless steel rivets complete the look. The handle end-cap is also made of 18/10 stainless steel to last for several decades.
Yaxell Mon knife set (learn more) also features canvas material that is dyed black for brilliance, the 12° blade angle adds sharpness and the polish enhances the appearance. Handcrafted in Seki City in Japan, this product is backed by a lifetime manufacturer warranty.
Product features and specifications
3-layer Cobalt Molybdenum Vanadium VG10
Engraved end-cap of the handle
High-quality stainless steel
Sand-blast finish blade
Black linen and canvas Micarta
12° blade angle
Lifetime manufacturer warranty
User/ Customer warranty
Several users have said that this knife set is one of the best available in the market today, much better than the henckles and shun lines that you see in the retail stores. Many customers have said that the knives look great and add value to the kitchen. A few users have warned that the blades tend to rust and break with use.
Conclusion
The utility and functionality of this knife set at this cost is hard to beat. It excels not only in fit and finish, but also delivers a perfect balance. The handles are slightly heavy weight to give users a good grip and better cutting performance. Overall, the Yaxell Mon 6-piece Knife Set (see more) is more than what you would expect at this price.
---
This is a six-piece knife block set from the Shun Classic line, and they feature gorgeous-looking Damascus-clad blades. The blades are handcrafted using Damascus stainless steel, and they sport a flowing pattern on the steel.
The knife set includes a 7-inch Santoku Knife, 8-inch Chef's Knife, 9-inch Honing Steel knife, 8-slot Slim Design Dark Wood Knife, Shun Multi-purpose Kitchen knife, and a 3.5-inch Paring Knife. The blades are extremely sharp, corrosion-resistant, durable, and beautiful to behold.
With a Rockwell Hardness of 60-61, these knife blades with a double-bevel angle of 16° can be hand-sharpened. It is affixed with a moisture-resistant D-shaped PakkaWood handles that add more elegance to the product. Make sure you take good care of the knife by hand washing it gently with dish soap and drying immediately.
Product features and specifications
D-shaped PakkaWood handle

VG-MAX cutting core
Stainless Damascus cladding
Handcrafted in Seki, Japan
User/ Customer reviews
Several users have mentioned that these knives have very sharp blades, so much that you must be really careful when using them. Customers are thoroughly impressed by the expert craftsmanship that is superb to the details.  Some people have mentioned that taking care of these knives is easy but they tend to get rust spots if you are not careful about wiping them completely dry every time.
Conclusion
The Shun Classic 6-piece Slim Knife Block Set (learn more) is masterfully crafted from the finest materials and they are incredibly sharp to cut through vegetables and meat like butter. The sharpness of the knives produces a bit of resistance as your slice, chop, or dice. We highly recommend this set for anyone who wants to take their cooking expertise to next level.
---
This 6-Piece Block Set from the house of Shun Sora is all you need to sort the mincing, slicing, peeling, pitting, coring, seeding needs in the kitchen. It comprises of a 3.5-inch Paring Knife, 6-inch Utility Knife, 8-inch Chef's Knife, Herb Shears, and a 9-inch Honing Steel.
The 3.5-inch Paring Knife with an agile blade does a great job at cutting all types of ingredients with precision. The utility knife combines agility with power to help you with smaller cuts, and also makes very thin slices for making sandwiches.
The 8-inch all-purpose Chef's Knife or gyuto has a slightly curved blade and a roll-off tip to be used for effective and efficient slices. Herb Shears works best for delicately cutting the herb stems. The 9-inch Honing stainless steel knife has micro-ribbed surfaces for daily tasks.
Product features and specifications
Weighs 10 pounds

Handcrafted in Japan
Exquisite bamboo block
Premium stainless steel knives
User/ Customer reviews
Those who have bought the product have said that they are extremely pleased with the worth and value of the knife set at this price. Some users have also mentioned that the knives hold up their edges really well with regular honing. A few customers have said that you just need to wipe the knife blade and keep it dry to make it last longer.
Conclusion
These are an amazing set of knives that make cutting pears feel like you are cutting an avocado and cutting hard roots feel like cutting an apple. With regular honing and proper care, these knives can last really long and deliver you a good return for the investment made. Overall, we think these are some of the best Japanese knife sets.
---
For faster, easier, and quicker meal preparations we recommend the Ross Henery Professional knife 9 piece set that comprises a 10-inch carving knife, an 8-inch chef's knife, an 8-inch bread knife, a 7-inch cleaver knife, a 6-inch boning knife, a 4-inch paring knife, a meat fork, and a sharpening steel.
These items are made from high carbon stainless steel that resists corrosion and rust, so the blades retain their razor-like sharpness for long. There is a sharpening rod that can be used for sharpening the blades when needed. The narrow Japanese-style angles allow users to get precise cuts of meat.
We love how this knife blade is meticulously balanced and boasts a knurled grip with full-tang to give you optimal control while slicing, dicing, or carving a tender turkey. Each Ross Henery knife is hand sharpened to meeting the high standards, and they undergo rigorous quality assurance checks too.
Product features and specifications
Weighs 5.24 pounds
9 piece set
Made from high-carbon stainless steel
Well-balanced, full tang
Hand sharpened
Travel carry roll-up case
User/ Customer reviews
Many people have said that the Ross Henery Professional knives are beautiful, sleek, and extremely sharp to work with. Several people have mentioned that these knives are lightweight despite being strong, and the edges hold up really well. A few customers have warned that carbon steel can rust easily if you are not careful about its maintenance after use.
Conclusion
These are one of the best Japanese knife sets that look and work great at a reasonable price. If you are looking for a starter kit to start on a culinary journey then this is certainly worth your money. However, you must be careful about taking good care of the knives by wiping it dry after use to avoid any damage in the long run. 
---
This is a gorgeous knife block set designed by the world-famous designer Komin Yamada who takes inspiration from nature. The set comprises a 3-inch pairing knife, 5-inch chef prep knife, 4.5-inch utility knife, 5.5-inch nakiri vegetable knife, 8-inch chef's knife, and an 8.5-inch Bread Knife.
We feel confident about the durability of the knives as the blades are made from Cromova 18 high carbon stainless steel material. Besides the strong blade, the handle is also well-balanced and provides a good grip. The set also includes an attractive-looking six-slot black and clear acrylic knife block with a top rim.
The blade edges sport a Rockwell hardness of 56-58 degrees, and they are grounded on each side to create a straight sharp edge. Made in Japan by the experts, these knives are prepared in the traditional way and they are backed by a lifetime manufacturing warranty too.
Product features and specifications
Weighs 7.17 pounds

Cromova 18 Stainless Steel
Functional Design
Razor Sharp Edge
Black Kabuto plastic knife block
Made in Japan
User/ Customer reviews
Those who have a modern kitchen appreciate their beautifully designed knives that add more elegance and grace to the décor. Many users have said that they like the sharpened straight V shape unlike the curved V shape in the regular knives. A few customers have warned that the knives tend to get rust spots after a few uses.
Conclusion
These are gorgeous looking and well-functional knives that do an excellent job at cutting, peeling, chopping anything you put under them. These are one of the sharpest knives you can find in the market at this price. If you want a set of designer knives without blowing your budget then we would definitely recommend these.
---
If you are enthusiastic about throwing sushi and sashimi party nights at home then you must invest in a really sharp knife set like the one sold by Hiroshi This Premium Sushi & Sashimi Chef's Knives set comprises hand-forged, hand-assembled, and hand-sharpened knives prepared in a traditional way involving a 40-step process.
The knife blades are made from superior quality hard high carbon and stain-resistant steel material. The handle is made of ultra-light wood so that you can use this knife for longer hours without feeling the strain on your hands. These classic knives can slice through raw fish like a dream.
Besides being used for special preparations like cutting thin slices for sushi and sashimi, these knives can also be used for daily food preparations. We are impressed to know that the product stands behind the product with a 100% money-back guarantee.
Product features and specifications
Weighs 1.2 pounds

Forged steel blades
Ultra-light wood handle
Premium sashimi chef knives
High carbon stainless steel
User/ Customer reviews
Several customers have expressed their joy of owning a really sharp knife set for the first time as they were able to cut through a variety of ingredients without requiring to press really hard. Some people have also said that these knives don't tire you out even if you work with them for several hours at a stretch. A few users have also said that they are so pretty that they like to keep them in the gift box and use them occasionally.
Conclusion
The Premium Sushi & Sashimi Chef's Knives set (See Amazon) is undoubtedly a work of art with beautiful packaging and design that stands out from the rest. Chef approved and crafted by expert artisans, the handle takes the knife set to a new level altogether. All in all, we feel that you can't go wrong with this beautiful set.
---
If you are keen on buying traditional, tried, and tested products then you must check out this YOSHIHIRO- Hammered Damascus Chef Knife Set. It constitutes six beautiful knives that come in handy to perform a variety of kitchen tasks such as cutting, chopping, peeling, and so on.
As the YOSHIHIRO chef knife set is forged and hammered with 16 layers of steel following the Damascus tradition, this product is the best seller year after year. It comprises a Gyuto chef knife in two sizes, a small utility knife, a Sujihiki slicing knife, Santoku multipurpose knife, and Nakiri vegetable knife.
These knives are made in Japan and they are complemented by the western style handle that can be extended to the full tang. The handle welds ergonomically to the knife for seamless use. The blade has a hammered texture that helps in eliminating the friction and prevents the food from sticking.
Product features and specifications
VG-10 Stainless Steel
Mahagony wood handle
Double-edged angle
Stain-resistant
Sharpening and honing needed
Made in Japan
User/ Customer reviews
Many people who have used the product have said that this knife set has a very good balance that helps in cutting a variety of ingredients with ease and confidence. Some people have also remarked that they did not have to do any hard work to maintain the sharpness of the edges. There are others who have praised the customer service that is up to the mark.
Conclusion
This is a complete set of knives you could ask for to complete your kitchen. Whether you are a beginner, an expert cook, or a chef, this six pieces knife set can help you accomplish a lot of tasks at once. If you are looking for well-built, frictionless, and handcrafted knives then this is a good choice. Overall, it delivers a good price to performance ratio.
---
This kitchen knife set from the house of Yarenh comprises of a 1,8″ bread knife, 8″ Chef Knife, 1,8″ Sashimi Knife, 1,7″ Santoku Knife,,5″ Kitchen Utility Knife, and gift box. These knives are made using the finest materials available in Europe and Japan.
The knife blade features 73 layers of Damascus steel construction and the high carbon steel is chosen with a hardness of ± 2HRC. No wonder this knife takes durability and sharpness to the next level. Furthermore, the handle is made from Dalbergia solid wood that has a nice color and texture.
We are impressed with the quality and service offered by Yarenh at a cost-effective price range. We are also impressed to find that the knives come backed by a guarantee of unconditional refund if you do not like the product after using them.
Product features and specifications
Weighs 3.74 pounds

73-layer Damascus steel
Full tang – maximum robustness
Ice-tempered blade
Hand-polished spine
Japanese high carbon Damascus steel
Dalbergia Wood Handle
User/ Customer reviews
Several people who have bought this set of knives have said that these are beautiful to look at and come with razor-sharp edges to deliver sheer quality. Users have also said that the design and cut of these knives appear to be amazing. A few customers have also recommended these as Christmas and New Year gifts.
Conclusion
This is a wonderful cutlery set that compliments any kitchen beautifully; however, you must be careful about not putting them in a dishwasher. Always remember to hand wash each knife carefully and wipe the moisture dry so that there are no rust spots. Overall, we feel that the Yarenh Chef Knife Set (see Amazon) is one of the best you can get at this price.
---
Buying Guide: Things To Look For In The Best Japanese Knife Set
While all the knives above are carefully selected to meet your diverse needs, we have created this buying guide to help you choose the best among them. Read on to find out how to select the best Japanese knife, what to look for in them, and how to take care of them.
The average life of a knife is usually about 10 years in an average American household. So, if you get your hands on a good set of knives, the price does not matter much because its durability and quality will be more than what you spend on it.
Nevertheless, if you have a strict budget then consider the amount of money that you want to spend on a new set of knives. Even if you have a $100 budget, it's not hard to find a good quality set at this price. The next question you must ask yourself is the purpose for which you wish to buy the knife.
Are you a vegetarian or vegan, or will you use the knife to cut meat and cartilages too? Do you plan to use the knife as a regular kitchen utensil or on special occasions when making sushi or sashimi? The answer to these questions will help you determine the best type of knife for your use.
Characteristics of a good Japanese knife
While there are several top-class knives that you may not need in your life as they are specially crafted for professional chefs, a santoku knife is a good option for home chefs. Your knives may either have the Japanese or western style blades used for slicing, mincing, dicing, chopping and so on.
A good Japanese knife set will also include a nakiri bocho or vegetable knife that is primarily used for chopping vegetables. If the knife has a flat blade then it's even easier to get thin and even slices while cutting the veggies.
Besides the blades, you must also ensure that the knife has a full tang. Please remember that an extended tang will not matter much, but if you are buying a skeleton tang or half tang, the knife may not be very durable.
Next, you must check for good safety measures, such as a good bolster. This refers to unsharpened steel that exists between the blade and the handle, which prevents any kitchen accidents. So, having a well-designed bolster is extremely crucial for your safety.
Also, let's not forget that there exists a good weight balance between the handle and blade.  If your preparation session takes about 5 minutes then the balance aspect may not be so much important for you. However, if you work for an hour or more, your hands will be exhausted without a well-balanced weight. 
Different types of Japanese knives
As in this article, we are talking about the best Japanese knife set, it's important to look at the different types of knives that you can expect to find. Besides the forging process that makes these Japanese knives unique and useful, they are also known to have a specific purpose.
Deba knife is meant to behead and fillet the fish, which forms an integral part of Japanese cuisine. Yanagiba knife, on the other hand, boasts the sharpness and length needed to get smooth cuts of fish. It works best for making thin slices of raw fish for sushi or sashimi.
Honesuki knife is a good choice when working with meat and poultry items. It has a pointed tip that helps in the easy separation of cartilages and bone. If you are a home chef then you must check out the nakiri knife for making precise and crisp cuts of vegetables.  
For those who want a more versatile knife capable of taking on a variety of items such as fish, beef, vegetables, and fruits, we recommend the gyuto knife. With a combination of western and Japanese blades, this is a good choice for connoisseurs and beginners alike.
Now that you know what the blades of different knives are able to accomplish, let's talk about how the handles differ. The common choice for most blade forgers is the Japanese Magnolia wood because it does not get slippery when wet.
The wooden handles are often carved into a D-shape, octagon, or oval shape to improve upon the wielder's grip. The handle construction of Japanese knives typically represent the 'Wa style' which means that they sport a simplistic and lightweight design.
Those who are left-handed need not feel dejected because the Yo or Western handle works well in any hand. These handles are crisp and stable in nature. Besides the handles, the left-handed chefs also utilize a single-beveled blade with a left-facing grind.
Taking good care of your Japanese knife set
After investing a good amount of time and money in the best Japanese set, it is important that you take good care of your cutlery. Even though most of the blades above are made of high-carbon material, Japanese knives are prone to rust.
You need to take good care of the knives after use by thoroughly cleaning and drying the blades, especially after contact with high acidic ingredients like tomatoes or citrus fruits. If not maintained well, the blade may turn darker with use.
Similarly, routing sharpening and honing of the blade is also important to prevent the metal from chipping and keep it in a good condition. Some sets come with sharpening tools so that you don't need to purchase them separately.
Other than the periodic sharpening of the blade, you need to also maintain the quality of your cutting board. We suggest that you choose a cutting board that is made from aromatic Japanese cypress, which is a mold-resistant softwood that can extend the sharpness of your Japanese knives.
Related Questions
Is it okay to use this knife on a metal or glass surface
If you want your Japanese knife's blade to last longer, we suggest that you avoid using it directly on a metal or glass surface. Always use a wooden chopping board when cutting vegetables, fruits, fish, or meat for meal preparations.
What happens when you use a carbon steel knife with acidic food
The carbon steel knife blade can be reactive with acidic foods. If not used properly, they may react to cause taste, color, and smell changes in food. These knives require additional care to ensure that they last longer.
Can I put my knife set in the dishwasher
We suggest that you read the manufacturer's instructions when cleaning a Japanese knife set. If it is not dishwasher safe then refrain from putting inside one. Always hand wash the blade gently using warm water and mild soap to prevent any damage to the blade edges or handle.
See Also:
Sakai Takayuki Knives Reviews – 5 Favorites
Why Are Sushi Knives One Sided?
4 Best Honesuki Knives To Buy
How To Cut Sushi Rolls? (5 Great Tips)