We are reader supported. When you purchase through links on our site, we may earn an affiliate commission. Also, as an Amazon affiliate, we earn from qualifying purchases.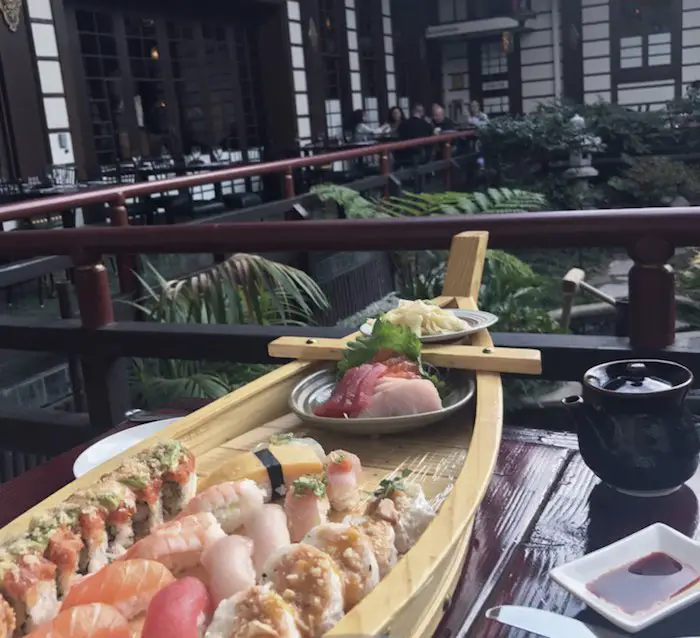 When it comes to first date advice, some people can give you wired suggestions such as taking yoga classes, going on a run, watching a movie or playing video games. But, who wants to be all sweaty on a first date or spend two hours staring at the screen.
My friend once asked me 'is sushi good for a first date' and my prompt reply was Yes! Off all other things, this is perhaps the noblest and fun way to spend time together, provided that your date likes sushi and does not think that sushi means only raw fish.
I would suggest that you ask your date if she is comfortable dining or having lunch with you at a sushi restaurant. If she hasn't eaten sushi before, tell her there are cooked options so eating raw fish or seafood is not compulsory. If your date is a vegan, let her know that there are numerous vegan options in sushi.
Your date will say 'yes' to a sushi restaurant in two circumstances – first, she loves sushi as much as you do so there you have a solid point working in your favor. Second, she's adventurous enough to go with the flow and let you decide. So, again you have an opportunity to help her explore something new and exciting.
Six Things That Make Sushi Good For A First Date
#1. A study by Match.com said that sushi can boost your chances of getting a second date by 170 percent. This is probably because the dinner date is bound to be so interactive. If you know how to eat with chopsticks, you can impress your date and even help her with it. Or, you may choose to skip the sticks and eat with your hands to make your girl more comfortable. So, it's a good way to break the ice and get the conversation rolling.
#2. Sushi is not limited to raw fish or seafood, so you have so many different options to try and talk about. If your date is a sushi beginner, you can take the lead and order a few safe and sure-shot cooked sushi that will impress her. For example, a shrimp tempura roll or California roll can make her fall in love with this new food culture and thank you for introducing her to something she was in the oblivion about. If you want to order cooked sushi restaurant, you can have a look at this article – 15 Most Popular Cooked Sushi To Order in Restaurant
#3. A nigiri or sushi roll is light on the stomach, unlike heavy burgers and fries that can make you feel lethargic. So, after dinner, you can actually end up feeling more vibrant, energetic and familiar with what you both like or dislike. When not too stuffed, you may have the energy left to talk a walk after dinner and spend some more time together, creating magical moments that may urge you both to meet again.
#4. Eating sushi is different from the boring or stereotype dinner dates. It's exciting and fun to try new things together and learn about ingredients you may have never heard before. A little soy sauce spill here and there, a big piece of sushi roll that doesn't fit into your mouth can lead to pearls of laughter. This will not only lighten the anxiety and tension associated with the first date but also make you both more comfortable with each other.
#5. If the first date takes a bad turn, a sushi dinner doesn't take too long so you don't have to drag on without any interest. However, please remember that a sushi dinner is not cheap so you will be shelling out some good amount of money for nothing anyway. So, make sure you are ready to spend that amount of money for the girl on a first date.
#6. A sushi restaurant is usually not too crowded unless you are visiting a very popular place during peak hours. The quiet and relaxed atmosphere can put you both at ease and get to know each other while the food keeps coming.
Different Types Of Sushi You Can Try On A First Date
When you have planned to meet at a sushi restaurant for your first date, make sure you know your girl's interests before placing an order. Break the ice and ask a few questions like – Has she eaten raw fish before? Is she willing to try? Does she know how to use chopsticks? Here are a few items that you can't go wrong with: 
#1. Shrimp Tempura Roll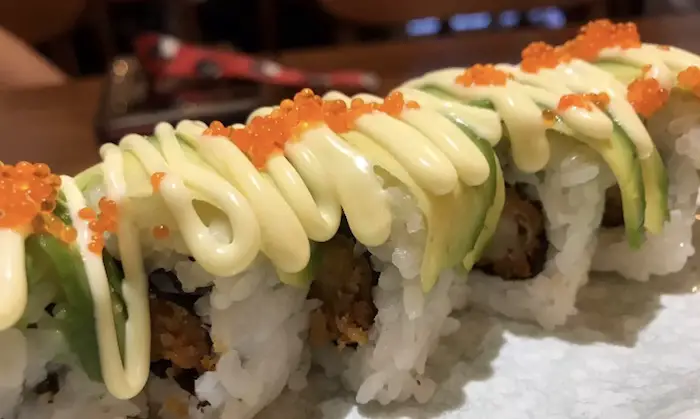 Like I already mentioned earlier, if she is a sushi beginner, play it safe and order a shrimp tempura roll. She will be more at ease with eating something that's not raw plus the crunchy taste and amazing flavors of the sushi roll will earn you brownie points for great food selection.
#2. California Roll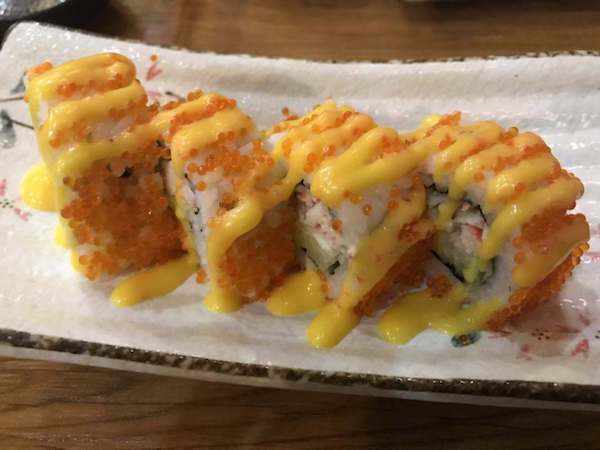 Cooked crab meat or surimi is another safe option and any sushi lover can swear by the amazing taste of a California roll. The perfect combination of avocado and cucumber makes this dish a perfect match for the Western palate.
#3. Philadelphia roll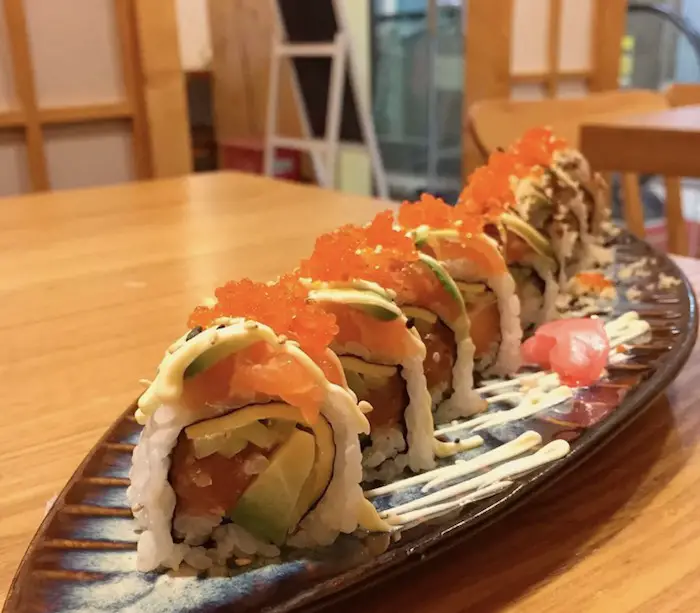 If you want a rich and creamy taste in the mouth, skip the California roll and order a Philly roll instead. The smoked salmon keeps you on the safe side and the cream cheese filling is just what you need to make her go 'wow' as the flavors burst into her mouth. She'll be happy she said 'yes' for the date!
#4. Raw fish nigiri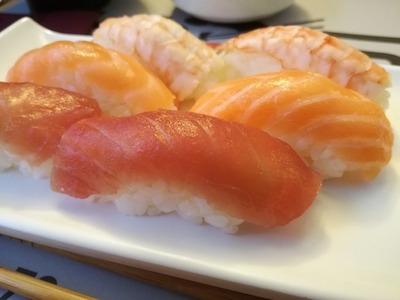 If your girl has eaten raw fish before or is adventurous enough to give it a try, order the safer and easier options such as tuna, salmon, yellowtail nigiri sushi. Avoid unagi (eel), ikura (salmon eggs) and uni, unless she is a real sushi enthusiast.
#5. Vegan sushi rolls
If you are dating a girl who's strictly vegan but still inclined at exploring sushi, introduce her to a world of different vegan options in this delicacy. You may start with the humble cucumber maki, avocado rolls and then proceed to more delightful vegetable tempura rolls.
#6. Tamagoyaki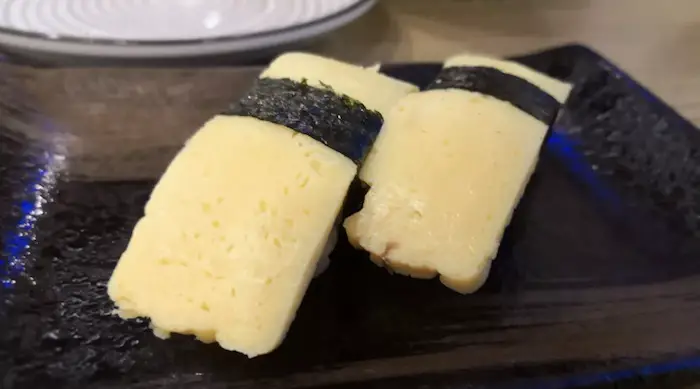 Who doesn't love this sweet Japanese egg omelet blended with mirin? Impress the lady with your choice of food and knowledge about sushi. Conclude your dinner with a sweet and savory tamago sushi roll to leave a lingering taste of good time spent together.
Kaiseki Or Omakase: Which Is A Better Option For A First Date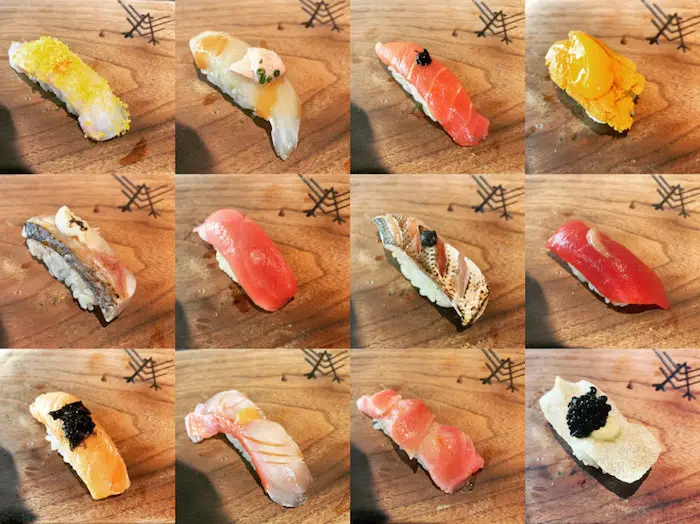 Kaiseki is the traditional Japanese meal comprising of a fixed menu (6-15 courses) made of seasonal ingredients.  It is pre-defined by the chef and you are seated in a private room where the food keeps coming. There's no interaction with the sushi chef but there will be some servers around to help you.
Omakase means 'you trust the chef' and give him the creative freedom to serve you what he thinks is the best. The guests are seated on the sushi bar and there's direct interaction with the chef, who judges your reaction to the food and creates a menu based on instant feedback.
I feel that Omakase is a good option for the first date because sitting in a private room may be intimidating for strangers unless you have communicated for several months through chats and phone calls. If you hardly know each other on your first date, an interactive meal can be a good conversation starter.
Omakase keeps you guessing about what's going to come next and gives you the opportunity to try new dishes together. You can learn many things and even share the food, which makes a delightful experience. However, please be aware that this style of dining calls for a mystery bill. Make up your mind whether or not you are ready to splash so much cash on a first date.
While an omakase sushi meal is a good option, it may not work for every first time dating couple. Go for it only if both of you are comfortable eating whatever is put on the plate (especially raw fish) without offending the sushi chef.  There are certain sushi etiquettes that need to be followed so weigh the pros and cons beforehand. Read my article that explains the sushi etiquettes, dos and don'ts in detail.
I would suggest a Kaiseki meal option for the first date only if both the parties are fans of traditional Japanese food. In a scenario when you have had long conversations with your girl over IMs and phone calls, and this is the first time you are meeting in person, a private Kaiseki may be more suitable.
One of the advantages is that you get to dine in a private setting so there's less disturbance from fellow diners. There's no interaction with the sushi chef but you will probably not miss that because you have been waiting for this date for a long time. Another advantage is that a Kaiseki has a pre-set menu so there won't be any surprises coming your way.
I have created an article that explains the various aspects of Omakase and Kaiseki in detail. So you can check out the differences and then decide which is good for you.
5 Tips To Enjoy Good Sushi On The First Date
#1. If you are up for a Kaiseki or Omakase meal, make sure you call the restaurant and make reservations beforehand. It can be a mood spoiler to turn up for dinner and be told to wait or make reservations next time.
#2. If your date is a sushi beginner, strictly vegan, or on a gluten-free diet, communicate it in a polite manner to the chef so that he takes care while preparing the food. In most cases, the chef will be willing to accommodate special dietary needs for a dating couple (not in omakase though).
#3. Acquaint yourself with sushi etiquettes and if your date has never eaten sushi before, avoid sitting at the bar. A table for two will be more suitable so that you can share and eat with your hands without disturbing or being disturbed by the fellow diners.
#4. Try new and exciting dishes like the barbequed eels sushi or awabi sushi. According to Greek mythology, all seafood has aphrodisiac qualities so you have a strong reason to stick to sushi on your first date if you really want to increase your chances for a second meeting.
#5. If everything goes well and you both enjoy your first sushi date together, how about taking things forward and deciding to cook sushi rolls at home for your second date. Working with sticky rice, preparing fillings together, and rolling them up are not only fun things to do but can also help you get closer.