We are reader supported. When you purchase through links on our site, we may earn an affiliate commission. Also, as an Amazon affiliate, we earn from qualifying purchases.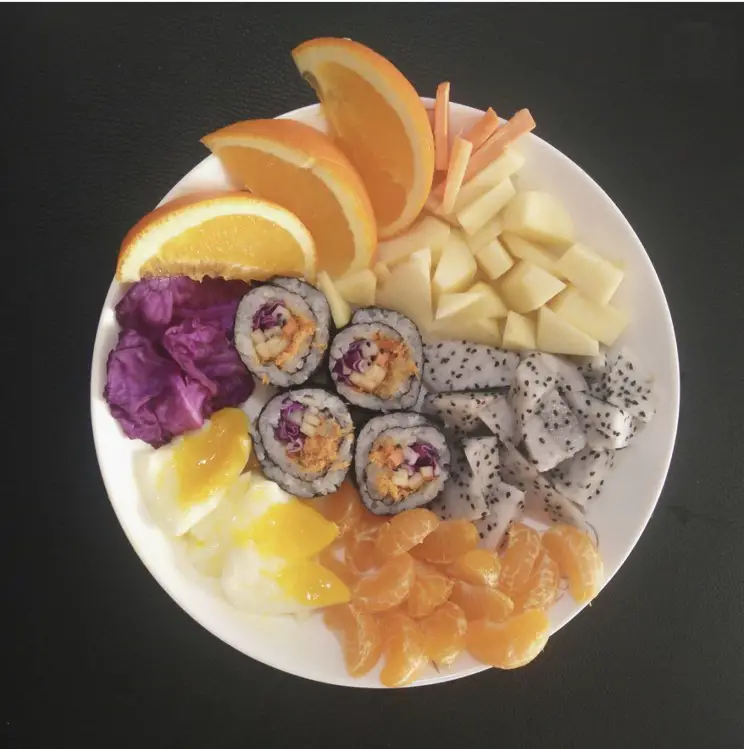 They say 'change is the spice of life' and until we try various things, how will we explore the different possibilities. In my blog, I have talked about a plethora of traditional and westernized sushi recipes, but today I want to pull all stops and bring some of the most creative sushi filling ideas for sushi roll to the table.
I know the sushi traditionalists may frown at me for taking liberty with the fillings used in this Japanese delicacy. But, come 'on, sushi is no more restricted to Japan or Japanese chefs. It is raging in popularity overseas and the US has some of the finest sushi restaurants with several chefs coming from different cultures.
If the influence of various cultures and creative ideas can present something delicious on the table, then why not? Read on to discover the 32 creative sushi filling ideas. Those who prefer to play safe with tried and tested items can read my article about the 30 good ideas for sushi roll fillings.  
1. Sea Squirt
If you are an adventurous eater and love seafood, treat your tastebuds to the raw and unique taste of sea squirt (ascidians), also known as sea pineapple. While you can find this raw delicacy in Japan, it is more popular in Korean cuisine. Known as Hoya in Japanese, sea squirt is known for its iodine-like flavor which may take time for people to get used to.
2. Kani Miso
Some people may find that gray matter gross, but Kani miso has its roots in traditional Japanese cuisine. According to the old beliefs, every part of the fish should be used in some way and this includes the organs people usually discard when eating fish. Although it has 'miso' in the name, it is not real miso but is called so because it looks very similar to miso paste.
Kani miso typically comprises of crab guts and you can find it in restaurants where crab meat dominates the menu. The miso can be any leftover or usually discarded part of crab – pancreas, intestines, or brain used as a creative filling along with cram meat. This may not sound so appetizing, but if you love Japanese crab then you must certainly give this a try!
3. Natto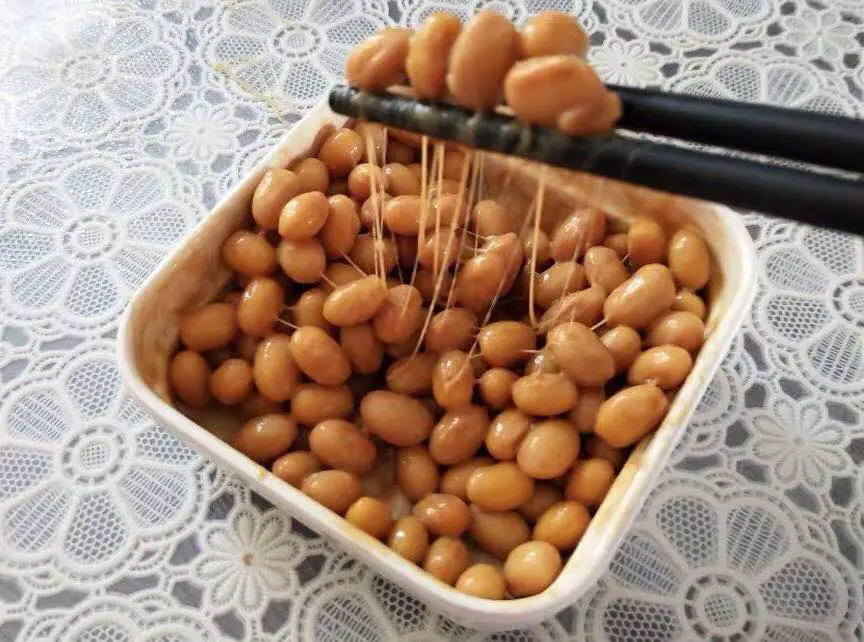 Talk about foods that need an acquired taste and natto is surely one of them. If you are a non-Japanese then you will need to try this a few times before you start liking it. Natto is precisely fermented soybeans that have a sticky texture but is extremely popular in Japan.
Natto is a common food served with rice for breakfast in Japan and also serves as a healthy filling for sushi rolls. You can find natto sushi rolls in almost all Japanese sushi restaurants and if you want to be creative with your homemade sushi, get a packet of natto from your nearest Asian grocery store. I have created an article where you can find more information about this unique Japanese food.
4. Basashi
Any guesses what this creative sushi filling can be? You have probably heard about different kinds of fish, seafood, fruits, and vegetables but here's presenting a different type of meat – the basashi or horse meat sushi. There's a place called Kumamoto in Japan, which is famous for horse meat and this is where you can find basashi sushi.
If you ever go to basashi sushi in Kumamoto, you can find nigiri and rolls comprising of seasoned sushi rice with horse mane, rump, or belly. The horse meat is considered to be much healthier than pork or beef, so try it if are an adventurous eater.
5. Shirako
Fish roes such as ikura, masago, and tobiko are common fillings in sushi and they are often used for garnishing. While most people who know sushi are familiar with the female reproductive organs, not many are aware of Shirako, which is the cold milt or sperm.
Fresh shirako is delicious and it serves as a savory filling for sushi rolls. While it is rare to find Shirako sushi unless you are in Japan, you may buy it online from reputed fish stores when it's in season.
6. Namako (sea cucumber)
If you dare to try the rare and creative sushi fillings, another name on the list is namako, also known as sea cucumber, seslug, or trepang. It may be pickled in vinegar or tossed in ponzu sauce to enhance the taste. Let me warn you that namako also requires an acquired taste so you may not appreciate it in the beginning but don't give up because you may soon develop a liking for it.
7. Pizza fillings
What can be better than a blend of pizza and sushi? To make pizza-style sushi, add a half cup of tomato sauce to water and short-grain rice when cooking rice in a cooker or pot. This will result in tomato flavored sushi rice to give you a pizza flavor. Now, season it with vinegar, salt, and sugar as usual. Read my article to find details for cooking sushi rice.
For your pizza sushi roll fillings, you can use easily available ingredients like whole basil leaves, mozzarella cheese, pepperoni slices,  green bell pepper strips, and grated Parmesan. After you add these fillings continue rolling the sushi as usual to get a perfect blend of Italian and Japanese flavors.
8. Grilled flank steak
If you want to be extra creative with meat fillings, replace your Nori sheet with a thin slice of grilled flank steak. Brush the steak with some olive oil and sprinkle salt and pepper liberally on it. Grill both sides for 4-5 minutes and let it cool before using it as your substitute for seaweed. Other fillings for the sushi roll include asparagus tossed in barbeque sauce and crumbled gorgonzola cheese.
9. Kazunoko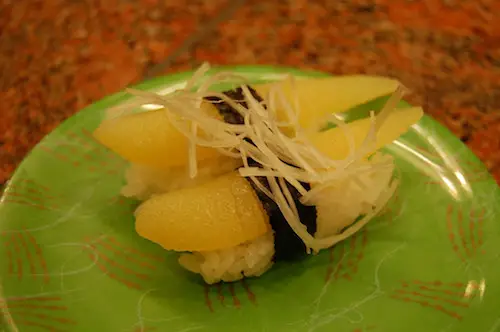 I have widely used masago and tobiko in my sushi recipes, but here's presenting a type of fish roe called kazunko (herring roe). To be used as a filling in sushi rolls, herring roe is marinated in dashi stock, which is typically made from kelp and dried fish flakes. Kazunko is considered as an expensive delicacy but if you are feeling creative try it in your sushi recipes.
10. Mentaiko
Another popular sushi filling is the raw pollock roe, known as menataiko in Japanese. It is usually prepared in a chili marinade prior to using in sushi rolls. The inspiration for making menataiko has been derived from Korean cuisine where the locals enjoy different variations of this delicacy. In Japan, you can find this delicious ingredient in menataiko sandwiches and menataiko pasta. It may also be used as a creative sushi roll filling when you feel the urge to try something new.
11. Nama-Shirasu
Shirasu is the Japanese name for extremely tiny fish belonging to the iwashi (sardines) family. They are found in the Kanagawa prefecture and available all year long. When boiled and partially dried, they are known as shirasu, a popular seafood item in Japanese cuisine. The meat has a fluffy texture and sweet taste, with a hint of saltiness due to the ocean water.
When boiled, the color of the meat becomes pure white. For sushi fillings, you may use the blanched and salted version that is known as kamaage shirasu. Another way to use these tiny fish is to mix them with other vegetables in tempura batter and deep fry. You may use it as a crunchy filling for a sushi roll or as a tasty ingredient to your sushi bowl.
12. Grilled Beef Teriyaki
If you want to impress your husband/ boyfriend/ or just any guy, here's a creative sushi filling that any man will find hard to resist. I call this the 'man sushi roll' because it has everything that men love – grilled beef teriyaki and tempura-fried stuff. Drizzle some Japanese mayonnaise and Sriracha sauce over the fillings and you have a deadly combination that your man will go crazy about.
For the vegetable tempura, you may use some of the veggies that he may like. Some options are asparagus, sweet potato, bell peppers, and so on.
13. Smoked Salmon, Fried Bacon, Cucumber, and Avocado
Bacon may not be a traditional sushi ingredient but if you love the smoky and crunchy taste of bacon, why not use it as a filling in your sushi roll. I came across sushi named the 'Canadian roll' in a restaurant and it comprised of smoked salmon, fried bacon strips, avocado, and cucumber.
To recreate the magic at home, cook a few slices of salted bacon slices until they turn crispy, use a blowtorch to create sashimi-style smoked salmon, cut the avocado into thin slices, and the cucumber into thin strips. You may use cream cheese to add more creaminess to the roll and chopped scallions for garnishing.
14. Sun-Dried Tomatoes
If you are vegan looking for creative sushi filling ideas to pamper your tastebuds then here's one for you – the sun-dried tomatoes. Use a sharp sushi knife to cut the tomatoes into thin strips. Let me warn you that they have an intense flavor so make sure you pair them up with other veggies to balance the overall flavor. I would recommend using Japanese cucumber and avocado slices with tomatoes to neutralize the flavor.
15. Smoked Turkey And Goat Cheese
You don't have to wait for Thanksgiving day to make a turkey meal. How about smoked turkey for your next sushi dinner at home? Cut the smoked turkey into thin strips and pair it up with sundried tomato pesto made by blending together sundried tomato, garlic cloves, pine nuts, olive oil, basil, and grated parmesan cheese.
When arranging the fillings in the sushi roll, add smoked turkey, strips of goat cheese, arugula leaves, and crushed potato chips to add crunchiness.
16. Marzipan
Are you interested in cooking up some sushi dessert? It's amazing to see how the humble Japanese delicacy has evolved and infused with different cultures to create amazing masterpieces. If you are in the mood for some sweet sushi, try this exotic item called the marzipan. It is a delicious paste made of almonds, icing sugar and food coloring.
The cooked sushi rice is seasoned with sugar and white chocolate for this recipe. Enclose the marzipan strips inside flavored sushi rice and roll it over desiccated coconut to complete the dish.
17. Chili Shrimp, Spicy Crab, Cream Cheese, and Jalapeno
Many people with a bigger appetite worry about not feeling full after a meal of sushi, so here's a big and filling sushi roll for them.  Try a creative combination of chili shrimp cooked in spicy sauces, spicy crab meat (you may use imitation crab meat), dollops of cream cheese, and de-seeded jalapenos. Top it up with cilantro leaves and sriracha sauce for a gourmet experience.
18. Sweet Strawberries, Green Asparagus, and Feta Cheese
I know strawberries are the summer fruit that reminds you of salads and desserts, but today I urge you to use it as a sushi filling for a delicious treat. Those who think vegans do not have a lot of options to enjoy creative sushi will be forced to think again.
The amazing combination of sweet strawberries with green asparagus and cheese slices wrapped in sushi rice and nori not only look aesthetically pleasing but also taste delicious.
19. Sweet Mango and Seasoned Panko
These two fillings not only rhyme well but also make a great combination for your creative sushi roll. If you are looking for exciting ideas to use this exotic summer fruit, try them as fillings in your next sushi dinner.
The vegan sushi roll also includes panko and Sriracha Mayonnaise to counterbalance the sweet taste of the fruit. If you wish to add more crunchiness to the roll, consider making vegetable tempura using veggies like potato, beans, carrots and so on.
20. Quinoa, Beetroot, and Horseradish
As a kid, beetroot was always on my 'foods to stay away from' list but I hardly knew that 30 years later, I would be craving for beetroot sushi. If you haven't tried this vegan sushi roll then you are seriously missing out some fun!
To create the beetroot stuffing, grate beetroot and horseradish in a bowl. Now, add it with cream cheese and use as a filling for your sushi roll. If you are feeling more creative, substitute the sushi rice with quinoa and you may use cucumber strips to add more crunchiness to the roll.
21. Hoisin Marinated Tofu And Red Cabbage
To prepare this creative filling for a sushi roll, marinade thick strips of tofu in hoisin sauce, lime juice, tamari, and finely grated garlic and ginger. Preheat the oven to 350° F while the tofu sits with the marinade and then bake the tofu slices for 20-25 minutes. Cut the red cabbage into fine slices and if you wish to add crunchiness to the roll, add some julienned cucumber too.
22. Coconut Tofu Tempura And Quinoa Rice
Here's an exciting vegan filling that both vegetarians and fish-lovers will enjoy. To make the tofu tempura, cut tofu into thick slices and roll it in the tempura batter comprising of flour, cornstarch, panko breadcrumbs, and shaved coconut. Use cold carbonated water for whisking up the tempura batter. Substitute short-grain rice with quinoa and season it with honey, vinegar, sugar, and salt to enhance the taste.
23. Spicy Watermelon
Talk about veggies in sushi, and we usually come up with cucumber and avocados. So, let's try to be different this time and use spicy watermelon fillings to create a mouthwatering and refreshing combination. The added bonus is that this filling is so quick to make when you are craving for good sushi. To make spicy watermelon, cut it into cubes and toss with vegan mayonnaise, sriracha sauce, sesame oil, white miso paste, and soy sauce.
24. Young Jackfruit In Hot Sauce
For this recipe, you may use canned young jackfruit available at the grocery store. Rinse it well and cook in a saucepan with water, sriracha sauce, tamari, and nutritional yeast. Simmer for 15-20 minutes, squeeze out excess water and take them out in a bowl. Now, mix sriracha sauce, Japanese mayo and sesame oil to the jackfruit and keep inside the refrigerator until you need to add the fillings.
25. Fruity Combinations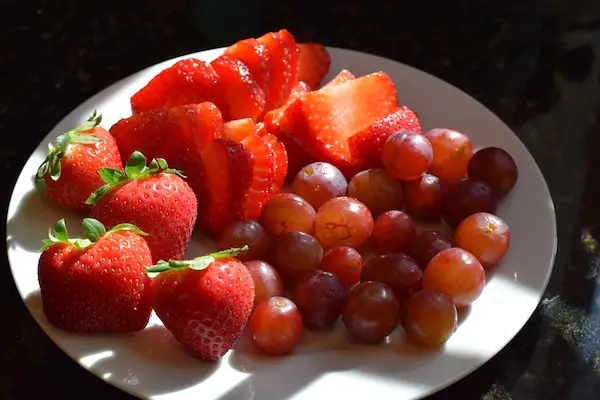 I have been waiting to share this for a long time. If you love fruits then take the liberty of using different variations of them as creative sushi fillings in your roll. I admit that this will make your sushi roll much sweeter so consider this as a dessert or a concluding dish after raw fish and spicy veggies. You may try different types of fruits such as strawberries, grapes, peaches, mango, and green apple.
26. Roasted Peanuts And Peanut Butter
My friends on the vegan diet always complain that they don't have enough options when it comes to sushi, so I hope this list of creative sushi filling ideas will make them happy. If you love peanuts, there cannot be a better way of using them. Place sweetened peanuts and peanut butter in a food processor until they are finely chopped. You can pair up this filling with avocado and cucumber to add more freshness.
27. Banana and Peanut Butter
Banana in sushi? Sounds pretty odd, doesn't it. However, banana is one of the various fruits you may use as fillings in your non-traditional sushi. For this recipe, we will use flatbread/tortilla instead of nori and the inner filling will comprise of banana and peanut butter, no sushi rice.
Just spread some butter on the flatbread, add a medium-size banana and roll the flatbread to create a sushi roll like appearance. Cut into equal pieces and serve.
28. Takuan (Pickled Radish)
If you are a non-Japanese then chances are that you have not heard of takuan or pickled radish before. It is the yellow-colored crunchy filling you can see in traditional maki rolls. It is often used as a flavor booster or a neutralizer for the intense umami effect of other ingredients. You can find takuan at an Asian grocery store near you or buy it online.
You can also make takuan at home by following these steps – sprinkle salt over finely sliced daikon radish and leave for 2 hours to release water. Prepare pickling solution by adding vinegar, water, salt, sugar, and turmeric in a saucepan. Put the drained slices of radish and pickling solution in an airtight container and let it sit for 2-3 days before using it as your sushi filling.
29. Vegan Tuna
If you have turned vegan recently but can't keep your mind off the tuna roll you enjoyed before turning vegan, I have a delicious solution for you. I decided to include the vegan tuna filling in my list of creative sushi filling ideas for a sushi roll, because I know there are many who feel like that.
To make the vegan tuna, add toasted walnuts, chopped shallot, chopped celery, diced red bell pepper, salt, and pepper to the food processor and blend. Pair up the fillings with other vegetables like cucumber, avocado, and carrots.
30. Baby Spinach And Eggplants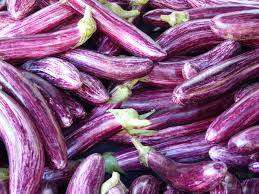 To make eggplant fillings, sprinkle salt on sliced eggplants and leave it for about an hour to leave moisture. Dry the pieces and roast eggplants in a marinade made of tamari, sesame oil, rice vinegar, maple syrup, sambal oelek, and salt.
When the eggplants are thoroughly cooked, set them aside to cool. Rinse baby spinach and cut them lengthwise. Julienne other vegetables like carrots and cucumber to add crunchiness to roasted eggplant.
31. Burrito Style Sushi Rolls
There is a sushi restaurant in San Francisco that is grabbing attention for offering Latin-style sushi rolls. It offers an interesting gateway for people who are not fish-lovers, get to know this Japanese delicacy. Their Burrito-style look like regular sushi but they use some unique fillings such as pork belly, tuna picante, mushrooms, swiss cheese, and Sriracha aioli – items that you will normally not find in your traditional maki roll. You may try recreating this unique dish at home with the ingredients mentioned above.
32. Creepy Crawlies
I know what you are thinking! How can someone even think of such a gross filling in sushi? However, this is the idea behind a dish served at a Texas-based sushi restaurant. The chef Peter Yung has introduced edible insects as fillings in sushi rolls and named it 'Spicy Insectopia Roll'.
The crawlies may range from crickets to worms and they are deep-fried in sesame oil and teriyaki sauce. You will hardly know that it's there and the sushi is paired up with cucumber and jalapeno to add freshness. I know many of you may find the idea repulsive but given the fact that this specialty roll is gaining popularity, this creative sushi filling had to be a part of the list!
33. Dried Pork Floss And Purple Cabbage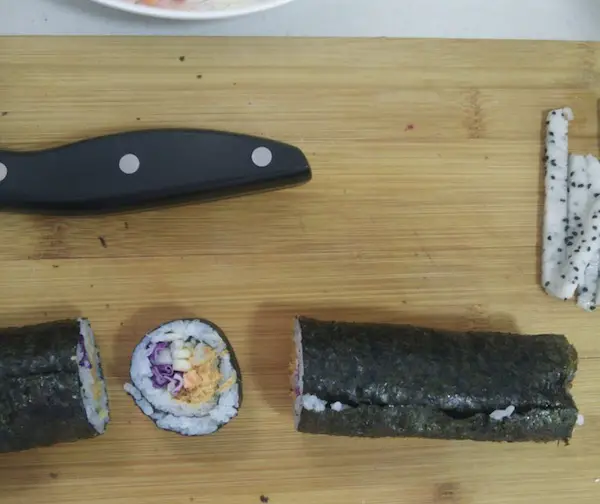 Those who want a riot of flavors and colors in your sushi roll then here's a unique combination you can try. If you love pork meat then dried pork floss can turn into your new obsession. It's more like cotton candy and has an amazing flavor that can highlight any delicacy.
Purple cabbage, cut into fine strip add a dash bold color to the dish. Pair it up with carrots and apple, dragon fruit slices to make one of the most creative sushi filling ideas you can try at home
See Also:
(Gimbap) Kimbap vs Sushi Detailed Explanation
Can you make Sushi without Rice Vinegar?
What Is Oba In Sushi? Read This First!
Is All Sushi Raw Or Cooked?