We are reader supported. When you purchase through links on our site, we may earn an affiliate commission. Also, as an Amazon affiliate, we earn from qualifying purchases.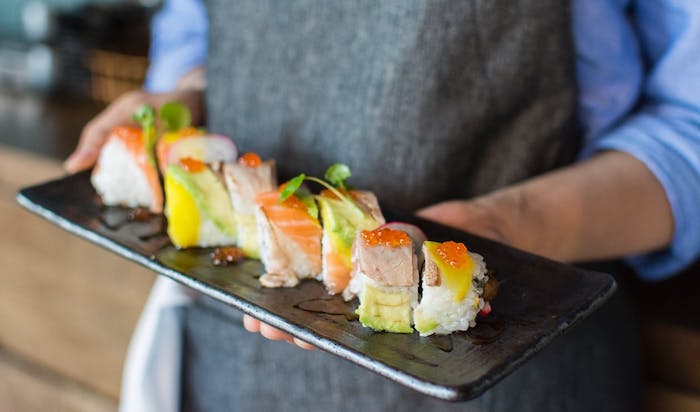 Keto diet seems to be in rage these days with everyone opting for a low-carb diet to flaunt a figure to die for or at least fit into that old jeans! One of the biggest problems people face with the keto diet is that they get a lot of cravings for the food they love. As a result, many people give up on keto diet before achieving desired results. But, do you know there are ways to enjoy what you love without quitting?
A friend on a low-crab diet once asked me 'Is Sushi Keto?' I replied No, because traditional sushi contains rice which is the most important ingredient and it's high in carbs. However, thanks to the globalization of sushi, there are so many ways in which you can twist the delicacy, and low-crab sushi is one of them.
If you are on a low-carb diet and dream of sushi every night, you don't have to suppress your cravings or giving up keto altogether. The forerunners of the keto diet have already come up with several interesting ways to enjoy the food you love without consuming any carbs.
Sushi Without Carbs In Restaurants
If you are dining out and wish to order low-crab sushi, I am sorry to say that you may be out of luck. I am still to find a restaurant that makes keto-friendly sushi roll and understandably so because seasoned rice is an important part of the dish.
You may, however, ask the chef if they can accommodate rice-less sushi order. Some friendly chefs may be willing to cater to your needs, particularly when there is low traffic in the restaurant. So, there's no harm asking but please be warned that the chances may be slim.
If you are lucky you may find Naruto rolls on the menu. This is a special type of sushi that has raw fish wrapped in thinly sliced cucumber instead of rice. While this can be safely called keto sushi, not many restaurants serve this type of roll as it is difficult to prepare.
When dining out at a restaurant, I would suggest that you order sashimi instead of sushi to avoid the rice part. Sashimi is thin slices of raw fish cut to perfection. Some people find sashimi boring because unlike sushi that has several fillings inside, there's just one ingredient in sashimi. When you are on a keto diet, this can be the closet sushi you can enjoy!
I have seen some people order sushi rolls and eat only the middle part. They discard the outer rice layer, making a mess of the sushi. It's not only a waste of food but a bad sight and against sushi etiquettes. So, if you can't find Naruto rolls and the chef refuses to accommodate riceless sushi, order sashimi instead.
Food You Can Order In A Sushi Restaurant
As mentioned above, eating out poses a lot of risks for people who are on a ketogenic diet. If you still need to dine out because it's a friend's birthday or get-together, here a few dishes you can order safely and the ones you must avoid.
Sashimi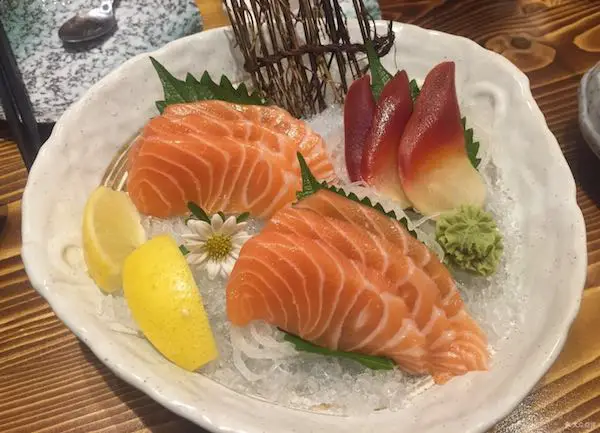 Already mentioned above, this dish comprises of the best cuts of high-quality fish like salmon, tuna, halibut, chutoro (tuna belly), etc. They are often served with a side salad or grated daikon radish. Just make sure the salad is not bathed in sugary dressing.
Related Article: Difference Between Nigiri, Sashimi, Sushi Roll, Hand Roll, Gunkan Sushi
Negimaki
Some sushi restaurants will have this delicacy on the menu. It serves as an appetizer and consists of thinly-sliced grilled beef. The chef may often wrap the meat in asparagus or green onions. There might be a slight drizzle of soy sauce over the negimaki. If you don't like it, request the server to skip the shoyu.
Oshinko (pickled vegetables)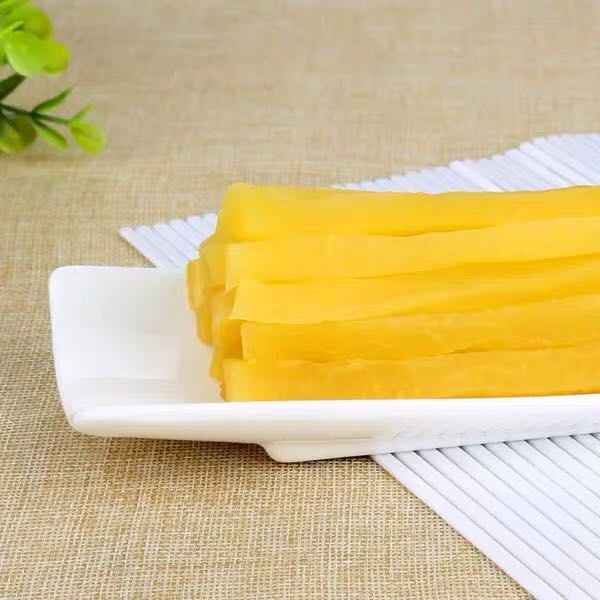 If you are looking for a keto-friendly starter, you can order Oshinko which comprises of different types of pickled Japanese vegetables. Some of the common vegetables include radish, lotus root, and cucumbers, cut into thin slices. The dish is very low in calories and carbs. For more: What Is Oshinko And How To Make Oshinko Sushi Roll?
Edamame
I know you may find it surprising to find edamame in the low-carb diet but these are not as harmful as you think. These pods contain steamed and salted soybeans, which serves as a cheap and delicious appetizer. A 100 grams serving of Edamame has just 6.8 g net carbs, so relax!
Miso Soup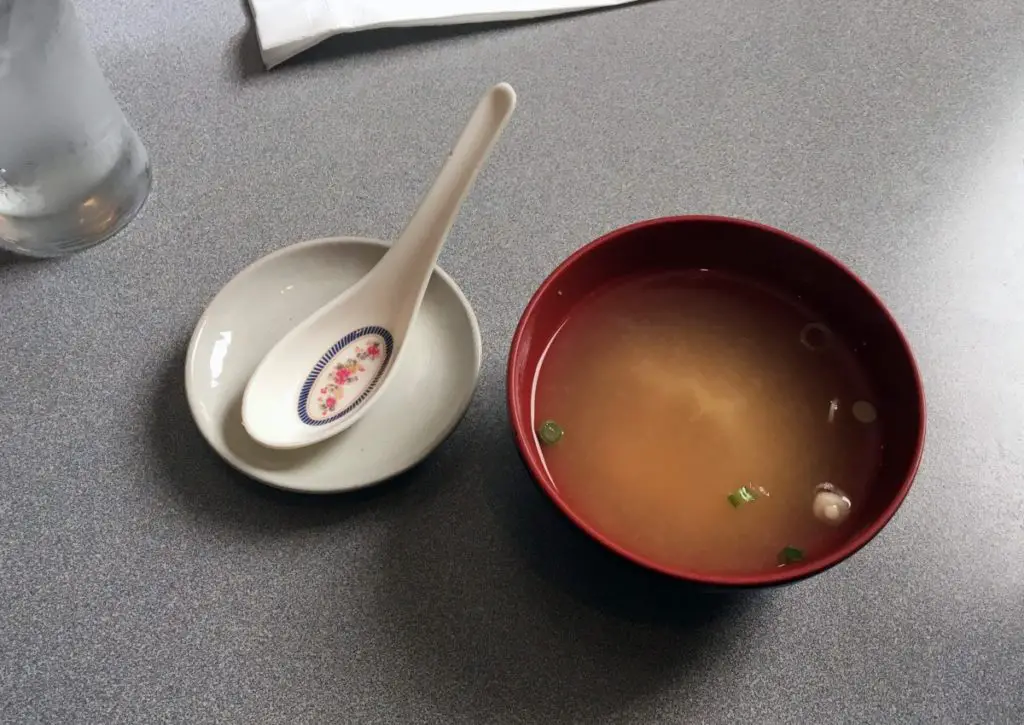 If the appetizers and sashimi did not fill you up, order a bowl of miso soup. This is a clear and flavored soup that forms a staple in Japan. It is typically served as a side dish but the addition of various vegetables like mushrooms, cabbage, or onions make it very filling. The soup may often contain tofu cubes to enhance the taste and umami experience.
Satay
Although satay is a traditional Indonesian food, you can often find this dish served in Japanese restaurants with their own spin. It comprises of grilled meat served on skewers and you are allowed to add your own sauce or go without it. This is a high protein dish that makes a wonderful keto-friendly option.
Dishes To Avoid In A Sushi Restaurant
With the delicious options mentioned above, you will be able to go back home with a full stomach and still stay on your keto diet. Please remember that rice and tempuras are the biggest sources of carbs that you need to avoid and a few other dishes that may be loaded with hidden crabs:
Seaweed Salad
I know it sounds so healthy and harmless, but I am sorry to reveal that it is not suitable for your keto diet. The salad comprises of thin strips of kelp prepared in brine and sprinkled with toasted sesame seeds. Unfortunately, the brine solution contains high amounts of sugar which make this dish rich in carbs.
Any dish with 'teriyaki' in it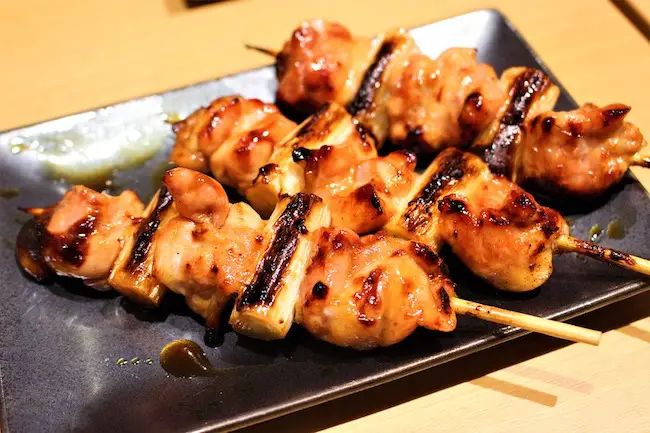 No matter how tempting the grilled meat in teriyaki may appear, just don't do it! The sauces in teriyaki are slathered in sticky and sugary sauces made of rice syrup or molasses. While it may rank high in taste-o-meter, this is a completely anti-ketogenic dish. You may, however, ask the server if they can give you teriyaki without the sauces.
Imitation crab meat (surimi)
They are pretty and crab flavored, but you don't know what's inside it! The imitation crabsticks are typically made of pulverized meat of white fish, added with fillers and bindings, and re-shaped into the structure of crab legs. They are also cured with sugar which makes them high in carbs content.
Making Keto Sushi At Home
Although I have no plans of going on a keto diet, but if I do, I would prefer making my own low-crabs sushi rolls at home. They are not only easier to prepare but also saves you from cross-contamination of food at the restaurants.
Crabs in sushi don't just come from the seasoned rice but the sauces and breaded fillings can also pack a lot of carbohydrates to your dish. If you wish to stick to your keto diet but also satisfy your cravings for sushi, here is an easy to make low-carb sushi roll recipe:
What you will need:
Cauliflower florets
Softened Cream Cheese
4 oz. Smoked Salmon
1-2 tbsp. Rice Vinegar (unseasoned)
1 tbsp. Soy Sauce
Nori sheets
Half Cucumber, cut into thin slices
Half Avocado, cut into fine slices
Instructions
Use a food processor to finely chop the cauliflower into grain-size so that it resembles rice. Do not over-process the rice. Put a pan on medium heat and slightly soften cauliflower rice. Add soy sauce to season cauliflower as it cooks.
When the cauliflower rice has softened and dried out a bit, transfer to a bowl and let it cool. Add cream cheese and rice vinegar to the bowl, mix evenly and keep inside the refrigerator while you prepare the fillings.
Put the bamboo mat on the kitchen surface and cover with a plastic cling film. Keep the nori sheet over the bamboo mat, rough side up.
Take less than half cup of cauliflower rice and spread it evenly on the nori sheet, leaving about a one-inch gap on the top. Make sure the rice layer is not very thick.
Arrange the fillings towards the middle of the rice, first the strips of smoked salmon, then cucumber and avocado slices.
Now, keep your fingers under the bamboo mat and start rolling with the help of other fingers. Keep rolling until you reach the other end. Apply gentle pressure as you roll to ensure that the fillings stay intact inside. Seal the edges with a few drops of water. Cut the sushi roll into 6-8 pieces and serve with soy sauce, wasabi, and pickled ginger.
Keto Sushi Rolls Without Cauliflower Rice
My friends often tell me that they don't like the taste of cauliflower or simply find it too time-consuming to make cauliflower rice. So, if you want a quick fix, keto-sushi, you can just skip the cauliflower rice and make a   filling low-carb snacks like this:
What you will need:
Smoked salmon or Sushi-grade raw salmon
Nori sheets
Half Japanese Cucumber
Quarter-size Red bell pepper
Half medium Avocado
Water
Instruction
Take a sharp sushi knife like this one and cut the cucumber and red peppers into narrow matchstick-size pieces, about the same length of the narrow side of half nori sheet. Also, cut the salmon and avocado about the same length but slightly thicker.
Lay half nori sheet on the table, shiny side facing downwards. Keep a small bowl of water to moisten your fingers as you roll.
Arrange one piece of salmon, cucumber, red pepper, and avocado at the opposite edge of the nori sheet. You may add one piece of each vegetable and fish, or add a few extras to make the roll more filling.
Moisten your fingers with water and wet the edges of the nori sheet. Now, roll the seaweed snack compactly to ensure that the fillings stay inside. Press to seal the wet edges. Keep the rolls, seam side downwards on the plate.
Repeat the steps for remaining nori sheets. If you need sauce with the keto sushi, use coconut aminos instead of soy sauce. You may also use tamari sauce as it contains less to no wheat.
Related Questions
What is coconut aminos?
This is a healthier alternative to soy sauce. It is prepared by fermenting the sap of coconut palm with sea salt. Hence, it contains less salt, no wheat, and no gluten. This is a savory sauce with a milder and sweeter flavor. 
What to drink in a sushi restaurant
Green tea is a low carb option that is known to aid in digestion. If you want something stronger, you may go for sake or alcohol, but do so in moderation as they have higher caloric value.