We are reader supported. When you purchase through links on our site, we may earn an affiliate commission. Also, as an Amazon affiliate, we earn from qualifying purchases.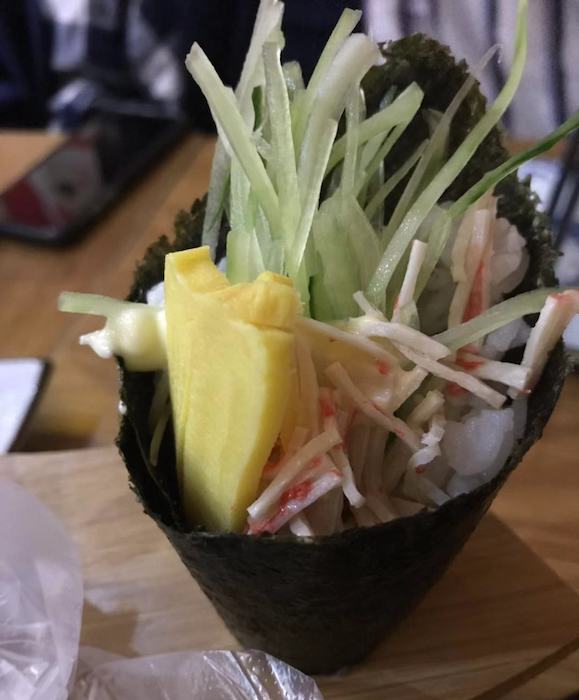 What is the first image that comes to your mind when talking about sushi? An oblong bed of sushi rice with a glistening raw fish topping or a delicious filling rolled inside sushi rice and Nori? While most people will probably imagine one of the two, there is one more style of sushi that not only tastes incredibly good but is also easy to make. 
Common people like you and I do not have years of experience like the traditional sushi chefs in making nigiri sushi, but we can definitely try our hand at making temaki or hand rolled sushi.
What Is A Temaki Roll?
Temaki is a Japanese term that translates to te (hand) and maki (rolled) sushi. Although it may not look like the traditional form of sushi, you can find this popular style at almost all sushi bars and grocery stores.
This type of sushi is rolled in the shape of a cone and looks like ice cream. It has toasted Nori on the outside and the fillings may include raw fish slices, cooked meat, egg roulade, fish roe, and vegetables. The most popular choice of fish and seafood are tuna, salmon, eel, cuttlefish, scallops, steamed prawns.
For vegetables, you may use Japanese cucumber, pickled daikon radish, sisho leaves, green onions, carrots, Japanese mountain yam, and sisho leaves. The temaki sushi is typically served with soy sauce (shoyu), wasabi, and pickled ginger.
What I Love Best About Temaki Sushi
The best aspect of a Temaki roll is that everyone in the family can participate and help themselves when making sushi dinner at home. You need to keep vinegared sushi rice and the fillings including sashimi-grade fish at the table. Each person can make his own hand-rolled sushi using the favorite mix of fillings.
Meat lovers can enjoy a combination of kimchi and kalbi, or prawn and avocado; while the fish lovers can go with spicy tuna salad, salmon with cucumbers, or prawn and semi-boiled carrots. Vegetarians also have endless options to spoil themselves with leafy greens, crispy cucumbers, and shitake mushrooms.
If you don't like the taste of raw fish, you may use cooked meat variations such as grilled unagi, cooked chicken, and shrimp tempura. It's fun to prepare the fillings of your choice so get creative. Let's check out some of the popular temaki roll recipes.
I would suggest that you experiment with a contrast of textures and tastes. As each temaki roll takes about 2-3 bites to complete, you can easily eat 4-5 rolls in one sitting. So, go ahead and experiment with crazy combinations like mango, bell peppers, and salmon.
Spicy Tuna Temaki Rolls Recipe
Ingredients
• Sushi rice
• Raw tuna steak
• Chili powder
• Nori sheets
• Japanese Mayo
• Soy sauce
• wasabi
Step 1: Start by preparing delicious vinegared sushi rice. To find step-by-step instructions on how to make sushi rice in cooker and pot, read this article.
Step 2: Prepare the fillings while the rice cools. Cut the raw tuna steak into small cubes and mix it with a teaspoon of chili powder and 1.5 teaspoons of Japanese mayo.
Step 3: Adjust chilli powder based on how spicy you want your temaki to be.  Coat the tuna pieces entirely with the spicy mayo mix.
Step 4: Cut the toasted Nori sheet into half and place one sheet on your palm, rough side facing up. Take a spoonful of rice and spread it diagonally across the seaweed.
Step 5: Now, take a spoonful of tuna mayo mixture and spread it over the Nori sheet.
Step 6: Roll the half Nori sheet to form a cone shape, and you have a delicious Temaki roil ready to eat. Serve it with pickled ginger and wasabi.
Chicken California Temaki Roll Recipe
Ingredients
• Toasted  Nori sheets
• Carrots (julienne cut)
• Cucumbers (julienne cut)
• Cooked chicken (finely sliced)
• 2 cups of vinegared sushi rice
• 3-4 pickled radishes (finely sliced)
• 1 ripe avocado (thinly sliced)
• Soy Sauce
• Fresh Ginger
• Wasabi (optional)
Instructions:
Step 1: Put a bamboo mat like this on the counter and place half of the seaweed on it. To make seasoned sushi rice, follow the steps mentioned in this article.
Step 2: Take 1-2 tablespoons of sushi rice and spread it out lightly on the Nori sheet. Moisten your fingers and flatten the rice on half of the Nori sheet. Now, add avocado, carrots, pickled radish, and chicken slices.
Step 3: If you are looking for vegan options, you can just include cucumbers, carrots, and avocado to make a classic roll. Put all veggies on one side of the Nori sheet and roll to make a simple vegan Temaki roll.
Step 4: To form a cone shape, take one corner of the Nori sheet and start rolling diagonally to form a cone shape. After you are done rolling, seal the ends with water.
Serve Temaki roll with soy sauce, wasabi, and pickled ginger.
Low Carb Spicy Shrimp Hand Rolls Recipe
Ingredients
• Seasoned sushi rice
• Nori sheets
• 2 cups cooked shrimp, chopped
• 1/ 4 cup Mayonnaise
• 1 tbs Sriracha
• Cilantro leaves
• Japanese cucumber, julienned

Instructions:
Step 1: Take a clean bowl and mix chopped shrimp with mayonnaise and Sriracha sauce. You may increase the amount of Sriracha sauce if you want to add more heat to the mixture.
Step 2: Cut the Nori sheet into half and put it over the bamboo mat. Put 1/5 portion of the shrimp mixture on the right-hand side of the Nori, leaving about 2/3 of the sheet empty.
Step 3: Now, add the cilantro leaves, cucumber strips, and avocado slices. Start rolling the Nori sheet diagonally until you form a cone shape.
Step 4: Seal the edges with a few drops of water. Serve with wasabi and soy sauce.
Avocado Temaki (Vegan Hand Roll) Recipe
Ingredients
• 1 Nori, cut into half
• Cooked brown sushi rice
• 1 avocado, sliced into fine strips (sprinkle lemon juice on avocados to prevent browning)
• 1 Japanese cucumber, peeled, deseeded and sliced thin strips
• Tamari or soy sauce
• Fresh wasabi
• Pickled ginger
You can buy these ingredients on this page
Instructions:
Step 1: Keep Nori on the bamboo mat with its rough side facing upwards.
Step 2: Moisten your hands slightly and take a small ball of rice. Spread the rice on the left side of the Nori, and make a dent in between to add the fillings.
Step 3: Rub a little wasabi on the sushi rice and then place a few slices of cucumber, followed by avocado diagonally over the bed of rice. Make sure the fillings point towards the upper-right side corner of the seaweed.
Step 4: Now, start folding from the left-hand corner and roll around the rice and fillings to create a cone shape. When you reach the end, seal the edges with a little water.
Serve temaki rolls with soy sauce and pickled ginger.
What Are Common Sushi Hand Roll (Temaki) Fillings?
Temaki sushi rolls give you the freedom to choose your own filling from an assorted variety of options. Here are some of the common fillings you can enjoy at a sushi party or sushi dinner at home.
Different types of raw fish:
The variety of sashimi-grade or raw fish used is the biggest highlight of temaki sushi. You can find sashimi-grade fish at an Asian grocery store or get them from your trusted fishmonger. The fish is usually cut in small blocks or thin slices.
Some of the recommended options for raw fish and seafood fillings are tuna, salmon, halibut, yellowtail, sea bass, sea urchin, squid, sweet shrimp, scallops, and pickled mackerel.
Different options of Caviar (fish eggs)
The assorted caviar or fish egg is a type of delicacy that adds flavor and taste to temaki sushi spread. The caviar may be sold pre-packaged in small amounts at the Asian supermarket or grocery stores and requires no extra preparation.
You may mix the caviar with mayonnaise or sriracha sauce to enhance the flavor. Some of the most popular varieties are Salmon Roe (ikura), Cod roe (ikura), Caelin roe (masago or tobiko), and Spicy pollock roe (mentaiko). Read more about masago sushi here.
Different Types of  Cooked Seafood 
If raw fish is not your thing, try out the different variations of cooked seafood that make a delicious spread for your temaki roll. Some of the popular options for cooked seafood are shrimp, unagi, octopus, imitation crab, and giant clam.
Egg Roulade (Tamagoyaki) / Spinach Tamagoyaki
Tamagoyaki is the Japanese term for a rolled omelet. It may be seasoned with dashi and sweetened with sugar. Once a compact roll is formed, it may be cut lengthwise to be used as fillings for temaki sushi roll.
Green Perilla Leaf (Shiso) 
Shiso leaf is a delicious and aromatic herb that complements the taste of raw fish and fish eggs. It is a traditional item you can find in your sushi plate or bento box.
Daikon radish sprouts
Daikon sprouts come with a hint of spice that blends with the flavor of sushi rice and other ingredients. It is capable of adding a mild flavor to your temaki sushi.
Different Types Of Fresh and Cooked Vegetables 
You can play with a plethora of vegetables and fruits to enhance the taste of your sushi spread in temaki. Some of the traditional vegetables that you may use in sushi are:
• Japanese cucumber cut lengthwise
• Ripe yet firm avocado cut into thick slices
• Japanese mountain yam (fresh nagaimo) sliced
• Pickled burdock root cut into thick slices
• Other types of non-traditional cooked (steamed or semi-boiled) vegetables include okra, asparagus, blanched snow peas, and carrots
• Lightly simmered and properly seasoned shitake mushrooms
• Several other pickled varieties such as pickled daikon radish may also be included in temaki sushi
• Simmered and seasoned shiitake mushrooms
• Pickles such as takuan (pickled daikon radish) may also be included in temaki
Non-Traditional Temaki Sushi Fillings 
If you are not a raw fish seafood fan, you may try other alternatives such as cooked and seasoned poultry and meat. Finely sliced cooked beef, pork, or chicken breast mixed with teriyaki sauce is a favorite among children.
Difference Between Hand Roll (Temaki)  And Sushi Roll (Maki)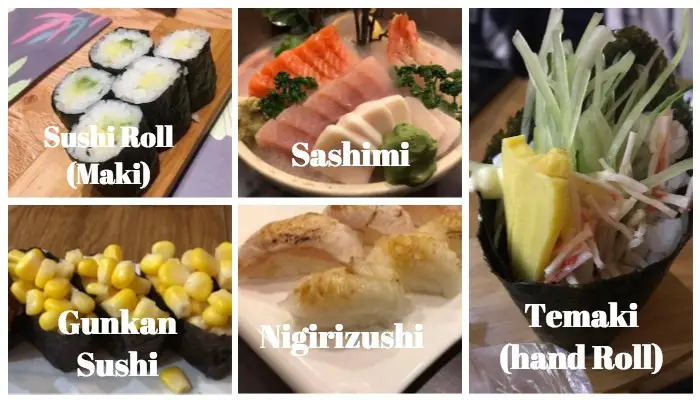 Both hand rolls and sushi rolls are popular in Japanese cuisine, and they are known as sushi. Different methods are used for preparing these types of rolls comprising of sushi rice, nori, fish, seafood, and vegetables. Sushi rice has some additives such as vinegar, sugar, and salt to enhance the taste.
Despite its similarities, there are some key differences between the hand roll and sushi roll. Let's take a look at the dissimilarities one by one.
Maki roll derives its name from maku, which means wrapping. This form of sushi usually comprises of cooked sushi rice, raw fish, seafood, vegetables, and fruits. The preferred ingredients are folded in a Nori sheet to form a compact roll that can be cut into 6-8 pieces.  It can be served to many people.
Hand roll or Temaki is the term used for wrapping ingredients (sushi rice, fish, seafood, vegetables) by hand in a Nori sheet. It is shaped like a cone and can be eaten by just one person.
Related Article:Difference Between Nigiri, Sashimi, Sushi Roll, Hand Roll, Gunkan Sushi
#1. Shape
Maki roll is a cylindrically shaped sushi formed with the help of a makisu or bamboo mat. It may be traditionally rolled in a seaweed or soy paper.
Temaki or hand roll is cone shaped, and it may be wrapped in seaweed or nori. It looks like an ice- cream. The unique shape of the two rolls plays a distinguishing factor between the two.
#2. Size
The sushi roll is usually served bite sized as the long roll is cut into 6-8 small pieces. The aspect of cutting the roll into small pieces to serve many people is another major difference between the two.
The hand roll is significantly bigger and one complete serving size. However, it is not meant to serve many people. It is designed for just one person.
#3. Types
The traditional sushi rolls are of different types such as Hosomaki, Futomaki, Chumaki, and Uramaki. They differ based on the type of ingredients used in the preparation.
There is only one type of temaki or hand roll comprising of rice, fish, meat, or vegetables. It is consumed whole, without cutting into smaller sizes.
#4. Eating method
The maki roll can be eaten with hands or chopsticks. The traditional method is to hold one bite-size piece using chopsticks, dip in sauce, and eat.
For hand roll, you don't need any chopsticks as it is eaten with bare hands. It is shaped like a big cone and meant for only one person. Chopsticks cannot be used for something you cannot eat in one bite.
If you are feeling hungry, it is always better to get a hand roll as it is enough to satisfy the hunger of one person, without the need for sharing.
Related Questions About Hand Roll Sushi
How to eat Temaki sushi?
You must eat temaki sushi using your hands just like you eat a cone ice cream.  Don't put any soy sauce on your plate. Take the temaki sushi in your hands and just touch the top part (fish, seafood, meat or vegetables) in the sauce. Don't try to wet the sushi rice or else it will fall apart. Eat temaki in 2-3 bites and then cleanse your palate with pickled ginger.
What condiments go well with Temaki Sushi?
Soy sauce is a common condiment that goes well with sushi, but it should not be used too much! Wasabi is too spicy and should be used in very small quantities. In some restaurants, temaki sushi may be served with a side of pickled vegetables to help cleanse your palate.
Why is seaweed (nori) used in temaki sushi?
This delicious vegetarian wrap is used to roll the handheld sushi and give it a shape. It adds a fresh, crisp, and aromatic flavor to the temaki roll. Seaweed beautifully complements vinegared sushi rice and raw fish/ cooked meat.
What substitute can be used instead of Nori
If you don't like the taste of Nori, you may use other substitutes that taste less like the sea. Some of the common substitutes are soybean sheets (soy paper) or rice paper. Another method of making temaki without seaweed is to use a plastic wrap to give shape to sushi rice. It is then rolled in toasted sesame seeds to add a layer to the sushi rice
Can I eat temaki sushi with dietary restrictions?
The best thing about temaki is that you can use your own choice of ingredients when making it at home. You may choose Nori that is gluten-free or try out the various Nori-substitutes. Temaki can be customized to suit the diverse requirements of vegetarian, keto, vegan, and other types of diets.
What is the correct size for nori used in temaki sushi
Temaki sushi may be shaped as large cones, medium cones or small cones. The full toasted sheets are especially available for making large sized temaki rolls. The large sheets may be cut lengthwise in half for medium size cones, and they may further be cut into quarter sizes for making smaller cones for kids. In the Asian grocery stores, you can find pre-cut nori for making hand roll sushi.
How long can sushi hand roll (temaki) last?
If the temaki contains raw fish, it should be eaten within 24 hours of preparation if refrigerated. However, if it contains cooked meat or vegetables, it can last for a day or two when refrigerated, but the Nori sheet will turn soggy and the sushi rice will lose its flavor and texture.
The hand roll sushi found at grocery stores come with a 'eat by date' which is the expiry date. Even if the store bought temaki looks good after that date, it should be tossed out to prevent risking your health.
Homemade temaki sushi can last longer if you immediately store the leftovers to the refrigerator. However, you should stick to the 24 hours mark for raw fish and seafood, and 1-2 days for cooked varieties.
Conclusion
Sushi hand rolls (temaki sushi) may not be popular as nigiri sushi or maki rolls, but they are quick to make and delicious too. You can find different variations of temaki sushi at grocery stores and supermarkets. They make a quick and satisfying meal for busy professionals on the move.
Go creative with the fillings of choice, as there are fish, seafood, vegan, and vegetarian options to cater to diverse tastes. Organize a fun temaki sushi party at home so that everyone can have a great time rolling and eating the delicious cones!