We are reader supported. When you purchase through links on our site, we may earn an affiliate commission. Also, as an Amazon affiliate, we earn from qualifying purchases.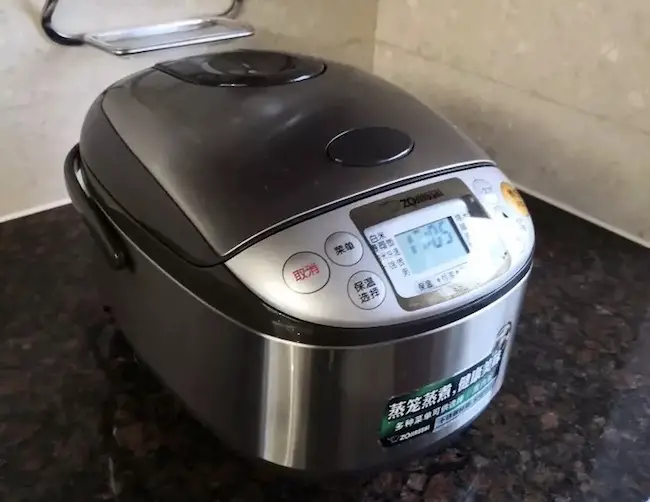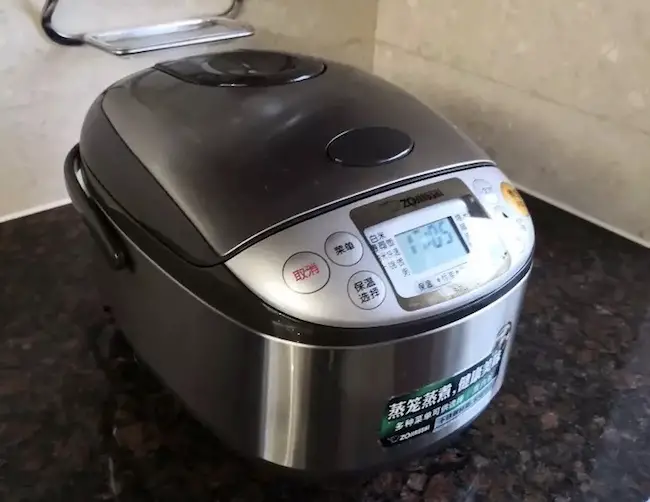 Perfectly mouthwatering sushi starts with the best quality sushi rice. It is hard to emphasize enough the importance of well-cooked rice in sushi. Although it looks pretty easy, you got to have skills and good experience in order to cook perfect sushi rice.
If you are a beginner, using a rice cooker can take the stress and guesswork out of preparing sushi rice. No more checking the grains to ensure they are well cooked. Just adjust the settings and forget them. You will have piping hot rice ready in minutes for an appetizing sushi party at home.
 Today I will share my unbiased review about the best sushi rice cooker under $200, what to look for when buying a cooker, and a few things to remember.  Read on to find details about the top sushi cookers worth buying.
Rice Cooker Comparison Chart
| | | | | |
| --- | --- | --- | --- | --- |
| Model Name | Zojirushi NS-TSC10 5 (See Details) | Zojirushi NS-ZCC18 (See Details) | Tiger Corporation JBV-A10U-W (See Details) | Zojirushi NP-NVC10 (See Details) |
| Measurement | 10.1 x 8.5 x 14 inches | 14.5 x 9.5 x 11.5 inches |  13.9 x 10.6 x 8.4 inches |  15.4 x 10.1 x 8.6 inches |
| Capacity | Up to 5.5 or 10 cups | 1.8 Liter -5.5 liter | Up to 5.5 or 10 cups | Up to 5.5 or 10 cups |
| Material Type | Stainless Steel | Stainless Steel | Plastic | Stainless Steel |
| Weight |  9.75 pounds | 10.63 pounds | 5.7 pounds | 13 pounds |
| Power | 120 volts / 610 watts (1 Lithium Metal battery needed) | 120 volts / 1,000 watts | 120 volts / 941 watts | 120 volts / 1,240 watts |
| Technology | Micro computerized Fuzzy logic technology | MICOM (Microcomputer) Technology | Tiger's Automatic Cooking Logic system | AI Fuzzy Logic Technology |
| Settings | 8 Cooking Menu settings | 8 Cooking Menu settings | 4 Cooking Menu Settings | 10 Cooking Menu Settings |
| Warranty | 1 year warranty | 1 year warranty | 1 year warranty | 1 year warranty |
| Umami setting | No | No | No | Yes |
| Extra features | Built-in retractable cord, inner lid,. Steam basket, cooking pan | Non stick pan, LCD clock, timer retractable cord | BPA free cooking plate, non-stick inner pot, steam cup | LCD control panel , Nonstick Inner Cooking Pan, Detachable Inner Lid |
| Country | Made In Japan | Made In Japan | Made In Japan | Made In Japan |
#1. Zojirushi Induction Heating Pressure Rice Cooker & Warmer
The NP-NVC10 5-1/2-cup induction pressure cooker (Learn more) from the house of Zojirushi is one of the smartest rice cookers ever designed. It is equipped with an advanced fuzzy logic technology featuring artificial intelligence that 'learns' and adjusts the settings automatically to give you perfect results. The platinum-infused non-stick walls of the cooker enable rice to absorb water quickly for better quality rice. The menu has three pressure settings and there are multiple cooking functions to help you prepare different types of rice such as sushi rice, brown rice, mixed rice, and porridge.
Pros
Steam-Reduce setting decreases the steam to 50% than the regular settings
Automatic keep warm switch keeps rice at an optimal temperature for up to 12 hours after cooking completes 
Reheat function takes only about 5-8 minutes to again warm-up the rice
LCD control panel is easy to read and comes with a clock and timer features
The inner lid can be detached and washed to keep the rice cooker clean
IH pressure heating keeps the rice soft for a long time
Umami settings allow users to prolong the soaking and cooking time for better quality rice 
Cons
The coating starts to peel off after a few months, which is a disappointment
If you lose or break a part, it's difficult to repair the cooker or get a replacement
The unit is more expensive than competitor products
Verdict
The Zojirushi NP-NVC10 is perfect for a small family that loves to eat sushi often and enjoys different varieties of rice dishes. The advanced settings and automatic features make this cooker a great buy. However, let's not forget that it is on the expensive side so it may not be suitable for those who cook rice occasionally.
---
#2. Zojirushi NS-ZCC18 10-Cup Neuro Fuzzy Rice Cooker
Yet another intelligent rice cooker from the Zojirushi stable. This Neuro Fuzzy Rice Cooker & Warmer comes with an advanced Fuzzy Logic technology that gives a mind to the cooker to think and then act. As a result, the product is able to fine-tune and make small adjustments at its end. In this cooker, you can make up to 20 cups of cooked rice in different styles – sushi rice, mixed rice, semi-brown, porridge, brown, sweet, and quick cooking. It has a thick black spherical pan with handles for even heating and a programmable melody to indicate when the cooking cycle ends.
Pros
Easily detachable and washable cooker lid to keep clean
LCD control panel with easy settings
Automatic keep warm, reheating cycle, and extended keep warm features for convenience
Stay cool side handles for safe removal of inner cooking pan
Side handles can also be folded for quick and easy transport
Rice cooks evenly, each gram comes out glossy and with the right amount of stickiness
The cooker is quiet and functions smoothly
Cons
The non-stick coating of the inner pot starts to fall off after sometime
Repairs or replacements can be tough due to lack of warranty
Verdict
If you love having sushi parties often, the Zojirushi NS-ZCC18 can be a great buy. It can cook up to 20 cups of sushi rice to cater to a small group of friends. Overall, this is an intelligent cooker with smart features and amazing settings. Not suitable for small families.
---
#3. Tiger Corporation JBV-A10U-W 5.5-Cup Micom Rice Cooker
When you want to make the perfect sushi rice within minutes, no one does it better than Micom Rice Cooker from Tiger Corporation (Learn More). Their multi-functional cooker enables you to cook rice at just the push of a button. The Automatic Cooking Logic system monitors the cooking temperature actively to prepare the perfect meal for you. Unlike other models, Tiger's cooking plate is uniquely designed to ensure that outside flavors do not impact the taste of sushi rice. This rice cooker is my favorite for the following reasons: 
Pros
An amazing syncro-cooking function 'tacook' enables users to prepare the main dish and rice together
It comes with one-push operation with four different cooking menu settings
The inner non-stick coating inner pan Includes Non-stick spatula,
The unit ships with a cooking plate, cookbook and measuring cup to use the Synchrony-cooking function
Four different settings for sushi rice, plain rice, brown rice, and synchrony cooking
Rice doesn't get too hard or dry after using the warm mode
The pot and steam tray is durable and super sturdy
Rice cooks evenly so you have full grains that taste perfect with every bite
Cons
The pot needs to be maintained with a soft sponge and warm water for cleaning
It is hard to find a replacement pot
Manufacturer's warranty covers the rice cooker only for a year
Verdict
If you wish to prepare sushi rice and steam cook the fillings (carrots, crabs, prawns, etc), this cooker can get your work done quickly. The Syncro-cooking function and specially designed non-stick plate make Tiger JBV-A10U-W my favorite choice. It is also one of the lightest rice cookers available in the market. I totally recommend sushi fans to buy this product.
---
#4. Zojirushi NS-TSC10 5-1/2-Cup (Uncooked) Micom Rice Cooker and Warmer
Zojirushi has been in the business of making durable and innovative home products for over a century. Their Micom Rice Cooker and Warmer feature the micro computerized fuzzy logic technology that enables the cooker to think and adjust your desired settings. The special functions like automatic keep warm, extended warm, and reheat makes it easier to keep rice at an optimal temperature for long. Besides the ability to cook perfect sushi rice, plain rice, and brown rice, the cooker can also be used to steam vegetables and bake cakes.
Pros
Pretty and sleek design with a lot of settings to help you prepare delicious dishes
The LCD display is easy to read and comes with timer and clock functions
It functions quietly in general, with beep signal and an interchangeable melody
The inner removable lid can be detached and cleaned for reuse
It comes with a built-in retractable power cord for easy transport and storage
Sushi rice is perfectly cooked, fluffy yet sticky, just like you get at sushi restaurants
The non-stick inner pot is easy to remove and clean. It is marked with water levels for easy measurement
Cons
The unit cannot hold the scoop or paddle even after removing the steamer basket
The water level marks are not suitable for cooking long-grain rice
Getting a replacement or repair can be tough
Verdict
The Zojirushi NS-TSC10 (Shop Now) works perfectly for small to medium family that eats rice regularly. It is slightly expensive due to advanced features and intelligent settings. If you are occasional sushi maker or rice eater, this cooker may not be worth your money. Otherwise, a good buy!
How To Choose The Right Rice Cooker (Buying Guide)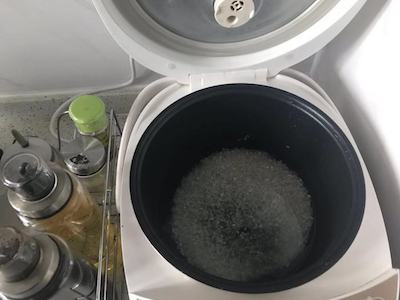 With a wide range of options available, it is important to determine what type of rice cook you are before you go ahead and place an order. Are you a student looking for a compact cooker for dorm rooms? Are you a busy parent looking for quick and easy dinner? Or, are you someone who loves making sushi but doesn't know how to cook rice in a pot.
If you eat rice occasionally, a cheap rice cooker may be enough to cater to your needs. However, if you are an ardent rice fan who consumes it daily, you may want to consider a rice cooker with extra features to help you cook rice in different styles – sweet rice, porridge or brown rice, anyone?
Another critical point to consider is how many people in the family will be eating rice. Are you a bachelor living in a dorm or apartment? Or, you have a family and need to cook rice enough for everyone? Do your friends visit you often? You will need to figure out how many cups of uncooked rice is enough for each person.
If you need to cook rice for just two people, a cooker with 10-cup capacity is not necessary and a 3-cup model should be fine
For a family comprising of 4 to 6 members, you should look for a 5-6 cups rice cooker to prepare enough cooked rice for all
If you have a large family, or friends come to your place often fora  sushi party, you may consider buying one of the 8-10 cups rice cooker
A point to remember: The rice measuring cups are not a standard size for all rice cooker models. As a result, the manufacturers advise users to use only the measuring cups provided with the packet. Some models include a measuring cup while others come with measurement marks imprinted inside the cooker.
Things To Consider When Buying A Rice Cooker
Do you have limited counter space
Some models perform a variety of other functions than just cook rice. While rice cookers typically don't take up a lot of space in the kitchen counter, if you have a small kitchen you may want a model that also serves as a slow cooker and steamer. If you live in a dorm or one-room apartment, you may use the pressurized cookers that do not release any steam.
Simple controls and easy to use:
If you are a novice in rice making, look for a model that has simple controls and is easy to use. Most of the basic rice cookers come with one-touch operation. The high-end models may come with digital controls but they should have a simple user interface for easy understanding. 
Features you may need:
The high-end models with digital controls should include a timer that can be set to switch on the cooker at a specific time so that you come home to steaming hot meal ready to serve. If you are seeking an advanced and fully featured unit, make sure it comes with quick-cook settings for the times when you have more guests pouring in and sushi rice falls short!
Automatic keep-warm settings
One of the biggest benefits of using an automatic rice cooler is that it comes with convenient keep-warm settings. You don't need to stand near the cooker or pay constant attention like in the case of a pot. The automatic keep-warm setting ensures that the rice stays warm without getting overcooked while you are busy preparing fillings for sushi.
Exterior of the cooker should be cool to touch
The outside of the rice cooker should be cool to touch and not burn your fingers when the appliance is switched on. If you wish to use the cooker directly for serving, make sure the handles stay cool and provide a good grip.
Retractable built-in power cord
Make sure the rice cooker includes a retractable or removable power cord. This is an essential feature to make it easier to store the rice cooker. It enables you to convert the cooker into a portable server without having to carry the cord with you everywhere.
 Detachable and washable inner lid
Most of the rice cooker comes with a detachable lid that is hinged on one side. While it is convenient for one-handed use, it is difficult to clean. So, look for a cooker that comes with a detachable lid for easy cleanup and removal of residues.
Easy to wash the inner pot
Regardless of how expensive or cheap your cooker is, it should include an easy to remove and wash non-stick inner pot. The benefit of using non-stick material is that the rice does not stick to the surface and there's no chance of burning.
Most inner bowls or pots can be easily cleaned using a sponge, warm water, and soap. Some of the pots are also dishwasher-safe. The microwaveable rice cookers made of plastic can be cleaned by keeping them on top of the dishwasher rack. Some cooker models come with stainless-steel inserts that are more durable in nature but harder to maintain.
How many cups do you want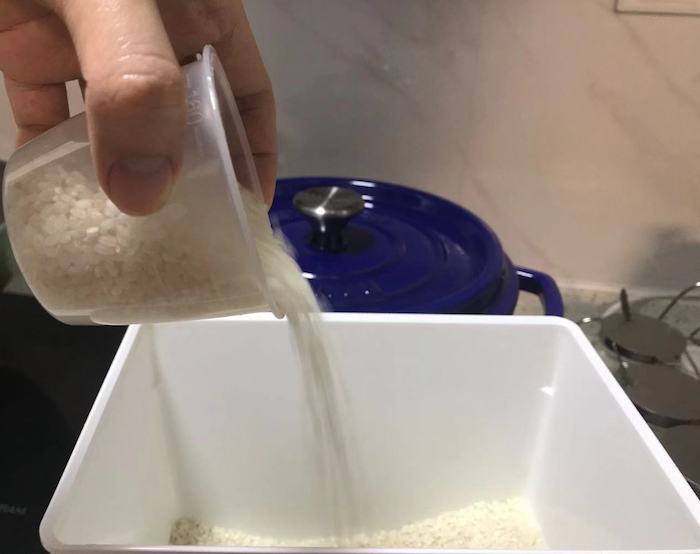 The type of rice cooker model you buy should also depend on the number of cups you wish to make at one time. If you are buying a rice cooker to make sushi, you will need a capacity of at least 1-2 cups of uncooked rice for 2 people and 2-3 cups for 4 people. For more information, read this article.
What Are The Different Options Of Rice Cooker Available
When you are in the market looking for a rice cooker, it is natural to feel overwhelmed by the different options available. I have listed the different options and features to help you make an informed buying decision.
Conventional rice cooker
The basic rice cooker is made up of four different components – outer body, inner cooking bowl, heating plate at the bottom, and thermal sensing device at the center. To cook rice in a conventional rice cooker, you simply need to put the measured amount of uncooked rice and water in the inner cooking pan and switch on the appliance. 
The heating plate helps in bringing the water to boil and when all water is absorbed, and rice is cooked, the machine shuts off automatically.
On/Off Cookers
This is one of the least expensive rice cookers, yet they are highly flexible as the unit shuts off automatically. There's no light to indicate that the rice is cooked. The on/off switch of the cooker simply flips to the off-position when the cooking process completes.
These basic units don't come with a non-stick steamer or pan, but if you just want to cook regular rice, they do a good job and cost less than $20.
Cook and Keep Warm Cooker
These cookers not only cook rice but also maintain an optimal 'warm' temperature (the duration may vary from model to model). To shut off the cooker, you will need to unplug it completely. They are one of the most flexible cookers available at an affordable range – $40 to $70. Features may include steamer baskets, non-stick pan, and so on.
Electronic Cook and Keep Warm Cooker
These electric cookers come with a sensor that is able to keep rice warm for up to 12 hours. These units may be slightly expensive but if everyone in the family eats rice daily then this is a good investment. Price starts from $100.
Fuzzy logic
These technically advanced units are also known as Micom or micro computerized cooker. They contain a microchip at the base to sense the type of grain used and the time the clock accordingly. Instead of simply turning off the cooker, artificial intelligence makes small adjustments throughout the cooking process 
Induction Heating Rice Cookers
These induction rice cookers are high-end models that can easily compensate for any type of measuring error. The induction heats up the entire pan instead of just heating the bottom part of the rice cooker.
The magnetic coils located at the bottom of the cooker create a kind of magnetic field that makes the cooker work like a conventional induction hob. The inner cooking pot features a stainless steel exterior and when the cooker is turned on, the magnetic field heats up the pan quickly.
Multi-Tasking Rice Cooker
If you are an avid rice eater and wish to use your cooker to prepare sushi fillings and other dishes, you may check out the multi-tasking devices. These cookers are capable of cooking a variety of other dishes such as couscous and pulses. Most models will include a steam tray to steam meat, fish, poultry, and vegetables.
Related Questions
How to make sushi rice in a rice cooker
Although different models come with different features and settings, the most common method is to measure rice and the amount of water to be added. Follow the manual and the watermark inside the inner pot for guidance. Switch on the appliance and use your preferred setting to cook perfect rice every time. For more details on how to prepare sushi rice in a cooker, read this article.
What are the main differences between an expensive rice cooker and a cheap one?
The most important aspect that differentiates the two is known as 'fuzzy logic'. The expensive models come with automatic technology that cooks perfect rice without any manual control. Fuzzy logic enables the rice cooker to sense and make suitable adjustments depending on the type of grain, its age consistency, and hardness. 
Why are Japanese rice cookers so expensive?
Rice is the staple food of the Japanese, hence they are particular about it. The Japanese rice cookers are of premium quality and people visiting Japan often bring cookers as gifts and souvenirs. As sushi is a traditional delicacy that involves making rice, you can find a plethora of settings in a Japanese cooker to help you make perfect sushi rice every time.
Why is the  Zojirushi cooker so expensive?
Zojirushi is a trusted company that has been around for more than 100 years. Their high-end rice cookers contain a computer chip that is capable of regulating the cooking temperature to give you perfectly rice every time. It incorporates artificial intelligence and automated features to make more advanced cookers than i competitors.
Is buying a Zojirushi worth the money? Why?
Although the Zojirushi rice cookers are expensive, they are durable, easy to use, and last for long. It does much more than just cook plain rice and brown rice. Numerous settings in a Zojirushi cooker allow you to cooker different types of grains and make various dishes like porridge, cake, and sweet rice.
If you only plan to cook regular rice and don't require the advanced features, a Zojirushi cooker may not be worth your money.
What makes Zojirushi rice cookers different from others?
The Zojirushi rice cookers come equipped with intelligent technology to sense and adjust settings. They can be used to make regular rice, soft rice, hard rice, and so on. Some models also come with umami settings and you get perfectly cooked rice every time. The cookers are also easy to use and clean.
Why tiger rice cooker is my favorite?
Tiger cooker is easy to use and sports a compact size so it doesn't take up a lot of counter space. What I love best about it is the synchronized cooking that allows users to cook rice and a secondary dish at the same time. I can make sushi rice and steam prawn at the same time to use as fillings for my sushi rolls. It also comes with a slow cooker function and a plethora of other features.