We are reader supported. When you purchase through links on our site, we may earn an affiliate commission. Also, as an Amazon affiliate, we earn from qualifying purchases.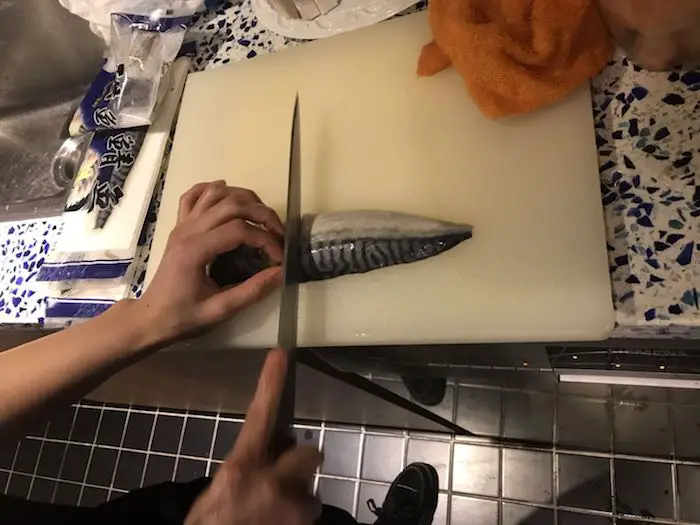 Gyuto or Gyutou is a Japanese term that means 'beef sword' because it was originally designed for that purpose. Known as the Japanese equivalent to the Western chef's knife, the Gyuto is the marriage of western design with Japanese steel. It is an ah-mazing combination and useful addition to any kitchen to help you cut or slice meat, fish, and veggies with pleasure.
If you love calling yourself a self-proclaimed home chef, you must have this item in your kitchen. A gyuto knife sports a Western-style blade and a sharp, narrow tip for quick chopping, hence it saves a lot of time. This style of knife is so popular that you will find a plethora of different models from different brands to choose from.
I have created a list of some of the best gyuto knives under budget and after that, I will share with you a quick buying guide to help you make the right choice. So, grab a cup of Joe and let's get started.
This VG10 Japanese gyuto knife from the house of Okami is made of high-quality stainless steel material and it sports a high level of craftsmanship that will be an asset for years to come. The ergonomic design of the knife ensures that there's no stress on the wrists or numbness on fingers.
The knife comes with a stylish pakkawood handle and a blade that is not only extremely sharp but also light when compared to the German counterpart. Besides helping you with mincing, slicing, dicing, and chopping, this go-to-knife simplifies your task and improves efficiency.
Pros
This is a solid knife feels sturdy and you feel more in control with the weight
The knife comes well packaged with magnetic attachments and protective covers to ensure that it does not slip
The ergonomic design of the handle complements people with smaller hands
The blades are extremely sharp but they tend to lose sharpness over time, so make sure you have a whetstone to sharpen it occasionally
Good for both beginners and professionals. It also serves as a great gift item.
The customer service is great and they offer a quick replacement for genuine issues
Cons
The blade may disintegrate after you use the Okami sharpener to restore the sharpness
The steel needs good maintenance or else it can develop rust
---
Wish to feel like a samurai in your kitchen? The specialty of Enso Chef's Knife (see details) is that it has been exquisitely handcrafted in Seki City. This Japanese knife features an 8-inch blade made from high quality 37-layer stainless steel Damascus.
The VG-10 steel cutting core provides a great degree of edge retention. It weighs only about 7.9 ounces which makes it lightweight enough to work for long hours without hurting your wrist. The unique design makes it perfect to slice, dice, and chop a wide range of fruits, vegetables, and so on
Pros
The double bevel edge with 12° cutting angle makes it perfect to hold in both right and left-hand
The black canvas with bolster and stainless steel rivets feels sturdy and gives a sophisticated look to the product
The full-tang handle construction provides strength, durability, and balance to the knife
Built in the Seki city, these knives are beautifully designed to fit a wide range of lifestyles
It delivers an amazing cutting performance and lets you make very fine slices of tomato
The knife feels comfortable to hold and well-balanced to use
The manufacturer stands behind the product and offers a lifetime warranty against any defects
Cons
The handle design could be improved and engineered for better performance.
---
This versatile gyuto chef's knife comes from the family of Yoshihiro Cutlery, a reputed company that specializes in producing handcrafted Japanese knives. The VG-10 series knives feature blades that are forged and hammered with 16 layers of high-quality steel following the Damascus tradition and complemented with a Mahagony handle.
Their Damascus Series has topped the charts for being the best in beauty, performance, and value. Yoshihiro's Gyuto Knife does a great job at slicing, dicing, and chopping fresh vegetables and fruits to raw meat and roasted chicken. You must only hand wash the knife and sharpen it using a whetstone to make it last for years to come.
Pros
It is a great knife for beginner level chefs and delivers a decent performance 
It is 100% handcrafted by the professional Japanese tradesmen who are masters in their art
The knife is ready to use out of the box
The knife has excellent hardness, which means that the cutting edge can be thinner and sharper
The hard steel is covered with a softer Damascus steel to ass added durability and toughness
The blade has a hammered texture that eliminates friction and prevents food from sticking to the blade
The handmade Mahogany handle extends to the full tang of the knife and gives a good balance to the hand
Cons
Small food particles may get stuck in the thin gap between wood and metal in the handle.
---
This Shogun Series Gyuto knife (learn more) is an amazing reflection of the Dalstrong culinary revolution that combines cutting-edge technology and award-winning craftsmanship. The manufacturer has used the finest materials available and molded them in the most awe-inspiring design to deliver outstanding performance at a reasonable price.
The sharp edge is handcrafted using the traditional Honbazuke method to give it a mirror-like finish. The knife features a full-tang for sturdiness and is triple-riveted to give more durability to the product.
Pros
Vacuum-treated Japanese cutting core featuring a 62+ Rockwell hardness
It has 66 premium layers made of high-carbon stainless steel material for strength
The G-10 handle is made of military-grade material for enhanced durability
The ergonomic shape of the handle provides more comfort and agility to the chef
The manufacturer stands behind the product with a promise of 100% money-back guarantee and lifetime warranty
The rust and corrosion cladding ensures that the knife will last for a long time
You can slice, dice, and chop for hours without straining your wrist
Cons
The case that holds the knife looks cheap and not worthy for a knife of this quality
---
This is yet another amazing Gyuto Japanese chef knife from the house of Yoshihiro and it features a curved blade that slices vegetables, fish, and meat like butter. This attractive looking beef-sword is forged and hammered with 46 layers of Damascus steel.
The knife comes outfitted with a traditional handcrafted Octagonal Handle and includes a protective wooden sheath. The hammered texture of the Yoshihiro knife blade removes friction and prevents the food from sticking. Each Yoshihiro knife is beautifully handcrafted to present a beautiful work of art. 
Pros
Both left-handed and right-handed users can use the knife with ease
The knife is lightweight and looks great while working in the kitchen
It is easy to sharpen the blades of the knife and it holds the edges well
It is balanced beautifully and you can slice and dice all day without hurting your wrists
It delivers great value at a reasonable price
Cons
The blade is extremely thin and can be damaged easily
---
Best Gryuto Knife Buying Guide
When you are in the market to buy a gyuto Japanese knife, you would want the best model that suits your needs and performs like a dream. In this buying guide, we will discuss a few important things that you need to consider to ensure that you get the best gyuto knife under $200.
Determine your budget
Needless to say, the Japanese knives are not cheap and reasonably so because they are handcrafted by professionals and made from the finest quality materials. Whether you are a beginner or a professional, you need a Japanese knife in your arsenal to help you with vegetable/ meat cutting, dicing, and slicing. While the prices can go above $300 for high-end exclusive gyuto knives, you can get a decent one for less than $200.
Which material is better
The type of knife and the material you should get depends on how well you plan to maintain it. So, should you get stainless steel or a carbon steel blade? Most of the Japanese gyuto knives are made of either stainless steel or carbon steel (or both). Each has its own set of advantages and disadvantages that I have mentioned below:

Stainless steel
Advantage: Stainless steel works best for the average home cook as the material is easier to maintain and take care of. It resists discoloration and rusting better than carbon steel material.
Disadvantage: It is hard to sharpen knives made of stainless steel blades, so you may need to take it to a professional when it becomes blunt.
Carbon Steel
Advantages: Carbon steel tends to have sharper edges and they stay sharp for longer. Furthermore, they are easier to sharpen at home.
Disadvantages: They need more care, so the maintenance is high. Knives made of carbon steel needs to be wiped with a clean cloth and dried after use to prevent rusting and discoloration.
Carbon steel stainless clad
The third option for the material is a carbon steel knife with a stainless steel coating. Many chefs prefer it more than the first two options because it gives you the sharpness of carbon steel and protection of stainless steel. The exposed edges of the knife require maintenance similar to the carbon steel blades, however, there is less area to get rust or discolor.
In my opinion, serious cooks must opt for a carbon steel knife as it makes sharper cuts like a dream. If you are okay with putting some extra effort for maintenance, this is good to go.
The stainless steel knives are a good option for those who are unsure about opting for a full carbon steel knife. If you are like me who prefers simple things, the stainless steel gyuto knife is your best bet.
Why is body size important?
You may wonder what role does body size play in choosing a kitchen knife. Well, the ideal knife is the one that feels right in your hands. A knife that is great for your friend may not be as comfortable for you and the reason is different body types.
For example, if you have smaller hands, a knife with large blades may not feel comfortable. You might want to get one with a smaller blade.
What type of cook are you?
The type of knife you buy will also highly depend on the type of cook you are. If you enjoy cooking different types of cuisines (that includes fish, meat, vegetables seafood, etc) a versatile knife like the Gyuto is a must-have in your kitchen arsenal.
However, if you are a vegetarian who mostly cooks vegetables, you may want to look for a knife that is specially designed to chop vegetables finely. 
Determining the knife size
A typical chef's knife is 8-to 8.5-inches and works great for all types of tasks, however, you may also find knives longer than the standard size. So, how would you choose the right size for you? If you are a beginner, I would suggest that you start with an 8-inch blade knife and then opt for a longer one if you feel the need to.
What does tang refer to?
When looking for a Japanese gyuto knife, you will frequently come across the term 'tang' which refers to the method in which the blade is attached to the knife handle. You will then need to choose between a push tang or full tang.
A full tang is when the knife blade runs through the entire length of the handle. This is considered as an indicator of quality because a poorly made knife can easily come loose from the handle. The high-end knives, on the other hand, have a superior quality tang.
Thus, when buying a Japanese knife, you need to pay attention to the tang of a knife because it is designed differently. The handle and blade are welded together to form one piece.  
What type of handle is the best?
Japanese knives are usually made of high-quality wood that gives a good grip to your hands. Unlike the western knives fitted with plastic handles, it does not become slippery when wet. The wood used for crafting the handles are porous and fine-grained to improve the shape and provide a good grip. The most common shapes used for handles are octagon and chestnut (shaped like 'D').
What does cladding refer to?
Cladding usually refers to a knife blade that is wrapped/ layered in a second type of metal. For example, a knife made of carbon steel, wrapped in stainless steel. These styles of knives are easier to maintain than the full carbon steel ones. Several knives are clad in a style known as Suminagashi or Damascus.
Not all types of cladding are treated as equal, hence you may want to know the different layers and types of metals used for cladding. While most of the Japanese knives have 3 layers, the high-end ones may comprise of as many as 60 layers or even more!
More layers provide enhanced strength and agility to the knives. So if you want the highest quality knife, remember to check the layers. You can find the information provided in the specs section of the products.
Where is it made?
If you are looking to buy a Japanese knife, you must ensure that the product is made in Japan in the traditional way. Some brands call themselves Japanese knives but they are made in some other countries. So, make sure you check the country of origin before buying a product.
Differences Between Western Knives and Japanese Knives
If you have already decided to buy a Japanese knife, you probably know the difference between the two. For those who are unsure, I will quickly go over the differences. To begin with, let's bear in mind that the Japanese knife makers take the art of knife making seriously and they spend their lives perfecting that specialized craft that requires a high level of precision and skills.
Many Japanese brands have started producing Western-style knives these days so you need to bear the differences in mind.
# Hardness
The level of hardness is one of the biggest differences between the two. The Japanese knives are harder as they are made of high-quality steel that have a narrow edge and about 15-degree angle or even less. The hardness enables the knife to hold to the sharp edges for longer.
Western knives usually feature soft blades that have the tendency to fold or bend with slight pressure. They also require more sharpening and honing, and this eventually leads to a short life span. Ideally, you may use a whetstone to improve the sharpness of knives.
Hardness in Japanese knives also brings some disadvantages, making them extremely brittle. If you have the habit of dropping your knife in the sink, the blade can easily get chipped off. You also can not use your Japanese knife to cut bones like a Western knife.
#Bevel
Unlike western knives, most Japanese ones have a symmetrical bevel, which means that they are sharp only on one side. This could pose a problem for the left-handed users hence you may want to check the type of edge to ensure that the cutting-edge is on the right.
When buying a single-edged knife, you will need to consider this aspect in the model you wish to purchase. Japanese knives often have an edge of 15-degrees or even less, while the Western styles rarely go less than 18-degree edge.
# Weight
As the Japanese knives are harder than their western counterpart, they can be built thinner and lighter. If you are looking for a light chef knife that can slice and dice with little effort, a Japanese knife will suit your needs.
Western knives tend to be bulkier and heavier than their Japanese counterparts. The weight of western knives applies pressure while cutting while the Japanese knives don't need any pressure to cut.
 Tips For Maintaining Your Japanese Gyuto Knife
#1. Hone your knife only when necessary
Some food experts may often tell you to hone your knife every time you take it out for use, however, this advice may not always be right. Honing definitely helps in re-aligning the edge but anything more than a few light strokes can turn out to be bad for your knife's longevity.
Honing more than necessary may cause fatigue, resulting in steel not being able to hold on to the edges. As a result, the soft steel knives should be honed only when needed. The gyutos are made of hard steel and they should not be honed on a steel rod. Hardness makes the blade brittle and if it hits a bone or something similar, it can cause small chips.
#2. Sharpening your knife the right way
Sharpening the asymmetric knife needs extra care and the angles may vary if you follow the bevel. I suggest creating a mark on the bevel with a marker to ensure that you abrade at the right angle. Try to not go too high, too low, or behind the edge of the blade.
If you don't know the right method to sharpen your gyuto knife, I would recommend that you let a professional do it for you.
#3. Taking care of the geometry
The forged knives tend to be thicker at the spine and this is how it works. If you try to sharpen the blade without thinning, the edge will move towards the spine and the knife will become thicker. To maintain the right geometry and performance of the knife, you must take the knife to the stone at a low angle to make it thinner behind the edge.
Some people may choose to let their knives be thick and do the thinning once in a while. I prefer to thin my knife a bit every time while sharpening. However, bear in mind that the process takes some metal off the blade and you cannot put it back. If the knife becomes thinner than intended for this type of model, the edge retention may suffer.
# Taking care of the wooden handles
The Japanese gyuto knife comes with wooden handles that need to oiled using mineral oil like this, especially if they comprise of raw and unfinished wood. I recommend using a homemade butter using high- grade mineral oil and food safe beeswax to create water resistance. It also works great for wooden bowls, cutting boards, etc.
Related Questions
What's the difference between a gyuto chef's knife and a sujihiki slicer?
The sujihiki slicer is thinner and longer than a gyuto. The Japanese gyuto is a multipurpose knife, which works great for a plethora of tasks such as cutting vegetables, cutting meat, fish and so on. A sujihiki is to a practical knife due to its length and it is used for making long strokes. It is used for slicing fish, cakes, meats, terrines, and pates
Is it necessary for a good knife to have a sharp initial edge?
While a sharp initial edge improves the quality of the knife, it should not be the only deciding factor when buying a knife. You may find a knife that has an impressive initial edge but the edge retention may suffer. So, aim at buying a product that has a balance of both.
Are the Japanese knives are well balanced?
Both traditional and western-inspired Japanese knives are lighter and well balanced than their western and German counterparts. Some chefs prefer the weight of a western knife in their hands but remember that this can be uncomfortable for beginners. A well-balanced knife gives you a good grip and cuts like a breeze without straining your wrist.
Related Article:
How To Cut Sushi Rolls?
9 Best Japanese Knife Sets to Buy
Sakai Takayuki Knives Reviews – 5 Favorites
5 Best Sushi Knife For Cutting Rolls