We are reader supported. When you purchase through links on our site, we may earn an affiliate commission. Also, as an Amazon affiliate, we earn from qualifying purchases.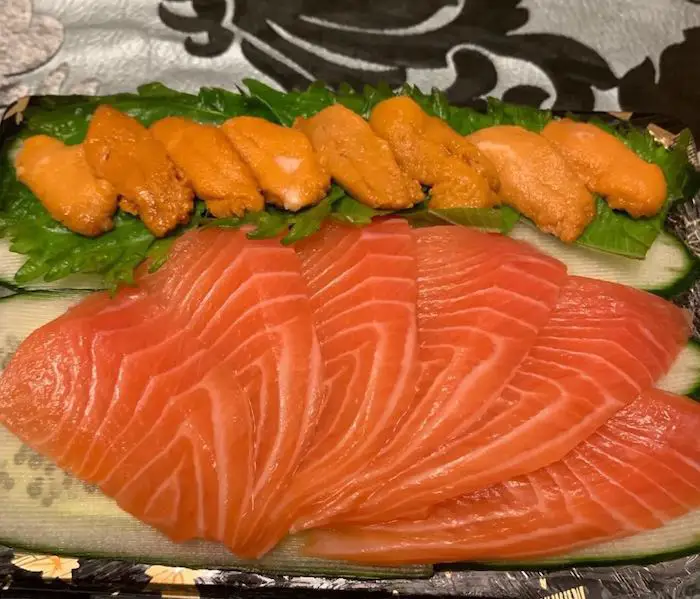 If you are a lover of Asian cuisine like me, you probably know the importance of aromatic herbs and spices. I feel amazed by their power to transform any dish and take it to the height of culinary excellence. In Sushi, oba and sisho leaves play a pivotal role in bringing out that nostalgic aroma.
So, what is Oba in sushi? The term is used to refer to Aojiso (perilla), a refreshingly aromatic herb belonging to the mint family. Besides adding flavor, this significant ingredient prevents the risk of food poisoning caused by eating raw fish. When shipping Aojiso, Oba was used as a product name but now it is the widely accepted generic name.
Oba stands out for its unique flavor and fragrance that adds more character to food. In Japan, oba plays an important supporting role in a wide variety of delicacies including sushi and sashimi.
Besides being used as a garnish, it can also be enjoyed in various other ways at the dinner table. For example, it serves as an excellent condiment to Somen noodles and an ingredient for tempura. Read on to know more about Oba.
Why Is Oba Served With Sushi
The primary reasons why Oba is used as a garnish in sushi are its antiseptic and disinfectant properties. It is known to have antibacterial effects, so it is served with sushi to prevent food poisoning. It also has a unique and refreshing aroma that helps in boosting appetite
If you like the aroma and taste of Oba, you can be creative and use it in numerous other ways and not just as a garnish or condiment.
Where Can You Find Oba (Perilla)
If you live in a big Asian community, you may have seen old women selling their produce on the roadside. They stand in the sun and sell their produce at cheap prices throughout the day. Alternatively, if you have an Asian grocery store near you, check the herbs section to find perilla leaves.
If you visit a Korean grocery store, you will find them labeled as sesame leaves. While I don't know the reason why they call Oba as 'sesame leaves', but it's a fact that they do.
What Does Oba Look And Taste Like
Perilla is an indigenous herb native to eastern Asia but it has become naturalized to southeastern damp woodlands of the United States. The plant looks attractive with square deep purple color stems and reddish-purple leaves. The leaves are hairy and ovate, with curly or ruffled edges. The large red leaves may look like a raw slice of beef, as a result, it is often known as the 'beefsteak' plant.
Perrilla has a grassy flavor with notes of licorice or anise, which is pleasant to taste like any other Asian herb. Their big size is a real advantage as you can do lots more than just chop them and use as a garnish.
How To Use Oba In Sushi
To use Oba, you will first need to wash and wipe dry each leaf to ensure that the shreds are easily separated for garnish. To shred the green perilla leaves, it is important to follow the right direction. You may place the Oba with stems horizontally towards you, then roll up the leaves, and start shredding.
Besides being used as a garnish in various dishes, Perilla leaves can also be stir-fried with other veggies and garlic. It may also be deep-fried in a batter made of eggs and flour, or marinated/ pickled or used as wrappers.
One of my favorite uses of perilla leaves is to marinate them in a mixture of sesame oil, soy sauce, garlic, vinegar, and Korean chili powder. It results in a placidly pickled side dish that is easy to prepare and tastes as good as kimchi.
To further give you an idea of how to use Oba in sushi, let's take a look at this appetizing gimbap rolls (Korean delicacy). Although this is not a real sushi, it is prepared like a futomaki roll. The recipe can use the leftover rice from last night and simple ingredients from the kitchen.
The Gimbap, also pronounced as Kimbap, means 'laver and rice'. It is loaded with a variety of delicious fillings and rolled up to form a Futomaki sushi roll. The roll not only tastes great but also looks amazing when served. Let's take a quick look at the recipe.
What you will need:
Cooked and seasoned short-grain Japanese sushi rice
1 carrot julienned and toasted with 1/4 tsp salt and sesame seeds
4 thoroughly washed big spinach leaves
200 grams tuna (1 can of tuna) 1 1/2 tbsp gochujang
3 large eggs with 1 tsp sugar, 1/8 tsp salt, and 1/2 tsp oil
4 sheets of gim or Korean nori
3 tablespoons of sesame oil
8 Oba leaves or Korean perilla
Yellow pickled radish or Danmuji (cut into sticks)
Instructions:
To start with, you will need to make sushi rice and season it with vinegar, sugar, and salt. Read this article to find step by step instructions on how to cook sushi rice in cooker and pot.
Take a bowl and put the julienned carrot strips and sprinkle salt over it. Massage in your hands and let it sit for a while.
Bring a pot of water to boil and then add the spinach leaves (root first). Let them submerge completely and let water boil again. Drain and wash with cold water. Squeeze out any excess water. Trim the roots.
To prepare tuna, drain the excess water and put it in a bowl. Add gochujang and stir to mix it evenly and then keep it aside.
Take a bowl and whisk all eggs, sugar, and salt to make an even mixture. Heat oil in a non-stick pan over medium heat and pour enough egg mixture to cover the pan. Use a spatula to roll the egg when it starts to cook. Let it cool before you make slices.
Squeeze out water from marinated carrots and add one-teaspoon sesame oil and a half teaspoon of toasted sesame seeds to the bowl.
Put a sheet of gim or Korean Nori on the working surface (rough side up) on a bamboo mat and brush it with some sesame oil.
Wet your fingers and take a medium ball of rice to prevent the rice from sticking to your fingers. Spread rice evenly over the gim, pressing gently with your fingertips.
Now, add the fillings (Oba leaf, spinach, carrots, tuna, and egg omelet slices). Start rolling by lifting the bamboo mat from one end. Press gently as you roll to form a compact shape.
Take a sharp knife, moisten the blade and cut 8 equal slices of the sushi roll. Serve with soy sauce and pickled ginger.
How To Marinade Oba Leaves
If you are not a fan of raw Oba leaves, you may marinade them to add more flavor and aroma. The marinated leaves can be used in a wide range of cuisines. They also taste really good with sushi and sashimi. Here is a quick recipe to show you how to marinade the Oba leaves.
What you will need:
20 Oba Leaves wiped dry and cleaned
For the marinade mix:
3 tbsp of Korean chili powder
1 tsp soy sauce
2 tsp finely minced garlic
1/2 tsp sugar
1/2 cup rice vinegar
1 tbsp anchovy stock, water, or dashi
Instructions:
First, wash and wipe dry the Oba leaves. Next, take a bowl and mix all the marinade items. Add more stock if needed to make a smoother consistency.
Take a container with the lid and lay an Oba leaf at the bottom. Add a spoonful of the marinade mixture and spread it evenly over the leaf.
Layer another leaf on the top and again spread the marinade mixture. Keep repeating this step until all the leaves are covered with the marinade mix.
Close the lid and store the container in the refrigerator for at least two hours or up to 2 weeks. You may then use these pickled Oba leaves as sushi ingredients or eat them as a side dish with plain rice.
Related Questions
What is the difference between Oba and Shiso leaves
They are both different species of plants belonging to the mint family. They are both served with sushi and sashimi (see the difference). Oba leaves are preferred by the Koreans while the Shiso leaves are more prevalent in Japanese cuisine.
The Shiso leaves are smaller and mintier than the rounded and broad perilla leaves that are favored in the Korean cuisine.
Are Oba leaves red or green
The Oba leaves may be green or red in color. The red ones usually have an anise flavor while the green variety tastes spicier like cinnamon. The leaves are gorgeous and they not only enhance the flavor but also the appearance of the food.
Which type of Oba leaves are used in sushi
The green perilla leaves are used to wrap around sushi rolls or garnish sashimi to enhance flavor and prevent food poisoning. They may also be added to tempura, soups, or rice.