We are reader supported. When you purchase through links on our site, we may earn an affiliate commission. Also, as an Amazon affiliate, we earn from qualifying purchases.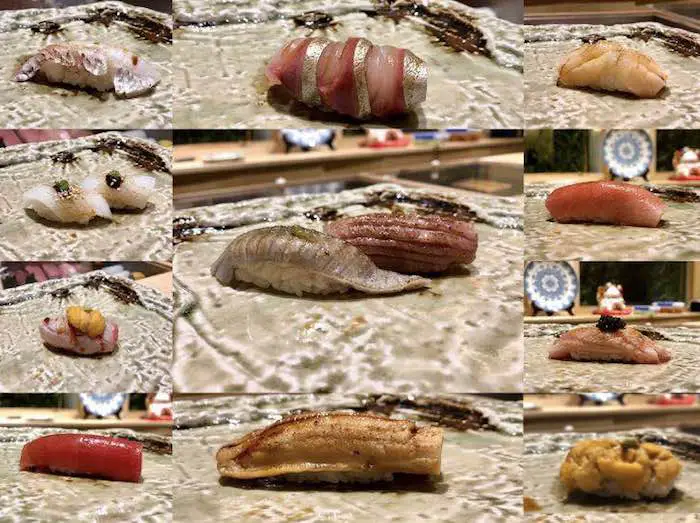 What comes to your mind when someone says Japanese food? I am sure most people will envision a delicious lump of rice topped with raw or cooked seafood. No wonder sushi is one of the most popular and widely accepted Japanese cuisines around the world. But, then what is omakase sushi?
If you are new to the sushi experience, you have probably not heard about omakase before. There are few formal styles of dining experiences that can be as exciting or intimidating as omakase. A short form for omakase shimasu, it is a Japanese term that can be roughly translated to "I leave it up to you" or 'I trust the chef'.
When you choose to do omakase sushi, you let the chef decide when you will eat instead of ordering from a menu. It is when the guests put their trust completely on the chef to serve a meal that is creative, seasonal and made from the finest ingredients. It is an experience to remember for the guests.
Key Aspects Of An Omakase Sushi Experience
There are many things that make an Omakase sushi more enjoyable and memorable than a traditional meal or ordering off the menu.  In several ways, this is a spiritual companion to the more elaborate multi-course meal called kaiseki. Here are some key elements that form the soul of Omakase:
A menuless dining
In a restaurant that only serves omakase sushi, you will usually not find a menu. In other places, there might a be menu for those who prefer the sit-down and order style. So, you may often wonder what is the menu for omakase?
While there's never a set list of what will follow in the omakase menu, the chef usually goes by what is freshest and what complements each other. In fact, each omakase meal is a different experience not just for the guest but also for the itamae.
If the guest is a repeat customer who the chef knows well, the menu will usually comprise of a mix of old favorites with new creations that are in-season. For guests the itamae has just met, it provides them the opportunity to display their best culinary skills and give a unique experience.
Trusting the itamae (chef)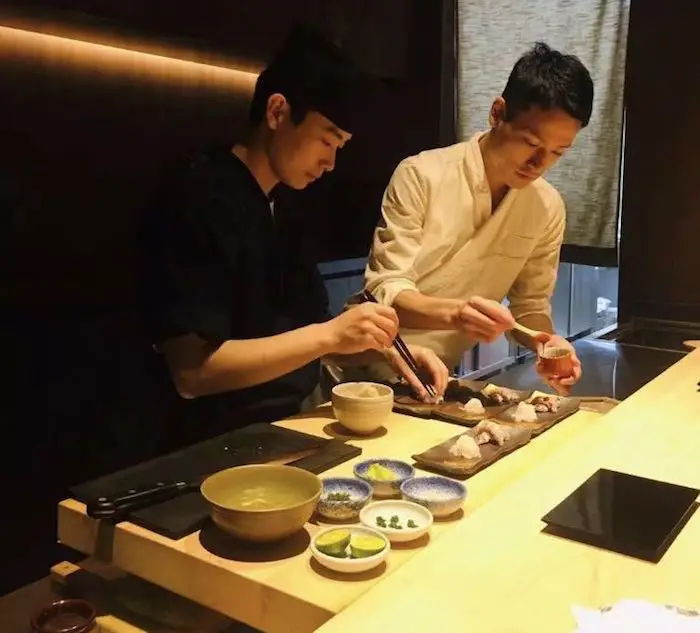 As you walk into a sushi bar and request for an omakase, you decide to completely trust the itamae to create a memorable dining experience for you. You choose to trust his skills, sense of judgment, and the finest ingredients available to him.
By trusting, it does not mean that you don't care about what is put on your plate. Instead, you put all your trust in the chef to serve you a satisfying meal. The chefs, on the other hand, use his past experience with the customer (if he knows him) to prepare a great dining experience. He also goes by what would taste best at that moment.
If a guest is new, the chef goes by the reaction to learn about what he likes and what he does not. It's like an enjoyable rollercoaster ride where you may come across some brilliant, good and some not-so-good creations. But at the end of it, the experience counts and the guests usually feel elated with such a personalized dining experience.
The price factor
Similar to any personalized service, Omakase sushi also tends to be on the higher price range for most Japanese restaurants. According to a reputed magazine, you need to spend a minimum of $100 per person for omakase. The reason behind this is that most restaurants serving omakase have limited seating and high demand so getting a reservation is difficult.
Fortunately, there are some cheaper options available where you can find varying prices for high-quality omakase in New York City. In some areas, omakase sushi may be less than $40. While restaurants offering affordable omakase have cropped up in recent years, they are often too busy or tough to find.
Conversation With Chef
You may have had a tiring day or you may be tempted to just sit quietly and allow the chef to serve you with his creations. However, this is not the right code of conduct. Talk to your chef and let him know that you appreciate his efforts.
Learn a little more about the delicacies as you enjoy them and allow the chef to know your tastes better so that he can prepare a more customized meal for you next time. When the meal comes to an end, express your heartfelt thanks.
Give him a friendly gesture and share a cup of Japanese beer together to express your appreciation. This pays much more than giving tips to the chef. Your kind gesture will be remembered and the chef will be more enthusiastic in serving you when you visit next.
Related Article: How Much Do Sushi Chefs Make In Japan?
Omakase Dining Is More Of A Memorable Experience
An Omakase meal is not just about food but the wholesome experience you have at the restaurant. Most of the high-end sushi bars doing an omakase will have light and relaxing ambiance where the guests can feel at ease. The chef is welcoming and friendly towards the guests.
While enjoying your experience, there's no pressure to speak in a louder voice to make yourself heard. You also do not have to rush while eating because the chef will match your pace and leave no stone unturned to give you a wonderful dining experience.
The different varieties of sushi and drinks served by the chef will depend upon the availability of fresh and seasonal ingredients. The seafood and veggies are mostly crisp and fresh as the restaurants get a regular supply straight from the trusted fish sellers and the farm.
The Tsukiji market in Tokyo is one of the world's most popular wholesale seafood and fish market and Japanese restaurants from around the world get their supply from here. Thus, the restaurants take extreme care to ensure that the most authentic and finest ingredients are used n preparing your meal.
Knowing How To Order Omakase In Japan
When a restaurant has 'Omakase sushi' as an option, it usually serves its best creations made of the finest and freshest ingredients. Ordering omakase style dining is considered as a note of respect and compliment to the chef because you are trusting his choices.
To keep up your trust in him, the itamae will present you with the most special creations. He will offer nigiris that are most popular and highly prized. If you are a regular customer, the chef may personalize your dinner based on what he knows you will like.
In some restaurants, an Omakase may be the same for everyone, hence they do not offer a personalized experience. The menu may, however, vary depending on what is available and in-season.
To order an Omakase, walk into a restaurant, greet the chef, and politely inquire if they offer Omakase sushi. If they do, request for one and take your seat. While it's best not to be choosy and let the chef bring the best on the table, let him know if you are allergic to something.
In some restaurants, the omakase menus are set beforehand so you may not be able to get any substitutes. However, it never hurts to ask and sometimes the hosts are flexible enough to adapt your needs.
Understanding The Cost Of Omakase Sushi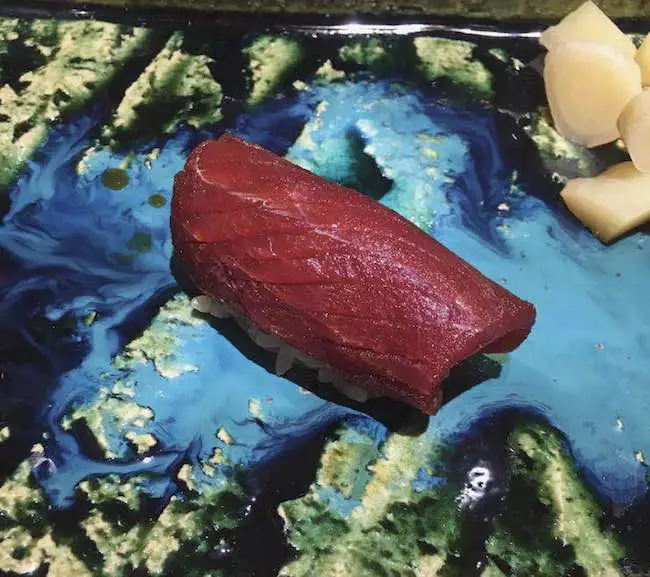 In Japan, a high-quality Omakase meal served at a reputed restaurant can cost you 10,000 Japanese Yen, which is nearly $100. The meal does not include wine, sake or any extra items other than sushi, and the price can at times be exorbitant.
At the high-end restaurants in Japan, the price for a high-quality omakase meal can go over 30,000 Japanese Yen for one person. In US dollars, it is nearly $300. If your sushi chef asks you if you would like to re-enjoy any particular item, please bear in mind that it is not for free.  You will be paying extra for it.
Different Options And Meal Portions For Omakase Sushi
Some of the high-end sushi bars may offer different meal options under Omakase. Roughly speaking, the number of pieces will remain the same but the fillings and toppings selected may vary in quality.
For example, if you choose the best option at a higher price range, you will get the most popular Toro slices on your sushi, while the basic option may have a simple cut. As a beginner, I would suggest that you start simple.
When it comes to meal portions, you can expect to have about 20 pieces of sushi featuring different slices of meat, even if it comes from the same fish. Each sushi piece has delicate flavors and rich taste, designed to be savored. 
A good quality omakase will begin with a light starter and then move forward to the heavier and more savory versions. Most people compare the experience like that of an expensive concert where your tastebuds get to enjoy the extravaganza for a change.
8 Things You Must Know About Omakase Sushi
If you are new to the Omakase sushi dining, there are a few things that you need to know and keep in mind to ensure that you enjoy a wholesome experience.
#1. Know where to eat
If you want to enjoy an omakase dining experience at its best, you must know where to look for it. For the best experience, always visit a sushiya(restaurant) that uses the freshest daily ingredients. Any sushi joint that uses the finest seasonal produce and freshest supply of seafood is likely to offer good omakase.
If the chef at any restaurant is artistic, likes experimenting with his creations and enjoys serving his guests, you are likely to enjoy your omakase experience. This style best suits an inmate setting where the chef can talk to the guests as he prepares the meal.
Please bear in mind that this style of sushi dining does not work well at large restaurants, chain restaurants, or eateries with limited ingredients.
#2. The restaurant ambiance
The omakase culture typically involves a small restaurant with counter seats around it and a viewable kitchen. As the guests are seated, they should be able to watch the chef preparing their meals to better appreciate his skills. The culture calls for an intimate and closed setting.
#3. Greet the chef
As you walk into the sushi restaurant to enjoy your meal, greet the chef and say itadakimasu (pronounced as ee-tah-dah-kee-mah-su). Also, when your dinner is complete, don't forget to thank your itamae for a great meal by saying gochisosama deshita (pronounced as go-chee-sou-sa-ma-deh-shee-tah).
#4. Get in conversation with the chef
An important aspect of omakase is the way you are able to interact with the chef. Strike a conversation by asking him about the food but make sure you don't ask him questions like 'Is the fish fresh?' Be open to try what he presents to you without being choosy. If you can include a few Japanese words in your conversation, you can expect to have one of the best omakase experiences.
#5. Watch what you speak
In an Omakase style of dining, you typically earn more attention of the itamae. The chef takes personal care of you and explains each dish to enhance your culinary experience. While it's good to be friendly, stop yourself from asking any personal questions to the sushi chef.
You may also be tempted to share images on Instagram. It's okay to take pictures of the food but always ask the chef for his permission before taking photos. Some chefs may happily pose for a photo while others may feel uncomfortable.
#6. Know your dietary restrictions 
Omakase is an experience for the brave hearts and those who are up for a culinary adventure. Please remember the rules of the game. Once you are into it, you cannot put forth any dietary restrictions or request for a special order.
If you are allergic to particular foods, have dietary restrictions or you are an extremely picky eater then probably an Omakase is not your cup of tea. Even when it comes to adding sauces, trust the decision of the chef. Avoid telling the itamae to alter the recipe by adding more or less wasabi and soy sauce unless it is extremely necessary.
#7. Be prepared to pay a vague price
After the completion of your meal, the restaurant will hand you with a mysterious bill without mentioning any items or their specific prices. You will get a stub of paper with one flat figure for your entire experience.
As a note of respect, you must not demand an itemized bill for your meal. While it's understandable that you cannot breakdown the expense, this is the way it is. Let's not forget that by choosing Omakase, you request for a wonderful meal experience, so be polite when you get the bill.
There have been cases when customers were shocked when they received the bill because they were not prepared for such a high bill. In most cases, they were not aware of the price of the items they were eating in their meal. Treat it as a gamble that mostly turns out in your favor.
If you are looking to save money then an omakase is certainly not right for you. Being informed can save you from a pleasant shock after a great meal.
#8. Acquaint yourself with sushi etiquettes
Japanese cuisine is not just about good food as it is steeped in traditions. In Japan, the itamae or chef is highly revered for his amazing skills and wealth of knowledge. There are certain things that are considered impolite and knowing them can enhance your dining experience.
One of the most important tip for beginner diners is to eat nigiri in one bite without destroying the form painstakingly created by the chef. If you are not comfortable with using chopsticks, you may use your hands while eating sushi. For more information on sushi etiquettes, read this article.
Best Places To Order Omakase Sushi In Tokyo Under $100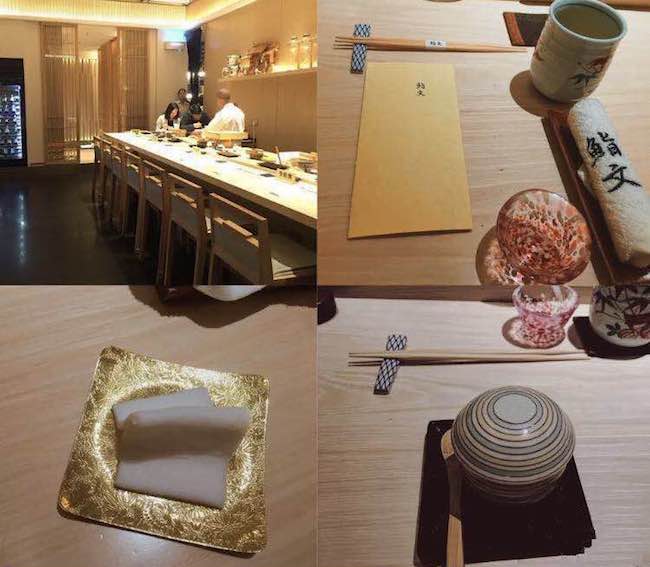 If you are in Tokyo, the capital city of Japan, you must include omakase sushi experience in your itinerary. An Omakase can give you an enriching insight into Japanese cuisine, culture, and traditions.
In just one meal, you will get to learn about the freshest ingredients and the different species of seafood and their exclusive cuts.  More than anything else, you will cherish the personalized service received by the chef. Here are the 5 restaurants to eat omakase in Tokyo.
5. Isshin – Asakusa
This is a Michelin star restaurant situated in Senso-ji, Asakusa. It has an old world charm about it and the entrance is sure to make you feel nostalgic. The serving staff is friendly and polite, so it's a good place for tourists. The Omakase meal starts from 6,000 Yen for 10 pieces.
Address: 4 Chome-11-3 Asakusa, Taito City, Tokyo, Japan
4. Sushi Karaku
Situated around the corner of Dior, Ginza is a type of sushi restaurant that's famous for omakase dining and kaisen bowl. Their Omakase nigiri meal is available for 8,000 Yen and includes 13 different nigiri pieces. The owner-chef follows the Edo-style to prepare the fish perfectly before it is served.
Address: 5-6-16, Ginza, Chuo-ku, Tokyo
3. Hanabusa
If you are looking to enjoy an Edo-style omakase experience in budget, Hanabusa fits the bill with ease. You can enjoy a lavish sushi meal for 8,000 Yen. The relaxing ambiance and cozy interiors of the restaurant make it a perfect place to enjoy your sushi.
Address: 9-1-7 Akasaka, Minato-ku, Tokyo 〒107-0052
2. Ebisu Hoshi
Hoshi is a contemporary Edo-style restaurant where you can enjoy a delicious omakase meal at a reasonable price. The owner-chef has an experience of 40 years under his belt and he loves sharing his knowledge with the guests. The personalized experience at Ebisu Hoshi makes it worth trying.
Address: 1 Chome-25-7 Ebisu, Shibuya City, Tokyo 150-0013
Those who have tried omakase in Sushidokoro say that they are best of best in Ginza. They have a fixed menu of 15 sushi piece for 10,000 Yen. The delicious food becomes more delightful with the owner Chef Yamada's storytelling. There are 8 counters and they stay full so make reservations in advance.
Address: 7-2-14 Ginza, Chuo-ku. Tokyo
Related Questions
How much does omakase cost in the US?
An Omakase meal comprising of 6 to 10 courses can cost between $80 and $150 per person in the US. In this type of meal, the chef decides the menu and gives personalized service to the guest.
Who should try omakase?
I believe that people who are not picky eaters, not allergic to certain foods, and are ready for an adventurous culinary experience should opt for an omakase meal. It is not meant for the faint hearts or people with dietary restrictions.
What is the difference between Omakase and Kaiseki
Omakase translates to 'I trust the chef' and you can find this type of dining option in several types of Japanese restaurants such as kushikatsu, robatayaki, and sushi bars. There's no fixed or prescribed menu for this.
Kaiseki is a prescribed set of meal courses based on the availability of seasonal produce. It is regarded as Japan's most popular fine dining cuisine for its intricacy, beauty, and the amount of thought put into it. From conceptualizing the dish to delivering the end result, it's a masterpiece in itself.
Do I or you need to tip at omakase? what about in sushi restaurant?
I would recommend giving a 15-20% of the bill as tips unless the bill mentions 'gratuity included'.  Just leave the tip on the check. Some people like to share sake or beer with the chef.